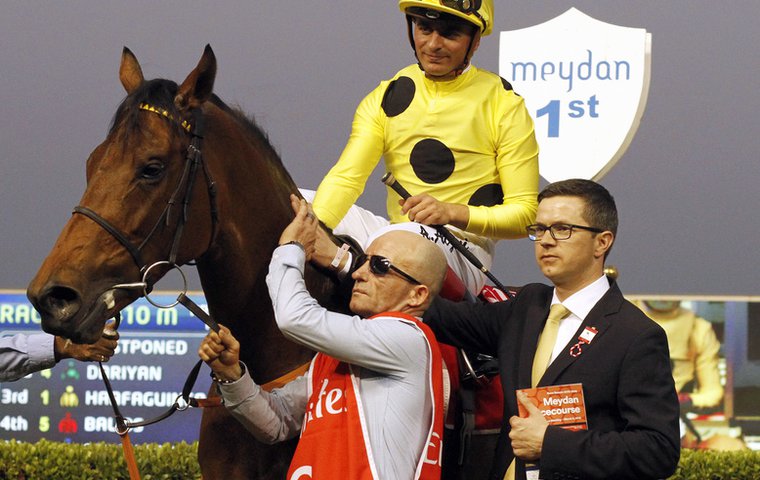 Who are this week's Performers of the Week in the owner and trainer categories based on movements in the TRC Global Rankings? James Willoughby makes the calls.

TRC TRAINER OF THE WEEK
This week's winner comes with an additional recommendation. Newmarket trainer ROGER VARIAN (+9pts, #38 from #48) had two winners in what is a promising year in the making. Three-year-old filly Qabala put herself firmly in the 1000 Guineas picture with victory in the G3 Nell Gwyn Stakes, while the 6-year-old Zabeel Prince struck at the same level in the Earl of Sefton Stakes, both at the trainer's home track.
Varian is arguably on the cusp of a surge up the rankings. He has gradually assembled a powerful stable and his numbers are getting better. First, take a look at his data broken down by year:

Varian reached a career-best rank of #28 after the peak of last season's action. He has only regressed since because the seasonal nature of European racing naturally increases the uncertainty over a performer's ranking during the off-season. Expect Varian's stable to reach the top 20 this year.
This is a stable that places its horses carefully. As a result, it has built steadily, powered by the patronage of Sheikh Mohammed Obaid Al Maktoum (+4pts, #33 from #44), whose yellow-and-black colours have been sported by the likes of Postponed, a top-class middle-distance horse for Varian and retired great Luca Cumani.
TRC OWNER OF THE WEEK
Two more winners for Godolphin (+1pts, stay #1) and they remain on record pace, but they already have this trophy in perpetuity. We will look elsewhere – if only for variety.
This goes jointly to two highly successful syndicates in Australia – AUSTRALIAN BLOODSTOCK (+4pts, #21 from #25) and O T I RACING (+3pts, #35 from #44).
Australian Bloodstock, part-owners of the 2014 Melbourne Cup winner Protectionist, won the G3 Easter Cup at Caulfield with the 6-year-old gelding Plein Ciel, trained by Anthony Freedman (+1pts, stays #28). The operation – represented by blue silks with black-and-white blocks on the sleeves – is run by Luke Murrell and Jamie Lovett out of Rutherford, New South Wales.
O T I Racing, who took the G3 Japan Racing Association Plate at Randwick on Saturday with the Kathy O'Hara-ridden Grey Lion, were formed in 1999 by Terry Henderson and Simon O'Donnell and are based in Victoria. Some very good horses have raced in their colours of yellow and blue hoops with white sleeves and cap, including triple G1 winner Manighar in 2012.
Click here for a list of all last week's biggest TRC Global Rankings points gainers.
Click here for a list of all the week's Group and Graded winners