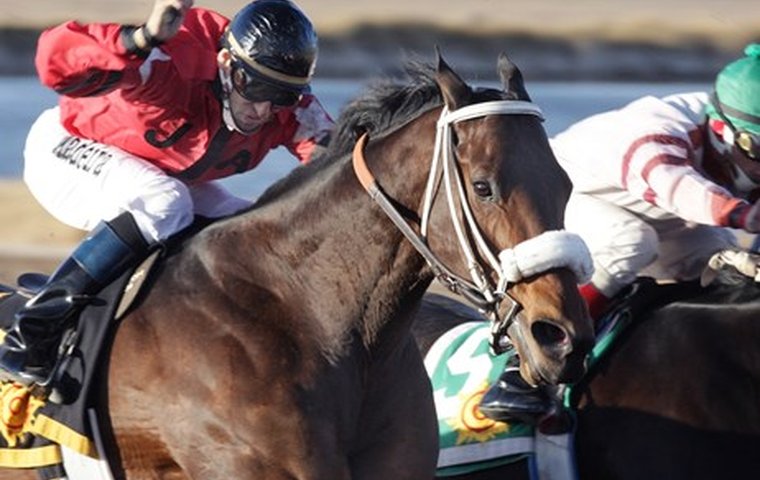 Jonathan Horowitz could hardly believe his eyes, but being rendered speechless was not an option. As Arapahoe Park's race caller, it was his job to describe what was going on for those watching the second race on the afternoon of July 15, 2018, at the track outside of Denver. A dark bay gelding making his first start was turning the five-furlong event for Colorado-bred 2-year-olds into grand opera by coming from dead last at the top of the stretch to win going away. Horowitz, all of 33, reached back 60 years to summon the only reference that fit the moment:

"With Collusionist flying late … a Silky Sullivan move for Collusionist!"
He got that right. By making up more than 20 lengths in victory, Collusionist was indeed emulating the running style made famous by Silky Sullivan, a bright chestnut colt whose late-running antics made him a matinee idol on the starstruck West Coast even before he won the 1958 Santa Anita Derby.
"This amazing, flame-red chestnut has California in a condition akin to hysteria," wrote Whitney Tower in Sports Illustrated, after Silky inhaled his opposition at Santa Anita. Three weeks later, Silky Sullivan's picture was on the cover for the magazine's Kentucky Derby preview.
A copy of that SI cover hangs today in place of honor in Silky Sullivan's Restaurant & Irish Pub in the town of Fountain Valley, just up the road from Disneyland. Following his retirement, Silky Sullivan was paraded on special occasions at both Golden Gate Fields and Santa Anita. The Silky Sullivan Stakes continues to be run at Golden Gate, where Silky Sullivan became the first horse to be buried in the track's infield upon his death in 1977.
Local heroes like Silky Sullivan give racing fans a personal stake in the game. A record Santa Anita Derby crowd of more than 61,000 turned up for his Santa Anita Derby. Silky flopped in both the Kentucky Derby and Preakness Stakes, but back in California all was forgiven, for it is the horses who run up the score at home that fuel possessive passions.
Leaping Plum may have been bred in Kentucky, but he was body and soul a hero of the Nebraska heartland.
For those who have never heard of him, no worries. He usually would come and go with the seasons, spending down time at the farm of co-owner Clyde Woods, then re-emerging in the spring, a four-legged crocus, to pick up where he left off the year before.
The same level as Cigar
Leaping Plum was an $11,000 yearling who lacked nothing for pedigree, as a grandson of Nijinsky on one side and the crack sprinter Dr Blum, by Dr Fager, on the other. Neither was he shy about his job, with 66 starts spread over parts of 12 campaigns for trainer Joe Moss. Of those, 32 took place at Fonner Park, where local Nebraskans would brave late snows to show up and cheer on Leaping Plum in the opening-day Grasmick Handicap over four furlongs. Between 1995 and 2003, eight of his 29 wins came in the various Grasmicks.
Leaping Plum died in a Grand Island pasture in July of 2017, at age 26. But his memory lingers on. Chris Kotulak, the current Fonner Park chief operating officer, recalled how Leaping Plum was held in local esteem on the same level as a certain two-time U.S. Horse of the Year.
"I know in our gift shop we still have some 'Leaping Plum – Smoking Like Cigar' t-shirts," Kotulak said.
Deep in the Finger Lakes region of western New York, where the Formula 1 circuit once raced at Watkins Glen and the women's suffrage movement began in Seneca Falls, the gelding Lordofthemountain lived up to his name for seven seasons, 1989-1995. Operating from his birthplace at the Onteora Farm of owner Toby Brewer-Evans, Lordofthemountain descended upon Finger Lakes Racetrack 39 times in a career of 55 starts and won 17 races there, including three runnings of the Wine Country Handicap (the region boasts an 'invigorating' dry Riesling).
Lordofthemountain was 29 when he died in 2015, having spent his last 20 years at Onteora.
"He'd mellowed over the years and I would just turn him loose and he'd run around or eat apples," said Brewer-Evans upon the passing of his star. "I would use him as a babysitter. He would never hurt anybody but he'd keep everybody in order."
A New Mexico version of Zenyatta
Collusionist, a son of the In Excess stallion EZ Effort, comes from a 2016 Colorado crop of just 111 foals. This is not the definition of a robust breeding industry. Only a little better, by way of some comparison, is the 2003 registered foal crop in New Mexico that numbered 752. Among them was the filly Peppers Pride.
As local heroes go, Peppers Pride was every bit an off-off Broadway version of Zenyatta. Beginning in July of 2005, and continuing for all 19 of her races, the result would be the same: Peppers Pride first, the rest frustrated, but vowing that next time it would be different. It never was.
Just to keep her fans on their toes, Peppers Pride won two of her 19 races by a neck and another by a well-timed nose. No horse since Personal Ensign's 13-for-13 had gone to such perfect lengths, completing a career with a spotless record. Of course, Peppers Pride was saddled with an asterisk by critics who damned her lack of competition outside New Mexico with faint praise. She earned just over $1 million from the bounty of New Mexico's casino-fueled purses, an amount that left her owner, Joseph Allen, feeling unapologetic.
"We have been criticized for not running her outside the state, but from an economical standpoint, that is the way I have to look at it," said Allen, who owned a popular barbecue restaurant in Abilene, Texas. "We have had a lot of people tell us that we need to do this, and we need to do that, and how she can compete at the next level, but the right deal for us to travel out of state has not come along."
It never did, and the fact that Peppers Pride was a New Mexico homegirl to the end did not prevent Linda and Michael Stinson of Fort Worth from buying half of the mare upon her retirement and sending her to Kentucky. There she produced seven foals, including the last two by Horses of the Year American Pharoah and California Chrome, before her untimely death in 2019.
Better a queen in your own land than just another pretty face on the road. Hallowed Dreams faced the same skepticism as did Peppers Pride for sticking close to her native Louisiana soil through her first 16 starts, all victories, over a 14-month stretch beginning in May 1999. To be fair, she did compete at four different Louisiana tracks, and as the win streak grew she attracted the kind of national attention rarely lavished upon regional hotshots.
A lot of that was because her trainer, the larger than life Lloyd Romero, was the father of future Hall of Fame jockey Randy Romero as well as the inspiration for the character played by Walter Matthau in Casey's Shadow, a damn fine racing flick.
When the Hallowed Dreams streak was stopped in August 2000, Romero felt liberated and plotted a course that would cross state lines. Hallowed Dreams responded by winning nine of her next ten starts, which included a pair of stakes wins at Lone Star Park in Texas. Her broodmare career included five winning Thoroughbred foals and a major stakes-winning Quarter Horse produced by the embryo transplant process legal in that sport.
There will be no second act for the 4-year-old Collusionist. As a gelding, he is destined to entertain his growing legion of Colorado fans for as long as luck and good health keep him around. Outside of Colorado, Collusionist is a telling 0-for-6, with his best race a fourth in the 2020 Phoenix Gold Cup. But at Arapahoe, Collusionist has won nine of his 12 races for owner Eli Diamant and trainer O.A. Martinez.
Running out of superlatives
Horowitz can recall them all, beginning with his Silky Sullivanesque debut.
"I try to give a certain context when he runs, so I can give people an idea of what's significant this time as opposed to the last time he ran," Horowitz said. "I also try to look for something in the horse's movement during the race that suggests what's happening is even more special than simply another victory.
"As an announcer, my philosophy is not to script calls beforehand with prepared comments, although in his case, I have to admit I'm running out of superlatives," Horowitz added. "I think the best calls are spontaneous, and from the heart. But sometimes I worry that I'm about to say the same thing I've said about another of his races."
It would be easy to do. Collusionist's most recent appearance resulted in a second score in the Mount Elbert Stakes on August 4, at a mile and one-sixteenth. Despite drawing a field of five, management chose not to offer betting on the race, which was fine by Horowitz, just for a change of pace.
"I'm always mindful of the betting public, and what they have at stake in exactas and trifectas," he said. "But, in this case, it was kind of fun to just focus on the performance of the horses, and especially on him."
Collusionist responded with a 14-length victory, prompting Horowitz to declare the gelding "in a class by himself in Colorado".
"I like to share the experience of the racetrack, and that day there were friends with me in the booth," Horowitz said. "Normally they know to be quiet, but apparently they had bet big on Collusionist, and when he broke so poorly you can hear a collective groan underneath my call. Then, when he came through with his Silky Sullivan finish, there's cheering in the background. You can hear their emotions as the horse wins. They were totally captivated."