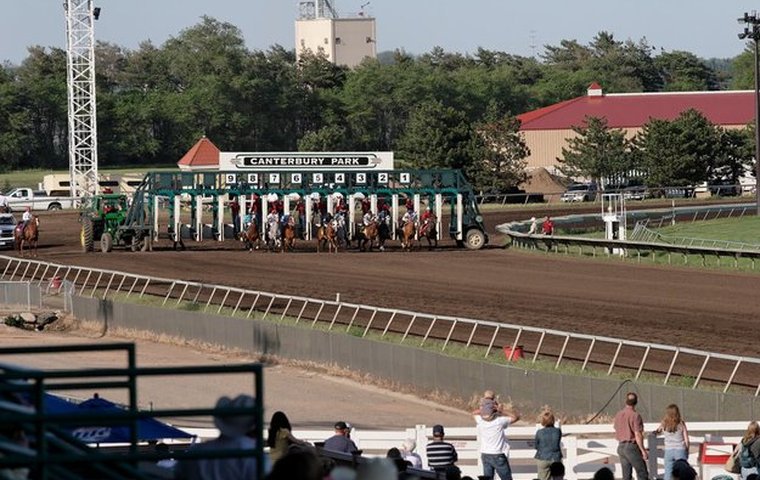 Takeout rates across all pools will be simplified and reduced by about 20 percent at Canterbury Park this season, giving the track the lowest rates in the whole of America, Eric Halstrom, VP of Racing Operations, and Randy Sampson, President and CEO, jointly announced today.

The move applies to Canterbury Park's entire 69-day Thoroughbred and Quarter Horse race meet this year. Straight wagers on Win, Place and Show (WPS) betting will be the lowest in the country at 15 percent. All other exotic wagers will have a takeout rate of 18 percent.
This is a bold and dramatic move that deserves the attention and bankroll of all Thoroughbred racing bettors.
The competition for the gaming and entertainment dollar has increased significantly over the past two decades. The Thoroughbred racing industry has not been responsive to these other forms of gaming competition in how it prices and presents its product.
Pari-mutuel wagering on Thoroughbred racing peaked in 2003 at $15.18 billion. Handle in 2015 was $10.66 billion, or a decline of 29.8 percent, over the 13 years.
There are a number of reasons. However, the lack of willingness of racetracks to address the pricing of the product has been a major factor.
Ground-breaking announcement
Despite strong leadership from the HorsePlayers Association of North America (HANA), which has produced excellent analytical information, the racetracks have generally been unresponsive to testing alternative pricing methods in the highly competitive gaming market.
Here is a document prepared by HANA President Jeff Platt on the group's position on takeout. And here he writes about a Takeout Elasticity Model that demonstrates the opportunity presented by potential takeout reductions. If you have read this far into this article, you must be interested in takeout and I strongly advise you to read both these articles.
HANA has been a powerful advocate of studying rates to achieve "optimum takeout" - the pricing that maximizes revenue for tracks, horsemen and government. The bottom line is that, if current racing takeout rates are too high - as I believe they are, then reducing takeout will increase revenues to all parties.
The Canterbury Park initiative will most certainly give the track the data and wagering experience it needs from the 69-day race meet to fully understand optimum takeout for the straight bet and exotic wagering pools.
Before this ground-breaking announcement, there was very little movement by racetracks to make substantive takeout reductions.
Corey Johnson, President of Kentucky Downs, has been a strong advocate of reduced takeout and, until the Canterbury Park announcement, Kentucky Downs is believed to have had the lowest blended takeout rate in America.
Peter Berube, General Manager of Tampa Bay Downs, has reduced their rate over the last decade from one of the highest in the country to one of the most competitive. Unfortunately, other than reductions on individual bet types, such as Pick 4s and Pick 5s, there has been very little recent movement from the overwhelming majority of U.S. racetracks in lowering takeout for racing's betting customers.
How the initiative can help the whole industry
The team at Canterbury Park undertook a lot of analysis and customer research before making this decision. Obviously they want the initiative to be a business success for Canterbury Park. However, they also believe the industry generally can benefit from the empirical information that they receive over the course of their 2016 meet, as Eric Halstrom explained when I spoke to him.
Charles Hayward: "What were the key management objectives that resulted in the decision to lower takeout for this season?"
Eric Halstrom: "We feel like we're a unique racetrack. We've built a large local fan base that helps sustain our business beyond our handle. Last year, we averaged nearly 7,000 live racing customers per day. We have a great relationship with the Minnesota HBPA and, with the enhanced purses, which have grown by nearly 50 percent over the last three years, the quality and appeal of our racing has grown immensely.
"But we also know that, for racing to survive in the long run, we need to attract horseplayers and gamblers from all over the world. Canterbury Park's handle has grown nearly 100 percent in the past five years, but we're still in a situation where doubling or tripling our handle is very feasible. We want to earn the business of horseplayers who just haven't had Canterbury Park on their radar in the past.
"We're also not afraid to try new things around here, and doing things that other tracks haven't attempted doesn't scare us. If we think we have a solid business case for an idea, we will take a shot at just about anything. But, in the end, we want to rise to new levels in the racing industry and catering to those who make our business go – the horseplayers – is where we think long-term success will come from."
CH: "Canterbury currently has three takeout levels:
WPS 17%
Exotics incl Pick 3 23%
Pick 4 14%
"What are the new rates and could you briefly explain how and why you arrived at them?"
EH: "WPS 15%, Exotics 18%.
"The new takeout rates came down to our desire to get a blended takeout that is lower than any other racetrack in America. First, we discussed wanting to have takeout rates on WPS that are the lowest in America at 15%. We believe in churn, and the WPS wagers are the best wagers to target if you're focused on that. We went back and forth on what to do with our exotics, but in the end we wanted to be about a full percentage point lower than the next closest racetrack (Kentucky Downs) in order to show horseplayers that we want their business. We're willing to take some risk to get people's attention."
CH: "What rate does your current takeout schedule blend to and what will your new projected blended rate be?"
EH: "In 2015, our blended rate was 20.4 percent and we project that it will be 16.5 percent in 2016.
"This is roughly a 20 percent reduction in our takeout and it will be a huge benefit for our racing customers. We believe that this will be the largest takeout reduction in the history of horse racing in the United States."
CH: "Very often, tracks that have experimented with takeout reductions have not had the planning and foresight to stay the course with them to truly measure their impact. Is it your intention to maintain the new takeout rates throughout your 2016 season?"
EH: "We've spent many, many hours analyzing the possible outcomes of a takeout reduction. We've spoken to customers on-track, those who play at brick and mortar facilities across the country, those that use ADW [advance deposit wagering] platforms and those that are a part of high-volume operations.
"The response we've gotten to this idea has been so positive that we're ready to see this through 2016 and talk about where we go from there. We also believe that, although it will be a small sample, our results can be instructive to the industry."
CH: "What are your projections on the impact of your takeout decreases over the 2016 race meet? Do you expect them to have a larger or smaller impact on your live track wagering market?"
EH: "One of the reasons we think we are a well-positioned racetrack to experiment with a takeout reduction is that we currently have such a large portion of our overall handle coming from our on-track patrons. Therefore we are not pushing the burden of the takeout reduction to others on a percentage basis like some would have to do.
"We have real skin in the game, but we think there is opportunity to raise on-track handle by a minimum of 10 percent just by putting more money into the hands of our local customers.
"The larger opportunity is in the export market, where we haven't been as competitive as we'd have liked in the past. We're confident that an increase of 25 percent or more is achievable in this area, but this is an experiment that needs the support of the industry. We hope that horseplayers all over the world respond positively to a change that is aimed at benefitting them directly."
CH: "Churn is an important factor in racetrack wagering. Clearly a reduction in takeout will result in more money being returned to the bettors and being available for betting back into the pool. Have you made any assumptions about the churn rate from the takeout reduction?"
EH: "It's a difficult assumption to make in this day and age. There will undoubtedly be some players who benefit from a reduced takeout at Canterbury Park and use that premium to wager on other racetracks. We can't stop that and it's actually a benefit to all our export locations in that we will be getting additional dollars in the hands of their customers.
"What we have to hope is that we can improve the handle of our on-track patrons and that we develop a new set of customers worldwide to take our pool sizes to another level. If we can do both those things, our experiment will be a huge success."
CH: "Takeout reductions can have an active component for the customers and a passive component as well. Clearly, some customers will be attracted to betting on your races with the lower takeout and they will make an active decision to bet more of their available wagering funds into the Canterbury pools.
"The passive component is for those customers who will not change their betting decisions but who will be beneficiaries on every winning ticket that they cash. Presumably without the "noise" of the various simulcast pool options, it will be easier to measure the passive impact on your live track pools. Do you have a view on what the active or passive responses will be to the takeout reduction?"
EH: "Well, we did our homework. We've traveled to visit with customers, we've sat down with local patrons and we've been on the phone with some of the biggest players in the world. We believe that there is a strong faction of horseplayers that will be active in playing our races this year based on Canterbury Park having the lowest take out in the United States. What we have to hope is that we generate momentum from this group of players and the larger pools then become more attractive to everyone. That's how we're most likely to gain the play from the passive component of horseplayers – larger pools with higher payouts. And it doesn't hurt that our quality of racing and field size should be the best it's ever been this summer."
CH: "Does Canterbury allow computer-assisted wagering operations to bet into their pools. If so, will this takeout reduction have any impact on their wagering activity?"
EH: "Yes, we do allow these customers into our pools. And they were some of the customers that we spoke to before making our decision. Takeout is not their main issue when it comes to playing a certain racetrack or not. Liquidity is key to this set of customers and we haven't been able to offer that in the past.
"Larger pools greatly affect their play and we hope that the rising tide from horseplayers all over the world will encourage more play from everyone that wagers on Canterbury Park.
"We'll host a 69-day race meet that begins on Friday, May 20, the night before the Preakness Stakes, and runs through Saturday, September 17. Racing takes place on Thursday and Friday evenings, with a first-race post time of 6:30 pm Central Time and on Saturday and Sunday afternoons at 12:45 p.m.
"The highlight of our stakes schedule takes place on Sunday, August 29, when we showcase the fifth running of the $200,000 Mystic Lake Derby."
Offering value to the horseplayer
Canterbury Park President Randy Sampson said offering value to the horseplayer was a key part of the initiative.
"We've done many things that we're proud of here at Canterbury Park over the years. We have a quality racing program, a relationship with our horsemen that is second to none, we've reinvested in our facility to improve the customer experience and created passionate local fans along the way. But a takeout reduction is our way of giving back to horseplayers all over the world. We believe that we can do nothing more important than to offer value to the horseplayer – the true engine that drives our industry."
It is truly refreshing to hear a racetrack president talk about a takeout reduction and its importance to the horseplayer and the industry. This is a very important development that should be critical to the future of Thoroughbred racing in America.
Everyone in the industry should make an effort to learn all they can about the program at Canterbury. Ultimately its success will be measured by the support that racing customers provide Canterbury Park at the windows. More wagering with lower takeout means more money back to the bettors, which in turn generates more wagering, which means higher purses, larger field size and, ultimately, a more robust racing circuit.
Canterbury Park is in Shakopee, Minnesota, about a half-hour drive south of Minneapolis. It has two popular surfaces: a one mile sandy loam dirt track and a seven-furlong turf course.
The track has a strong relationship with its horsemen, who support the new initiative. Canterbury Park's purses, wagering activity and live attendance have all been growing in recent years. And the Canterbury Park Card Club was launched in 2000 and contributes to both purses and Minnesota breeder awards.
May 20 is right around the corner. Please make certain that, whatever OTB, racetrack or ADW you use is taking the Canterbury signal this spring and summer. The betting customer truly has the chance to help shape the future of Thoroughbred racing. This Canterbury Park business initiative deserves your support.