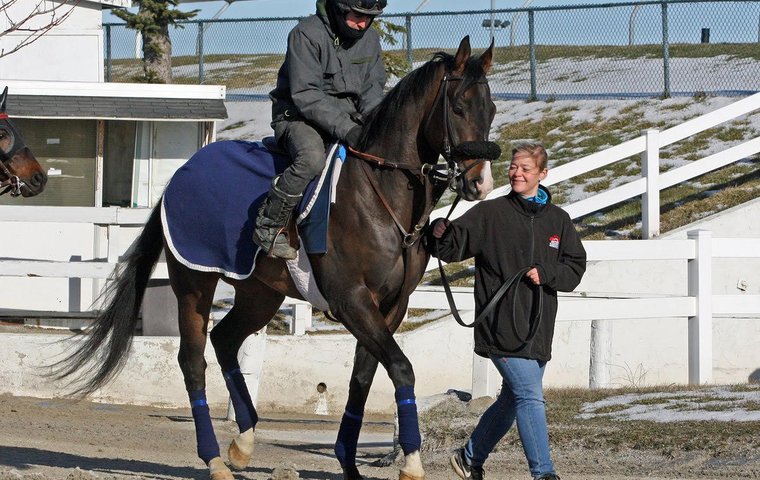 It takes a fair amount of courage to change your life, from ending a relationship that isn't right for you, to sticking with a workout regime to reach your fitness goals. It also takes courage to live with an often debilitating disease, and even more bravery still to face it while giving up a long-standing job to pursue your own dreams. Through all these challenges, Sarah Ritchie has succeeded in inspiring style.

Ritchie, 37, has been a familiar face on the backside of Woodbine Racetrack for years, the kind of person that shows up at the track looking for work, falls in love, and never leaves. "The extent of my horse racing experience is that I would come down around my birthday every year," Ritchie said. "I knew horses, just not racing."
Four years after first learning to groom, Ritchie was working for Mark Frostad, who has trained the likes of Breeders' Cup Turf winner Chief Bearhart and G1-winning millionaires Quiet Resolve, Soaring Free, and Dancethruthedawn. With a natural skill around horses, Ritchie worked her way up the ranks.
"I had done a little bit of everything before I got there," she said. "While I groomed for Mark at Woodbine, I ran his shed for him in Florida in the winter."
'I was the only person screaming'
The first stakes winner Ritchie groomed was New Normal, who ran in the 2010 Breeders' Cup Juvenile Fillies Turf. Her favorite was Stars To Shine, a Tale Of The Cat daughter who earned $429,900.
Ritchie eventually became Frostad's main assistant, running the barn and traveling with stakes horses all over North America, including taking the bold and brilliant colt Lucky Lindy to win the Hawthorne Derby in 2015. "I got to put the tack on him that day, and these people at Hawthorne must have thought I was crazy," Ritchie recalled. "He hit the top of the stretch and I was the only person screaming."
When the horse jogged back, Ritchie had his halter and followed him back to the test barn. She was later teased for not sticking around for the post-race interview.
The best horse she is associated with was Irish Mission, a royally-bred daughter of Giant's Causeway out of stakes winner Misty Mission. A leggy, flashy chestnut, Irish Mission defeated males in the Breeders' Stakes, the third leg of the Canadian Triple Crown, and went on to win Graded stakes at Saratoga and Gulfstream Park. She earned over $1.3 million.
But things were far from perfect for Ritchie. She was suffering from numbness that made working around the horses difficult, and on the very day she was meant to be heading to Florida for the winter, a neurologist informed her she had multiple sclerosis. Although she went to Florida anyway and tried to keep the symptoms at bay, she ultimately needed to make some dramatic changes in her life.
"It got to the point you realize you've been grinding away for everyone else but you," Ritchie said. "You put in so many hours working for someone else, and there's so much stress and thought that goes into making sure someone else is okay, that their stable is okay. At the end of the day, everything is at the expense of your own health. You become last on the list of things you pay attention to. I decided I wanted to do something for myself."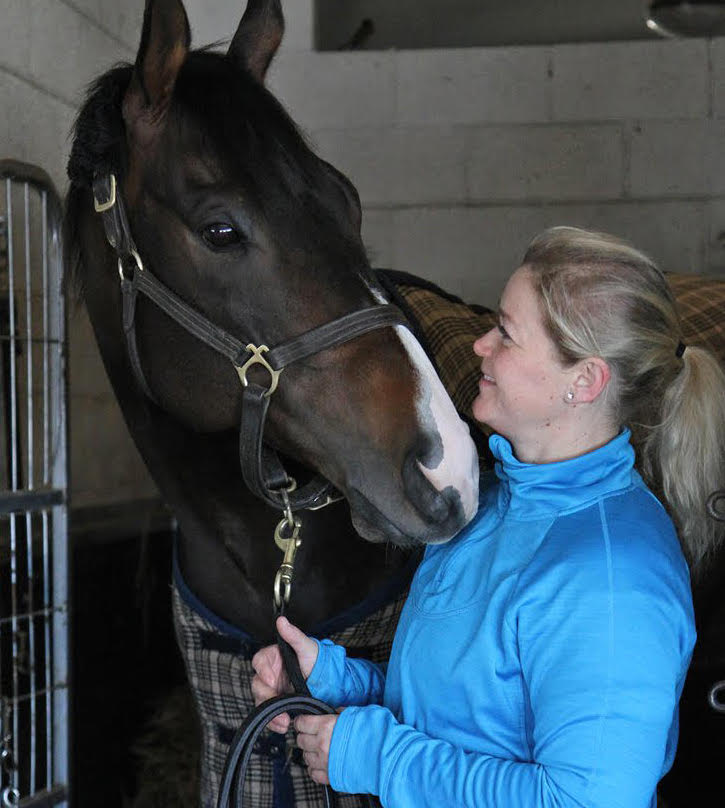 Ritchie left Frostad's barn, got out of a long-term relationship, and took a winter off to focus solely on herself. She started going to classes at the Babe Cave fitness studio in Alliston, Ontario, under the direction of owner and instructor Becky Overbeck. "Her energy sucks you in," Ritchie said of her mentor and good friend. "It's hard not to want to change your life when you meet someone like that, who inspires you to be a better version of yourself."
Ritchie lost over 100 pounds in less than a year by participating in Kangoo classes, where participants strap on special boots with a stable spring system underneath, and literally bounce their way to fitness. It is a low-impact activity that eases pressure on joints while promoting a high-calorie burn.
With control of her own life, Ritchie had a decision to make. "Either you stay as someone's assistant forever, or you go out on your own. I no longer felt I could be on someone else's schedule, so I did it for my own sanity."
The very first runner that Ritchie owned herself, Splashy Gizmo, was a hard-knocking former stakes horse. With a big following on social media, there was a lot of excitement when Splashy Gizmo went to the post with Ritchie's distinctive cat eye silks, modeled after her celebrity cat Gator, who has over 2,500 followers on Twitter under the handle @GatorKitten. Splashy Gizmo finished last, beaten only four lengths, and was promptly claimed away. And while horses in claiming races are obviously for sale, the public fanfare around Ritchie's first start made it a tough experience.
"That was crushing for me," Ritchie admitted. "Even if you don't plan to breed them, I believe you bear some responsibility for where they go and what happens to them when they are done racing. I only had her 30 days, it was one of the hottest days of the summer, and I knew I should have scratched her. My family was there, and I never in a million years would have thought someone would claim her. Being my first one, I was a little attached."
Not to be deterred, Ritchie subsequently took out her trainer's license. She has just three horses in her care, Leo From Heaven, MarchOf Dreams and Bourbon Babe, who she also owns. The chestnut mare proved to be tough to handle, but Ritchie schooled her in the paddock relentlessly. "I find it really special to work with quirky horses," she said, "especially mares. Bourbon Babe was a lot of work. Every time I took her to the paddock she tried to flip over, which drove me mental."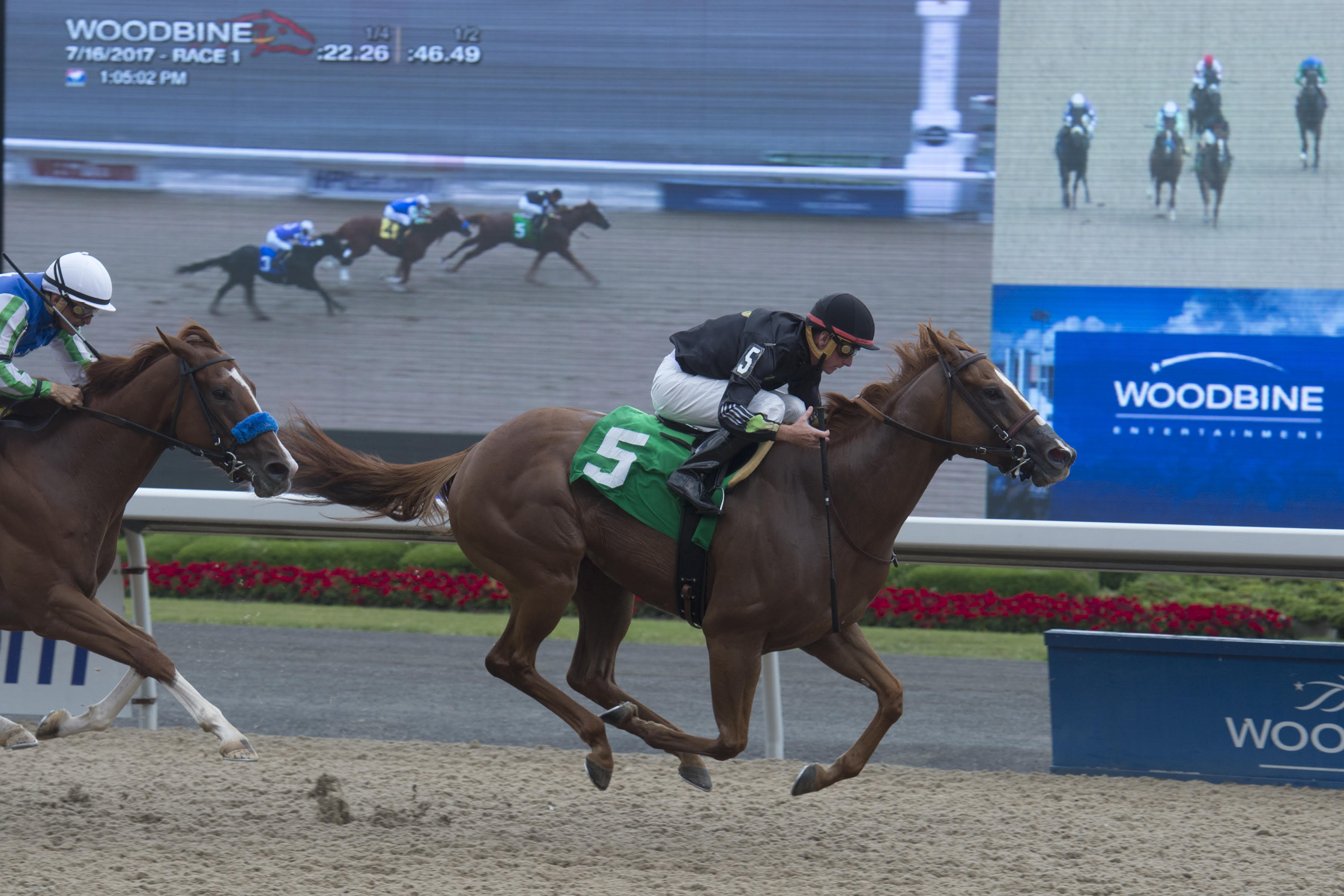 But Ritchie's patience paid off, and Bourbon Babe delivered the trainer her first win on July 16, 2017, at Woodbine. "Seeing her come down the stretch in my colors, and knowing how much work it had taken to get her there … well, there may have been a tear or two."
In an ideal world, Ritchie would have around ten horses, and would like to buy a few juveniles. "I want to be active and hands on. If I was able to get on and gallop them, I'd do that too!"
Despite the trials of the last two years, Ritchie wouldn't change anything now. "I really like what I'm doing," she said. "I love that every day is different. I love early mornings. And when horses turn around for you, that's really rewarding."