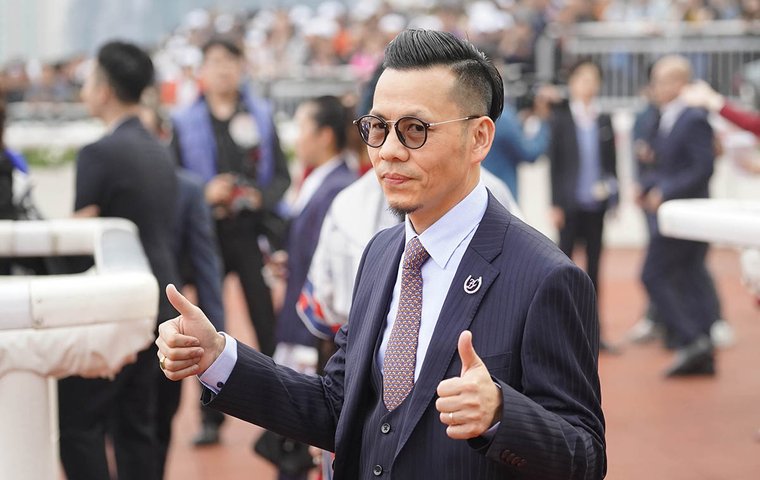 A superb four-timer from John Moore at Sha Tin on Saturday breathed new life into an already absorbing fight for the Hong Kong trainers' title, bringing him back to within five of champion John Size. With just nine meetings remaining, it promises to go down to the wire. But the two Aussie expats have not been having it all their own way this year. Frankie Lor may have started training relatively late in life - he's 53 and this is just his second season with a licence - but he has made a stunning start to a training career that is the talk of Hong Kong, and he is snapping at their heels.

Four decades ago, Hong Kong's freshest training talent, Frankie Lor, was clear about where he hoped his youthful ambition might take him in racing.
Lor had watched and tried to copy the visiting riders, who transplanted themselves to Hong Kong annually during the Northern Hemisphere winter. For him, to ride like a top European jockey was the dream. It was a goal he would strive to achieve for the next 15 years.
"Brian Taylor was my favourite," Lor recalled. "He was attached to my boss's stable, and we could all see that he was a great horseman and a brilliant jockey."
Taylor had struck up a friendship with Lor's first boss, Derek Cheng Tai-chee, a racing icon of the late 1960s, champion amateur rider and, as racing went professional in 1971, Hong Kong's first champion jockey.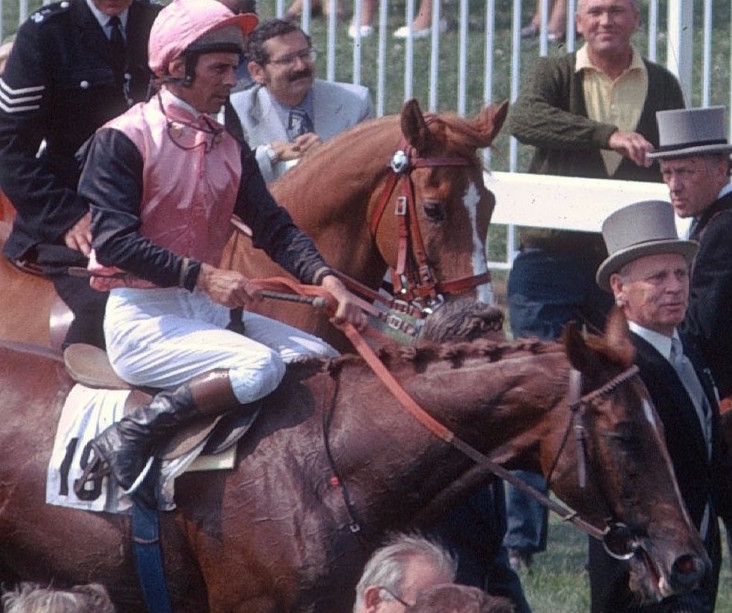 When Cheng made the progression to trainer, Taylor was appointed his stable No. 1, not long before teenager Lor became attached to the yard as an apprentice. The youngster studied Taylor's technique (which was far from textbook in terms of style) and listened to every piece of advice offered.
Taylor had ridden Snow Knight, trained by Major Peter Nelson, to win the 1974 Derby at Epsom, but he also rode regularly for Captain Ryan Price, one of English racing's most colourful figures. His experience and all-round horsemanship were instrumental in helping Cheng establish himself in the top bracket of trainers in Hong Kong, and he made a huge impression on Lor.
In local racing, December 1984 was meant to be a joyous celebration of the centenary of the Royal Hong Kong Jockey Club. Instead, the racing fraternity found themselves in mourning when Brian Taylor suffered fatal injuries in a race fall at Sha Tin. Racing was in shock for months, and Lor deeply saddened by the death of his mentor.
"Brian was a very nice man. He was always ready to help and advise, and it was so sad for us all. I had tried to copy him as a jockey, but it had not been easy to do that, he was so good," he admitted.
Frankie Lor's ambition far outweighed his ability in the saddle. He was a battling jockey, riding a total of 27 winners in 15 years. Along with several now-established names in the trainers' ranks, he found that being a local jockey in Hong Kong in the 1980s and 1990s was very tough.
Obviously, home-grown talent Tony Cruz was in a different league, but Chinese riders such as Manfred K L Man, Ricky P F Yiu, Danny C S Shum, Dennis C H Yip, 'Me' Y S Tsui, Benno T P Yung, and in later years, Jimmy K H Ting — all now successful trainers — found themselves in the same boat as Lor.
"It was very difficult," Lor recalled. "There were a lot of apprentices, and we also had the overseas jockeys coming in every winter. Obviously, we could learn a lot by watching the big names, but owners usually preferred the visitors in races. There were not many opportunities for us.
"Hong Kong is very different today. The apprentices are sent away to Australia and New Zealand, and they can return home, having ridden up to 100 or more winners abroad, yet starting with a ten-pound claim," he pointed out.
Time for a change
Clearly the modern system of getting experience on 'bush' tracks Down Under is working well and has helped upgrade the standard of riding in Hong Kong.
As Lor neared the age of 30, he felt his racing career needed to alter course. "I thought that maybe it was time for a change. I was married, with a wife and a young family to support, so I could see that I needed to earn more money," he said.
And so started the climb to the top in a different field. Lor first became a work rider, exercising horses every morning, and he then travelled overseas, visiting and gaining experience in some of the world's biggest stables. As an apprentice, he had spent time with John Winter at Newmarket (UK) but had also taken the opportunity to look around the yard of Dermot Weld at the Curragh in Ireland.
The finishing touches to his grounding were added when he subsequently joined trainers, who, respectively, were to push back the Hong Kong boundaries of success, John Moore and, then, John Size.
Whatever methods Lor picked up in his time with those two giants of the training ranks, he has put them to good use. In 2017-18, he saddled 65 winners, a record tally for a first-season trainer, which placed him second in the Hong Kong championship, while this term he has sent out 59 winners (as of June 8) and is third on the list - just behind Size (71) and Moore (66) - with nine fixtures remaining.
This season, he won the G1 Hong Kong Cup with Glorious Forever and the G1 Hong Kong Sprint with Mr Stunning at the big international meeting at Sha Tin in December, and he also took the coveted Hong Kong Derby with the Hugh Bowman-ridden Furore in March. From nowhere two years ago, he is world-ranked 57 in the TRC Global Trainers' Rankings.
His rise has been spectacular, as the graph below of his trajectory in the rankings shows (remember, the starting point in the graph - November 18 last year - was his rankings debut). Yet Lor remains modest and grateful. "I'm a little bit surprised by my success," he told me. "But if you analyse the results, you see that in my first season, I had a lot of Class 4 and Class 5 (low-grade) winners, they were nearly all running off low handicap marks," he explained.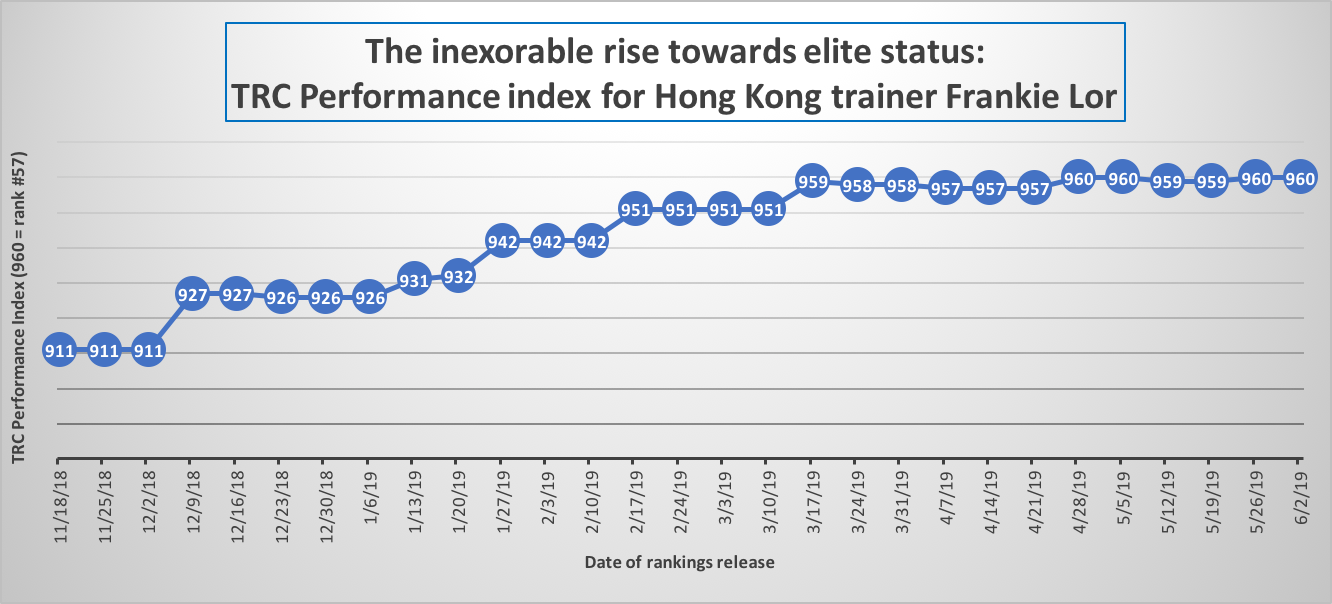 Yet, to counter that, his results this season suggest that Lor has purchased well abroad and also has a knack of nurturing and developing his young talent, much in the Size tradition.
Does he think he has an area in which he can improve as he strives to win his first trainer's title? "I'm a bit quiet, really. And that is not good, as owners always want you to go out to dinner with them, and talk. I know plenty of my fellow trainers are out to lunch and dinner nearly every day."
While Frankie Lor keeps producing a relentless flow of winners, most owners will happily excuse his non-participation in providing gossip and attending banquets. The rise and rise of this impressive Hong Kong trainer is set to continue.