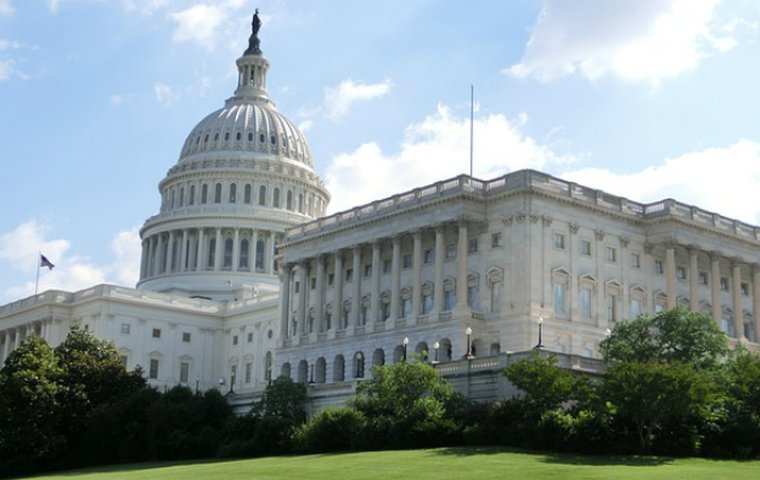 I think we would all agree that 2019 raised a number of issues that presented serious challenges for the future of the Thoroughbred racing industry. We don't need to recap them here, but I would like to offer some topics for consideration that could help move the industry in a more positive and energized direction:

The status and opportunities represented by the passage of the Horseracing Integrity Act of 2019 (HIA).
How serious is the industry about the number of horses that are breaking down in races and in training on the racing surfaces of North America?
The largest racing associations in the U.S. have recently formed the Thoroughbred Safety Coalition and announced a series of initiatives. How does the industry track their progress and measure their results?
The (HIA) is the single most important issue the racing industry needs to get through Congress. Nothing could be more important to the future of the sport.
I recognize that the Federal government has its inherent challenges in passing any kind of legislation, but there are some real reasons for optimism. On December 18, it was announced that a majority of the House of Representatives has co-sponsored the Act. The legislation now exceeds 218 co-sponsors, which is a majority of the 435 voting members of the House.
"Bi-partisan support from more than 218 members is a crucial milestone because it demonstrates to House leadership that the bill will pass the House floor," said Shawn Smeallie, Executive Director of the Coalition for Horse Racing Integrity. "Clearly Congress recognizes that the current patchwork quilt of state regulations that govern the industry is failing and an effective anti-doping program with a national set of drug standards is needed to bring equine safety and integrity back to the sport."
Equally as encouraging is this statement signed by 52 prominent Thoroughbred trainers from around the U.S. who support the passage of this important legislation.
In March, the Jockey Club published the most forward-looking strategic document I have seen in the 25-plus years I have been involved in racing. Vision 2025 ties directly to the HIA. The document sets out a clear situational analysis and lays out a series of specific detailed reforms that are needed to correct our ineffective regulatory system. The first item begins:
The current system does not work
Racing's current state-by-state structure for rule promulgation, passage and enforcement makes it impossible for a level playing field to exist across the country and too easy for Thoroughbreds to be subject to the nefarious actions of cheaters who are trying to beat the systems in each state and stay a step ahead of regulators and laboratories. From every angle, racing is failing to adequately regulate itself.
If you are interested or involved in any aspect of the industry, you must take the time to read this very clear and straightforward nine-page document.
In short, if you want the industry to survive and thrive, you need to support the Horseracing Integrity Act.
BREAKDOWNS
Moving to our next topic, how serious is the industry about the number of horses breaking down in races and training?
One of the first things to know is that the industry did not start tracking breakdowns until 2008, when the Jockey Club launched the Equine Injury Database. The fact that the industry did not start tracking breakdowns until then tells me that previously it did not consider breakdowns a priority.
The Jockey Club collects data from tracks for both racing and training fatal injuries, but they currently only report racing fatalities. In addition, a number of major tracks do submit their breakdown data to the Jockey Club confidentially for use in annual industry figures, but they do not allow the Jockey Club to publish the data for their individual tracks.
If a track is not willing to publish its annual breakdown statistics, one can only logically conclude that there is no management commitment to reducing fatalities. I would strongly recommend that the Jockey Club agrees to accept breakdown rates only from tracks if they agree to allow the Jockey Club to publish the data. If the track does not agree, it would simply be absent from the listing of reporting tracks and it can explain its reason for not submitting the data to the industry database.
Below is a chart that reflects the average annual breakdown rate of all tracks that submit to the Jockey Club. As you can see, over the ten years the annual industry breakdown rate has only declined by 16 percent, which in my view is a very modest decline. We need to do better.


There is some reason for optimism based on some changes in policy and practice in the industry. Given the broad range of policy changes and new technology that is being introduced in California, I would expect that the breakdown rates for Santa Anita for the winter/spring 2020 meet will be substantially less than this past year.
One other comparison that is relevant is that Aqueduct in the winter of 2012 had a very similar number of breakdowns for its late December-late March meet that Santa Anita had this past racing season.
Governor Cuomo called for a New York Task Force on racehorse health and safety, which I wrote about in some detail last March in the midst of the Santa Anita situation. Click here to see a copy of this excellent document.
The work of this committee was groundbreaking and resulted in a series of policy changes at all three NYRA tracks that are reflected in these annual breakdown figures: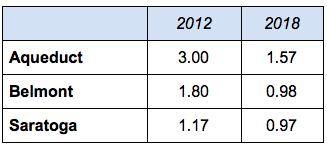 Clearly, all three NYRA tracks reduced their breakdown rates as a direct result of the new procedures and policies that were adopted on the recommendation of the NYRA Task Force in the fall of 2012.
One of the key people on that NYRA investigative panel was Alan Foreman, President and CEO of the Thoroughbred Horsemen's Association. Under his direction, with assistance from Dr Scott Palmer, Equine Medical Director in New York, a large number of East Coast tracks collaborated to create the Mid-Atlantic Strategic Plan to reduce Equine Fatalities. Without question, this will result in a reduction of breakdowns at their respective tracks.
Before we leave the topic of breakdowns, I think it is worthwhile for the industry to review the experience of synthetic surfaces and their potential to improve equine safety. There clearly were some very high-profile racetracks, such as Keeneland, Santa Anita and Del Mar, that installed synthetic racing surfaces in 2006-2007 and in recent years replaced those synthetic surfaces with dirt tracks.
However, there remain a number of North American tracks, such as Turfway Park, Golden Gate Fields, Presque Isle Downs and Woodbine, that have breakdown rates substantially less than the Equine Injury Database average and have had much better experience with their wagering customers than the tracks that converted back to dirt.
The science and the experience of synthetics have advanced and they could be part of future efforts to make our racetracks safer.
THOROUGHBRED SAFETY COALITION
The Thoroughbred Safety Coalition (TSC) was formed in mid-November with founding members including Breeders' Cup, Churchill Downs, Del Mar Thoroughbred Club, Keeneland, New York Racing Association, and the Stronach Group. The goal is "to implement a set of major reforms that will improve the safety of horse racing for generations to come."
You can track the organizations' progress and the goals that have been laid out (in three generational categories: medical, operational and organizational) here on their website. A brief review of these categories will give you an understanding of the goals.
Interestingly, these founding members were part of a larger coalition that was formed in April 2019 including Lone Star Park, Remington Park, Los Alamitos Racecourse, Oaklawn Park and Tampa Bay Downs with the expressed purpose and goal of eliminating Lasix in 2020 for all 2-year-old races and for 2-year-old races and all stakes races in 2021.
Curiously, there is no mention on the Coalition website regarding the elimination of Lasix in 2020. However, a number of Coalition members have moved on eliminating it for 2-year-olds in 2020.
The Kentucky Racing Commission has voted to eliminate Lasix for 2-year-olds, which would affect both Keeneland and Churchill Downs. NYRA President and CEO David O'Rourke has stated, "In New York, we're going to write it in the conditions that in 2020 2-year-olds won't run on Lasix in 2020 and no one can use it in stakes starting in 2021."
Santa Anita has reportedly reached an agreement with the California Horse Racing Board that no 2-year-olds will run on Lasix in 2020. That would leave Breeders' Cup, Del Mar and the remaining Stronach Group tracks to announce actual plans to eliminate Lasix for 2-year-olds.
The 'Operational' rule, which I am curious about, is regarding out-of-competition testing (OOCT). The rule reads, "Perform random, out-of-competition testing on horses without limitation."
Currently, in the U.S., less than one percent of all drug tests are out of competition as compared to European and Hong Kong OOCT testing, which varies from ten to 15 percent of all tests.
OOCT is very important because a number of performance-enhancing drugs, such as EPO, will stay in a horse's system and dramatically enhance performance long after the drug can be detected in a post-race test. Most of the member tracks of the Thoroughbred Safety Coalition do not have effective OOCT programs in place and I cannot find any reporting of positive tests from OOCT from these member tracks.
From my perspective, if these major tracks can achieve and diligently monitor a robust OOCT program, a large segment of potential 'cheaters' will be eliminated from the entry box.
The TSC held its first Steering Committee meeting in New York City on December 18. The organization reported its first success with passage of enhanced safety and medication reforms by the Kentucky Horse Racing Commission as the result of ongoing dialogue between members Churchill Downs and Keeneland Association.
The steering committee reached a consensus to explore and implement five additional safety measures. It would be tremendously valuable if the TSC could post on its website on a consistent basis the progress it is making on initiatives in each of its three strategic categories (medical, operational and organizational).
Clearly, the industry is in need of serious change.
The first change is to eliminate the 'go along to get along' attitude that is too prevalent in the Thoroughbred industry. The HIA legislation, in my view, is essential for the future. Life after Santa Anita winter/spring 2019 will never be the same, not in California and not in any other racing jurisdiction across the country.
Whether we like it or not, the animal rights activists are here to stay, and they have the attention of the media and the general public. We need to change our outlook on equine safety and adapt our business practices to this new reality.
Finally, we need for the Thoroughbred Safety Coalition to provide us with leadership and progressive changes in how we conduct our business.