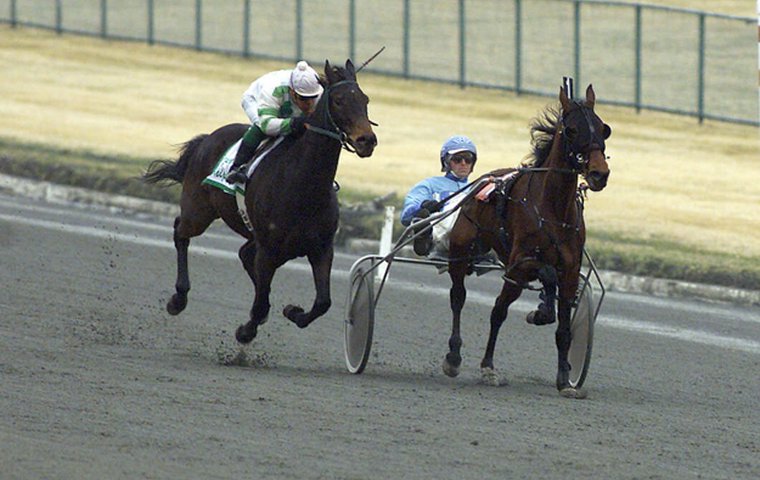 In horse racing, the winners take centre stage, but the horses they beat deserve attention as well. Let's hear it for the losers.

Not the honourable losers like Alydar (runner-up in all three U.S. Triple Crown races in 1978) or Wyndburgh (three-time runner-up in the Grand National).
No, the serial losers who have turned defeat into a fine art. Horses such as the Australian mare Oureone, who between 1976 and 1983 raced 124 times and never won; or Quixall Crossett (0 for 103) in England; or Zippy Chippy (0 for 100) in the U.S.
And while we're in the mood, let's salute those anti-heroes famous for a piece of sheer losing artistry – such as the horses who failed to win a walkover.
British racing fans, true to the national tradition of supporting the underdog, have canonised several serial losers, horses with a lengthy roll-call of defeats unsullied by victory.
Amrullah, an 80,000-guinea yearling, ran in 74 races on the flat, over hurdles, and in steeplechases, and lost them all.
It is a measure of the promise with which he started his career that his first outing in October 1982 was in a Newmarket maiden race won by Tolomeo, who the following year would land the Arlington Million.
But Amrullah was disinclined to build on that potential, and was soon being written off as a horse who simply could not be bothered to exert himself.
He certainly had ability. On one occasion, he was beaten a neck, and was so often placed in good races that by the time of his last outing, in a Fontwell Park steeplechase in March 1992, he had earned more than £26,000 in place money.
As Amrullah's career progressed (at least in one sense), his reluctance to win became ever more widely noticed, each outing generated wry amusement.
Not with everyone, however. Timeform, the publisher of form information based in Yorkshire, failed to get the joke, and attached to Amrullah's rating the dreaded "double squiggle" symbol, racing's equivalent of the mark of Cain, to indicate his unshakable unreliability. Like a maiden aunt admonishing a wayward adolescent, Timeform airily dismissed the poor fellow as "thoroughly irresolute."
But Amrullah had the last laugh. When it was announced that connections were giving up the unequal struggle and retiring him, the story was run on national television news.
If Amrullah was a good horse who pretended to be a moderate one, Peggy's Pet was just poor.
Between 1962 and 1970, Peggy's Pet posted a career record of 94 defeats and no wins under the Rules of Racing, plus a further 17 defeats in point-to-points (that branch of British steeplechasing organised by hunts, rather than run under Rules).
But in numerical terms, the record number of races in a career unsullied by victory belongs in Britain to Quixall Crossett, who between February 1990 and November 2001 ran in 103 races (plus one point-to-point) and did not win a single one.
Named after Albert Quixall, a dashing 1950s footballer, and High Crossett, the farm from which the horse's trainer Ted Caine operated, Quixall Crossett had one very close call.
In a steeplechase at Wetherby in May 1998, he produced an unwonted turn of foot towards the end of the race and was fast catching odds-on favourite Toskano – but the post came just in time, and Quixall Crossett's record remained intact.
Quixall Crossett had a fan club (of which the writer of this article was honorary president) as well as his own website (very high-tech at the time but now defunct), and his 100th race (and 100th defeat) attracted widespread press attention.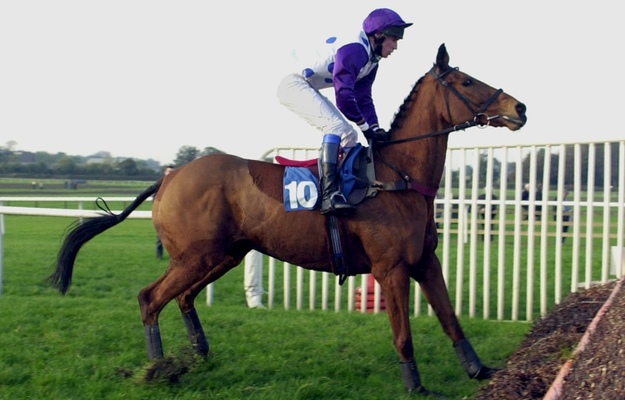 Some racing professionals reacted snootily to what they saw as a perverse celebration of defeat, but behind the perennial loser was a poignant story.
When Quixall Crossett was a young horse, the Caines' son Malcolm had been killed in a farm accident and, as Ted Caine observed to Times journalist Simon Barnes, "It was Quixall that kept us going, really."
Barnes's wistful piece on the Caines, written in March 1999 and reprinted in his book On Horseback (2000), stresses the therapeutic power of horses: "It becomes clear that Quixall Crossett has seen the Caines through a period of the most unspeakable grief. Life: that is what horses are good at. That is what horses give."
Quixall Crossett's total of 103 losing runs is more than twice that of Elsich, a notorious steeplechaser of the late 1940s, but that horse has a proper place on any losing roll of honour.
Elsich failed to win in 50 starts, two of which were on the same day in February 1945. He fell in a race at Cheltenham, and as he emerged unharmed from that setback, ran in another race 90 minutes later. He fell again.
Summoning the spirit of one of the all-time great Cheltenham horses, one journalist named Elsich "The Arkle of Awfulness," and you can see why. In addition to that double whammy in February 1945, Elsich ran three times in the Cheltenham Gold Cup (ran out, fell, pulled up after third fence), and once in the Grand National: he fell at the first fence in 1946.
In June 1947, jump racing's ruling body, the National Hunt Committee, decided that enough was enough, and declared that they would no longer accept entries for Elsich, who in 50 races had fallen in 22 and pulled up, refused, or run out in another nine. But he had completed the course 19 times, and had won his owner a few pounds. In a purple patch of three races in spring 1946, he had finished second (two runners), third (three runners), and fourth (take a guess).
The Losers' Hall of Fame has a special section for horses who have posted virtuoso losing performances, so let's hear it as well for two horses who have truly pushed the envelope.
In Britain, the procedure for a walkover – a race with only one runner – is that the jockey weighs out and takes the horse up the course a short way before turning and riding past the judge's box, from where that horse will be formally declared the winner.
Sounds simple enough, but in Britain it proved beyond two horses – both in point-to-points.
At Tweseldown in May 1990, Rossa Prince bolted while being saddled and could not be caught within the time limit; and at a Southwell point-to-point in April 1994, Mister Chippendale was denied the prize when his rider failed to weigh in.
No celebration of losers can be complete without the U.S.'s answer to Amrullah and Quixall Crossett, the legendary Zippy Chippy, who is now in honourable retirement at Old Friends at Cabin Creek Farm in Greenfield Center, New York.
Foaled in 1991 and acquired by owner/trainer Felix Monserrate in exchange for an '88 Ford truck, Zippy Chippy has a racing record with a nice roundness to it: 100 races and no wins, though he did win more than $30,000 in place money.
Zippy Chippy had his quirks all right, among them an unfortunate propensity to miss the break in his races – which in 1998 caused the authorities at his home track, Finger Lakes Racetrack in New York, to ban him from racing there "for the protection of the public." But he continued running elsewhere, and reached the landmark 100 at the Northampton Fair in September 2004, after which he was retired from racing, and spent some time serving as an outrider's pony back at Finger Lakes.
There was another side to Zippy Chippy's career, one closer to the circus ring than the simple matter of running in races. Monserrate set up all sorts of challenges for his horse – taking on a minor league baseball player over 40 yards, for example, or running a match race against a harness horse – and Zippy Chippy became such a celebrity that in 2000 he was included in a list of the nation's "Most Interesting Characters" in People magazine.
"Interesting" is an adjective that could be applied to all the losing legends of horseracing, and some of them have been called a lot worse. But Amrullah and his fellow defeated have written an intriguing sub-plot to the rich drama of horse racing history, and will be remembered much longer than the great majority of winners.
Big it up for the losers!