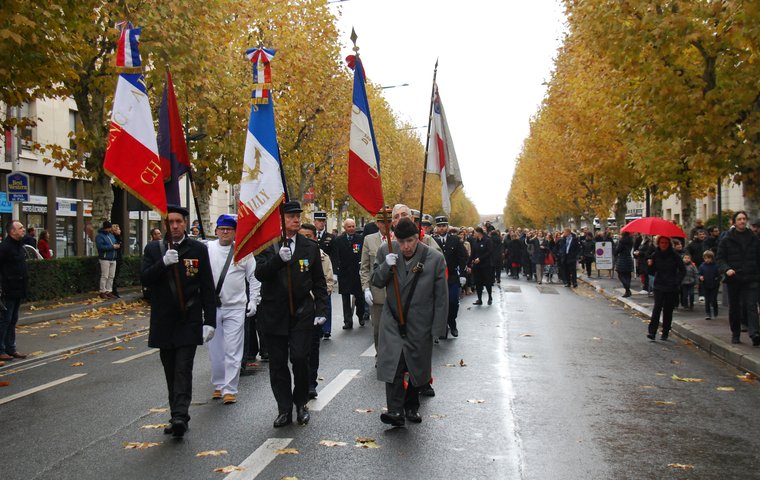 The 100th anniversary of the end of the First World War was marked the world over on Armistice Day last Sunday. It was an especially poignant occasion for the town of Chantilly, the leading racehorse training centre on the outskirts of Paris, which feels the effects of the Great War even today. A service of remembrance and a march led by veterans of the Second World War took place on Sunday, and November has featured a series of conferences, concerts and spectacles there. John Gilmore reports.

The outbreak of World War I had a major impact on the horserace training centre of Chantilly, where 1,200 of the 5,500 residents were of English origin, and the majority of the men worked with racehorses. When Britain and France went to war with Germany at the beginning of August 1914, the eligible British racing staff felt it their duty to sign up to fight for their country.
Those British families whose children had French nationality needed their parents' consent, if under 21 to enlist, even though the age of voluntary entry was 17. To get round this problem, a number joined the British Army, where the parents' authorisation was not a requirement for minors.
That was the case for Fred Meggs, born in 1899 in Chantilly of an English father and French mother. Unable to obtain the parents' authorisation, like a number of others, he voluntarily joined the English Army in 1917. Injured the same year, he returned to Chantilly in 1919.
Many others were not so lucky. On the World War I and II monument of the dead at Chantilly 187 local residents are listed, including these Britons: Herbert Attwood, Gerald George Batchelor, David J Hicks, George Hicks, Charles Lynham, Harry Richard Prince, Arthur Bundy, Laurence Spencer, Alec Carter, Cyril Strutt Carter, Albert Arnott, Frederic Marcel and Gabriel William Esling. All are remembered at 11 a.m. each November 11.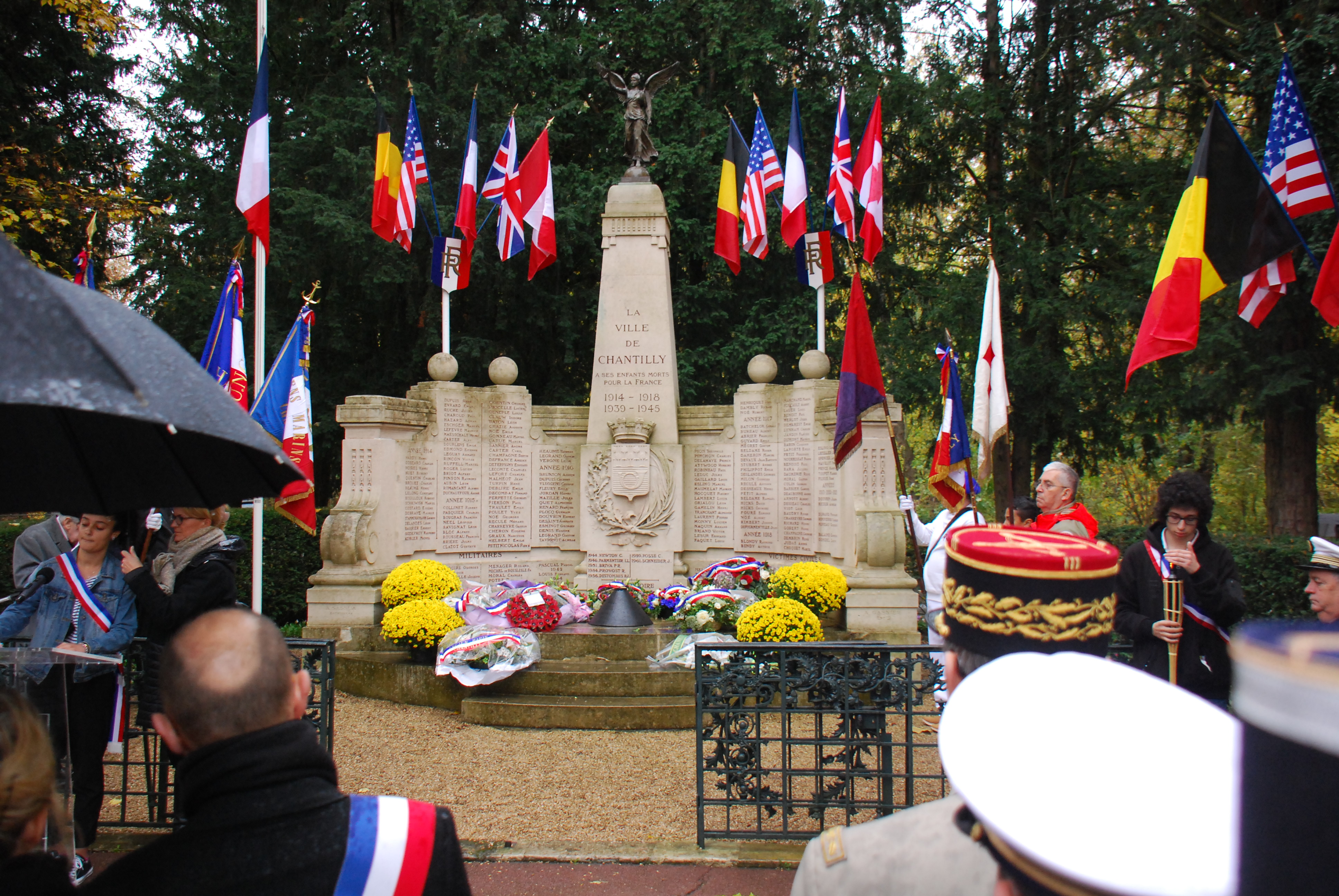 The Anglican St Peter's Church in Chantilly has two stained glass windows in memory of those of its congregation who died during the First World War: George Batchelor, Robert Wall, Arthur Bundy, Harry Prince, A. Allman, Elwin Williams, George Alexander Carter, George Philipps Ormonde, Henry Pratt, Sidney A. Lowe, Cyril Stratt Carter, Frederic W, Wood and Robert J;Attwood.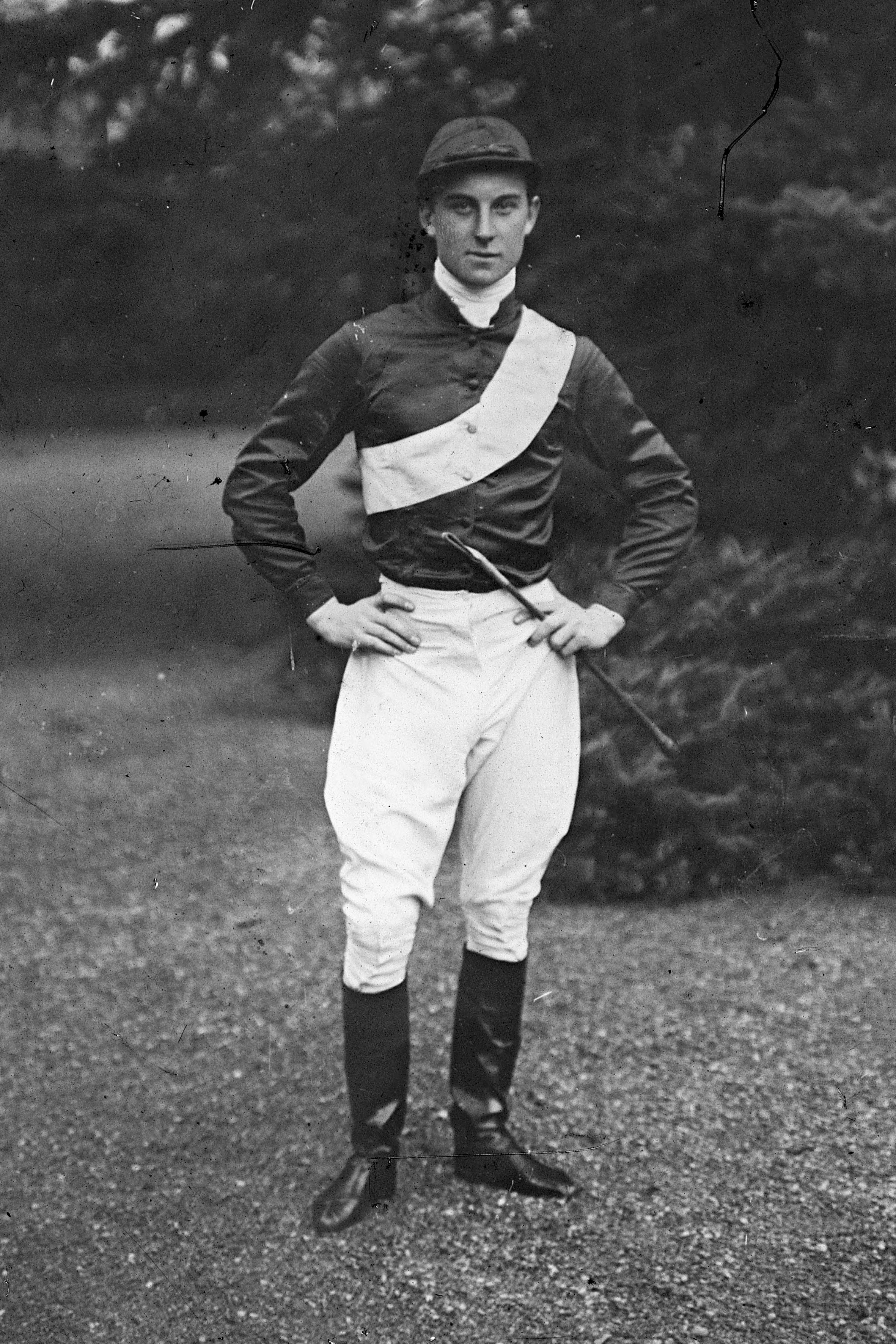 One of the most famous to die in battle was Alex Carter (picture provided by Sarah Gillois). Born on March 31, 1887, he was a product of the great British racing families of Chantilly. His father was Fred Carter and grandparents Thomas R. Carter and William Planner were celebrated trainers.
At Longchamp in September 1899, Alex Carter won his first race on Sonnerie in the Prix d'Iéna. He never looked back. Due to weight difficulties, he became a top jump jockey from 1906, winning the championship twice, in 1906 and 1907, and the Grand Steeplechase at Auteuil in 1908 with Dandolo and six years later with Lord Lorris for owner James Hennessy.
Having opted for the French nationality, he had already completed his obligatory two-year military service in 1910-1912 and, just five weeks after his triumph at Auteuil, he enlisted in the army.
At the beginning of October, he wrote in a letter to a friend, "J'ai l'impression de mener une vie sans encombre. Bien que quatre chevaux été tués sous moi je n'ai pas une égratignure." ("I have the feeling of living an unhindered life. Even though I have had four horses killed under me, I don't have a scratch.")
A short time after, as second lieutenant in the 226 regiment, he was seriously wounded following an attack at Saint-Pol-Ternoise Pas De Calais. He died two days later - on October 11. He was awarded a special military medal inscribed, "Excellent officer who has made a number of attacks and always acquitted himself with conscience and courage." He is buried in the family grave at the Bois Bourillon Cemetery in Chantilly.
Without the stable staff, no racing yard could function, and many men working in the stables went to fight. Sadly, a number did not return.
Herbert Attwood was born in 1881 and worked on the stable staff of Chantilly trainer George Batchelor. Attwood served with the 18th Lancashire Fusiliers regiment and was fatally wounded at the Somme battlefield. Private Attwood died on July 31, 1916, and was buried in the British and Commonwealth cemetery at Corbie, near Amiens, which is on the River Somme in Northern France. The 18th Battalion was, in fact, a special bantam battalion for those soldiers less than the regulation 5 feet 3 inches tall.
For British-born trainer George Batchelor, born in London in 1865, and wife Mathilda Watkins, born at La Croix St Ouen, near Compiegne, just north of Paris, it was also a tragedy. They lost their son, Gerald George Batchelor, who died in a hospital in London on March 15, 1917, after being injured on the Somme, aged 22. A promising jockey at his father's stable in Chantilly prior to the war, he was the Batchelors' only son, although they had four daughters.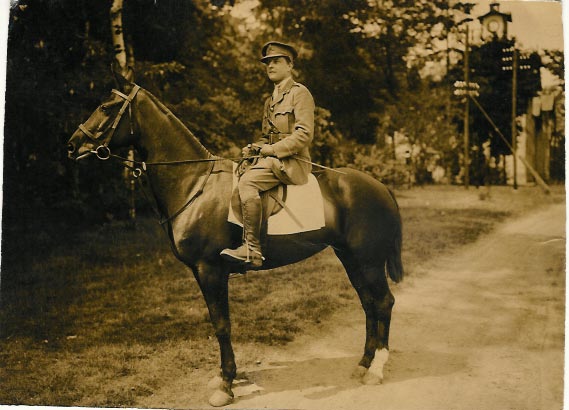 Richard Johnson, from a British racing family in Compiegne, who was later assistant trainer to Elijah Cunnington in Chantilly until the Second World War, had a stressful time during the First World War, as his granddaughter, Carolyn McCartney, points out. "My grandfather was sent to Handelsschule School in Hamburg from January to December 1914 as he was apparently quite intelligent and his parents wanted him to to be fluent in a number of languages and go into commerce. While at school one day, he sang the Marseillaise in the playground. He subsequently got into a fight and broke his leg."
Not surprisingly, the repercussions didn't end there. After a period in hospital, Johnson found himself in a German prison camp for foreigners. "All was not lost as his trainer grandfather Richard Carter came up with a solution," said Carolyn McCartney. "Richard Carter had a friend, Mr Bright, a banker, who agreed to get Dick out of Germany on an American passport, which I believe was false, providing he took some gold out for him. So a special waistcoat was made and Dick got safely back to England with a passport issued on November 5, and he enlisted in the army on August 12,1916."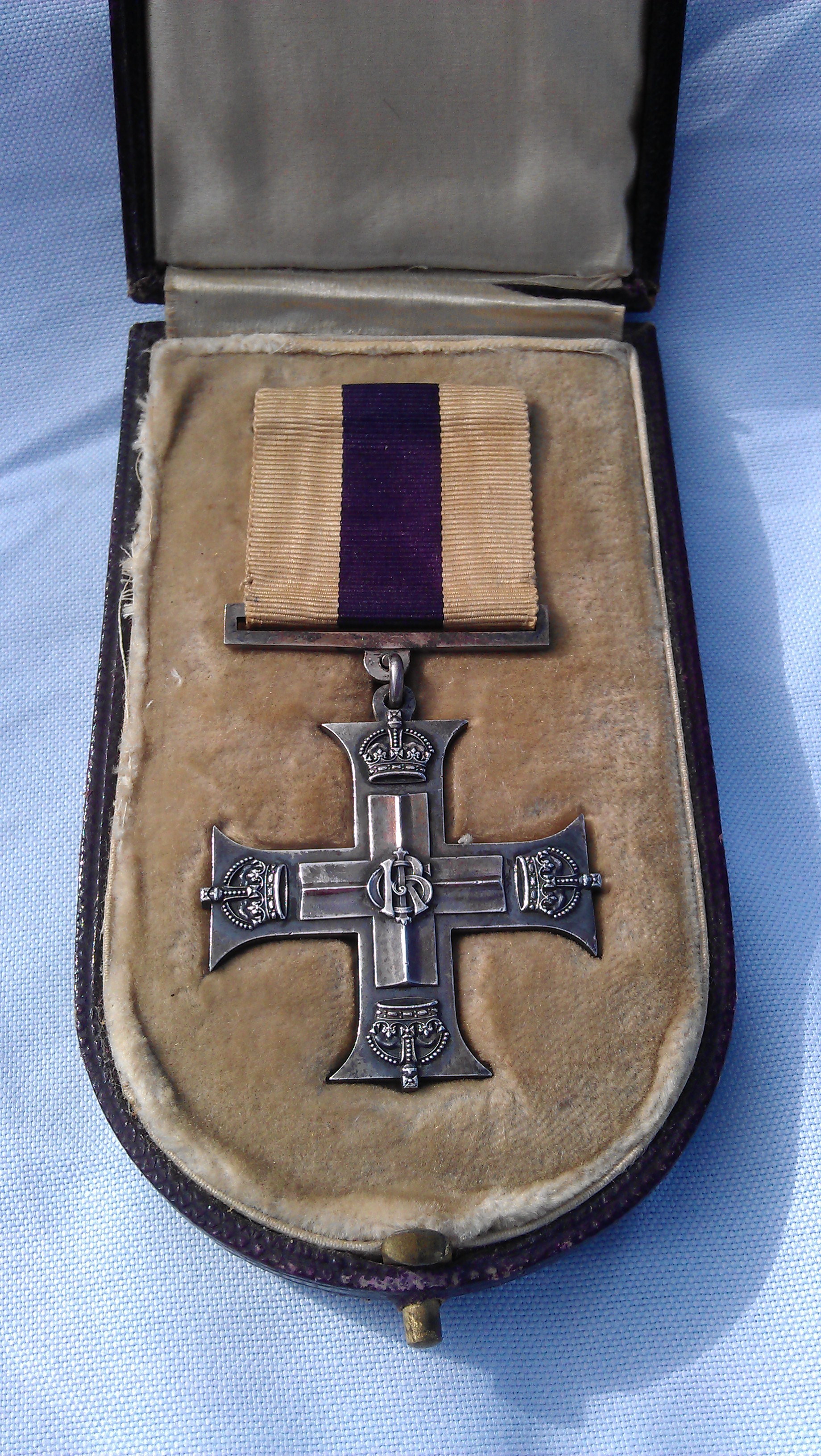 Johnson received the Military Cross (picture provided by Carolyn McCartney) from King George V in December 1919 for outstanding bravery while serving as second lieutenant in D Battery in the 160 Brigade, Royal Field Artillery, in Geluwe (West Flanders, Belgium) on October 14 1918.
The dissertation read:
Near Geluwe, Richard Johnson was acting as forward observer officer. He went forward through a heavy barrage, got in touch with the advanced infantry and succeeded in sending back important information during the day. He got engaged but, notwithstanding, he carried on until the evening. Throughout the day, he gave the infantry valuable assistance and a fine example of courage and skill.

At the end of hostilities, Johnson served in the Army of Occupation in Cologne in Germany. He was discharged in 1921 as acting captain. He later became assistant trainer to Elijah Cunnington in Chantilly.
The German Army entered Chantilly on September 3, 1914, for the only time during the war. The Chateau was occupied briefly, but there was no real destruction, unlike at the neighbouring towns of Creil and Senlis. The German troops left the next day for the Battle of the Marne.
After the first Battle of the Marne, General Joseph Joffre installed his headquarters at Chantilly because of the easy access it offered to Paris by road and rail. The general took over the six-floor Hotel du Grand Condé, adjacent to the railway station, with 450 officers and 800 clerks and soldiers. Joffre, for his part, lodged at the Villa Poiret, some 100 metres away, and other military stayed at the Hotel d'Angleterre, Hotel Epsom, Hotel Album, Hotel de La Gare and other villas in the town.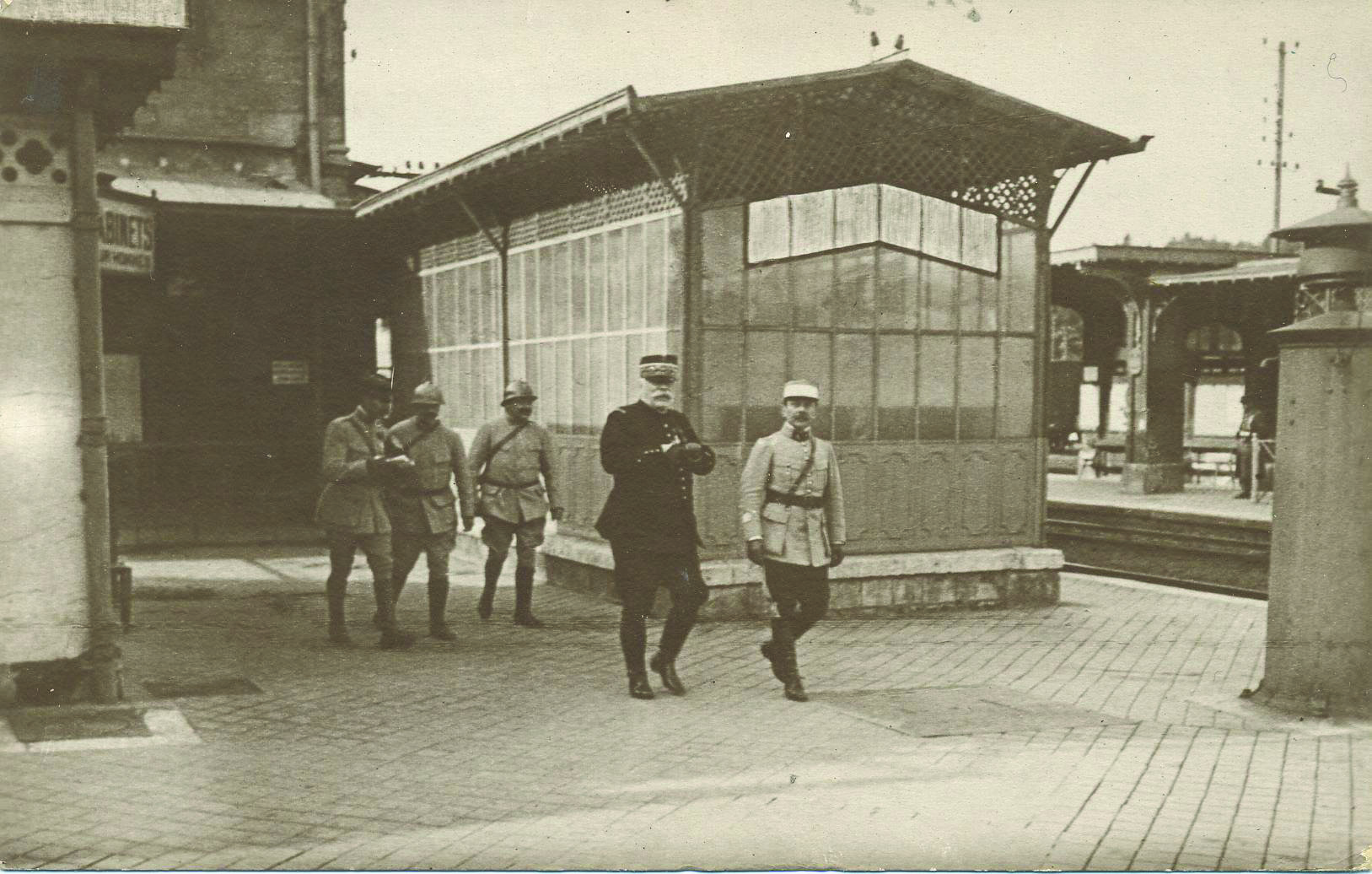 Joffre held the Conference of Chantilly from the December 6-8, 1915, to makes battle plans with his Allied counterparts and to coordinate military offensives for 1916.
But he was later replaced by Robert Nivelle, on December 13, 1916, after a series of setbacks and heavy losses of life on the Verdun and Somme battlefields The headquarters were subsequently moved to nearby Beauvais, to be nearer the front line. Neville didn't last long and was subsequently replaced by General Philippe Petain in May 1917 after the failure of the spring offensive.
Chantilly became home to hospitals for soldiers wounded on the front, one in the Hôtel Lovenjou, the other in the Egler Pavilion and makeshift tents were put up on the grass area around the racetrack as the number of wounded increased.
One of three camouflaged workshops of the French 1st Engineer Regiment opened in 1917, in custom-built barracks on the pelouuse near the racetrack. Up to 1,200 women were hired, which gave much needed work for the local population. Along with 200 German prisoners of war, they painted canvases, which the army used to hide artillery and troop movements from view.
During the war, Chantilly racecourse and surrounding pelouse area was closed and occupied by the military, who also took over Les Aigles training area, which was used for aircraft pilot training.
It was a tough time for the town, having to cope with refugees from Northern France and Belgium. There were 102 by July, 1915, and the number had increased to 139 by the following July. They were housed originally in the Hospice Condé retirement home. The town also prepared meals for the military, which was a drain on resources that was never properly compensated. Further, with the men away fighting for their country, the women and children left behind had little in he way of resources. In many cases the fathers or sons were killed in action. Assistance was given for school clothing and food, however.
The Prix de Diane won by Alerte in June 1914 was the last major race meeting at Chantilly before war broke out.
From August 1914, all types of horses, including racehorses, were being requisitioned by the army for riding and later transporting equipment like cannons to the front line.
Some champion Thoroughbreds did military service, and many were killed in battle. Fewer horses were needed after the first few months, after it was realised that cavalry was not equipped for trench warfare with machine guns and cannon fire being used against them.
Some of the racehorses were saved, however, when their owners evacuated them to England.
During four years, Chantilly lost more than half of its total racehorses in training, from 1,600 before the war down to 553 in January 1918.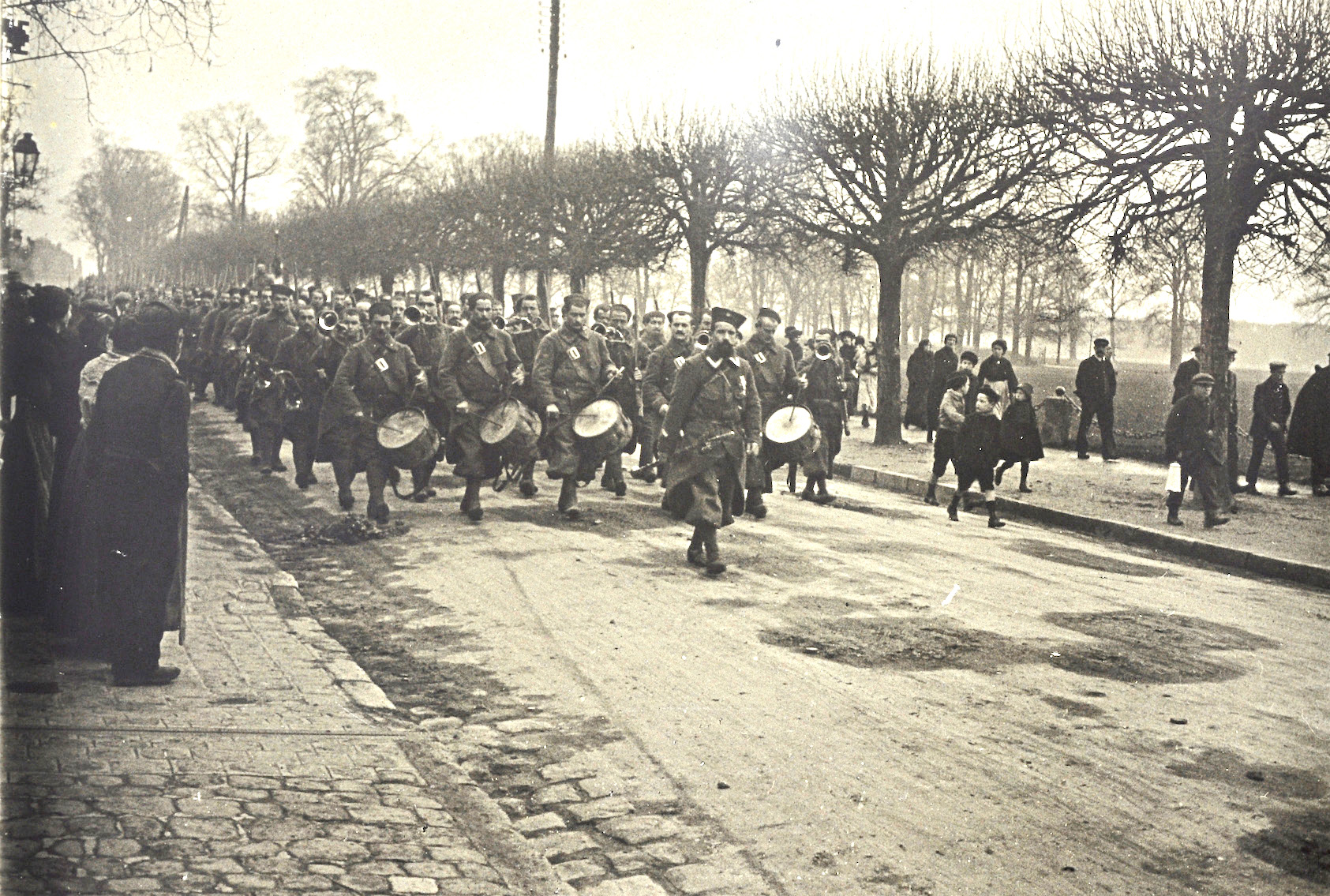 No racing took place during 1915, which meant trainers in Chantilly had a tough time with no way of earning money from the horses left in their yards to pay overheads. And horse feed was difficult to obtain for racing stables as the military had priority. Plenty of stable staff signed up to fight for Britain or France.
In 1916, the Societe d'Encouragement, the governing body of French racing, managed to persuade the military to allow 154 meetings to take place at the country courses of Caen, Mont-de-Marsan and De Moulins. In 1917, further meetings were added to courses nearer the major training centres of Chantilly, Maisons Laffitte and Bordeaux, with 174 flat meetings and 11 for jumping. But, because of troop movements in 1918, only 74 meetings took place in the autumn at Maisons Laffitte and Bordeaux.
Finding jockeys was the biggest problem, with so many signing up to fight. One or two American jockeys based in France took advantage, with their country not going to war with Germany until 1917. Most notable was Frank O'Neill, who was champion jockey in 1914 and 1916 and won the title ten times between 1910 and 1922. British rider George Stern, who won the title 7 times between 1900 and 1908, was able to continue riding in France during the war as his application to join the British Army was rejected because he was just five feet tall.
It took several years for the Bartholomew, Batchelor Carter, Cunnington, Watson, Jennings, Count, Pantall and other racing families to get back on their feet. The loss of life, both human and equine, at Chantilly during the first World War has never been forgotten

An exhibition of life in Chantilly during the First World War is being held at the Chateau of Chantilly until January 6, featuring archive documents never seen before and photographs.