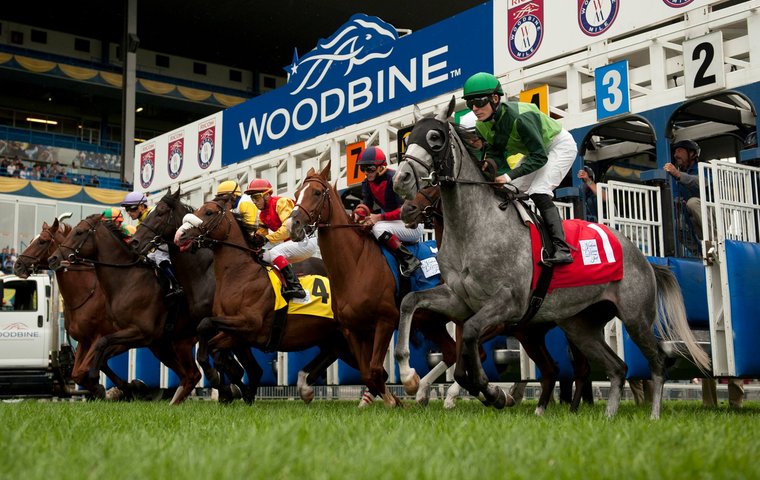 Woodbine Racetrack in Toronto, Canada, is a popular racing destination for fans and horsemen alike, as well as a bustling center of year-round equine activity. However, the sprawling plant has been dealt two serious blows in the past three years, leading to concerns about its longevity.

First, the Ontario Lottery and Gaming Corporation ended the Slots at Racetracks program, which generated $345 million for the industry each year. Then, changes to Canada's Temporary Foreign Worker Program made it extremely difficult for non-Canadian residents to ship up with a stable they worked for in the United States during the winter months.
Even U.S. Hall of Fame jockey Alex Solis, whose position is considered "highly skilled" by the Canadian government, struggled with his paperwork and eventually quit riding at Woodbine to return to the United States. "I really enjoyed my stay in Canada," Solis said in 2015. "There were a lot of wonderful things about it. But they are a completely different country with their own rules. It is very hard to get a working visa."
A survey in 2015 revealed 70 open positions on Woodbine's backside, but filling those jobs has been difficult. "With the announced end of the slots program, a lot of people were concerned what was going to happen to racing," said Gayle Ecker, the Senior Manager of Equine Guelph at Guelph University in Ontario. "People didn't feel it was an entrance field."
To counter the employment crisis, the Woodbine Entertainment Group and the Horsemen's Benevolent and Protective Association (HBPA) of Ontario have joined forces with Dr. C. Reid McLellan to bring the Groom Elite program to Canada, while Guelph University strives to combat the problem with a plethora of equine educational tools.
A skilled position
"I think people outside racing have an idea that if you work with horses, then you work with ponies," said Corinne Phillips, the Horsemen's Services Representative of HBPA Ontario. "They don't have the concept of the value of the racehorses and that they are athletes with their own minds. You have to be very experienced to work with them safely. You can't just get someone off the street, you need highly skilled people to come."
Education has become a priority for the HBPA and, although they ran a "groom school" for years, it often served to help hotwalkers step up to being grooms by expanding their knowledge of how to properly care for horses they already handled on a daily basis. A more extensive course was needed to safely train people that had never worked with horses before.
Jessica Buckley, Woodbine's Vice President of Community Relations and Corporate Affairs, said: "Woodbine and the HBPA partnered on this initiative to work together and train local people to get involved with racing. We had come across the Groom Elite program and started working with Dr. McLellan."
The Groom Elite program first began at Sam Houston Race Park in in Texas in 2001, and rapidly grew to include the American courses Colonial Downs, Canterbury Park, Santa Anita, Emerald Downs and Churchill Downs. Dr. McLellan traveled extensively to help those tracks set up the program and often taught the class himself.
Affecting the quality of a groom's work
"Since grooms spend more time with their horses than any of the other professionals combined, it is beneficial to the horses and the owners that pay for them if the grooms have even a little bit more knowledge and recognition than they normally would have," Dr. McLellan said. "Not to mention that, if the groom has more of an awareness of the importance of their job, then their self esteem is higher, and when they bring their horses over to race it affects the fans and the horseplayers because we've affected the quality of their work."
"It's really extensive what is taught," Buckley said. "Week one is the basics, and weeks two and three are more intensive. They practise bandages, saddling, bridling and grooming, but there's also a whole day on nutrition. They are taught how to be the eyes and ears from the trainer."
The program flourished with help from trainers on the Woodbine backstretch who came to participate and teach but also learn. "We split the students into four groups, with each group assigned to an assistant instructor," Buckley continued. "Their knowledge base was huge. Between the trainers and Dr. McLellan, there were really five teachers for the class."
Woodbine's pilot Groom Elite program launched in May and ran for three weeks. "We graduated 14 people," Buckley said, "and nine are currently working on the backstretch. We are really pleased with it."
"Nine out of 70 spots may not seem like much," McLellan said, "but we showed we could do it. Eight of them had never been around horses before, and by the end of the class they were putting saddles on, wrapping legs. The whole idea is to take people that haven't been around horses and give them an opportunity. It should help with recruitment next year."
Courses tailored to the racetrack's unique schedule
Across town at Guelph University, Gayle Ecker is running one of the industry's hidden gems. Equine Guelph is an online continuing education program and is a world leader in the number of offerings in an accredited unit. People that sign up for the courses can qualify for certificates or online diplomas, but there are also numerous free articles, videos and quizzes for those who don't have the time to take a 12-week course.
"We offer dozens of free-to-use, on-your-own-time, educational tools," Ecker said, "from biosecurity to a colic risk calculator and a lameness lab. There's a senior horse challenge, a vaccination planner, all of those are free for anyone to look at. They're easily accessible for anyone in the horse industry."
While Equine Guelph does offer face-to-face courses, such as a large animal emergency response course that teaches the humane and safe ways to rescue horses in predicaments, most of the classes are online. "We start with management of equine environment, basics of how to house horses safely, then go into things like advanced nutrition. So many of the classes would be valuable to the racing industry."
For instance, Ecker recommends the equine behavior course. "It's very important for anyone working with racehorses to understand their horses and the language they use to learn. The class opens up a lot of eyes if they haven't had any equine learning theory taught to them."
A host of awards
Then there is anatomy, exercise physiology, and a business and risk management class for those that want to move into ownership.
"We have event management, which is applicable to those on the front side, and a global perspectives in equine welfare class that talks about racing," Ecker said. "These aren't necessarily entry-level courses, but they are valuable to those that want to expand their knowledge and progress."
She noted that the online courses are especially useful for people in racing, as the "unusual" schedule of work often doesn't fit "into a Tuesday night seminar or a three-days-a-week classroom setting. If you want to work on your class at two in the morning, you can."
Equine Guelph's online courses began in 2002 and have developed to win a host of provincial and national awards. "Many people who are currently in racing or are heading into racing work now have been in our courses," Ecker added. "I would say it's about 10 percent that go into racing."
Of last year's 958 program registrations, around 600 were international students from all over the world. At one time, Equine Guelph offered a specific course that helped students find a job on the backstretch at any of the 17 Thoroughbred, Standardbred and Quarter Horse tracks in the Ontario province. "It was a real practical course that blended the best of face time with an instructor with working for a trainer," said Ecker. "It ended when Ontario announced the end of the slots program, but it is something we are looking at resurrecting."
Educating the government
No matter how the Canadian racing industry strives to fix the employment problem, the need to educate the government on the need for skilled workers is most pressing. "It is an ongoing problem," said Corinne Phillips. "We have being having meetings with them to try to get our point across. To try to get them to understand the economic repercussions of not having a good groom is what we're working on now."
The HBPA's President, Sue Leslie, has had phone conversations with high-ranking officials, while Phillips and Jessica Buckley have both attended meetings. "Some owners have even gone independently to speak with them," Phillips said. "It's been a three or four pronged attack. This industry needs educated people, because we really are a niche market."
"The government is currently reviewing the Temporary Foreign Workers Program with more changes to come possibly this fall," Buckley said. "We are trying to create awareness in the people that we meet with to explain the level of skill required. We are stressing the safety aspect of working with young athletes, and that it's so important that we have people that have received the proper training. Many industries have been affected, which is why there is a review happening. We're hopeful there will there will be positive changes to come."