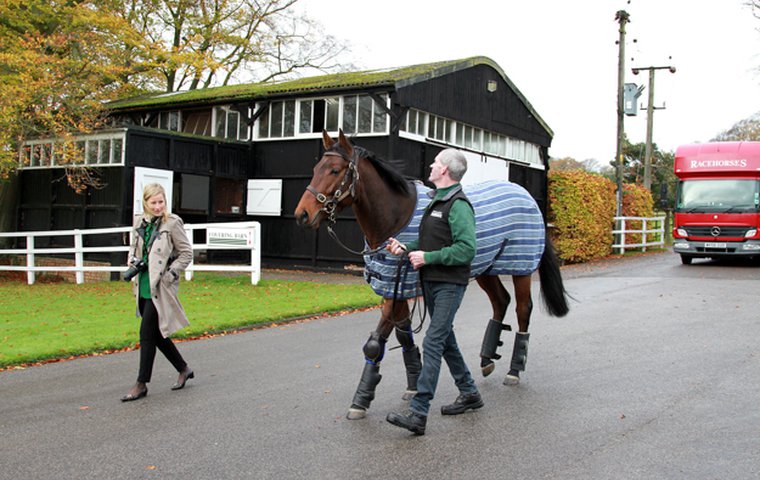 Kirsten Rausing didn't initially plan to stand stallions at Lanwades Stud when she purchased the property from Lt. Col. N. E. "Nat" Frieze in 1980. However, a tempting offer from the British Bloodstock Agency prompted her to take a chance on the ultimately successful Niniski, and thus one of Newmarket's premier stallion operations was born.

Today, still riding high off the back of the successes of more recent former stalwarts Selkirk and Hernando, Lanwades Stud is home to five stallions. Four are established residents, namely Archipenko, Aussie Rules, Leroidesanimaux, and Sir Percy, but particularly exciting for 2015 is the addition of Sea The Moon, one of the most visually impressive 3-year-olds to grace the track in Europe this year.
The Gestüt Görlsdorf homebred was utterly dominant in the German Derby, which he won from Lucky Lion by 11 lengths, and recorded other wide-margin victories in the Oppenheim-Union-Rennen and Fruhjahrs-Preis. The winner of four races, he suffered his only defeat when second behind Ivanhowe in the Grosser Preis von Baden at Baden-Baden in September. It later emerged that he had suffered an injury in that race, which not only prevented him from running in the Arc, a race for which he had been as low as 3-to-1, but also ended his career.
"We're always looking for stallion prospects and I identified this horse when he won his maiden [at Cologne] last year," Rausing said. "So I began talking with his owners. There were obviously a lot of other interested parties - I believe there were about four at the end, incidentally all based in Britain - but I was possibly the earliest one."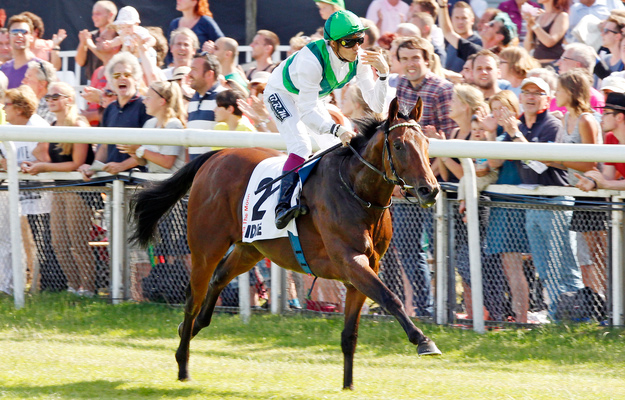 Advertised at a fee of £15,000, Sea The Moon is the first son of Sea The Stars to stand at stud worldwide. He will be supported by a number of mares belonging to both Rausing and Gestüt Görlsdorf owners Neike and Heike Bischoff-Lafrentz Bischoff, but is also in the process of being syndicated to "a good spread of breeders across Europe."
"His win at Hamburg [in the German Derby] was a great day for Görlsdorf as they are relatively young in this game," Rausing said. "The majority of their mares will come here to go to him and I will probably send about 15 mares, including [champion] Albanova.
"We're thrilled to stand him. He was an exceptionally good horse - how good we'll never know but we know he's very good - and is from a very good German family. He also has the exclusivity of being the first son of Sea The Stars at stud. No doubt there'll be many others, but he's the first, which has also attracted a lot of breeders."
Sea The Moon is also supported by one of Germany's very best families. His dam, Sanwa, is a Monsun sister to champion Samum (himself a G1 sire), multiple G1 scorer Schiaparelli, and Preis der Diana heroine Salve Regina. Another sister, Sasuela, bred Grosser Preis von Bayern winner Seismos.
In keeping with other successful operations such as Juddmonte, breeders use Lanwades stallions in the knowledge that they are supported by the stud's deep broodmare band, among them a number of mares descending from Alruccaba, who was bought in partnership with Sonia Rogers of Airlie Stud for 19,000 guineas ($31,620) in 1985. Alruccaba's web today comprises Lanwades-bred champions Alborada and Albanova as well as Aussie Rules and Derby runner-up Dragon Dancer.
Several descendants of the blue hen Special have also been collected over the years - such a strategy rewarded Rausing in no uncertain terms this year through Madame Chiang, a filly inbred to Special who became Archipenko's first G1 winner when successful in the QIPCO British Champions Fillies and Mares Stakes at Ascot last month.
"I do support my stallions, but at the same time I'm thrilled with the support we receive from outside breeders," Rausing said. "But, looking back on it, I supported Niniski and he responded with two G1 winners in Kala Dancer and Petoski, and then other people came in.
"It's been the same with Archipenko. I bred Madame Chiang and now he's getting greater outside support. Archipenko is as exciting as any stallion I've had. He's had to do it the hard way and there is more to come."
Only last year, Lanwades added two very different options to their line-up in Leroidesanimaux and North Light, both proven G1 sires imported from North America. While North Light has since returned to his former base, Adena Springs North in Canada, Leroidesanimaux will stand the 2015 season for £14,000. He sired Kentucky Derby and Dubai World Cup winner Animal Kingdom in his first crop and joined Lanwades following a stint at Stonewall Farm in Florida.
"I was looking for the Blushing Groom line," Rausing said of the brilliant miler, who is a son of the Blushing Groom stallion Candy Stripes. "We have run out of it in this country, although it is currently being revived in France by Le Havre. There are instances where sire lines have hung on successfully by a thread.
"I'm always on the lookout for well-bred horses with a race record, but it has become incredibly difficult to break into the oligopoly. The stallion market is very controlled by so few major players, and thus when a horse like Intello, Nathaniel, or Sea The Moon appears, interest shoots sky high.
"It's extremely difficult to survive in such a competitive environment. So I'm thrilled to have been in the position of standing two new horses in two years."
Completing the roster are Aussie Rules, who was represented this year by Matron Stakes winner Fiesolana, and Derby winner Sir Percy, whose early crops contain 10 stakes winners.
For all the current strength of the Lanwades roster and the successes that may lie ahead, the stud will always be intrinsically linked with Niniski. From Nijinsky's fourth crop, he was sent out by Major Dick Hern to win the 1979 Irish St Leger - by 10 lengths - and the Prix Royal-Oak. He retired to stand at Lanwades in 1981 at a fee of £5,000 and was an immediate success, landing the 1984 leading first-crop sires' title thanks primarily to the exploits of the Lanwades-bred Dewhurst Stakes winner Kala Dancer.
Petoski, another first-crop member from Lanwades, won the 1985 King George at Ascot for Niniski's connections Lady Beaverbrook and Major Hern. Prix du Jockey-Club winner Hernando and the outstanding German colt Lomitas were other top-class runners by Niniski to grace the racecourse.
Despite the presence of Caerleon, Ferdinand, Green Dancer, Shadeed and Shahrastani on Nijinsky's roll call of G1 winners, it is today through Niniski's grandson Silvano, sire of last year's German Derby winner Lucky Speed, that the Nijinsky sire line arguably remains at its strongest. Hernando's son Sulamani has also become a hit in South America, where he is the sire of four G1 winners, a development that provides Rausing with particular satisfaction.
"I think I am Nijinsky's No. 1 fan," Rausing said. "I was in Sweden at the time he was racing. We couldn't get British television but, if I drove my father's car on private roads up a steep hill to a particular site, I was able to get the British Forces radio. So on a very crackly wavelength, I listened to Nijinsky winning the Derby.
"I was working in Ireland when Niniski raced and he was trained by my idol, Major Hern. I had no plans to stand a stallion when I first came to Lanwades but the BBA asked me if I would interested in standing Niniski. So I managed to purchase a quarter of him and he remained with me until he died."
Niniski's son Hernando joined Lanwades in 1996 and sired classic winners Look Here and Holding Court alongside Godolphin's outstanding globetrotter Sulamani before his death in 2013. In what was a vintage period for Lanwades, he stood alongside Selkirk, whose 17 G1 winners comprised the likes of 1,000 Guineas heroine Wince, top-flight juvenile winners Sulk and Red Bloom, and Irish St Leger winner Kastoria.
Selkirk's last crop are 2-year-olds and the son of Sharpen Up died in 2013. But he was again prominent on the track this year through the Pretty Polly Stakes winner Thistle Bird and Rausing's homebred Cubanita, who ran second in the Grosser Preis von Bayern at Munich. In addition, his record as a broodmare sire, which already contains Simply Perfect, Termagant, and Independence, is strengthening all the time.
"The Selkirks were sound and tough, and they ran over different distances," Rausing said. "Cubanita ran the race of her life to be second in Germany to Ivanhowe. She is the first foal of her dam and I take particular pleasure that I have had the family for four generations."
Cubanita has been retired, but Madame Chiang, whose family joined Lanwades with the $2,000 acquisition of her granddam Kiliniski in 1997, is set to race on next year with David Simcock. With that progressive filly heading the Lanwades draft on the track and the addition of Sea The Moon at stud, 2015 promises to be another memorable year.