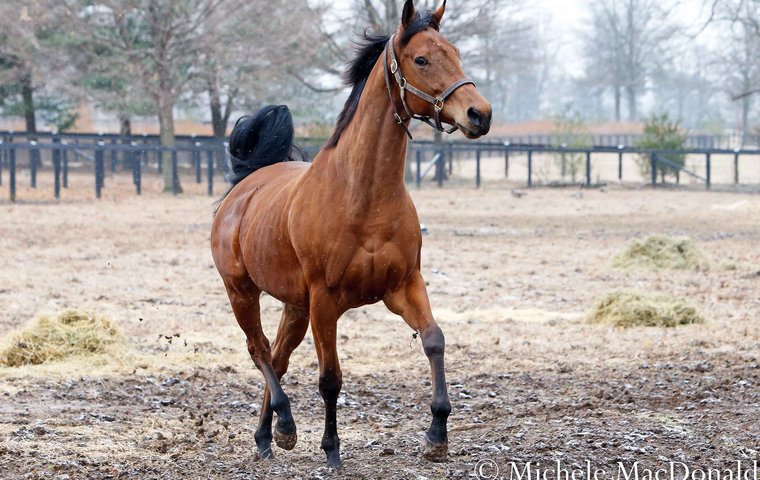 There are no orange traffic cones set up as a warning barrier around her territory, and her primary visitors these days are a just small gaggle of plucky Canada geese. She's miles away from the nearest racetrack now. Only the sounds of soft falling snow and nickers from nearby paddocks reach her ears on the chill breeze of the winter morning.

Lady Eli, the tempestuous whirlwind whose inner fire could spark trepidation among those near her but fueled her recovery from laminitis and improbable return to G1 victories, is settling in to the quiet, pastoral life at John Sikura's Hill 'n' Dale Farms near Lexington.
"She's doing everything right," said farm manager John Rasmussen of the 6-year-old, who was crowned America's champion turf female during the Eclipse Awards ceremony yesterday at Gulfstream Park. "Hopefully, she'll continue to do so. She's just a very special horse."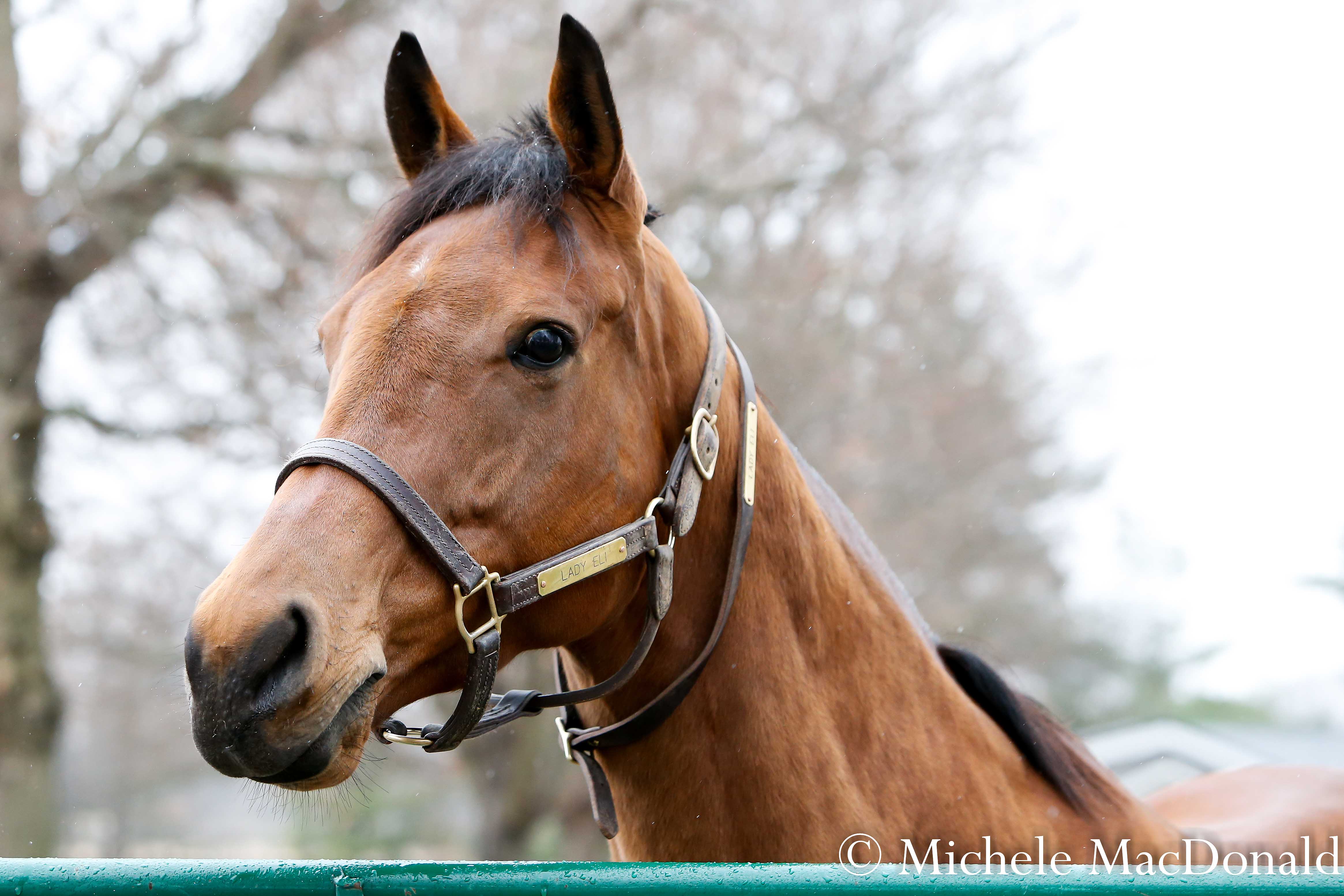 Lady Eli arrived at Hill 'n' Dale a few days after she was stepped on from behind by rivals in the Breeders' Cup Filly & Mare Turf at Del Mar, incurring lacerations and puncture wounds on both her hind legs and losing a shoe in the process. The incident led owners Jay Hanley and Sol Kumin of Sheep Pond Partners to withdraw her from the Keeneland November sale and send her to the farm.
They later announced that Lady Eli would stay at Hill 'n' Dale and be bred this season to Claiborne Farm's prominent international sire War Front, a mating that undoubtedly will be an attractive asset if she enters the 2018 Keeneland November sale, as planned.
"She had some pretty significant cuts on her hind legs, but they turned out to be superficial," Rasmussen said of Lady Eli's Breeders' Cup injuries, adding that she responded well to routine treatments that included bandaging of the limbs.
"You can't even really see any marks now. In that respect, it is very encouraging — and a relief," he said.
Her first quarters at Hill 'n' Dale were in a quarantine barn, following farm protocol to prevent the spread of diseases that might be introduced by newly arriving horses as they are brought on to the property.
"She took that well. She's not really a herd-bound horse. She's confident enough that she doesn't need a friend, and that's probably what made her such a good racehorse," Rasmussen said.
Once Lady Eli cleared quarantine, she moved into a barn sheltering about a half dozen other maiden fillies and mares. The serene views from the barn are mostly of trees, paddocks and stone walls.
She has progressed to a daily routine in which she spends most of her day in a paddock after she eats her morning meal and is groomed.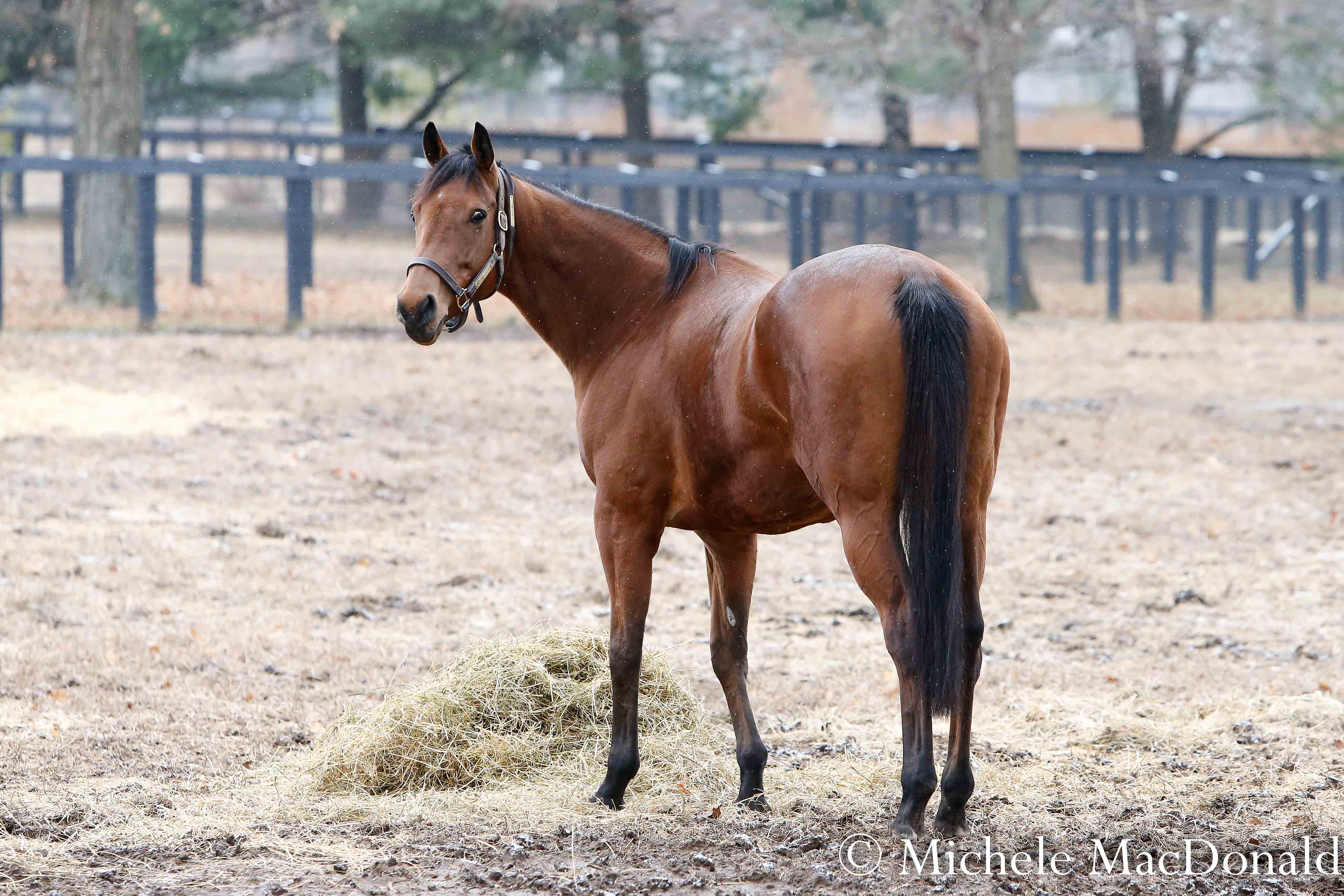 Two days prior to the Eclipse Awards, she marched out of her stall and stood in the barn aisle as her mane was combed and her feet polished. She pulled against the lead shank occasionally and jigged in place a bit, but she seemed a more relaxed version of the racemare known for her uncompromising toughness.
Rasmussen said trainer Chad Brown and his team sent some warnings about Lady Eli's reputation for being a mare who would test those around her. Brown's staff set up orange traffic cones around her stall to remind people to be careful when within range of her teeth, and exercise rider Walter Malasquez said he had to scurry out of her stall after removing her tack or she would try to kick him.
"They were good about sharing details. [Brown's assistant] Cherie [DeVaux] told us we had to be very careful and it had to be someone very competent to handle her," Rasmussen said.
'Good luck Big Momma'
DeVaux, who famously spent much of the year Lady Eli was on the sidelines taking diligent care of the mare after she stepped on the nail that caused the laminitis in July 2015, has often reflected on how much of a challenge she could be. In a recent post on Facebook that included a photo of herself kissing the mare on her forehead, DeVaux wrote:
"Words cannot express how much I will miss seeing this face every day. She sure didn't make it easy on us some days, but she made it worth it. Good luck 'Big Momma' in your next career — and even more luck to whomever has to take care of her with a foal."
Lady Eli's reputation as a bold individual goes all the way back to the days when she was a foal herself at Runnymede Farm in Paris, Kentucky, which bred the daughter of Divine Park and still owns her dam, the Saint Ballado mare Sacre Coeur, and her half sister, the multiple Graded stakes-winning Afleet Alex mare Bizzy Caroline. When still a youngster, Lady Eli would romp up behind visitors to the Runnymede fields, unafraid and unfazed, whether her dam was beside her or not.
Her character is and always has been a central part of her unique story. Sold as a yearling at Keeneland for $160,000 to Bradley Thoroughbreds, she was re-sold to Hanley for that same price as a juvenile, despite a good-looking breeze, with tales afloat that some prospective buyers feared she might be too difficult to manage.
"This mare is a really high-strung mare," Rasmussen said. "She's not a mean mare or a nervous mare, she just wants you to bring your A game when introduce yourself to her.
"That's being politically correct," he added with a chuckle. "You could use some other words, but I'm not going to do that."
There were moments after she arrived at Hill 'n' Dale where Lady Eli expressed herself in perhaps unladylike terms, but she has begun to relax. She enjoys receiving peppermints from farm staff, and she even deigned to be petted on her nose without any pinned ears, much less flashing teeth, on the recent snowy morning.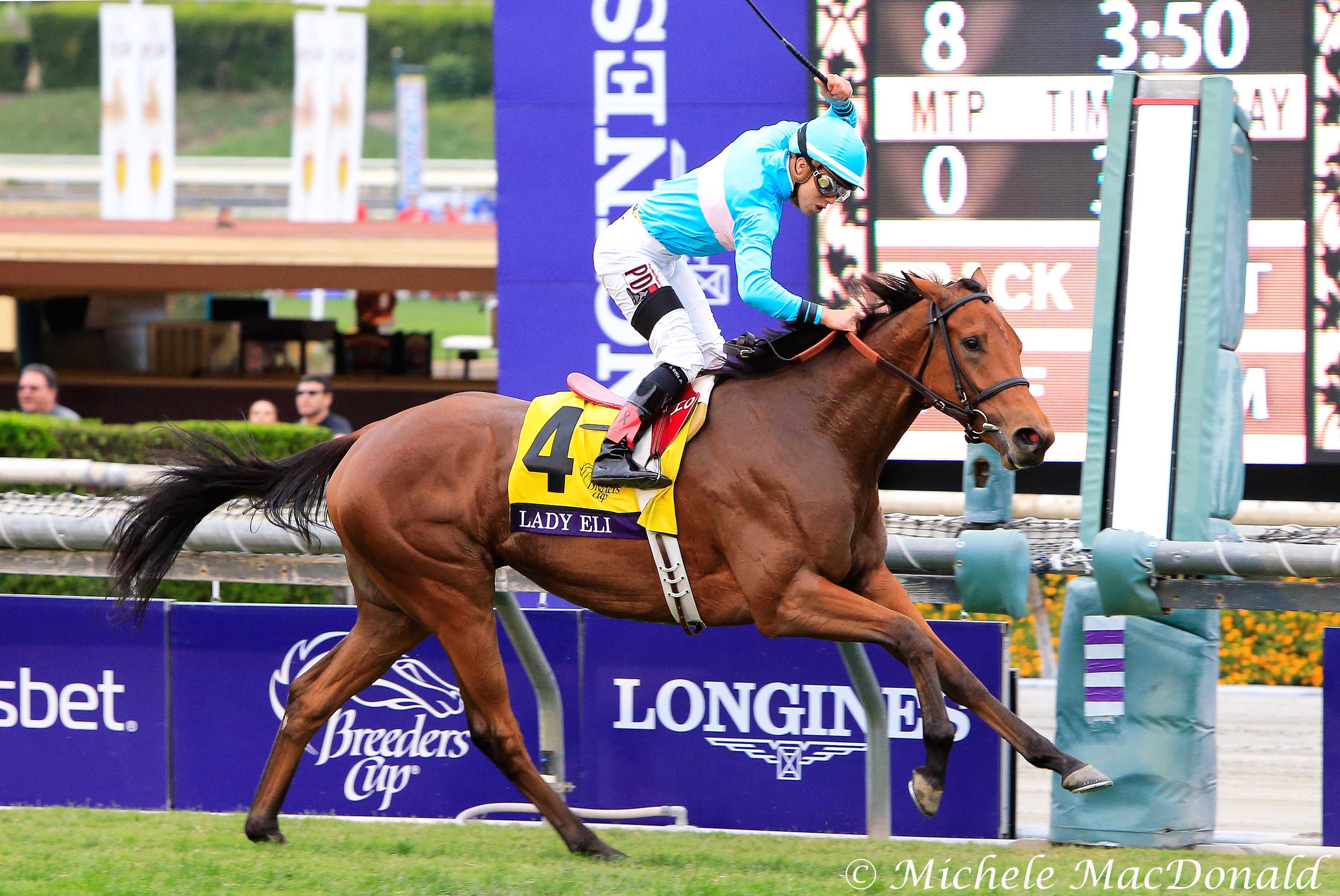 Despite the weather, Lady Eli seemed willing and not at all peeved for the disturbance to her usual routine. Still gracefully fit but covered in a light winter coat, she flicked her ears a few times but quickly agreed to groom Abel Arias's request that she stand in the traditional Thoroughbred conformation pose.
Her large eyes looked at the camera, deep reflection pools of her heart, soul and spirit. There is more kindness in those eyes now that she is away from the heat of racetrack battle.
"She is nice," Arias said, beaming with pride.
"She has got a big, kind eye on her now," Rasmussen observed while noting that the combative nature she is known for likely helped her to survive and thrive.
While some other horses have refused to succumb to the ghastly, often fatal condition of laminitis, there is perhaps no other example of a top caliber runner not only returning to training after suffering through the painful inflammation of hoof tissues, but excelling at the highest level.
"I have to think it's her spirit that got her through it," Rasmussen said.
Ground-skimming stride
And not only did Lady Eli subsequently win three more Grade 1 stakes, her achievement ranged even higher — recognition as a champion for 2017. That is is an honor many believe should rightfully have been Lady Eli's for her undefeated 2-year-old season, capped by victory in the Breeders' Cup Juvenile Fillies Turf over a field that included eventual Epsom Oaks winner Qualify.
The award for champion 2-year-old filly in 2014 went instead to Take Charge Brandi, who won the Breeders' Cup Juvenile Fillies on dirt. Coincidentally, Take Charge Brandi also wound up at Hill 'n' Dale, with Sikura bidding $6 million for her at Keeneland in 2015, and that daughter of Giant's Causeway produced her first foal, a colt by Curlin, in February 2017.
Lady Eli is preparing for her own broodmare career now, staying under lights while in her stall at night to stimulate her reproductive cycle. Her feet are in good shape, Rasmussen said, and there are no other lingering health problems.
When she is turned out in her paddock, she does not make a big fuss, but she did show off an eye-catching extended trot with her tail flagged after posing for conformation photos. When she spied the visiting Canada geese, she put her head down and playfully chased them, cantering with the same ground-skimming stride she displayed while racing as they flapped their wings and honked.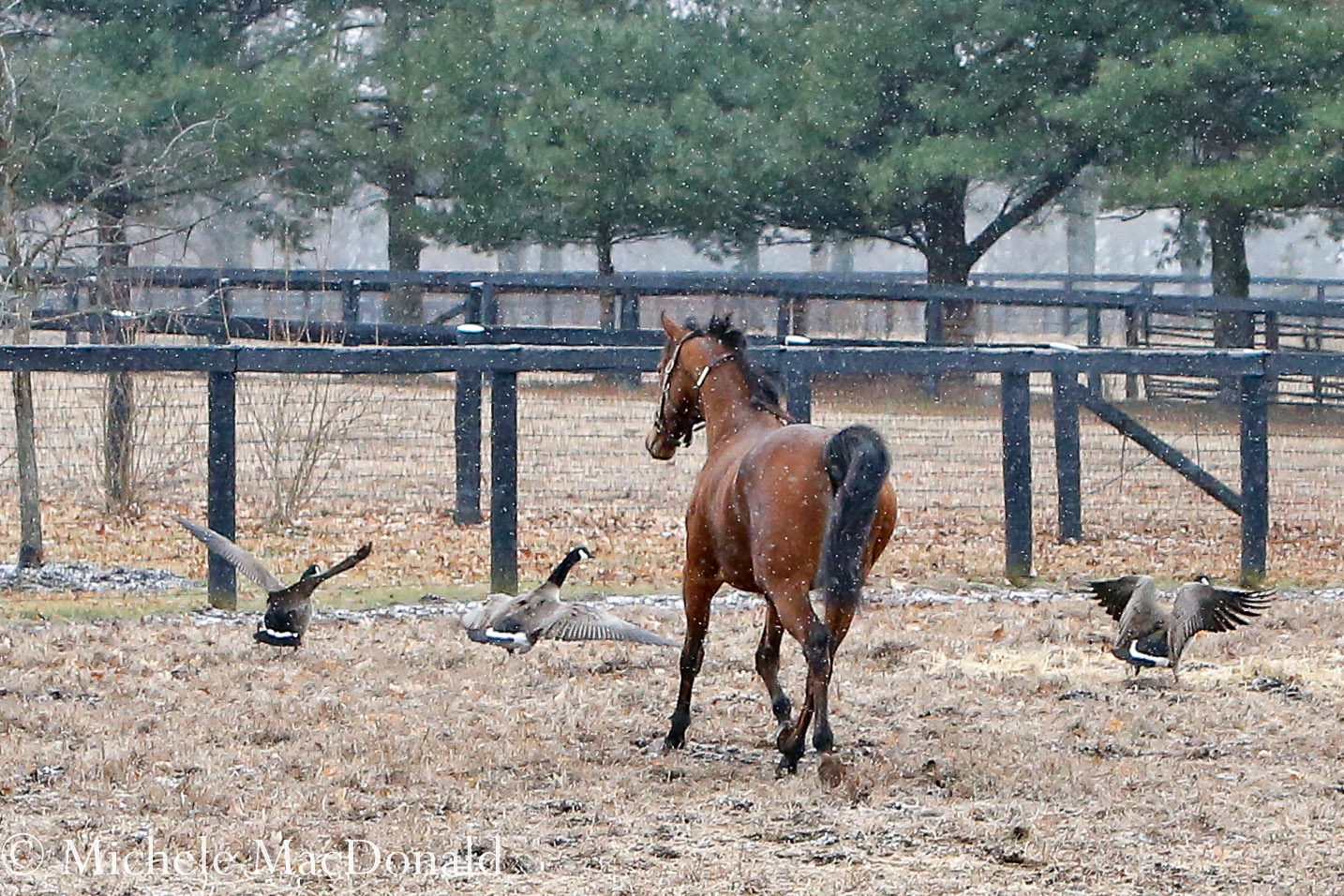 As Arias called out to her with the simple nickname 'Lady', she turned and looked over her shoulder in a regal manner befitting her superstar status.
"Everything seems to be going well and now we just need to get her pregnant," Rasmussen said. "Hopefully she'll get bred sometime in February."
In the realm of racehorses, Lady Eli stands at the top, having proved levels of courage and ability found only rarely. A feminine yet impressive mare in scope and presence, she was precocious and yet carried on through age five, finishing her career with ten wins in 14 starts, three seconds and earnings of $2,959,800. Her only off-the-board finish occurred in last year's Breeders' Cup, when she was compromised by injury.
"She is unique and remarkable," Sikura said when Lady Eli came to Hill 'n' Dale.
"I've never seen one up this close with so much heart and determination," Brown declared in paying tribute to Lady Eli before bidding adieu. "It's unlikely that there will be another one like her."