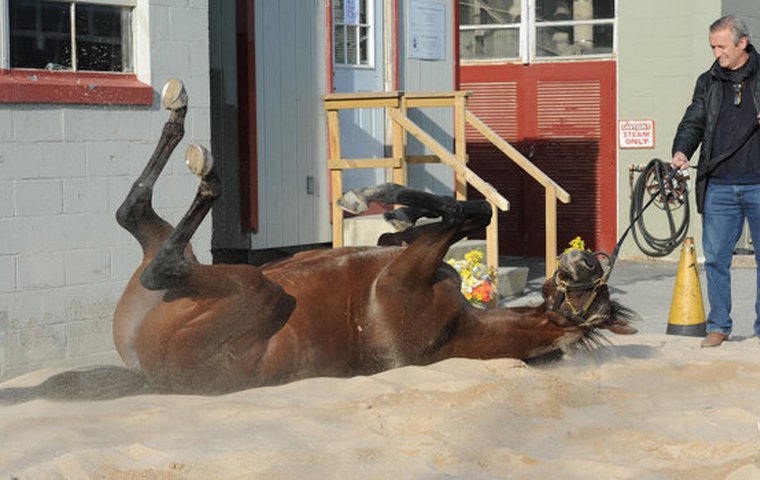 Thoroughbred aftercare has made great strides in the United States in recent years, and one Kentucky Derby trainer's focus on second careers brings the issue to the spotlight this weekend. Jen Roytz explains.

Rick Violette knows what it takes to get a horse to perform at his or her optimum level. He trained Read the Footnotes to major graded stakes victories, and this year, he has the consistent Samraat, whose only loss came in a second place effort in the G1 Wood Memorial, poised for a start in Saturday's 140th running of the Kentucky Derby.
"Samraat's biggest asset is that he's very ride-able," Violette explained. "You can get him into gear and put him back in neutral again and again. Most horses, you step on the gas and they keep going until they run out of energy - you've got one shot. He's an asset to the rider and an asset to himself."
Violette's description of Samraat demonstrates what makes him both a fine horseman and a good citizen of the industry.
The trainer, who is the president of the New York Thoroughbred Horsemen's Association (NYTHA), has been a major catalyst behind the movement in New York to promote the versatility and potential of Thoroughbreds as show horses once their racing careers come to an end.
"I wasn't involved with horses until I was a teenager, and I started by giving trail rides," Violette said. "I bought my first horse for $400 and showed hunters and jumpers. One of my clients owned racehorses and that was my introduction to the racetrack."
Violette eventually started galloping horses in the mornings and after college he was faced with the decision of whether to focus on the show horse world or delve deeper into the racing and training game. He chose racing, but never lost sight of what he'd seen Thoroughbreds do in the show ring long after their racing days were behind them.
"The Thoroughbred was king in the show jumping world when I was riding," Violette explained. "Jet Run, Gem Twist - they were just the top of a long list of them, but gradually show riders got away from Thoroughbreds and moved toward Warmbloods. The natural home for a Thoroughbred after the track was disappearing.
"I wanted to renew a need for the Thoroughbred so people would recognize once again how valuable they are as show horses. They have natural balance, are naturally forward, and they're smart. They are what you're looking for in a show mount."
Together with P. J. Campo, then The New York Racing Association's director of racing, and Adele Einhorn, executive director of Skidmore College, they set out to create Thoroughbred-only classes at the prestigious Skidmore College Saratoga Classic Horse Show. They titled the program TAKE2.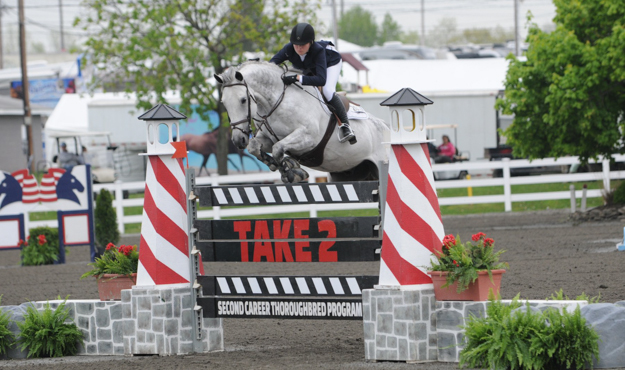 "From there, it really became Rick's baby," said Andy Belfiore, executive director of the TAKE2 Program. "He knows the sport horse world, and he was determined to develop a program that would remind the hunter and jumper community why Thoroughbreds were so popular 30 or 40 years ago, and to make sure it had the support it needed to succeed, from the both the racing and show horse industries. The program has highlighted the success Thoroughbreds can have in the show ring, and the horse show professionals are taking notice. TAKE2, and Rick's efforts on the program's behalf, also underline the fact that owners and trainers are very serious about making sure their horses will have good lives when they leave the track."
Since 2012, the program has grown from a few classes at the Saratoga Classic to classes at more than 100 horse shows across the country, providing prize money and awards for those competing on Thoroughbreds.
Violette is optimistic about where the racing and breeding industry is in terms of responsibly retiring horses from racing and transitioning them onto productive second careers, and is encouraged by the United States Equestrian Federation's recent push to standardize hunter and jumper classes for Thoroughbreds.
"We are light years ahead of where we were five years ago," Violette said. "Anyone who benefits on the backs of the Thoroughbred is joined in responsibility to them, and part of that is financial. Many hands make for an easy lift, and initiatives like TAKE2 and the Thoroughbred Aftercare Alliance (a fundraising and accreditation body for aftercare organizations) have made the industry a lot more conscious of the work we have in front of us. The hunter/jumper world has been wonderful too, and the show managers have really embraced it."
Two of Violette's former charges were retired last year for retraining, Patient Investor to Akindale and Flamin Hot to New Vocations through the Take the Lead program, which was launched by NYTHA to provide rehabilitation and retraining placements for Thoroughbreds on the New York Racing Association circuit.
And, thanks to the trainer's efforts through TAKE2, as Samraat steps into the gate at Churchill Downs this weekend, a number of retired racehorses will be stepping into the show ring to compete in TAKE2-accredited classes in New Jersey with many more Thoroughbred-specific classes throughout the spring and summer around the country.
"All of us in the horse show world are indebted to Rick for his hard work in creating opportunities for people to truly see what Thoroughbreds can do in the show ring, and essentially creating demand for off-track Thoroughbreds as show horses," said Garden State Horse Show board member Kevin Saggese. "This Saturday at the Garden State Horse Show, we have the $5,000 TAKE2 Jumper Classic at 3:30 p.m., the $25,000 Garden State Grand Prix at 4:30 p.m., and then we'll be broadcasting the Kentucky Derby in our Grand Prix tent for all of the competitors and patrons at the show that day. If you hear cheers coming from the east as the field turns for home, that'll be us cheering on Rick and Samraat. Nobody is more deserving."
Rest assured that just as conscientiously as Violette is mapping out the racing futures of Samraat and his other charges this year and for the years to come, he is also talking with his owners, networking with trainers in the show world, and making plans for those horses in his barn whose time will come to transition out of the racing world and into the world of showing.