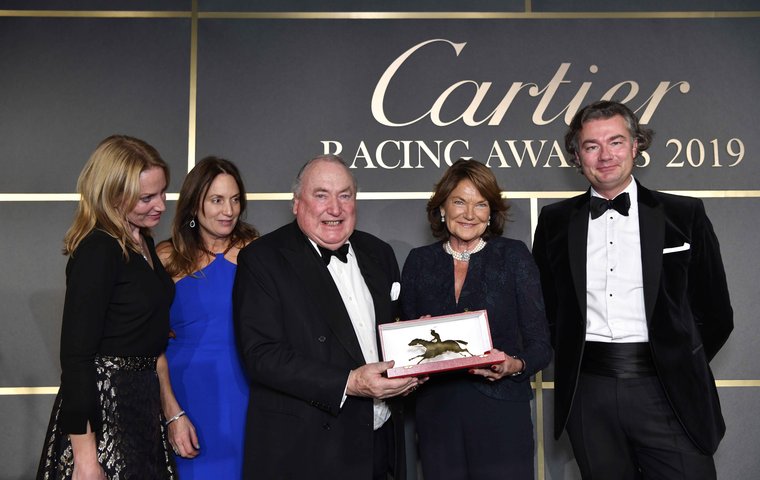 Owner-breeder Anthony Oppenheimer, who accepted his fourth Cartier Award on Tuesday night courtesy of Cartier Three-Year-Old Filly Star Catcher, plans to aim his latest flag-bearer at the G1 King George VI & Queen Elizabeth Qipco Stakes in 2020.

"We'd certainly like to win the King George," Oppenhiemer said at the 29th Cartier Racing Awards in London. "We missed out with Golden Horn because it was too soft. We missed out with Cracksman because it was too firm. So that's my main target."
The Hascombe and Valiant Stud owner, whose latest Cartier winner has delivered a trio of G1 successes in 2019, including the Irish Oaks, is well aware that such a campaign would probably mean a clash with five-time Cartier Awards winner and this year's Cartier Older Horse and Cartier Horse of the Year, Enable.
"Obviously, we may have to face Enable sometime," Oppenheimer admitted, "and when I decided to keep my horse in training next year, I didn't know that Enable was going to run as well for the same trainer. But I'm quite sure we won't flinch from taking her on."
As well as looking forward to 2020, Oppenheimer was keen to emphasise the value of a Cartier Award to his Newmarket-based Hascombe & Valiant team. "We have only about eight working staff, and for them to get an award like this, it boosts the morale," he said.
"The prestige of winning a Cartier Award stays with the horse and the stud, and the people working there. It something which, really, they aspire to. I think it's one of the nicest awards in the world."
2019 Cartier Award winners
Two-Year-Old Colt: Pinatubo
Two-Year-Old Filly: Quadrilateral
Three-Year-Old Colt: Too Darn Hot
Three-Year-Old Filly: Star Catcher
Sprinter: Blue Point
Stayer: Stradivarius
Older Horse: Enable
Horse of the Year: Enable
Cartier/Daily Telegraph Award of Merit: Pat Smullen