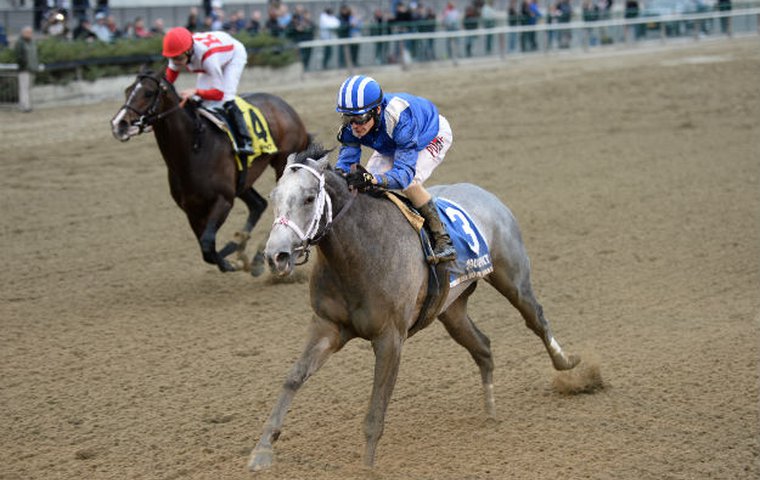 Coming off a career-best season in 2015, Kiaran McLaughlin is happy to revel in the past, but only to a certain extent. The trainer is equally keen to see what 2016 holds for his stable, which will be graced with many returning stars from last year.

McLaughlin, 55, trains the undefeated Mohaymen, who is among the early favorites for the Kentucky Derby. The colt won a pair of Grade 2 stakes at Aqueduct, the Nashua and Remsen, as part of his 2-year-old campaign, and was among the finalists for an Eclipse Award in his division. The son of Tapit is scheduled to make his 3-year-old debut in the G2 Holy Bull Stakes at Gulfstream Park on Saturday (Jan. 30).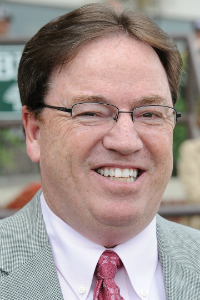 McLaughlin (pictured) says Mohaymen, who is owned by Sheikh Hamdan bin Rashid Al Maktoum's Shadwell Stable, is his brightest prospect to date for the Kentucky Derby.
A native of Lexington, Kentucky, McLaughlin's best finish in the first leg of America's Triple Crown came with Closing Argument, the 2005 runner-up. Last year, Frosted finished fourth in the Derby for McLaughlin and Sheikh Mohammed bin Rashid Al Maktoum's Godolphin Racing and went on to place second in the Belmont Stakes and win the Pennsylvania Derby.
Frosted, also a son of Tapit, is currently being prepared for a tilt at the Dubai World Cup, a race McLaughlin won in 2007 with Invasor, also owned by Shadwell Stable.
McLaughlin, who is in his 23rd year of training horses for the global juggernauts of Godolphin and Shadwell, spent 10 years working in Dubai for the royal family, and it was there that he saddled his first career winner, Lead The Dance, on Dec. 31, 1993, at Jebel Ali Race Course. The prosperous relationship continued when the trainer returned to the United States in 2003 and opened a public stable.
Known for his quick wit and friendly demeanor, McLaughlin was diagnosed in 1998 with multiple sclerosis. While the disease has compromised his gait to an extent, and requires medication, McLaughlin has not let his MS stand in the way of his passion — training racehorses.
His optimism and the hard work he and his team put forth have led to many successes on the racetrack, including Breeders' Cup victories, namely the 2006 Classic with the eventual Horse of the Year, Invasor. McLaughlin also won the 2006 Belmont Stakes with Jazil.
He entered 2016 with more than 1,300 career winners in North America, with stable earnings topping $94 million.
Via telephone from his winter home base in South Florida at the Palm Meadows Training Center, McLaughlin participated in a Q&A with KarenM. Johnson on Jan. 6 to discuss myriad topics, including Mohaymen, his stable's 2015 season, his views on Lasix, and the importance of family, both at home and in the barn.
Part two of this interview will be published on Friday.
----------
Q: What do you think was the most important factor in your stable that led to a personal best season in 2015?
A: "I would say it was a lot about the horses. We had a great group of horses, and we were in the right spot at the right time with several of them. Frosted winning the Wood Memorial; second in the Belmont; fourth in the [Kentucky] Derby; third in the Travers; and winning the Pennsylvania Derby. He had a huge year — almost $2 million in earnings. That was a big part of our year.
"Then Cavorting and Sentiero Italia, and so many others, we just had a great group of horses. I'm always giving my team credit, too. I have a great team of people with me who work hard. My brother, Neal, has been with me for 23 years now, and his wife Trish.
"But you always need the horses. It all worked out in 2015."
Looking back on last year, what moments provided you with the most satisfaction?
"Winning the Grade 1 Test at Saratoga for Stonestreet with Cavorting. With her being by Bernardini, who is owned by Godolphin, I had two happy owners at the end of the day.
"The Pennsylvania Derby was a big win for Frosted. He had been chasing American Pharoah so often. To get away from him that day and be able to win that day was huge for us.
"Also, Sentiero Italia winning a couple of graded stakes was great. Obviously, Jess's Dream, even though it was just a maiden race, was a lot of fun and provided a 'wow moment' of the day and the year. We put a lot of time in on Jess's Dream, training him and getting him to the races. And the way he did it was pretty amazing.
"The Remsen for Mohaymen was huge because we had been there with seconds and thirds, but never won that race. That was a huge and important win for Shadwell."
You've said that Mohaymen is the best prospect you've had for the Kentucky Derby. Outside of the fact that he is undefeated, what other reasons lead you to believe this?
"[Winning] is the biggest reason. He's three for three, and he won going a mile and an eighth in the Remsen the right way. He took dirt. When asked, he split horses and went on and won.
"He has a great pedigree and mind. He just doesn't get tired. It's hard to describe. He rarely blows hard at all. He recovers quickly after a work and after a race. With everything combined, it's a huge edge for a trainer going forward to have a well-bred horse, who has won going a mile and an eighth in November as a 2-year-old, and who doesn't get tired. He has it all. He's the whole package."
Is there greater pressure on you when you receive a $2.2 million horse to train, such as Mohaymen, compared to an impeccably bred homebred that comes into the barn?
"We treat each horse as an individual, but when a horse costs $2.2 million and is a sales-topper, everybody in the organization — the owners, the racing managers, the breeders, the people that sold him — are watching and paying attention. But, luckily for me, the Maktoum family is great to work for and trust me. It has been a great run; for 23 years I've worked for the Maktoum family — Godolphin and Shadwell. We put enough pressure on ourselves every day to try to get the most out of our horses and do the best by them. But [Mohaymen] is special because I trained the mother, Justwhistledixie and she won five in a row for us. To have a quality son of Tapit, out of a mare I trained, is just fabulous."
What are your recollections of Mohaymen when he first arrived in your barn on June 23, 2015?
"Kevin Kahkola, who breaks the horses in Camden [South Carolina] for Shadwell, told us Mohaymen had immature knees and they weren't quite closed on the x-rays and that is why he was kept behind [in Camden].
"When he came into Belmont, we put him in the first stall [near the office] to keep him close by and to keep an eye on him. He did everything right, and that was the beauty of it. Being by Tapit, sometimes the [progeny] can be a little tricky to train. He went right out to the track to train and showed us how nice of a mover he is. So, we started working him soon after he came into the barn — he had his first three-eighths only a couple of weeks later. He was great at the gate, and did everything right. He was impressive from the beginning."
He was fractious in the paddock before the Nashua, and was reluctant to load that day, but behaved well the day he won the Remsen. What do you attribute his antics on the day of the Nashua to, and what steps did you take in between those two races to correct the behavior?
"He won his first start at Belmont, so for his second start [the Nashua] we did have to ship him to Aqueduct. He's a really gentleman to be around, but that day in the paddock he reared up twice while saddling him, which was a first for him. Then he was very reluctant to go into the gate, which I don't like to see, nor does Sheikh Hamdan or [racing manager] Rick Nichols, or anybody else involved in Shadwell. We were disappointed he behaved that way, and we were going to do whatever we could to correct for the [Remsen].
"We went to the Belmont starting gate in the morning, a week after the Nashua. He acted up again, which I was glad to see because it's difficult to correct an issue if they don't exhibit it again. The gate crew did a good job, getting after him a little bit with a shank over his nose to make him pay attention. We went again to the gate to school before the Remsen, and he was great.
"On the day of the race, we did ask for the pony to be close by him in the paddock while we saddled him. He was great. I think and I hope that it was just a one-off deal with shipping to a new place; his second start and he was pumped up because he knew what [the race-day experience] was all about. He's been great here at the gate at Palm Meadows — a perfect gentleman. We continue to school him at the gate because we don't want to see those issues again."
As the Holy Bull will be the first time he has run at Gulfstream Park, are there any concerns about how he will react to the new surroundings?
"It's always a concern how a horse will react anytime you're doing something new. But we feel like he is a class colt, and we hope all goes well, and he behaves well.
"We've talked about shipping him to Gulfstream to school him. But he is a light-framed horse, and I don't want him to go and get upset and sweat-up and lose five pounds just to school him. We'll make a decision on that before the 30th." [Note: On Jan. 18, McLaughlin told Karen Johnson that Mohaymen would not school at Gulfstream before the Holy Bull as his schooling sessions at Palm Meadows have all been satisfactory].
Mohaymen was placed on Lasix for the first time in the Remsen. What circumstances led to that decision?
"We try to start our 2-year-olds without Lasix because you're not supposed to put horses on Lasix 'just because'. In the rules of racing, they are supposed to bleed before you sign them up for Lasix. He never bled in any of his workouts. He didn't bleed in his first race. In his second race he had just a trace of blood [detected by scoping]. That was enough for us to sign him up for Lasix."
Have you noticed changes in Mohaymen, both mentally and physically, since the Remsen?
"Not really. We just tried to take it easy with him after the Remsen because he is a little bit light-framed. But that is probably a plus. [Being light-framed] might help us going a mile and a quarter on the first Saturday in May, rather than having too heavy of a horse. He's a well-built colt, but I just wish he would carry a little more weight."
What type of effort do you hope to see from him in the Holy Bull?
"We hope he wins and keeps his record undefeated. If he loses, there will be some reasons for it — whether it be post position or an unlucky trip. A mile and a sixteenth at Gulfstream — short run [into first turn] and [finish line] is at the second wire — there are a few things you have to work out and worry about. Hopefully, he handles the track well and we have a good position draw. When we bring him over there, we want him to win."
How many times do you plan to run him before the Kentucky Derby, and where?
"We just have to take it race by race. We'll see if he wins really impressively, does it easy, and then we might want to run in the Fountain of Youth or just point to the Florida Derby. If he doesn't run a big race, we might want to go a different direction, and look at the Wood Memorial because he has won twice at Aqueduct. It's hard to make plans so far in advance and when you do, you end up having to change them. Provided he wins and runs well down here, the Fountain of Youth would be the next logical spot."
Does the point system to get into the Derby field force a trainer's hand too much, and would you like to see it changed?
"I've been pretty outspoken about this and I don't agree with most of the point system [components] for different reasons. But, I've learned to live with them, and I know it's not easy on the Kentucky Derby people. There has to be a system in place and if the horses are good enough, we will get our points and everything will be fine.
"But there are things I don't agree with. For example, winning the Nashua — it's a no point race, but it's a prep for the Remsen, which has 10 points. I win the Nashua and then I have to give everyone five pounds in the Remsen because I won the prep for it, but I didn't get any points. The way they write the conditions of the races — if they are trying to get the 20 best horses in the starting gate for the Kentucky Derby, it should be equal weights. That's one thought.
"Another thought is: What if one of your favorites only has 10 or 20 points? You win the Holy Bull, but in the next race you stumble out of the gate, your rider comes off, and you don't get any points. Still, the horse is one of the Derby favorites, so maybe there should be a loophole like there is in the Breeders' Cup, where two, three, or four are selected to run by committee. For instance: A freak filly who comes on good in the spring, but hasn't run in any colt races for the necessary points to get into the Derby."
What have you learned about training a horse for the Kentucky Derby since sending out your first, the 71–1 Closing Argument, the runner-up in 2005?
"I think each horse is a little different, but I've always felt that you want to point to the first Saturday in May, and back-up from there, by identifying your best prep race. You want to see if you want your last race before the Derby to be three, four, or five weeks earlier, because those are your options. Probably, ideally, I'm a four-to-five week guy — I like a little bit more time in between races.
"Another thing you look at is when do you want to ship to Churchill Downs, and how many times do you want to work there? It's hard to make a plan like that so far in advance because of the weather. Weather is a big factor. We've had decent luck training for the Derby at Palm Meadows, and going into Churchill [closer] to the race. But, again, each horse is different. If we find we would like to go into Churchill and work once or twice there, we will look at the weather and if it's stormy, like it can be in Kentucky in April, it will be hard to leave perfect conditions, either in Florida or New York.
"As far as learning from my Derby experiences — you need to draw well, have a good trip, in order to win the Kentucky Derby, and we haven't done that yet. It's hard to do. With each attempt, you just have to hope everything falls into place."
Many trainers say winning the Kentucky Derby is their ultimate dream. Is that true for you?
"It's definitely been a dream since I was 12 years old and growing up in Lexington.
"But to me, the equal dream is the Dubai World Cup, because there is nothing greater than running a horse in that race for the rulers of the country, and winning their race on their home track in front of them. I've done that once for Shadwell with Invasor, and we are going to try to do it this year for Sheikh Mohammed and Godolphin with Frosted.
"I put the Kentucky Derby and Dubai World Cup as 1 and 1A, as dream races to win."
Besides Mohaymen, which other horses are you looking forward to running in 2016?
"Right now we're planning on sending Frosted to Dubai [on Jan. 23]. He may have one or two preps for the World Cup. The first being Feb. 4, the Maktoum Challenge, and then March 5, there is another Maktoum Challenge. Frosted just does well with racing, and less time between starts is good for him. He thrives on training and racing.
"Annual Report had a slight fever and missed the Mucho Macho Man, and we're taking it easy with him. We'll pick out our spot as he tell us he is ready. He is a nice colt.
"Marking is a very nice colt. He was just second to Runhappy in the Malibu and we look forward to him running a 4. He's beautifully bred — by Bernardini out of a Grade 1 winner for us, Seventh Street. Watershed was fifth in the Malibu, and we hope he will improve. Cavorting was third in California in the La Brea, and we hope to have a good year with her. Sentiero Italia was sent home for a break but she is coming back.
"We got really lucky and picked up Lady Shipman, who is very talented. [Her previous trainer] Kathleen O'Connell did a very good job with her. We just hope to keep Lady Shipman as good as [O'Connell] had her all of 2015. She will point for a race in February and then be pointed to the [Al Quoz] in Dubai."