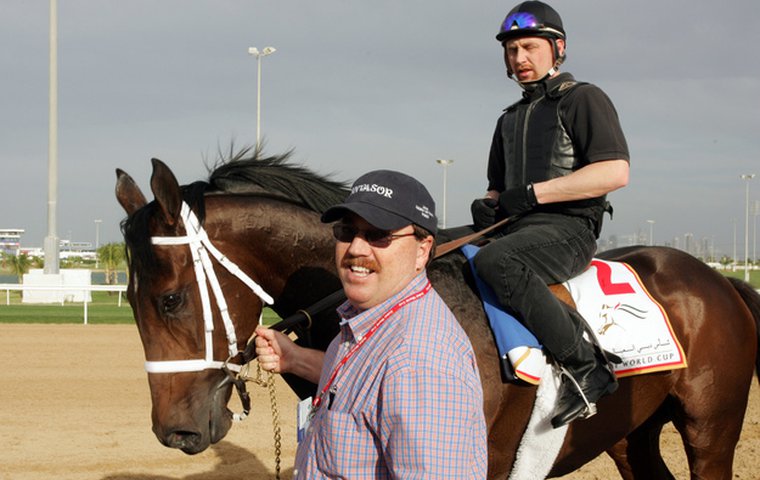 In the first part of his recent Q&A with Karen M. Johnson, trainer Kiaran McLaughlin talked about his exciting prospects for 2016, especially his Kentucky Derby hope Mohaymen and his star older horse, the Dubai World Cup-bound Frosted.

Here, in part two, he looks back on his days training for the Maktoums in Dubai and what he learned there, and he talks about his views on Lasix, coping with multiple sclerosis, and the best horse he has trained - so far.

----------
Q: What was life like for you and your family when you lived in Dubai? Were you ever tempted to live there permanently?
A: "Living in Dubai was fabulous for me, my wife, Letty, and our children, Erin and Ryan.
"When Erin was in middle school, in 2003, we had to decide do we stay there, or raise the kids in America? It was a very tough decision. We loved living there. Letty and I thought it was best to bring the kids back to New York and keep them in school there. I flew to London to discuss it with Sheikh Hamdan. Everyone — Sheikh Hamdan, Sheikh Mohammed — was supportive of our decision.
As far as training horses in Dubai what were some of the major differences compared to the United States?
"All I knew was the American way. When I got there we had a mile racetrack with a hill on it [to train], so over the next two years we ended up taking the hill out — that big incline. We had the trackman make it just like an American racetrack, and we trained just like we do in America on the dirt — on a mostly sand track that was very safe. We trained left-handed, just like we do in America, and they ran that way at Nad Al Sheba.
"We did run to the right at two tracks, Abu Dhabi and Jebel Ali, but it wasn't any big deal and we didn't change our training methods to run right-handed.
"The biggest differences were a couple of things: medication was the biggest difference.
"It was a bit of an eye-opener to realize you don't need Bute, Lasix, and other medication to run a horse. We couldn't give any medications within seven days. So, you learn by not giving medication. I remember telling [a veterinarian] there that I had a very nervous filly, who flipped in her training three weeks ago, and what could we do to settle her? He said, 'You can't do anything.' I said, 'Shoot.' I was so nervous, but we vanned her over to the races that night and she finished second, and did everything right. If I had given the filly any [medication], I would have given that the credit. I realized then, you don't need anything.
"Obviously, if a horse bleeds, Lasix helps. But, over in Dubai, we had very, very few bleeders. I think it was the pace of the races, because you're not going 21 and change and 44 — over there they went slower. And maybe the environment was just different [less stressful on a horse], too.
"I learned to respect pedigrees more while I was in Dubai. Long on the turf — they want long on the turf, so don't try them short on the dirt and vice-versa. I paid attention more to pedigrees while I was there.
"Overall, there weren't any major differences. We had good blacksmiths, good vets, good feed, good hay, but we did have to [import] the hay. There was a great [equine] hospital there, too."
You have trained horses for Sheikh Mohammed and Sheikh Hamdan since 1993. What has been the key to maintaining this long and prosperous association?
"Winning races [laugh]. No, seriously, they are really loyal people. We're honest and work hard and produce results. So, it's a combination of all those three things. They are just wonderful people. You can look back on both Sheikh Mohammed and Sheikh Hamdan, and the jockeys and trainers in Europe [they use], and they have always been loyal to them. We feel privileged and honored to still be here, going on 23 years now. Good horses make us look good, and they are just great people to work for, and be involved with."
With racing managers connected to both the Godolphin and Shadwell operations, what is the decision process for determining where a horse will compete?
"With Shadwell, Rick Nichols [racing manager] and I will send weekly reports and talk about what my thoughts are. He will agree with me, or have a suggestion of, 'Let's do this instead.' Rick is on top of racing, at all times.
"Jimmy Bell is who I go through with Godolphin and it's the same thing: I send a weekly report. It's nice that we all have a good relationship, so we are able to go back and forth in discussion. It works out well."
Who is the best horse you've trained and why?
"Invasor, without a doubt. I hope some day I can say a different one. He only lost once for us, and that was the first time we ran him, in the U.A.E Derby, and he finished fourth.
"To follow-up on your last question, there is a funny story I have involving Rick Nichols. [After the U.A.E Derby], we were going to run Invasor in an undercard race, a $100,000 stakes to see where we were at with him, on the day of the Pimlico Special. I called Rick and said, 'They only have six in the Pimlico Special. It's up to you; what do you think?' Rick said to me, 'Well, let's find out where we're at; put him in the Pimlico Special.' I said, 'Wow, that's a big step after running in Dubai, but let's do it.' And we ran him and Ramon Dominguez rode him, and he won the Pimlico Special. It was a good decision that Rick made for that day."
What is Godolphin and Shadwell's stance on Lasix use with their horses in North America?
"Both teams, I think, would one day like to see no Lasix, but while Lasix is permitted, they are okay with using it. Again, back to Mohaymen and looking back at Frosted, I like to run them without Lasix until it is needed. I know some people say let's prevent them from ever bleeding and they sign them up early. But I try to wait until we see signs of [bleeding], before we sign them up. I think both parties would love to see someday no Lasix, because the rest of the world has no Lasix, but while there is Lasix, our horses are allowed to run on Lasix."
Your stance on Lasix has changed from 2011, when you were quoted as saying "The best thing is to probably keep Lasix", to 2014, when you joined other prominent horsemen in signing a pledge to phase-out the use of Lasix. What changed your mind?
"I just feel that there is no Lasix worldwide, and I feel that we should be able to be without it in America. There is, however, so much politics involved and so many horses do bleed here, so it's a hard [issue to debate]. I think if you could go major league racing, with no Lasix, and minor league racing, with Lasix, might be a great answer to it, but I think people in America, for the most part, feel they can't race without it.
"I'm of the opinion — and I did it for 10 years in Dubai, very well — that they don't have to have Lasix to run a race and to run their best race. That said, it was tough for a year or two when [Godolphin, Darley and Shadwell], signed [the no-Lasix agreement in 2012] and didn't allow any of their 2-year-olds to run on it. I feel you're at a bit of a [disadvantage] when you're in the starting gate, and you're the only one without Lasix. But I do feel like we should be equal to the rest of the world, and not have to have Lasix to run horses."
Do only the horses in your stable that are proven bleeders race on Lasix?
"Yes. That's pretty much the way it is. I don't sign them up just because you can use it. But we do scope them after every work and race, and sometimes a lot of them show just a trace of red, mucous, or blood — not like they bled out of the nostrils — and that's the case [for putting a horse on Lasix]."
Your brother Neal is your main assistant. What does having family members involved in the team mean to you and the operation?
"If I can't be there, I know Neal will behave and think like me, because he has been with me for 23 years. Most importantly, he is family, and he has my back at all times. I don't have to worry about what he might be doing with owners or horses — trying to sell one to make a dollar. I trust him 100 percent, and we have a great relationship.
"Trish, Neal's wife, works in the barn and is great as well. It really makes me feel privileged to have him as my go-to hands and legs as I have [multiple sclerosis], and I can't saddle a horse. In Florida and Saratoga, Neal saddles them all. [At Belmont Park and Aqueduct], it's Joe Lee, now that Art Magnuson, who was with me for 22 years, moved on. It's very valuable for me to have a great team of people, with Neal at the top of the list because he is my brother."
Your wife, Letty, daughter Erin and son Ryan are usually by your side at the races. What does that support mean to you?
"It means a lot. They love the game. Letty and I met on the racetrack and she understands everything. She was an assistant to her father, John Hennig, and her brother, Mark, trains. She is very supportive because she understands the hours and the sacrifices I have to make.
"It's great to have my two kids involved and they love it. Neither one has worked much on the backside, but that was kind of on purpose. I didn't want them back there much. My son, Ryan, is a senior at Vanderbilt, and Erin is working full-time at the Breeders' Cup, after working several years at [the New York Racing Association]. Erin has always loved the frontside of racing and she loves the backside, but she didn't ever work galloping or grooming.
"It's very important to me for their support in the industry, and at home with my multiple sclerosis. They understand, and they are there for me."
In October of 1998, you were diagnosed with multiple sclerosis. You later revealed you went into a deep depression after learning of the diagnosis. How did you pull yourself out of that funk? In what ways has the disease's progressive nature impacted you over the years?
"When I was first diagnosed, it took me 30 days to snap out my depression. I don't know exactly what made snap out of it, other than I just came to terms with it and I needed to go out and fight the fight.
"The MS has been a negative in a few ways, and a positive in a few ways. I feel fortunate that I can get up everyday and go do what I love to do. I could saddle horses, but I don't because I don't move as well. If a horse acted up, I might have a tough time moving [quickly enough].
"Other than that, I'm able to train the horses and see them train, and understand what I need to do with them. Not much has changed, except for the saddling of horses. Since 1999, I gave myself a shot every day, until last November, where I now get monthly infusions of a new drug, Tysabri, which is working well. It's not been easy, but I don't feel like it has been a hardship. I've been able to get through it. I'm on my fourth of a five-year contract with the man upstairs. I asked him for five good years when I was diagnosed, knowing I had mortgage payments and kids to get through college.
"Five years later, I asked for another good five good years. I'm heading onto my fourth, five-year contract right now, and I feel very lucky."
When you're not at the barn or the races, what do you like to do?
"I will be watching TVG. I'm also reading about racing. My only other habit is I love poker, but it's time-consuming, and I don't have the time to play often."
If you had one wish for 2016, what would that be?
"To remain as healthy as I am, and to enjoy another successful year. And if we're going to wish and dream, I might as well throw in May 7th — to win the Kentucky Derby."