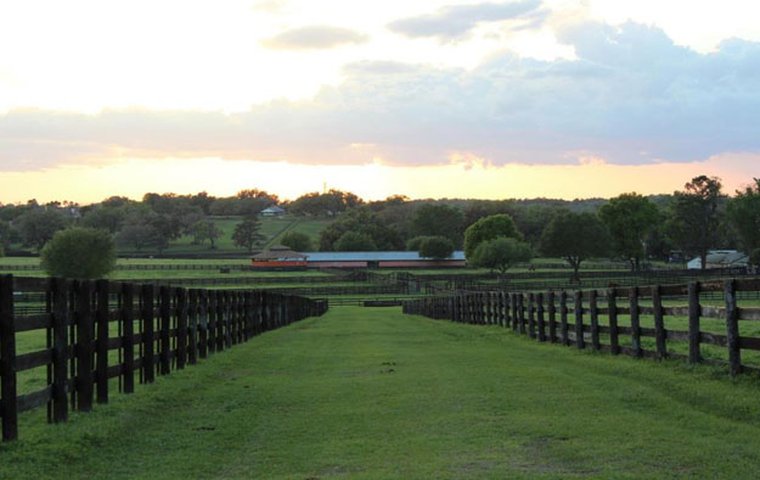 Craig Bernick may have been groomed for success at the Alberto-Culver beauty products enterprise established by his grandfather, Leonard Lavin, but instead he made the decision to focus on Lavin's other passion - Glen Hill Farm - when he was just 30.

Lavin had campaigned the likes of Relaunch, who became a prominent stallion and sired One Dreamer, Glen Hill's homebred winner of the the 1994 G1 Breeders' Cup Distaff. While much of Glen Hill's previous success had come with runners bred by the operation, Bernick has applied a more commercial approach in recent years.
"Our goal is to build a really, really significant broodmare band," Bernick explained. "I figured out recently that our best chance to get the multi-million-dollar mares is either breeding them ourselves, or buying a half-dozen fillies at the yearling sales.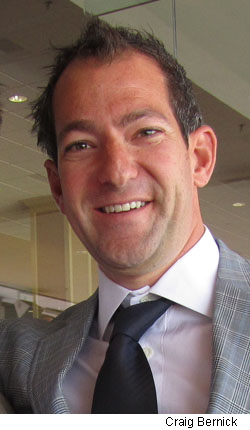 "For me, buying a $2- or $3-million mare at public auction makes no sense financially. We operate a business, and if you do that, you put all of your eggs in one basket. We like to buy yearlings because we are a racing stable. A couple of years ago we bought a Galileo colt [Global View] because he was outstanding and he was the type that could be a high-end stallion. Naturally, we'd like to have that, but the main goal is to have a successful racing stable and a top broodmare band, and produce the good horses ourselves."
Soon after taking over the reins of the family farm, Bernick acquired seven yearling fillies at the Keeneland September sale in 2009, including a $150,000 purchase from the third crop of Medaglia d'Oro. She was named Marketing Mix and developed into one of the best turf distaffers of her generation, winning seven graded stakes and $2,015,893 in earnings.
"She was a very special horse and I think what made her so good was her consistency," Bernick offered. "She won a couple of Grade 1s and was second in a few others. Horses in this country, if they win one Grade 1, they're not worth that much less than a horse that wins eight Grade 1s. A horse's durability and consistency cannot be understated, especially if you race horses yourself. She made $2 million over three years, and the biggest purse she ever won was $200,000. It's pretty hard to top that."
Why War Front is 'the most important horse in the country'
Marketing Mix produced her first foal, a Tapit filly, in March, and was bred back to one of Bernick's favorite stallions, War Front. Glen Hill has been successful not only campaigning offspring of that Danzig stallion, but also buying them strictly for resale purposes.
"War Front may not get the results nationally that Tapit does, but for me personally, he's the most important horse in this country," Bernick said. "We bought a filly by him named Emerald Gold that placed in the Grade 1 Del Mar Debutante. We had Pontchatrain, who was lightning fast and a really, really high-ability horse. She had four stakes wins before she got hurt.
"We also bought some War Fronts with [bloodstock agent] Donato Lanni," Bernick added. "We pinhooked one that we bought for $25,000 and sold for $220,000 and he went on to be a good horse [Virginia Derby winner War Dancer]. There was another one that we bought for $175,000 and sold for $600,000 and he went on to be Giovanni Boldini, who was second in the Breeders' Cup Juvenile Turf.
"So our experience with every War Front we bought was that we made money on them and they ran well. I think part of what makes him so good is how well his horses have run in Europe. There hasn't been a U.S. stallion in at least 10 years that really excelled in Europe.
"We do have stallions that dominate the turf racing here, but War Front has had Royal Ascot winners and most of his 2-year-old crop this year is in Europe, so you know the biggest players in the world are onto that horse."
The concept of international appeal is important to Bernick - both Emerald Gold and Pontchatrain were sent to Ireland to be bred to champion sire Galileo at Coolmore Stud.
"It's important to have horses by a stallion that's recognized internationally," Bernick noted. "We do breed to race, but we always have to have the marketplace in the back of our minds. I always want to make sure that the horses that we breed will appeal to a number of buyers."
Why it's essential to breed to proven stallions
Glen Hill's broodmare band in Ocala currently numbers 35, with another 15 mares owned in partnership, including a dozen with John Sikura of Hill 'n' Dale Farm. Bernick makes all of the breeding decisions himself.
"I grew up in Chicago - unfortunately, not on the farm - so most of my background was watching the races, watching the horses on the track, and researching pedigrees," he explained.
"I would say conformation is immensely more important than a nicking report. Some of our best horses have had awful nicks. I'm glad I didn't look at some of those reports until I read a story in the Blood-Horse after they won a stakes. I think the nicks are a good tool, I think inbreeding and linebreeding are also good tools. Having access to the right stallions and the right mares is key. In our country, there aren't enough top, top stallions - if you have a really good mare, unfortunately, there's not too many choices."
Some of the Glen Hill mares have been with the operation for several generations, and Bernick endeavors a practical approach whenever possible.
"What we like to do is breed to proven horses for our mares," he stated. "We're trying to develop families, so [two of my] favorite horses are Stormy Atlantic and City Zip because they get a lot of winners, stakes winners, [and] they run on both surfaces. If you breed a young mare to a stallion that consistently gets winners and gets a decent amount of stakes winners, and that mare doesn't produce any good horses, that gives you a very good indication that she's not a good producer."
"When you breed a mare to a young stallion, they won't all be successful," he added. "We still have the wounds of investing in Smarty Jones and Point Given - we invested heavily in those horses; they were all champion 3-year-olds but failures as stallions.
"When you breed a mare to a young stallion and the stallion is bad, it doesn't give you good information as whether your mare is any good or not. So we try to send mares to proven stallions. The 12-, 13-, 14-year-old stallion that is proven is what we're looking for."
Having the right trainer is a huge advantage
Noted horseman Willard Proctor handled the Glen Hill string for decades, and his son Tom has carried on the tradition with Bernick.
"For me, Tom is a great partner in the horse business," Bernick said. "He's trained for us for a long time - he knows what it's like to train for breeders, which is so important. You're often training the offspring of mares that you developed yourself.
"Tom and I are on the same page that way. He's blunt, is the right word. He's very honest with his opinions of the quality of the horses, and I think that's a huge advantage. Very often, trainers like to sugarcoat things; sometimes, they're afraid of upsetting the owner. Some owners have their horses split up with different trainers. The nice thing about having Tom in charge of all of the horses is that he's an integral part of Glen Hill Farm."
The benefits of basing horses at Fair Hill
The Glen Hill color-bearers are a familiar sight in California and the Midwest but recently have been making their mark in the eastern time zone.
Earlier this year, Bernick leased a barn at Fair Hill to have more opportunities to race and sent 25 horses to Proctor's string at that Maryland base. Theatre Star, a daughter of War Front, captured the Justakiss Stakes at Delaware Park in June, while the Flatter juvenile filly Magnolias In Bloom set a course record at Belmont Park in her career debut.
"We have traditionally run at Arlington Park in the summer, and at Churchill Downs until they close on the Fourth of July," Bernick explained. "Unfortunately, [with] the political landscape in Illinois and the lack of cooperation between the racetrack and the horsemen and the state, it's become a place that we're unable to do business because we don't have Illinois-breds.
"The program at Churchill falls off significantly after the Derby. On the East Coast, the proximity of Fair Hill to about eight racetracks within a three-hour drive was very attractive for us. It is a great place for horses - it's got the trails in the woods, the Tapeta is a great surface. Animal Kingdom, Main Sequence, and Orb were prepared there, and Barbaro, too - those are top-class horses."
A problem that's holding back progress for racing
In addition to overseeing the Glen Hill operation, Bernick is involved with several industry groups, including the Breeders' Cup and the Thoroughbred Aftercare Alliance. He noted that, while a number of factions have banded together to support aftercare, getting further constructive cooperation has proven to be a challenge.
"The biggest problem that I see in our country for racing going forward is that, when people from different points of view argue, they constantly restate their own position without trying to find common ground with the other side," he said.
"Everyone gets together with like-minded people on an issue, and they have a revival, and people on the other side do the same, and then they just scream at each other.
"I think both sides are right, and I think they're both wrong. We're all passionate about the horse industry, and we all think we know what's best for the industry. But, until you can get people in a room that are empowered to make decisions, from all sides of an issue to make a solution, nothing is going to happen, and it will become a more frustrating experience."
Setting out to improve the ownership experience
In the spirit of positive development, Bernick and several Thoroughbred Owners and Breeders Association (TOBA) colleagues recently established Owners Concierge after previously working on the Thoroughbred Action Committee, to which Bernick was named chair in 2014.
"There were a lot of different interpretations about our focus and what we were supposed to do," he recalled. "I purposely asked different people to serve on the committee - it's me, Jack Wolf, Maggi Moss, Daisy Phipps, Mike Caruso, [and] Garrett O'Rourke from Juddmonte. That's six people who are across the board politically and in terms of how we got into the horse business. But we six race a lot of horses and we do pretty well.
"We thought that maybe people could look at any of us and identify with that person. We thought that anything that our group did, if we agreed on anything, you would hope that would be good for the industry.
"After talking for six months, the only thing we actually agreed on was that owners need a much better experience in the horse business.
"I know that in other countries there are concerted efforts - like Horse France, Horse Racing Ireland - to take care of the owners at racetracks. They can always find something else to do with their money.
"Our business, even for owners, is an intimidating setting. Fasig-Tipton is co-sponsoring [Owners Concierge] with TOBA, and we hired a great person to run it, Christina Bossinakis. Her job, quite simply, is to make owners' lives easier and to help with the process.
"We're really excited about the Owners' Concierge program. The response from the racetracks has been phenomenal. It's an industry initiative; we're not going to be taking the job of any horsemen's relations person at any racetrack, we are going to be delivering [owners] to the racetrack's door."
Why social media is such a positive for the sport
Bernick is an active presence on social media, tweeting about Glen Hill's runners entered and offering candid assessments of their performance, in addition to his support of Chicago's sports franchises. Naturally, there are plenty of foal pictures in his Twitter feed, but he also provides more sobering updates, such as on the attempt to save Glen Hill's graded-stakes winning filly Diversy Harbor, who was euthanized in May after developing complications from a sesamoid injury sustained in the April 18 Santa Barbara Handicap at Santa Anita Park.
"When I was a kid, I remember being on horse racing bulletin boards on the internet, about 20 years ago," he reflected. "It was so amazing that here was this community of people talking about horse racing - it was 99 percent good-natured, informative, and helpful.
"Through social media, I have met people that have become good friends, and some people that I've done business with. Today, there's a lot more noise, but, at the same time, it gives people the chance to find a message about their horses and their idea on the industry. I think overall it's very positive."



When finding a good advisor is crucial
For newcomers looking to get involved with racehorse ownership, Bernick stressed the importance of finding the right advisor and to approach the game with a cohesive strategy.
"You have to have an understanding of what you're trying to achieve," he said. "You can't just show up at a sale and start raising your hand.
"In trying to identify somebody to help you, they need to be good at three things: a horseman that has been successful in picking out horses, is trustworthy and understands the business, and knows how to turn horses into money. If you can find somebody that had all three, you would have an incredible leg up. A lot of owners, I think, try to sprint before learning how to walk."