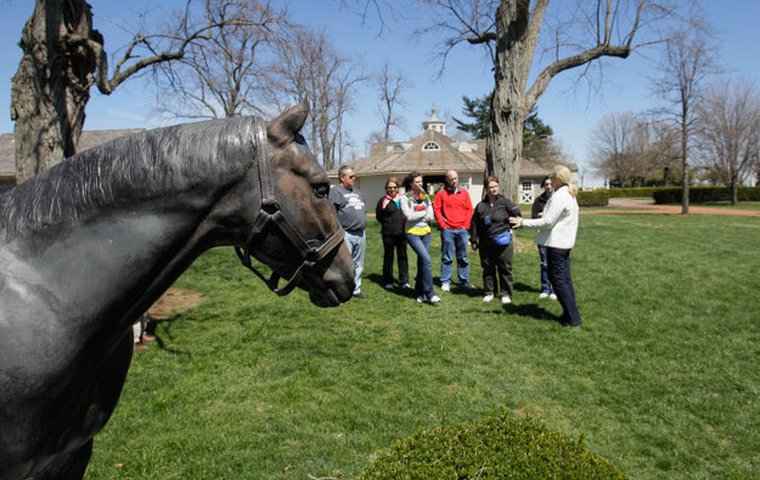 There are many instances of how a private visit to a stud farm or trainer's barn transformed a racing fan into a sport participant. For me, it was the chance to scratch a muddy Danzig on an early trip to Claiborne Farm; for others, it might have been the chance to see the likes of Nijinsky or Secretariat. And, judging by the number of tweets depicting fans posing with Galileo, Frankel et al., that desire by people to visit their equine heroes has not diminished.

For someone not connected to the business, however, the idea of turning up at a farm to view a giant of the turf could be intimidating. But it's about to get easier thanks to the launch of the Kentucky-based Horse Country Inc., a new not-for-profit organization comprising farms, veterinary clinics, and equine attractions that will offer tourism experiences in Kentucky to the public.
The initiative has a board of nine directors, led by President Price Bell, Jr. of Mill Ridge Farm and Nicoma Bloodstock, and - in a rare example of cooperation between competitors - it already boasts a list of 24 confirmed participating locations, including premier stud farms such as Adena Springs, Ashford, Claiborne, Darley, Gainesway, Lane's End, Mill Ridge, and WinStar. Each participant has already invested $10,000 in the organization, which recently announced the appointment of Anne Sabatino Hardy, former editor-in-chief of the Lexington-based Chevy Chaser and Southsider magazines, as executive director.
"The McKinsey Report reveals that only 22 percent of the American public has a positive impression of the sport and only 46 percent of those who consider themselves a fan would recommend their friends follow the sport," Bell said.
"What's the racetrack experience? You go to the racetrack, you have a bet, a drink, and it's an event. You may see the horse in the paddock for 20 minutes. It comes from somewhere you don't have access to and it goes back to somewhere that you don't have access to. There's an elitist element.
"The horse is our unique asset. Gaming is becoming more prevalent so we need to go back to the horse, celebrate it and tell its story. Why do they run? The horse is a herd animal, we're the predator and they're intimidated by us. But we're intimidated by them and in that relationship there is that dance that we do. That is something that is unique to our sport, and a story which is told on farms outside of the racetrack."
Horse Country has been more than two years in the making. Some inspiration was taken from the Kentucky Bourbon Trail, which opened the doors to the Bourbon industry by offering the public tours of Kentucky's historic distilleries. Brutus Clay, of Runnymede Farm, was one of the first horsemen to galvanise momentum behind the initiative, while at the same time, Bell and his father, Headley, were thinking along the same lines while serving on a marketing committee at the Kentucky Thoroughbred Association (KTA).
"People of all walks of life come to the farm [Mill Ridge] and then go to the races," Bell said. "You set them off at the airport and what they're talking about is 'Wow, I don't believe you get to do this every day.'"
The Bells and Clay later combined forces and, after taking advice from Keeneland, decided to take the idea to Disney to see if the "Kentucky experience" was something that could offered to the public. Such a move required significant financial outlay but, to the credit of Kentucky farms, 27 put up a payment of $2,500 to proceed."
"Disney spent 48 hours with us in Kentucky," Bell said. "We went racing at Keeneland and saw a foal being born at Mill Ridge. We saw 10 farms and two clinics, and the following day saw another three farms.
"They later said that they were intimidated by the itinerary but were not prepared for how amazing every stop was, how unique each place was. For instance, one person couldn't get enough of Ghostzapper at Adena Springs because he kept sticking his tongue out - that was really interesting to watch her engage. It's about developing these touch points for the public."
The idea is that people will sign up to visit a farm, clinic, or aftercare facility via a website, which will host bookings and list when a particular venue is available to visit. By acting as a connection to the farms, the site will also channel people into a suitable experience - for instance, the Kentucky Horse Park or the Old Friends retirement facility might be promoted to families with children.
"Another idea was developing fans of farms," Bell said. "The farms receive contacts of who has signed up to visit. And we'll stay in touch - if we have a horse running at Arlington during the summer, we'll email all our Chicago friends and say 'x' horse is running, 'you should go to Arlington, where there is a section set aside for Mill Ridge fans'. So now Arlington is not recruiting you because you might win the Pick 6 but because you're going as a fan."
As close as Horse Country is to reality, those at its roots concede there is still plenty more work to be done. Tours will be conducted through a pilot scheme from the spring before being offered officially at a later date. There are six committees working on areas such as the quality of the tour experience, IT, membership, and merchandising. The organization's branding continues to evolve - the name "Horse Country" could be changed at a later date - and a website to host bookings is in the process of being developed.
But the infrastructure for success is there. The nine-strong board of directors comprises respected industry figures Clifford Barry (Pin Oak Stud), Headley Bell (Mill Ridge Farm), Price Bell (Mill Ridge Farm), Brutus Clay (Runnymede Farm), Luke Fallon (Hagyard Equine Medical Institute), Allison Hancock (Claiborne Farm), John Phillips (Darby Dan Farm), Mary Quinn Ramer (VisitLEX), and Rusty Thompson (Darley). Shannon Arvin (Stoll Keenon Ogden) will act as secretary. Support has also been received from Keeneland, Fasig-Tipton, Breeders' Cup, The Jockey Club, and the KTA.
"The directors' board rotates and the membership will elect that board," Bell said. "And we have hired Anne Sabatino Hardy, who has tremendous project management and public relations experience."
Later down the line, those behind Horse Country hope that the idea will reach to other states with their own racing and breeding industries, such as Florida and New York. In time, it could even cross over into Europe, where the Route des Etalons (an annual open stallion farm weekend in Normandy, France) and the Lambourn and Newmarket open days are so popular.
As far as Kentucky is concerned, however, the launch of Horse Country could not have come at the beginning of a more opportune year given that Keeneland will host the Breeders' Cup in October.
"By Breeders' Cup time, we will be the single point of contact for Breeders' Cup in Keeneland to coordinate horse farm experiences," Bell said. "The Breeders' Cup brand will be extended on to the farms, perhaps with a 'Meet the Mothers' campaign where you can meet the dams of Breeders' Cup runners. It's kind of capturing those stories, showcasing the business so that the horse on the racetrack isn't just a commodity."