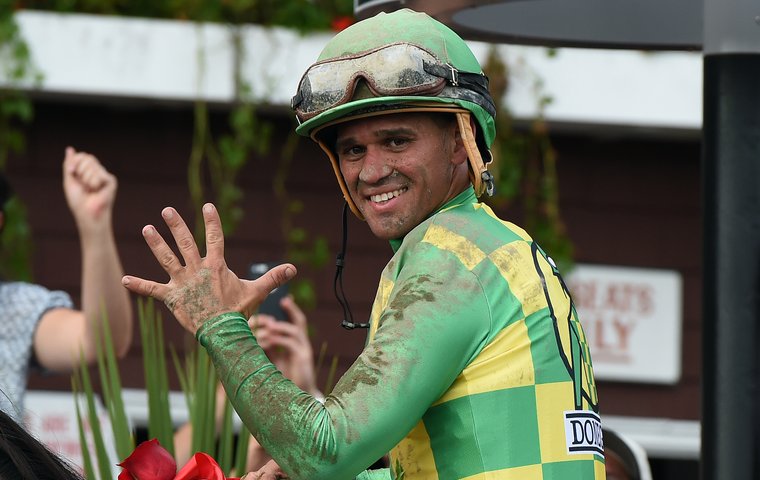 It hasn't been the easiest of times for pollsters in the aftermath of the last Presidential election. Yet sometimes the simplest of polls can provide the meaningful of results.

A case in point came up last week while Donegal Racing President Jerry Crawford was walking through the stable area at Keeneland. "I talked to three different trainers. I asked them, 'Gun to your head, you have to win one big race, who do you want to ride your horse?' Guess who all three said?"
The answer each time was Javier Castellano.
As small as the sample may have been, it's unlikely that questioning a larger group of horsemen would have changed the result.
These days Castellano has been dominating the sport in a rather spectacular manner. On a daily basis, the current world No. 6 (and top U.S.-based rider) in the TRC Global Rankings (note: since this article was posted Castellano has risen to world No. 3) continues to prove why he was announced last week as a first-ballot Hall of Famer (note: he will be inducted into the Hall of Fame on Saturday August 5) and why he and he alone has been the recipient of the Eclipse Award as the nation's outstanding rider for each of the last four years.
At the top of his game
"Has he won the award four straight times? You lose track of it and the amazing part is that he's won four straight awards and he's still riding at the top of his game," Crawford said.
The record shows that the only other jockey to win four straight Eclipse awards was Jerry Bailey in 2000-03, and it's hardly hype to compare Castellano's last four years with any other rider's dominance during a similar span of time.
"This is as good a stretch of success as anyone has ever had," Crawford said.
Especially when a Hall of Fame plaque is added to the mix.
"When Javier was announced as a Hall of Fame nominee this winter I congratulated him in the paddock at Gulfstream Park one day," said trainer Todd Pletcher, a seven-time Eclipse Award winner and the sport's all-time leader in earnings in the U.S. "He's such a humble guy that he said, 'Oh, I'm not in yet.' But I told him, 'You'll get there.' It's a well-deserved honor to get into the Hall of Fame in your first try, but in Javier's case it wasn't a surprising development at all."
'In a lucky place'
Surprising or not, Castellano was awed to be placed in the same company as the sport's all-time best jockeys.
"To be honest, I didn't expect to be voted into the Hall of Fame," the 39-year-old native of Venezuela said, "but I am thankful it worked out great for me. I'm in a lucky place."
There is surely a litany of accomplishments that can be included on Castellano's Hall of Fame plaque, though there's one missing item that might be added in the coming days.
For all of the success that has propelled him to 4,667 victories and $276.5 million (through May 1) in purse money - placing him fifth all-time in earnings - Castellano is still searching for his first victory in the Kentucky Derby.
Fountain of Youth winner Gunnevera will be Castellano's mount in tomorrow's Run for the Roses at Churchill Downs and his latest hope to register a victory in the opening leg of the Triple Crown after ten straight losses with only one finish better than sixth (fourth on Normandy Invasion in 2013).
"I'm not bothered by my record in the Derby," Castellano said. "You have to have the right horse in the Derby and you have to be lucky. I look at Mario Gutierrez. He's ridden in the Derby twice and won twice. He had the right horses."
No way to judge
While Castellano's lack of success in the Derby might be surprising, it's hardly unusual – even for Hall of Fame jockeys. Pat Day retired with a record of 1 for 22 in the Derby while Laffit Pincay Jr. was 1 for 21 and Bailey was just 2 for 17. Mike Smith, who will ride Girvin in the Derby, is 1 of 22 just like Day, and John Velazquez, who will be aboard Always Dreaming, owns a 1 for 18 mark.
"Judging a rider's ability or career by his record in the Derby is silly," said former jockey and New York Racing Association analyst Richard Migliore, who won more than 4,450 races in a riding career from 1980-2010. "Pat Day owned Churchill Downs and he was 1 for 22. The Derby is such a hard race to win. It's a mile-and-a-quarter race and they usually run too fast early. There's 20 horses. There are traffic jams. You need the racing gods to smile on you to win it."
In Gunnevera, the newly inducted Hall of Famer has one of his better chances to capture the Derby. Winner of the Delta Downs Jackpot at two, Gunnevera made a name for himself in the Fountain of Youth at Gulfstream when he powered to a 5¾-length victory in the Grade 2 stakes.
But, four weeks later, as a 6-5 favorite in the G1 Florida Derby, Castellano had the unenviable job of piloting Gunnevera from post nine in the mile-and-an-eighth test that was his final tune-up for the Triple Crown. Forced to take his mount in hand and guide him over to the rail to avoid losing ground, Castellano was last in the early stages and could do no better than push Gunnevera to a third-place finish, 6½ lengths behind the victorious Always Dreaming.
Better expected tomorrow
"Two things worked against Gunnevera in the Florida Derby," said Castellano, who led the nation in earnings the last four years. "I didn't see a lot of speed in the race and the outside post was a problem. We were way outside at a mile and an eighth, and there's not much of a run from the starting gate to the first turn. It forced me to break slow, move over and save ground, and I ended up too far back."
Since then, Castellano has received a string of positive reports about the son of Dialed In and he's confident of a much better effort tomorrow.
"I think he's rebounded from that race judging by the way he has been training and breezing. He looks amazing to me," Castellano said. "He has a good trainer in Antonio Sano and, along with the some of the owners (Solomon Del-Valle and Guillermo Guerra), we're all Venezuelans, which is great. It's unbelievable.
"I'm optimistic about Gunnevera. There's a lot of speed among the main contenders and only a few of them come from behind, and he has that style. If they go pretty quickly in the Derby, I have a good chance with him. He's bred for a long distance. He first impressed me with his win at Delta Downs in the Jackpot. It was a small track and he closed so well to win (by 5¾ lengths). That and the Fountain of Youth were the races that convinced me he's the horse to ride in the Derby."
Travers domination
Ironically, it was Castellano's first Derby mount that offered his best chance of victory. That was in 2005, when Castellano rode Bellamy Road, a 5-2 favorite after winning the Wood Memorial by an astonishing 17½ lengths. Ahead briefly at the top of the stretch, the Nick Zito-trained, George Steinbrenner-owned colt faded to seventh in the final furlong.
"Turning for home I was on the lead, but maybe he bounced after running too fast in the Wood," Castellano said. "I don't know the right answer. After that I've been riding okay horses, but not the ones you would expect to finish 1-2-3. With Gunnevera, I have more of a chance to be competitive. It might be the right time and place for him."
As much as Castellano has struggled in a Grade 1 stakes for 3-year-olds at a mile and a quarter in May, he has dominated another Grade 1 stakes for 3-year-olds at a mile and a quarter in August. He owns a Travers record with five victories in the Mid-Summer Derby at Saratoga (2006, 2010, 2011, 2014, 2015), and posted his most famous victory in it.
In the 2015 Travers, Castellano authored what most observers would consider the most celebrated upset in the last decade – and probably more than that – by guiding Donegal's Keen Ice to a three-quarters-of-a-length victory over Triple Crown champion American Pharoah. Yet for the colt's connections the victory was a case of a plan coming together perfectly.
Masterful ride
"It's hard for people to take us seriously," Crawford said, "but the truth is that after the Haskell, [trainer Dale Romans] believed, Javier believed and I believed that, if American Pharoah came to Saratoga, we would beat him. Then, as the training occurred between the two races, Keen Ice was getting better and training incredibly well before the race. We were as confident as could be and we cashed the tickets to prove it."
The key part in the victory came when Romans, Crawford and Castellano spoke the morning of the race and decided to alter Keen Ice's late-running style and keep him close to the pace.
"I handicapped the race and I didn't see much speed, so I told Dale and Jerry I wanted to warm him up more quickly in the post parade so I could put him in a forward position earlier in the race," Castellano said. "I was lucky Frosted showed more speed and pressured American Pharoah, which helped everything to work out."
Plans, even best-laid plans, can go awry, but, thanks to a masterful ride by Castellano, Keen Ice was able to surge past American Pharoah in the final sixteenth of a mile and register a victory that silenced a stunned crowd at Saratoga.
"Javier has a patented move where he closes ground and moves toward the leaders on the backstretch, not to the lead, but toward the leaders so he doesn't leave himself too much to do at the end. That's exactly what happened in the Travers. Javier put Keen Ice in a great position and rode him perfectly to catch American Pharoah," Crawford said.
Infectious confidence
"You have to give [owner Ahmed Zayat] enormous credit for being a true sportsman and bringing the horse to Saratoga. He didn't have to do that. He could have coasted to the Breeders' Cup. But Javier was confident we could beat him that day and it was infectious. I give Javier a lot of credit for the win because he made the game plan work."
Designing blueprints for victories has been the norm for Castellano since he started riding as a youth in Venezuela. His father, uncle and brother, Abel Jr., were all jockeys and he rode his first race at the age of 18. In 1997 he left his homeland and moved to the United States to continue his career on a bigger stage. He began riding in south Florida and posted his first riding title at Hialeah in 1998.
In January 2001, Castellano decided to move to New York and, though it took a while for him to establish himself in a jockey colony filled with stars, he never stopped pushing himself and learning from some of the big riders in the sport.
"He came up from Calder, where he became a leading rider, and he stayed there long enough to make sure he was ready for the next step to go to New York and build on that success and grow his business," said Pletcher, who has teamed with Castellano to win, among others, the 2015 Breeders' Cup Dirt Mile with Liam's Map and the 2011 Travers with Stay Thirsty. "He keeps striving to improve and that's made him so successful."
'The best horse I've ridden'
Castellano's big break came when he was the regular rider of 2004 Horse of the Year Ghostzapper and piloted him to victory in the Breeders' Cup Classic for trainer Bobby Frankel.
"Ghostzapper put me on the map. He's still the best horse I've ever ridden. I had won a lot of races and been a leading jockey but not a lot of Grade 1s," Castellano said. "He gave me my first Breeders' Cup win and how could I ask for more from a horse than what he gave me?"
Two years later, Castellano won the Preakness and Travers with Darley Stable's Bernardini and his career was suddenly in the fast lane, as top trainers became more and more impressed with the talent and work ethic the rising star brought to all of his races.
"If there's one distinct characteristic about Javier it's his consistency," Migliore said. "He rides so consistently well on any kind of horse. It doesn't matter if it's a cheap claimer or a Grade 1 stakes. You're going to get a consistently good ride from Javier. He's not streaky. He is across-the-board consistent, and, when you're riding with enthusiasm and giving horses every chance to win, they are going to win for you.
'Unbelievable' preparation
"Horses feed off that enthusiasm, but it's hard for a jockey to maintain it after they ride 10,000 horses. Yet he rides every horse like it's important, and it really is important to someone."
The importance Castellano places in his preparation for each race also plays a key role in his rise to the top. Long before he hops on board a horse, he has formulated a plan to guide that horse to the winner's circle.
"He shows up in the paddocks with a good thought about the way the race will unfold," Pletcher said. "He watches a lot of replays. He communicates well. You can discuss a game plan with him but, if he has another thought, he'll let you know and you can talk about it. He has all of the right qualities."
Castellano rode Imperative to victory last month in the $1.25 million Charles Town Classic and afterwards part-owner Ron Paolucci expressed amazement in how Castellano sounded like a prophet before the race.
"His preparation is unbelievable," Paolucci said. "When he came to the paddock for the Classic, he told me where every horse would be, where was the best spot for him to be and where would be the best spot to make his move and I'll be darned if it didn't work out that way."
Importance of family life
As important as his studying for a race may be, it's the combination of his talent and work ethic that has earned Castellano a spot in the National Museum of Racing and Hall of Fame at Saratoga Springs.
"Like a lot of top jockeys, he's a complete package," Pletcher said. "He's so versatile. He rides well on the lead. He can come from behind. He's good from the gate. He's good on the turf. He's like everyone else in the Hall of Fame. You don't get there by being one-dimensional. They're complete riders. They're dedicated. They're highly professional and he embodies all of those qualities."
Crawford also noted the importance of Castellano's family life in the rider's ability to stay focused on a daily basis.
"He takes very good care of himself. He's very mature. He has a great marriage and is a very grounded guy," Crawford said. "It's a tough, tough profession being a jockey and it will grind you up if you let it, but he takes care of himself and handles it."
Castellano's wife, Abby, is the daughter of longtime racing executive and current National Manager of the Jockeys' Guild Terry Meyocks, and he credits her understanding of life in the racing industry as the glue that has helped to keep his Hall of Fame career together.
Discipline and dedication
"I've been working for many years. You need 20 years of hard work to get in the Hall of Fame and thank God my career has been successful," Castellano said. "My family and a lot of people gave me a lot of help to reach this level and I'm thankful to them.
"My family has been forced to travel a lot or spend a lot of time without me. I give all the credit to my wife. She helps me because it's not an easy life. People do not see what goes on behind the scenes. She's always right there supporting me and taking care of our kids [Kayla, 11; Sienna, 8; and Brady 4] and I am grateful and lucky to have her as my wife. She understands the game.
"She learned it through her father, Terry, who has always been so good to me. He's always supported me and treated me like a son. A lot of hard work, discipline and dedication goes into this job, but, when you do the right thing, it always pays off."
Indeed it does, and sometimes, as Javier Castellano will attest, the payoff just might be a plaque in the Hall of Fame.