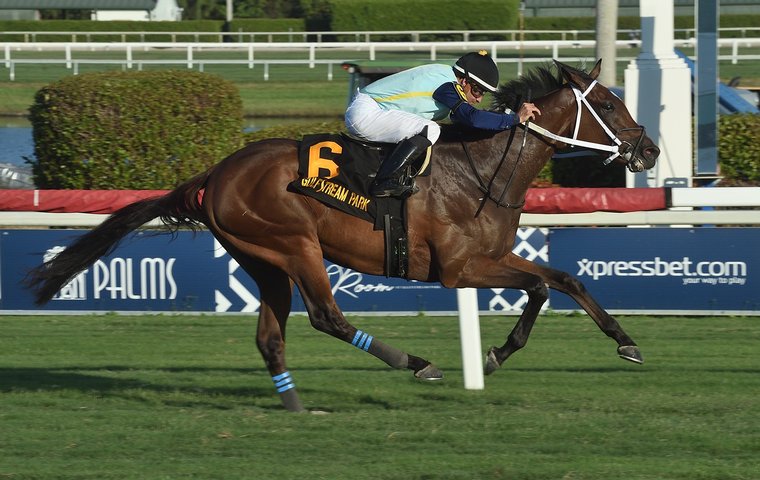 Prep School is our attempt to harness the predictive power of TRC Global Rankings on the Road to the Kentucky Derby each year. We use a combination of ranking points and each horse's form to assign a probability of victory to each runner. Here, James Willoughby assesses the big trials tomorrow in California and Florida.

SAN FELIPE STAKES
Santa Anita, 8½f
Seven are due to post for the G2 San Felipe Stakes at Santa Anita, a G2 over a mile and a sixteenth. Top-notch horses like California Chrome, Medaglia d'Oro, Fusaichi Pegasus and Sunday Silence are on the roll of honour, so this can be an influential trial.
Trainer Bob Baffert has won this six times, most notably with Point Given in 2001 but also with Pioneerof The Nile – the sire of American Pharoah – eight years later. The Silver Fox has two entered: Authentic and Thousand Words.
These two quality colts feature at #2 and #3 in our recently published Prep School Derby Ten. This ranking has already produced impressive G2 Fountain Of Youth winner Ete Indien – rated much higher here at #8 than in some other lists.
The Baffert brace are probably going to lose face somewhere, then. Who will suffer a dent to their reputation? #2 Thousand Words, the unbeaten winner of the G2 Los Alamitos Futurity and G3 Robert B. Lewis? #3 Authentic, the impressive G3 Sham Stakes hero? Both? Or neither?
TOP CHOICE Authentic
When you make a ranking of objects, you define criteria and then apply that objectively to the credentials of each contender. In the case of our Derby rankings, we have to rate the winner of both a G2 and G3 race above the winner of just a G3 race. That's why we placed Thousand Words over Authentic. Both are highly rated because we score their form – and importantly race times – highly and both have solid credentials as two-turn runners.
When it comes to figure the probabilities of winning a specific race, what matters more than in ranking is potential. And AUTHENTIC is flat out the best in this regard here.
In his Sham score of nearly eight lengths over Azul Coast, it's true he was able to dictate a pace far less taxing than those he will face in future contests. After all, he carved out a tempo of just 23.87 – 24.07 on the way to a final time of 1:37.57, which featured a 13.27 final furlong, which could have been a lot faster but for antics we put down to inexperience.
Why not review that contest here? Note how light on his feet this colt is; take heed of his acceleration turning out of the back straight, which encourages the strong belief he isn't a need-to-lead type; and you will not be able to miss how he acted up in the straight.
Now, nobody knows how Authentic will react to pace pressure. He could spit out the dummy, he could shy away from it all and be softened up for his much-tougher stablemate.
"Going in, we knew he was a pretty nice horse," said Baffert. "If he hadn't got away well, we don't know what would have happened in behind horses."
VALUE PICK Honor A.P.
Make no mistake: the Baffert colts set a very high standard here. But, we cannot help taking an interest in one of the most impressive maiden winners seen for a while, HONOR A.P.
The aspect of his one-mile maiden score that most takes the interest is the third-placed finisher being fully 16 lengths behind. If you run an analysis of major track U.S. racing when the track is fast, this alone will identify horses with a future strike rate several times that of the population as a whole. Basically, what a horse is doing in these circumstances is pulling away from a rival who itself is clearing away from the rest all the while.
Now, the bad news is that race was back in October. So, we are under no illusions that this is not a massive ask for Honor A.P. But special horses can do special things, and it could be worth taking a punt on this potentially special colt, who has seven recorded workouts in the last 60 days to his name, plus a quality trainer in #97 John Shirreffs in his corner.
TAMPA BAY DERBY
Tampa Bay Downs,8½f
This is a cracking G2, featuring a host of lightly raced horses bidding to lay a serious claim on the road to the Kentucky Derby. With a field of 12, ground-loss and track position will prove important. This will be mitigated, hopefully, by the likelihood of a strong pace.
TOP CHOICE Sole Volante
For now, the former grass horse has to be given full credit for turning over hot favourite Independence Hall in the traditional prep for this, the G3 Sam F. Davis Stakes.
Starting at odds of nearly 6/1, SOLE VOLANTE sat in midfield on the rail and got an inside trip as he closed with good momentum, bursting two and a half lengths clear of the wildly impressive G3 Nashua winner.
Earlier, Sole Volante had won two of his three starts – a maiden and minor event at Gulfstream on the grass – before running third to his opponent here, Chance It, in a strongly-run race over a mile on dirt at the same venue. It seemed like things were happening a bit fast for him there, and it could be the two turns is the making of the son of Karakontie and a mare by Kingmambo – solid grass breeding, on the face of it.
There are a few facing him here who are nowhere near so exposed and could simply turn out more talented. So, from that perspective, Sole Volante is not necessarily one we would want to bet on. But he deserves strong consideration because he has form on the board close to that required to win this in an average year.
VALUE PICK Spa City
Last year's Breeders' Cup Classic winner, Vino Rosso, was only fourth in the 2018 running of this. It all goes to show that this event is getting stronger, not least because it is favoured by #35 Todd Pletcher, a former world #1.
Pletcher runs three. Texas Swing is by Vino Rosso's sire, Curlin, who is #1 in our sire rankings on dirt. He was impressive in a maiden over a slightly shorter trip here, but the time wasn't great and it could be that history repeats itself – he could be the best horse in the long run while beaten today – especially as the combination of stall #1 and a lot of pace outside him could leave him in a bad spot.
Pletcher also has a highly regarded colt in Market Analysis, who won at Gulfstream over seven furlongs, looking a good horse with a high cruising speed. He was closed down rapidly near the line after contesting a 22.44 – 23.09 early pace there, and we just wonder whether he has the foundation to beat this promising field.
Pletcher's third runner, Unrighteous, is a maiden after two starts, but he clearly has a ton of ability. Indeed, he could be the key here because the horse that beat him, SPA CITY, is the selection in this spot.
Trained by Kiaran McLaughlin, the son of Street Sense looks a resolute galloper and was miles clear, with Unrighteous, over nine furlongs at Gulfstream. The runner-up had a proper crack at him, but Spa City galloped on, and he just appears to be slightly more of the finished product after three starts than some of his rivals after one or two.
In what should be a proper test of galloping, Spa City could just be too strong for most in the closing stages, if he can get a spot close to the lead early. He projects as a serious horse at nine and ten furlongs. This could be his coming out party – if he can handle the shorter trip.