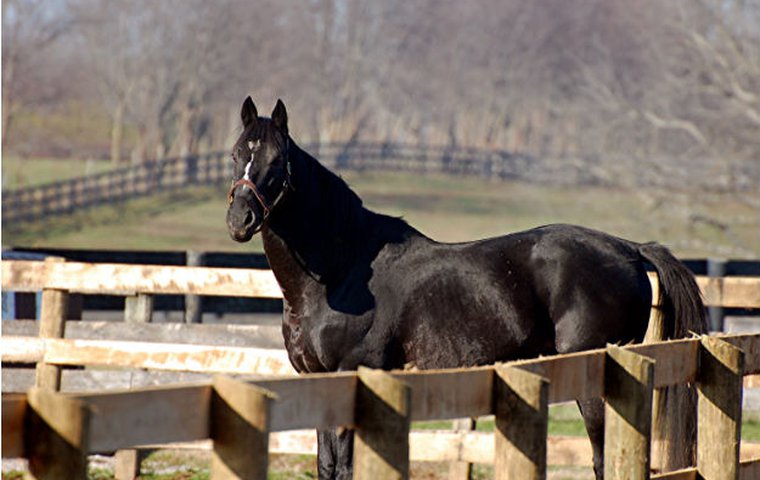 The odd saga of War Emblem's stunted stallion career took a rather dramatic and final turn about three weeks ago, when the champion was gelded to meet United States quarantine laws.

"We did it because of the regulations of the United States Department of Agriculture," said Michael Blowen, the founder and president of Old Friends in Georgetown, Kentucky. "We wouldn't have done it otherwise, but I think the great side effect of this is that it might make his retirement a lot easier. He's recovered from the surgery, and he came out of it really, really well. It's all healed up, and now he's running again."
War Emblem and his fiery temperament became well known in 2002, when he won the Kentucky Derby and Preakness Stakes. A confirmed front runner, his bid for the American Triple Crown came to an end at the start of the Belmont Stakes, when he stumbled and missed the break.
----------
How California Chrome's seven rivals tomorrow are shaping up
----------
However, War Emblem added another Grade 1 to his resume, the Haskell Invitational Handicap, on his way to being named champion 3-year-old male that year for The Thoroughbred Corporation and trainer Bob Baffert.
Japan's Shadai Corp. purchased War Emblem for an estimated $17 million, and he began his stud career in 2003.
Expectations were high, but War Emblem's desire to be a stallion was not. He proved to be an extremely reluctant breeder and sired only about 120 foals during the course of his career.
Adding insult to injury was the fact his foals proved to be quite useful, most notably his daughter Robe Tissage, who was named Japan's 2012 champion 2-year-old filly.
After various and multiple attempts to help War Emblem warm to his job, Shadai decided to retire him from stud duties in 2015. He was subsequently donated to Old Friends and arrived back in Kentucky at the end of last year.
Under U.S. law, even pensioned stallions being imported into the country must cover two mares twice to make sure they are not infected with, or a carrier of, Contagious Equine Metritis (CEM). War Emblem, who is now 17, spent a month at Rood & Riddle Equine Hospital but could not be persuaded to cover mares. He was sent to Old Friends but it was determined he either had to be gelded or returned to Japan.
War Emblem's love of carrots helped his recovery
"Once you get over the hump of him coming out of the surgery without complications and recovering well, everybody took a big, deep breath," said Blowen. "Obviously, he was such a valuable stallion, and he is an older horse. It's always risky when you are doing surgery, and we were very fortunate to have the crew that we had to perform the operation. We couldn't have put together a better crew."
The surgery was done by Rood & Riddle's Dr. Brad Tanner with assistance from Dr. Colt Daughtery, while Dr. Hui-Chu Lin of Auburn University administered the anesthesia.
War Emblem was gelded in his own paddock and was back upright within 35 minutes, according to Blowen. He never missed a meal, and his love of food has also helped with his recovery.
"We had to get him moving when he was recovering from the surgery, and of course he didn't really want to move," Blowen said. "I would give him a carrot and walk down one post length of the fence. He would walk over, and I would give him another carrot. We would do a couple of laps a day with me giving him carrots, and it was amusing for everyone watching. Now he expects it. Every afternoon we do a couple of laps."
War Emblem is not overly keen on people or being in a stall, so he stays outside in the only double-fenced paddock at Old Friends.
"He is out all the time," said Blowen. "He hates being in a stall, and he lets you know that he doesn't want to go there. His paddock is going to be home. He doesn't really like people that much, and he's not going to be the type where everyone is going to be able to feed him carrots.
'He came after me like I was a wounded chicken'
"You might do something that you don't think is wrong, but he will take exception to it, and, when he does, he lets you know in a hurry. It's like being back in Catholic school."
Blowen is not just referring to the visitors that frequent Old Friends, which does daily tours so people can have meet-and-greets with the retired racehorse residents. He himself has also experienced War Emblem's disapproval.
"When he first arrived, he was at Rood & Riddle while we attempted to get him to breed, and people kept telling me I had to watch him," said Blowen. "Everyone said he was tough, but he was fine when I was feeding him carrots. After about two and half weeks, I decided I wanted to get his halter. I had carrots in one hand and a new halter in the other, and I walked into the stall. He took one look at that halter, and he came after me like I was a wounded chicken. He thought I was going to make him do something he didn't want to do. He just doesn't want to be bothered."
Although War Emblem has gone from a stallion to a gelding, it is unlikely he will be turned out with other horses. Nearby residents include 2011 Breeders' Cup Sprint winner Amazombie and 2010 Breeders' Cup Marathon winner Eldaafer, and Blowen notes that War Emblem likes to keep an eye on them as well as the other geldings in the vicinity.
"He's very curious, and he likes his neighbors," said Blowen. "I don't think he would ever want roommates, but he likes having neighbors. The people who had him in Japan from Shadai came to visit him, and they said he was too smart for his own good. From just the short time he has been here, I concur. He is very, very smart.
"I am hoping eventually, when he knows he is going to stay out there all the time and that we aren't going to bug him too much, that he will figure it out and he won't be as nervous or as bossy or as tough as he is. We try to accommodate our residents, and whatever their needs are, we try to meet them the best we can."