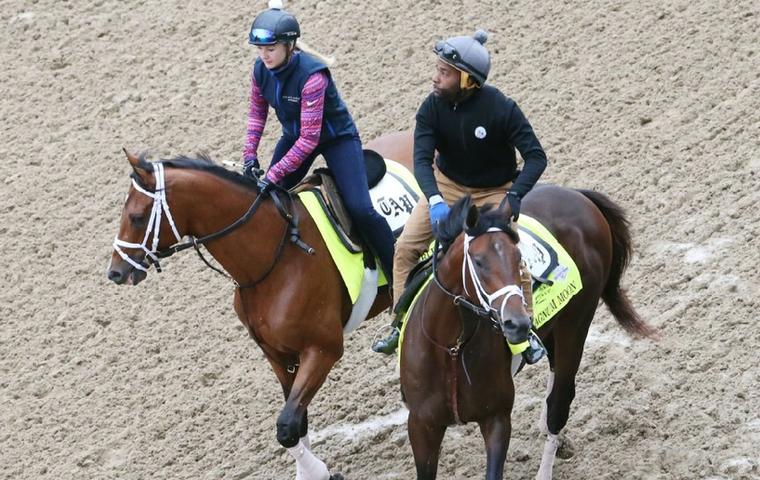 When the starting colts paraded onto the muddy track for last Saturday's Kentucky Derby, all were ridden by men. Eleven of the men were Latin American or Hispanic, eight were white. We've grown so used to this sight that it's easy to imagine no one else is capable of handling a top Thoroughbred. But come early to see the morning workouts, and you'll see a more diverse group of riders.

Six of the Derby starters had exercise riders who were women, and three had riders who were African American men. Fifth-place finisher My Boy Jack had both. Most of the week he worked out under Jermal 'Peedy' Landry, a black man who had also exercised Preakness winner Exaggerator in 2016. But on Friday it was the Frenchwoman Manon Lemaire who took My Boy Jack for his early morning gallop.
Kentucky Derby starters and their riders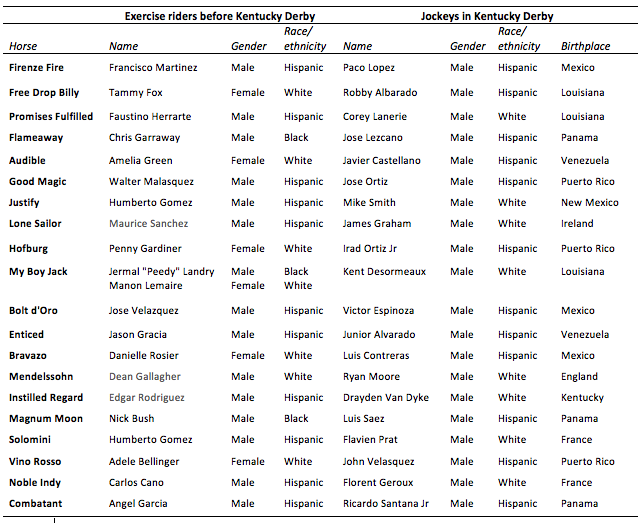 The point is not that these particular riders should be jockeys. Some perhaps should, but Nick Bush is too heavy, at 135 pounds, and Tammy Fox is a retired jockey who exercises horses like Free Drop Billy for her husband, the trainer Dale Romans. The point is that, if women and black men represent nearly half of top exercise riders, it is hard to understand why hardly any are numbered among top jockeys.Last year's champion Always Dreaming, also had two riders. His regular exercise rider was Adele Bellinger, a woman, but during Derby week Bellinger was replaced by Nick Bush, a black man. This year Bush worked out Magnum Moon during Derby week.
Why are women and black men good enough to ride in the morning, yet rarely chosen to ride big races in the afternoon? The history is long and troubling.
The rise and fall of black jockeys
At the first Kentucky Derby in 1875, ten years after the Civil War, 13 of the 15 jockeys were black men, mostly former slaves. Over the next 28 years, black jockeys won 15 Kentucky Derbys. Yet, after some black jockeys became well paid celebrities, white jockeys, owners and trainers drove them out of top races. No black jockeys started the Kentucky Derby between 1921 and 2000, though black jockeys persisted at lower-tier events into the 1930s.
Black men did continue to work as exercise riders. Secretariat's exercise rider, Charlie Davis, who died in February, was African American. Secretariat's white jockey, Ron Turcotte, opined that Davis could have been a jockey "but nobody gave him a shot". Less to his credit, Turcotte referred to Davis, who was 33 when Secretariat won the Triple Crown in 1973, as an "exercise boy".
Black jockeys are treated better today, but there has been less progress than you might hope. Today's top black jockey, Kendrick Carmouche, was born in Louisiana — like white jockeys Kent Desormeaux, Robby Albarado and Corey Lanerie, all of whom started this year's Derby — yet Carmouche had to leave for Philadelphia in 2001 because Louisiana owners and trainers "wouldn't give a colored person a good shot… It's more racist where I'm from than" at northern tracks — like Saratoga, where Carmouche has achieved his greatest success.
Carmouche was among the top 20 jockeys by prize money in 2017, but he has never been one of the 20 jockeys who start the Kentucky Derby. The last black jockey to start the Kentucky Derby was Kevin Krigger, who rode Goldencents in 2013 before a spine injury ended his career the next year.
Women jockeys: still waiting to rise
The history of women jockeys is just as disturbing. Women make up 85 percent of adults who are light enough to meet jockeying's weight requirements, and unlike men most women can maintain jockey weights without extreme measures that jeopardize their health.
Women represent 90 percent of recreational riders and owners, and over half of the audience for the Kentucky Derby. Yet women constitute just 1 out of every 7 North American jockeys—1 out of 50 in Triple Crown races.
As it was pointed out on this site last July, less than four percent of the top 500 jockeys in the TRC Global Rankings, which is based on rides in Group and Graded races around the world, are female.
In the U.S., women could not ride pari-mutuel races until 1968, when Kathy Kusner, citing the gender clause Civil Rights Act, successfully sued the Maryland Racing Commission for a jockey's license. After Kusner's suit, male jockeys boycotted Churchill Downs to prevent a woman from starting.
Diane Crump started the Kentucky Derby in 1970, but it was 14 years before a woman started that race again.
Over the decades, women jockeys have endured harassment from male jockeys and fans, as well as overt discrimination from male trainers and owners. "Why ride a girl," one trainer asked jockey Rosie Napravnik in the 2000s, "when you can ride a guy?"
It's not as though women can't handle top Thoroughbreds. A recent UK study of over a million rides found that women jockeys did just as well as men when they were given horses of equal quality — which they rarely were.
In the U.S., female exercise riders like Lemaire, Bellinger and Fox are assigned top horses, and a few women have had extraordinary success as jockeys. Donna Barton Brothers — now the NBC reporter who interviews the winning jockey at the Kentucky Derby — won over 1,130 races in the 1980s and 90s. Rosie Napravnik won 1,877 races and started eight Triple Crown races, including three Kentucky Derbys, in the 2010s. Hall of Fame jockey Julie Krone won 3,704 races and started seven Triple Crown races in the 1990s, including two Kentucky Derbys and five Belmont Stakes, where she won in 1994 and finished second in 1996.
When a jockey like Krone or Napravnik starts a major race, major news media write fawning, feel-good stories that give the impression of progress. But in truth women's progress has been stalled since the 1990s — in Thoroughbred racing as in other careers.
The percentage of North American jockeys who are women is actually lower now than it was in 2000. In the ten years from 1985 to 1994, three different women started the Kentucky Derby. But, in the past 15 years, only one woman has run for the roses: Rosie Napravnik. Since Napravnik retired in 2014, no other woman has emerged to fill her stirrups.
What next?
It is startling that a major sport could handle race and gender so poorly in 2018 — 71 years after Jackie Robinson de-segregated major league baseball, and 45 years after Billie Jean King got equal prize money for men and women at the U.S. Open tennis championships.
Thoroughbred racing needs to catch up to the 21st century.

Paul von Hippel is an Associate Professor at the LBJ School of Public Affairs, University of Texas, Austin.