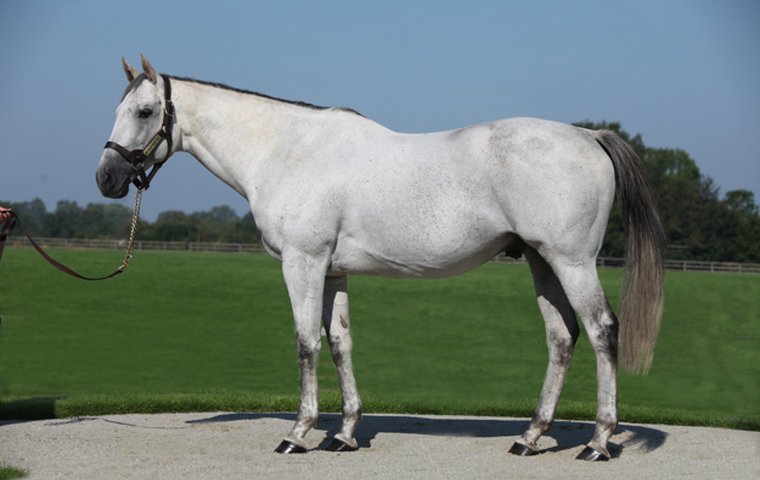 Kendargent must be one of the unlikeliest leading sires of the modern era. Simply consider this: The best he could achieve on the track was second in a G3 and fourth in a G1, yet his first four crops have already brought 12 black-type winners from only 66 foals to race*.

Even international bloodstock consultant and journalist Bill Oppenheim was lost for words in August 2013 when writing in the Thoroughbred Daily News about the sire's rousing that summer, noting: "The number of non-black-type winning horses who go on to top sire lists is minuscule, and I'm sure it's completely safe to say no-one outside of the Kendargent family could have predicted anything like this."
"This," indeed, is a spectacular success story that owes everything to the passion and dedication of one man, Guy Pariente.
The French-born, Belgium-based businessman has been a long-time racing fan but it was only in 2002 that his yellow and white silks first appeared on a racecourse. That year, he had a single horse in training, bought in a claimer. But the numbers quickly grew, and so did the quality.
Four years later, he was supporting a string of 20 horses, including a duo of black-type performers, Sabasha and Belliflore… and Kendargent.
The grey colt had been a €45,000 yearling purchase by Agence FIPS at Arqana's August Yearling Sale. Bred by Haras des Granges in southwest France, he was by the influential Kendor out of the Linamix mare Pax Bella, a half-sister to two stakes winners.
His 3-year-old season made him appear a miler of talent – yet some way short of a superstar. Paradoxically, Guy Pariente's colour-bearer may have shown his best form in a conditions event, where he held off the subsequent G1 performers Passager and Champs Elysees. This would remain his sole victory.
Kendargent was then beaten a head by Kentucky Dynamite in the G3 Prix Paul de Moussac at Chantilly. Back over the same course and distance a month later, he filled fourth position, two lengths behind the winner Stormy River, in the G1 Prix Jean Prat. Unplaced efforts in the G1 Prix Jacques Le Marois and the G3 Prix du Pin followed, on the back of which, Pariente opted for a change of scenery and sent him off to California trainer Julio Canani.
The horse had two starts in America as a 4-year-old, including a victory in an allowance race at Hollywood Park, before his career was definitively curtailed by injury.
Such a race record would probably have seemed insufficient to most stallion stations, but Pariente is a man of challenges and enterprises. Having been impressed by leading French owner-breeder Jean-Luc Lagardère's unorthodox success with his stallion Linamix (Kendargent's damsire), he decided to give his horse a chance.
"To stake everything on a single stallion is a crazy gamble," he commented at the time. "But there is an element of passion with horses that doesn't come into play in business."
In March 2007, while Kendargent was still training in America, his owner was buying a dairy farm in Normandy and working on plans to convert it into a state-of-the-art stud farm, named Haras de Colleville. The redevelopment was still ongoing when injury struck, therefore Kendargent stood his first season at stud (2008) in the south of France, before becoming Haras de Colleville's first stallion resident – and lone sire to date.
His first crop, produced off a €500 fee, was understandably diminutive, comprising only 19 foals. Yet in 2011, the stallion no-one expected took French racing by storm: his seven 2-year-old runners – six bred by Pariente – won eight races, including three Group events.
The horses responsible for such a spectacular feat were a pair of fillies, Kendam and Restiadargent. Having won their respective maidens in good style, both lined up for the G3 Prix d'Arenberg, where they completed a scarcely believable 1-2 for their sire, before Restiadargent doubled up in the G2 Criterium de Maisons-Laffitte and Kendam secured the G3 Prix Eclipse.
Such quick fire success earned Kendargent champion first season sire status, a distinction even Guy Pariente would probably not have dared dream of at the start of the season.
This obviously meant a radical upward turn for Kendargent's stud career. Pariente made the decision to syndicate the horse, an operation swiftly endorsed by most of the leading breeders in France, as well as many from other European countries.
In 2012, his fee having been raised from €1,000 to €4,000, Kendargent's book jumped from 50 to 142 mares, making him the fourth-busiest stallion in France.
The commercial appeal of his stock also received a dramatic boost. Until then, only four of his yearlings had appeared at public auction, attracting a highest price of €10,000. In 2012, two youngsters from his third crop, both bred by Guy Pariente and consigned by Haras de Colleville, were offered at the Deauville August Yearling Sale. They attracted final bids of €105,000 and €95,000 from French agents Alain Decrion and Jean-Pierre Deroubaix.
There was more to come, however, as the results on the racecourse showed no signs of abating, despite the numbers remaining incredibly small.
Kendargent still had only 25 individual starters in 2012, but together they rattled up 10 wins, including two at stakes level. From the younger generation, Kensea and Onedargent won Listed events while Kenhope ran second in the G3 Prix Thomas Bryon.
The 3-year-olds were not outdone either, showing that the Haras de Colleville resident was not merely a source of precocious speed. Restiadargent kept on working on her sire's international recognition when running an agonisingly close third to Black Caviar and Moonlight Cloud in the G1 Diamond Jubilee Stakes at Royal Ascot. Kendam also failed to get her nose in front that season, but she ran with admirable consistency, filling the places in Group races on five occasions including a third to Gordon Lord Byron in the G1 Prix de la Forêt.
In 2013, 180 mares flocked to Kendargent, who was still covering at only €6,000. His two yearlings offered at Arqana in August fetched €170,000 from Sylvain Vidal, acting on behalf of Le Havre's owner, Gerard Augustin-Normand, and €450,000 from Peter and Ross Doyle as agents for Sheikh Joaan Al Thani's Al Shaqab Racing. Now that's some patronage.
And the momentum kept going strong on the racecourse, with victory in the G3 Prix de la Grotte for Kenhope – who later topped the Arc Sale when knocked down for €900,000 to Patrick Barbe, acting on behalf of Dr. Cyrus Poonawalla – as well as Listed wins for the 3-year-olds Kenbella, Snow Bell, Princedargent and Kenzadargent.
This year, while Kendargent's fee was raised to €15,000 ($18,500), his juveniles were again to the fore, with his 10 runners collecting just as many wins, including stakes trophies for Goken, Kenouska, and Kenfreeze.
Kendargent currently ranks second on the list of French-based sires of 2-year-olds by earnings, to Siyouni – who has been represented by 30 individual starters so far. And his progeny was all the rage at the sales: seven of them sold for six-figure prices at Arqana, from the breeze-up sale in May to the October yearling sale.
Kendargent will cover at a fee of €18,000 ($22,200) in 2015, yet it is worth recalling that all his black-type winners so far were produced off a maximum fee of €1,000. The first foals conceived on the back of his champion first season sire title will hit the track in 2015, and they are in training with all the finest handlers in Europe.
The best is definitely yet to come for Guy Pariente's homemade sire.
---
*Figures current as of Dec. 3, 2014.