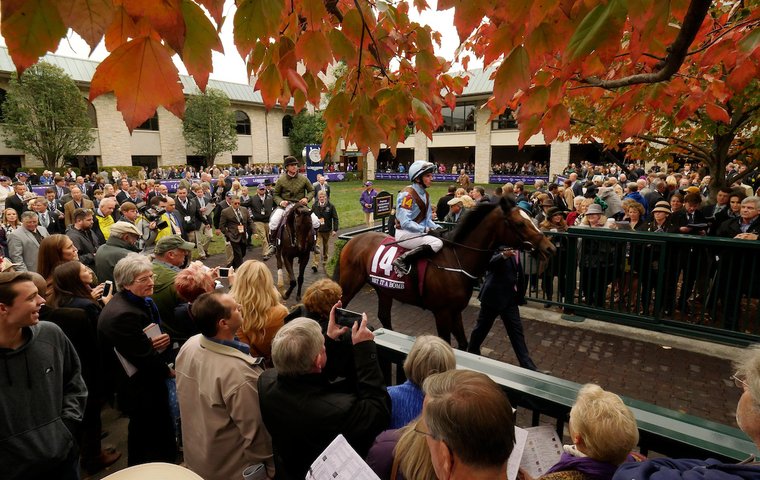 I made my very first visit to a Thoroughbred racetrack on June 1, 1980, which was the 75th anniversary of the opening of Belmont Park. In a remarkably short time, I became a serious and enthusiastic racing fan.

Unfortunately, I did not have the opportunity to visit Keeneland Race Course until October 1996, when I went there on a five-day racing holiday. The day I arrived, by the time that I turned my rental car off Versailles Road and on to Keeneland Boulevard and drove the half-mile to the parking lot adjacent to the spectacular limestone Keeneland clubhouse, I wondered how in the world did it take me 16 years to get to see this place?
I have endeavoured since to make up for some lost opportunities, and, for the last 22 years, I have tried to make it to at least one Keeneland race day every year.
If you have never been there yourself, then I strongly urge you to go next spring or fall. If you have been, of course, then you don't need my help. You surely are making plans on your own.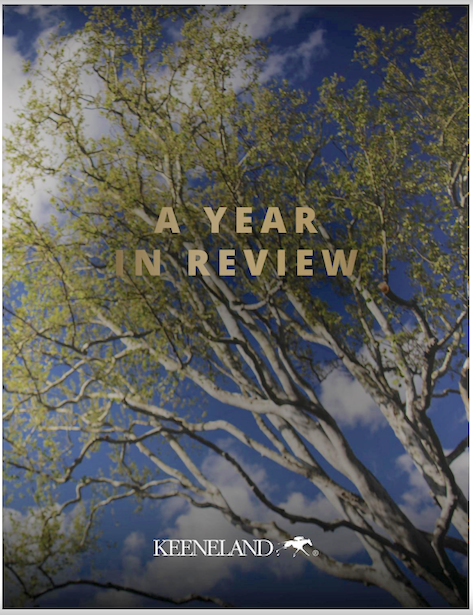 ------------------------------------------------------------
Read Keeneland: A Year in Review, which highlights Keeneland's activity over the last year through its core business of racing and sales, hospitality program, and community and philanthropic activities in support of its mission.
------------------------------------------------------------
There are many important elements to discuss regarding Keeneland, but clearly the quality of the racing and the race-day experience are right at the top of the list. What makes Keeneland so special? It is a beautiful, historic, immaculate physical facility with exquisitely maintained racing surfaces. Its spring and fall meets represent the highest quality horses, trainers, jockeys and owners competing for one of the best purse structures and Graded stakes programs in the U.S.
Keeneland is renowned for its legendary customer service, with brilliantly trained racing and hospitality teams to ensure the best possible day at the races.
The Graded stakes program
In 2018, Keeneland held a 16-day spring meet during April and a 17-day fall meet during October. During the spring meet, there were four Grade 1 races and a total of 15 Graded stakes. During the fall meet, the figures were six Grade 1s and 17 Graded stakes, which means Keeneland had 33 live race days and ran 32 Graded stakes races, almost a Graded race a day, which is remarkable and unprecedented for any racetrack in the U.S. and probably in the world.
Years ago, when Saratoga ran a 24-day meet, it might have come close to a Graded stake a day but it is not even close today with the 40-day meetings.
Wagering handle
The number of Graded races is important, but perhaps the most important measure of the success of any Thoroughbred race meet is the total all-source wagering handle.
For the 16-day 2018 spring meeting, all-source wagering was $157,172,604 - only $1,467,987 short of the all-time 16-day spring meet record, set in April 2013. The 17-day fall meeting generated $144,309,944 all-source handle, an all-time record, surpassing the figure for the 2013 fall meet by $4,649,740. In total, all-source handle for the year 2018 was the highest ever.
Field sizes
Last year's spring meet average field size was 8.8 with the fall at 9.3, comparing very favorably with the 2017 U.S. national average field size of 7.8.
Prize money
In 2018, Keeneland daily average purse money was $714,601 in the spring and $730,837 in the fall. These fall purses were a 4.7 percent year-over-year increase and set a new meet record. (Data is provided by the Jockey Club Information System.)
It is important to note that this rich purse structure is strengthened as a result of profits from Keeneland's horse sales - $5 million was contributed by the sales to purses for racing in 2018, and over $30 million in sales profits have been paid in purses in the last five years. These payments are above and clear of what is returned to the purse account from wagering activity per horsemen agreements.
The 'world's leading auction house'
As powerful as the Keeneland racing program is to the U.S. industry, the horse sales business there enjoys a global reputation and often is referred to as 'the world's leading Thoroughbred auction house'.
While racing in America is predominantly a domestic industry, the Thoroughbred horse sales business is truly an international market.
Keeneland hosts four sales annually in January, April, September and November, with a highly trained and professional auction team, and is committed to delivering a world-class selling experience to buyers and sellers.
For example, in 2018 the sales team traveled to 20 countries to strengthen relationships and broaden the international customer base. Further, Keeneland sponsored a number of prominent international stakes races on four continents to generate exposure and deepen its strong international reputation.
In 2018, Keeneland sponsored races at Ascot in England, the Curragh in Ireland, Sapporo in Japan, Seoul in South Korea, Royal Randwick in Australia and Maronas in Uruguay.
Keeneland's 2018 global recruitment strategy resulted in 307 international buyers representing 30 countries and $144 million in international purchases in 2018. Total annual horse sales for 2018 were $600,634,700, the highest level of gross horse sales there since 2007.
Economic impact
In order to understand the full economic impact of Keeneland's racing and horse sales businesses on Fayette County for the full year, 2014, Keeneland retained the University of Kentucky's Center for Business and Economic Research, Gatton College of Business, to conduct a study for the first time. The results were impressive.
Keeneland's spring and fall meets represented $123 million in direct spending and $200 million in total economic impact. The impact of Keeneland's four annual horse sales combined to represent more than $228 million in direct spending and more than $390 in total economic impact.
The combined 2014 impact of the race meetings and the horse sales totaled $590 million for Fayette County alone. It was estimated that including economic activity generated by Keeneland for surrounding counties contributed an additional $200 million to that $590 million impact.
Over the last decade, wagering activity has been in decline, resulting in financial pressure on all participants in the industry, especially the racetracks and the owners that supply the races and horses that provide the racing revenue.
At the same time, the demand for important and enhanced safety and integrity issues and their related costs are on the rise. Keeneland has a unique and important financial structure that makes it one of the most powerful and important racing companies in the U.S. Here is a description from the Keeneland Media Guide that explains the organizational structure and financial contribution:
"Today Keeneland is a privately held company with a not-for-profit mission. Earnings are reinvested in the operation in the form of higher purses for horsemen and capital improvements, with a substantial portion used for industry innovations, promotion and charitable contributions.
"Keeneland pays taxes but no dividends, and its directors serve without compensation."
No other U.S. racing association makes the financial contribution and management to so many aspects of the Thoroughbred industry.
Benefitting the industry
Here is just a partial list of major initiatives led by Keeneland over the last decade:
1. NTRA Safety and Integrity Alliance accreditation
In 2009, the NTRA (National Thoroughbred Racing Association) set out develop a racetrack accreditation program that involved six areas - injury reporting and prevention, a safer racing environment, aftercare of retired racehorses, uniform medication testing and penalties, safety research, and wagering security. Keeneland was one of the first tracks accredited and participates as industry leader in this important initiative.
2. Jockey Health Information System
In 2008, Keeneland along with the Jockeys' Guild and the Jockey Club developed the Jockey Health Information System, which creates a sophisticated medical history for all jockeys that is immediately available online if an injury occurs to a jockey on track. This allows the ambulance transporting to send an injured jockey's medical records over the internet to an area hospital for review before he or she arrives. This has been implemented at a number of major tracks.
3. Concussion management protocol
Keeneland has been a leader in the creation of a concussion management protocol for jockeys and is working with the University of Kentucky medical team, the Jockeys' Guild, the Jockey Club and other racing associations.
4. The Mawsafe Turf Rail
Keeneland supported the development of the Mawsafe Turf Rail and installed it in 2016. At last year's fall meet, this rail prevented what could have been a catastrophic injury when a horse crashed into the rail during the Grade 3 Pin Oak Valley View Stakes.
Keeneland President and CEO Bill Thomason said later: "What we saw proved the positive safety aspects we saw on video when we selected the Mawsafe Rail, how the rail is put together and how it works to protect horse and rider.
5. Development and support of the Thoroughbred Aftercare Alliance (TAA)
Keeneland, the Breeders' Cup and the Jockey Club provided the funding to launch the TAA, and Keeneland has contributed $1.4 million over the past five years. This is one of the most important initiatives in the racing industry in the last decade.
There are many more equine and safety-related organizations to whom Keeneland provides ongoing financial support. Keeneland's contributions to industry charities and initiatives averages $1.4 million annually.
The Keeneland Library
There is one other major contribution that Keeneland has made and continues to fund for the industry. Just before the fall meet of 1940, a room on the second floor of the clubhouse was remodeled to launch the Keeneland Library and researchers, students and readers have been supported there ever since.
In 2002, Keeneland designed and built a state-of-the-art 10,000 square-foot building for which it received an Eclipse Award of Merit.
The library has regular hours five days a week and maintains a full-time staff. The collection includes over 30,000 domestic and international books and journals, over a million photographs and 6,100 volumes of the Daily Racing Form including volumes as far back as the late 19th century.
Perhaps the most well-known book containing information researched at the library is Laura Hillenbrand's national bestseller, Seabiscuit: An American Legend.
The Breeders' Cup is returning
The most important annual industry event in the U.S. is the Breeders' Cup World Championships. The first Breeders' Cup was held at Hollywood Park in November 1984 and the second in 1985 was held at Aqueduct. For the next two decades, there was an informal rotation among Gulfstream Park, Belmont Park, Churchill Down and Santa Anita. There were also one-time events at Monmouth Park, Lone Star Park, Arlington Park and Woodbine. For varying reasons, Belmont Park and Gulfstream Park dropped out of the BC host rotation by 2005.
While Keeneland has long been recognized as one of the top Thoroughbred tracks in the U.S., it had never been selected as a Breeders' Cup host due to the capacity of the clubhouse/grandstand and the immediate footprint of the racetrack grounds. However, that all changed when Keeneland management worked with the Breeders' Cup organization and, in 2014, the Breeders' Cup selected Keeneland to host the 2015 Breeders' Cup. Keeneland made significant enhancements to the racing facility and limited the total number of reserved seats that could be bought in advance to 28,000.
The aesthetic and financial results were spectacular.
Total attendance for the two-day event was a Keeneland record of 95,102. The wagering handle, also a Keeneland record (of $150,574,656), was higher that the previous year handle, when the BC event was at Santa Anita. Based on that success, Keeneland was awarded the 2020 Breeders' Cup.
Bill Thomason said: "Building on the success of the event for the industry and the community, we anticipate an even greater spectacle in 2020 and look forward to the Breeders' Cup returning once again."
Customer strategy
Keeneland has a diverse customer base, which requires a strong discipline in the approach to the broad range of customers. Christa Marrillia, the Chief Marketing Officer, has a dedicated strategic team approach for Keeneland's marketing initiatives:
"Keeneland continues to evolve our marketing strategy to make a meaningful impact with our diverse customer base. From developing a powerful brand campaign celebrating our industry like 'Life's Work' to introducing new programming in the areas of fan education, like the Keeneland BETologist program, we always strive for excellence and to be good stewards of the brand.
"Keeneland marketing extends far beyond the campaigns you see surrounding our racing and sales events.
"As our sales and racing teams travel the world recruiting buyers, developing emerging markets and sponsoring international racing events, the Keeneland marketing, broadcast and communications teams work in tandem with these efforts – providing valuable tools and strategies to intensify our efforts. Everyone at Keeneland believes in this mission and, for this reason, the passion of our team is unparalleled."
Charity efforts
Keeneland has always maintained a strong and deep relationship with the local community, providing a tremendous amount of financial support both on the track and in the surrounding area.
Here are examples of the significant charitable contributions Keeneland made in the community in 2018:
College Scholarship Day: $60,000 in scholarships were awarded, the largest amount ever. When I was at NYRA (New York Racing Association), I was at Keeneland on a College Scholarship Day and was impressed with the thousands of students who were on track. As a direct result of that day, NYRA instituted this program at Saratoga the next summer, and it continues to grow every year.
Make-a-Wish Day: more than $130,000 were raised through Make-a-Wish Day at Keeneland, exceeding the fundraising goal of the organization by 57 percent.
Heroes Day and Military Day at the Races: Keeneland hosted nearly 2,330 families for a complimentary day at the races, including lunch and other activities
Keeneland hosted 17,000 individuals for 16 run/walks, raising nearly $1 million for local charities through this program.
It also supported six Lexington charities with monetary gifts, each exceeding $10,000.
Keeneland raised $92,850 in support of the Ann Hanley Parkinson's Research Fund through a monetary donation and the sale of Triple Crown memorabilia.
Over 650 additional local charities and fundraising efforts were supported by Keeneland in 2018.
Keeneland is truly a unique, forward-looking racing and sales organization. Its mission to perpetuate the sport of racing continues more than decades after its founding, as profits from Keeneland racing and sales are returned to the industry and community through the initiatives outlined above.
Founded by horse people, Keeneland is unique to the Thoroughbred industry. Most importantly, it continues to be guided by its original mission, taking a leadership role in the industry to improve safety, promote integrity and strengthen the sport.
And, on top of that, if you can take one, two or maybe 16 days next April or October, I can promise you that you will have a racing experience that will live with you forever.