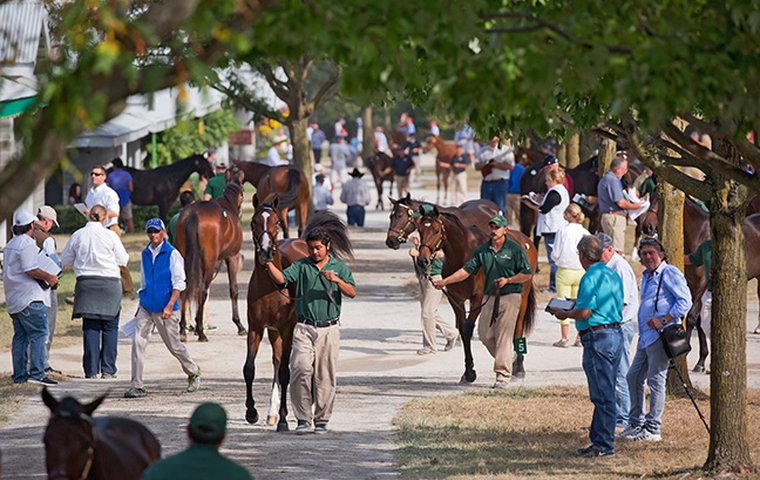 The Keeneland September Sale is not for the faint-hearted. It is a marathon event staged over two weeks that offers somewhere in the region of 4,500 yearlings, and it takes an agent of an iron constitution and endless enthusiasm to tackle the whole sale.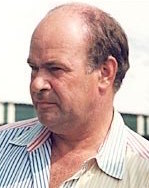 For many a year, one British figure could be seen working his way through the later books when most had cried enough. Joss Collins was the man who had signed the ticket at $13.1 million for Seattle Dancer back in 1985 and at $1.3 million for Nureyev eight years previously. But he was also an agent who gained great satisfaction from sifting his way through $5,000 yearlings in search of that next star, and for that, among other things, he left this world having gained immense respect from his contemporaries and a loyal following from his clients.
It is over 12 years since Joss Collins passed away from cancer at the age of 56. Hard working to the end, he was diagnosed upon his return from the Keeneland January Sale and passed away just weeks later in February 2004.
On a personal level, he was survived by his wife, Charlotte, and two daughters Miranda and Harriet. However, professionally, there was also Blandford Bloodstock to consider.
Collins had been a stalwart of the British Bloodstock Agency (BBA) in Newmarket for 30 years but, upon the agency's takeover by a consortium in 2001, moved to launch Blandford Bloodstock with Tom Goff and Richard Brown. At the time of Collins' death, the agency had made great ground but was still a young outfit, having been in operation only three years.
Prominent force globally
Today, Blandford Bloodstock is in the kind of health that Collins envisaged. The agency is a prominent force globally, particularly Europe and the U.S., while Jack Hobbs, Dream Ahead, Elusive Kate and Dutch Art are just some of the Group 1 winners that have carried its flag. 2016 marks its 15th anniversary and, in celebration, Blandford have relaunched their website, www.blandfordbloodstock.com.
Yet, while Blandford has evolved considerably in the past 12 years, Collins' influence remains an integral part of its ethos.
"We always say, when presented with a bloodstock conundrum: "What would Joss have done?"," says Goff. "I think that says it all.
"I first met Joss at a charity quiz night in Newmarket in the 1990s. He was absolutely hilarious. Very witty, incredibly competitive, very knowledgable, drank his fair share of whisky and smoked a lot of Marlboro Lights - we hit it off straight away!
"My first proper meeting was when he interviewed me at the British Bloodstock Agency in 1998. I had forgotten that on my CV it was listed that I had won a music scholarship to Eton as a boy. As I entered his office, he stubbed out a fag and greeted me, saying: "Thank God you appear to be relatively normal - I thought you were going to burst into song!"
Dorset-born Collins initially joined the BBA as a flying groom following stints at Whitsbury Manor Stud and Egerton Stud. It was during those early BBA years that he came to the attention of Sir Philip Payne-Gallwey, another revered agent of his time.
Bidding for Nureyev
Collins' time with the BBA came during the height of the Maktoum - Coolmore bidding wars and thus his name will always be intrinsically linked with some of the iconic moments in bloodstock history.
Robert Sangster and Vincent O'Brien walked into the Keeneland sales pavilion in July 1978 determined to secure the Northern Dancer - Special colt from Claiborne Farm. Bidding opened at just $20,000 for the flashy youngster but swiftly crept up towards $500,000 as more interested parties - including Collins - came in.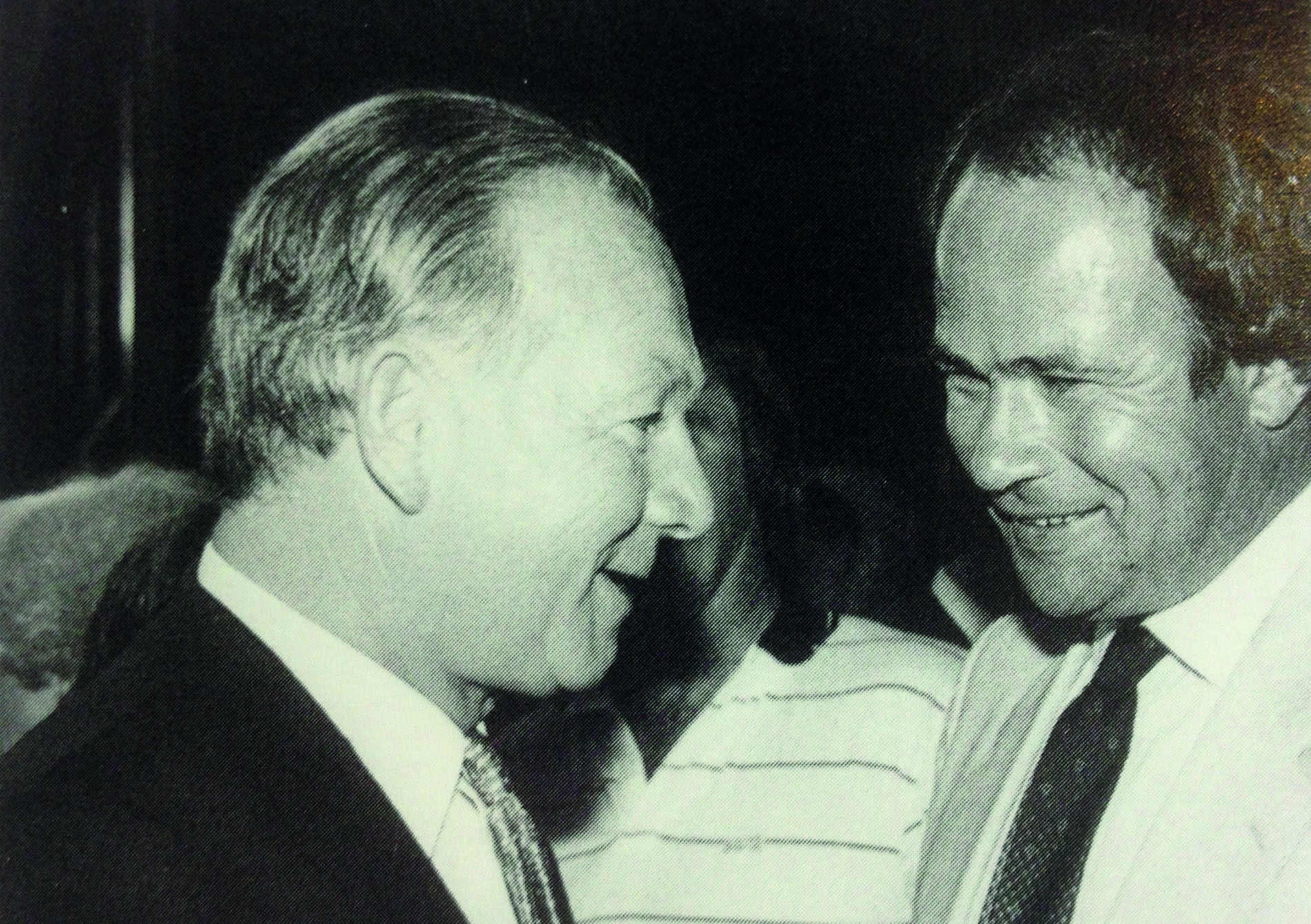 When Collins went $960,000 and then a million, it was clear that the Irish party would not have everything their own way. Tom Cooper, of the BBA Ireland, acting for Sangster, countered Collins up until $1.3 million but it was then that they cried enough, leaving Collins to sign the ticket on behalf of Greek shipping magnate Stavros Niarchos. At the time, it was a record price for a yearling.
As expensive as he might have been, Nureyev paid for himself many times over. He was a brilliant miler for Francois Boutin who finished first past the post in the 1980 2,000 Guineas and later became one of the major breed-shaping stallions, siring such champions as Miesque, Peintre Celebre, Zilzal and Theatrical.
The $13.1 million ticket
Eight years later, Collins was back in the headlines when signing the ticket at $13.1 million on a Nijinsky half-brother to Seattle Slew and Lomond. By then, Collins was bidding on occasions for Sangster and his men, and had actually been underbidder on their behalf to Sheikh Mohammed on the infamous $10.2 million Northern Dancer - My Bupers colt in 1983.
On this occasion, Collins was acting for a partnership that comprised Niarchos, Sangster, Coolmore and Danny Schwartz and came out on top, outbidding D. Wayne Lukas at an extortionate $13.1 million - a then record figure that Collins was said to have viewed with embarrassment.
While the My Bupers colt, Snaafi Dancer, couldn't run a yard, the My Charmer colt, Seattle Dancer, was a G2 winner who later sired the G1 winners Que Belle and Seattle Rhyme.
Other major horses purchased by Collins included Caerleon, the 1983 Prix du Jockey Club winner and influential sire, Woodman, another influential sire for Coolmore, 1991 2,000 Guineas winner Mystiko and champion sprinter Committed. He also brokered the deal that saw the Queen's homebred Height Of Fashion join Sheikh Hamdan's fledgling broodmare band, where she became an outstanding producer.
Goff highlights two other purchases that are remembered with fondness.
A missed chance to take on Shergar
"Joss was great friends with Michael Jarvis," he says. "Anything they did together gave them both huge pleasure, highlighting that extra joy that arises from achieving great things with close friends.
"The two highlights were Blue Iris, bought for just 7,500gns at Tattersalls. She won the Super Sprint and the Redcar 2yo Trophy before being sold to the U.S.A., where she became a very successful broodmare.
"Another great Michael/Joss story was Beldale Flutter, bought for $20,000 in Florida as a 2-year-old.
"He was champion 2-year-old in 1980, won the Dante easily at three and was second favourite for the Derby behind a horse called Shergar! But he succeeded in getting loose in Newmarket on the Monday before the race and, believe it or not, galloped straight into Robert Armstrong's champion sprinter Moorestyle.
"Robert's horse was okay, but Beldale Flutter sustained serious injuries to his rib cage and obviously missed the Derby. After box rest and treatment, he returned to beat all the older horses in what is now the Juddmonte International. The boys always said he probably wouldn't have beaten the mighty Shergar, but Joss said "it would have been nice to just have finished second to such a great racehorse".
Legendary dedication
Jimmy George, Tattersalls' marketing director, echoes the view that little gave Collins greater pleasure than filling smaller orders.
"Whether you knew him well or not, you couldn't fail to admire his work ethic and enthusiasm," he says.
"He once told me that the most fun he'd ever had was buying a draft of 50 yearlings for a Mexican client at the Keeneland September sale. The average price was very low, something like $5,000, and there he was scurrying around in the later books looking for these horses. I think he was allowed to buy one for about $50,000 and I think that yearling went on to be a Group 1 winner in Mexico. He said it was a challenge but also great fun, and I think that's what typified Joss. It was his tremendous enthusiasm that set him apart.
"We all still miss him. There are a lot of people in the generations below him that remember Joss with fondness and respect, and with gratitude for the time he took to give them advice or help them."
Even to this day, it is Collins' work ethic and enthusiasm that evokes the strongest recollections.
"Joss was dedicated to finding the top-class racehorse," says Alan Cooper, racing manager to the Niarchos family. "He rarely missed a yearling sale all over the globe. His dedication was legendary."
Goff adds: "Joss was a sales addict. He had a constant thirst for greater knowledge of the Thoroughbred all over the world and left no stone unturned in that task.
Loyal clients
"He loved horses and people. He called a spade a spade and did not suffer fools gladly. But his infectious enthusiasm made him loved and respected the world over. Because he was so thorough and had such a great work ethic, he was trusted by vendors and buyers alike the world over. Richard and I have always striven to emulate that part of his make up."
He continues: "Blandford was born out of the ashes of the old BBA. The BBA was being taken over and asset stripped by non-bloodstock folk, and it was very obvious that our clients were far from happy with that situation. Joss and I spoke to a number of people but, in the end, it was him, me and Richard Brown, who at that stage was fresh off a flight from New Zealand.
"We all worked hard for three years and things were just beginning to go really well when Joss was diagnosed with the Big C and died very quickly in February 2004. We were all devastated.
"I think that most people in the industry wrote us off completely after Joss died, and I don't blame them really as Joss was such a dynamic force. Thankfully, with the assistance of some loyal clients, we've proved a few people wrong over the years!"
Indeed, the list of high-profile purchases grows significantly year on year.
Arc day highlight
"Jack Hobbs, who cost 60,000gns as yearling, winning the 150th Irish Derby, would have to be right up there as would Dutch Art winning the Prix Morny," says Goff.
"But I think the highlight would have to be winning two G1s in 40 minutes at Longchamp on Arc day in 2011. Dream Ahead, bought by Richard Brown at DBS for just £35,000, won the Foret and then Elusive Kate, who I bought with John Gosden at Keeneland for $70,000, won the Marcel Boussac, a race I have always wanted to buy the winner of.
"What made me laugh was that, on the way home on the Eurostar as we were getting outside the third bottle of Moët & Chandon, John Gosden looked at me and said: "You're quite enjoying this, aren't you?" Of course I replied: "Yes." To which he retorted: "Well don't get too used to this. Success is very addictive - and when it's not around, life can be quite lonely!" I have always remembered that - it's very good advice."
Just as it was for Collins, Keeneland has been a happy hunting ground for Blandford Bloodstock over the years, with the team signing for G1 winners such as Order Of St George, Elusive Kate and Overarching.
Collins set a very high bar when it came to partnering hard work with success but, in Blandford Bloodstock, his memory remains upheld through that very tradition.