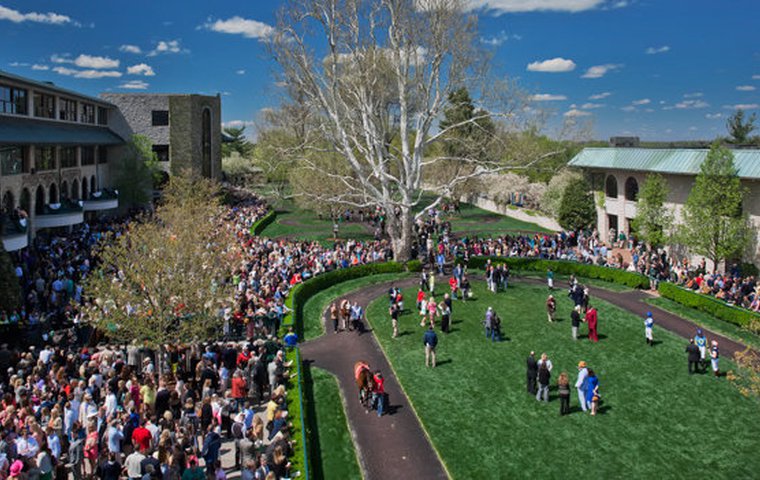 For lovers of racing, little compares to an afternoon (or evening) at the track. The sport is best experienced in the flesh, and the world's race courses offer diverse ways to enjoy this pursuit. While we can't literally transport you to the races, we'll do our best to bring these tracks to you in a monthly series of profiles. Today, the second of four installments in a delightful and expansive report on Keeneland Race Course by Glenye Cain Oakford.

Read the first installment on the history of Keeneland.
For statistical information on Keeneland including all-time leaders, race types, starters per race, and more, visit our Keeneland Stats page.
----------
FROM GRANDSTAND TO FINISH LINE
The racetrack facility may surprise some visitors with an unusual Kentucky limestone exterior that harks back to historic local farmhouses more than the sleek modernity of many racing showplaces. Its blocks were quarried on the premises when track namesake Jack Keene still owned the property, and today's clubhouse incorporates a three-story house that Keene had begun building, as well as a stone training barn he constructed. In the 1930s, architect Robert McMeekin added on two porches and a wooden grandstand that was separate from the clubhouse until 1963, when a renovation projected linked the two buildings. The wooden grandstand is gone, replaced in the 1970s by concrete and steel.
Another notable building on the grounds, though not part of the racetrack proper, is the Keene Place plantation house. It dates to the early 1800s and is now available to rent for private functions.
Race days can be crowded, but, even so, Keeneland offers an unusually bucolic, relaxed, and understated ambience, both for spectators and for horsemen. It's more like visiting a country estate than a roaring professional sports venue, and that seems to be just how its denizens like it. College students, often dressed to the nines, pack the grandstand. Tickets there are $5, but reserved seats (including admission) cost $8 for Wednesday and Thursday or $10 Friday through Sunday; the exceptions are Blue Grass Stakes day, Lexington Stakes day, and Fall Stars Saturday, in which cases reserved seats cost $20.
In the private clubhouse, the great and the good from the Thoroughbred industry and the business world rub elbows with the occasional celebrity. "Private" and "club" are the key words here: unlike any other major American racetrack, Keeneland does not allow a member of the general public simply to buy a clubhouse ticket. A highly coveted Keeneland Club membership is by application only, and, while applications are available on the track's website, Keeneland's own wording suggests it doesn't much like your chances. There's an "extremely long" waiting list, Keeneland warns, and new applicants--who must be sponsored by two current members--are automatically put on a one-year hold before being considered. Want to improve your chances? Get thee to the sales pavilion and the entry box. Keeneland's website reads, "An applicant's participation in racing, buying and selling at Keeneland is a strong consideration for membership."
If you make it past those formidable gates (either as a member or a member's guest), a plush racing experience awaits, from valet parking to the main entrance hall with its car-sized central flower arrangement and a warm, welcoming fireplace, and on to the excellent views of the paddock and racetrack.
Non-club members can still book a fancy, though less old-school, race day. Several corporate boxes, which range in cost from $1,600-2,700, are available on the fourth floor. These suites, for groups of up to 16 or 22 guests, come with an attendant, private buffet dining (though the food is a separate charge), and glassed-in boxes overlooking the racetrack.
Downstairs, in the free tailgating and parking areas, the atmosphere is less club tie and more jeans and shorts. There, patrons picnic and play the locally ubiquitous beanbag game called cornhole among the parked cars. Wherever you are on a Keeneland race day, you're likely to see families and fans of all ages, and children 12 and under are admitted free.
The plant's interior decorating runs from functional concrete, steel, and wood in the grandstand (the general color scheme is gray, cream, and dark "Keeneland green") to plusher appointments in the clubhouse, where floral prints and restroom attendants are the rule. In either place, the surroundings are generally comfortable and airy, with ready access to the track apron and side lawns, and pleasingly clear views of the racetrack.
There are several quirks about Keeneland's layout. Its clubhouse sits at the head of the stretch rather than in the more usual position at the wire, and the stands face west rather than east. This odd west-facing orientation was original landowner Jack Keene's idea. He had expected to train and race horses there in the morning, when the sun would be behind spectators in the stands. Today, this means the sun glares into racegoers' faces as the afternoon progresses, and it's the reason attendants hand out Keeneland's iconic frilly white parasols to box-holders on sunny race days. (Speaking of boxes, if you're among them, look for Box 58 – that was the Keene family's original box.) It's also the reason Keeneland filled in the two lakes that once stood in the infield, because the sun's reflection on their waters made the glare worse.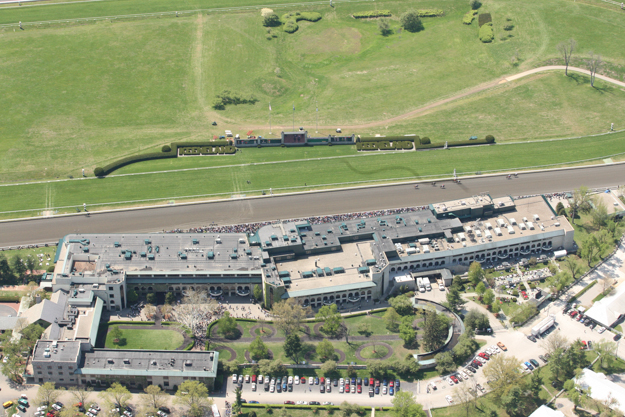 In another oddity, horses at Keeneland are paraded first in a tree-filled saddling ring before crossing briefly through the crowd into a separate walking ring, where they meet their jockeys. From the spectator's point of view, the two-ring tradition offers a good opportunity to see the horses before they run, although thick crowds of big race days can make for less-than-perfect sight lines. Having said that, Keeneland does afford gamblers and fans a better-than-average view of the horses, thanks in large part to the open barn area and to a generously long apron that extends nearly down to the racing secretary's office, where fans congregate to watch the horses parade, run, and gallop out past the finish line.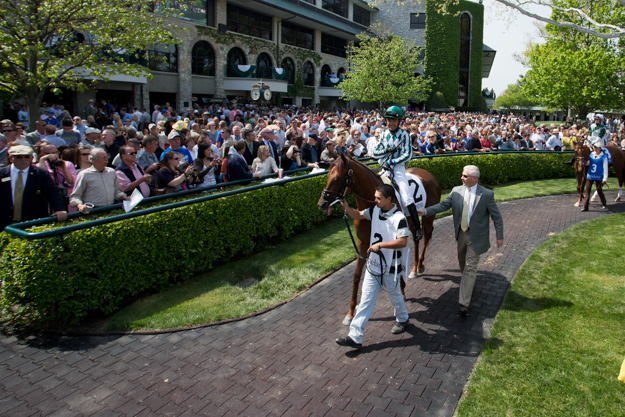 The racetrack itself consists of a 1 1/16-mile Polytrack oval with a 7 1/2-furlong turf course, called the Haggin Course, inside it (interestingly, when a temporary rail is set 15 feet from the inside rail on the turf course, the course is then referred to as the Keeneland Course). Until 2006, the outer 1 1/16-mile strip was dirt, and in 1948, it saw one of Keeneland's innovations when the association installed the first aluminum inside rail ever used at an American track. The main track is located close by the barn area and is one of two that horses can train over in the mornings. The five-eighths-mile training track sits down a hill from the main track. It, too, sports a Polytrack surface. Training is available year-round on both tracks, with training hours running 5:30-10 a.m.
Synthetic surfaces like Polytrack have proven controversial. Supporters point to research showing that the slower, forgiving surface causes fewer catastrophic injuries, but some trainers claim they contribute to soft-tissue and muscle injuries, and handicappers have complained that synthetic strips like Polytrack throw race analysis into confusion.
Keeneland installed the Polytrack in 2006 as part of a major renovation that also reconfigured the main track to improve the oval's symmetry (and eased what had been a notoriously tight turn in the previous asymmetric design), added high-definition television cameras, replaced the marker poles with more prominent square versions, and installed a new LED tote board, among other changes.
For those connections lucky enough to win a race, the winner's circle is understated to the point of plain, but it has a good story behind it. For its first 48 years, Keeneland's winner's circle was just a chalk circle that the clerk of scales drew on the dirt track or, in the case of stakes races, simply a spot on the turf course where winning owners and trainers picked up the trophy (still a Keeneland tradition). Keeneland ultimately put in a winner's circle in 1984 when Queen Elizabeth II made her first visit to the Bluegrass Region. U.S. and British Secret Service officials blanched at the idea of Great Britain's monarch trudging over the dirt track to present the inaugural Queen Elizabeth II Challenge Cup Stakes trophy on the wide-open turf course, and so Keeneland constructed a winner's circle in front of the stands, adjacent to the tunnel where runners come onto the track from the walking ring.
Keeneland usually runs nine races a day Wednesday through Sunday. First post is 1:05 p.m. unless otherwise announced, and gates open at 11 a.m. for the racing day.
GETTING THERE
Keeneland is easily accessible by car from Lexington and environs. Visitors generally arrive at via the long, tree-lined main entrance or down a newer drive surrounded by hilly grassland. Either way, your immediate impression will be that you're heading into the parkland of a great historic estate. In fact, Keeneland is a registered National Historic Landmark, and its lush landscape – now about 1,100 acres – also is an arboretum replenished from its own nursery on the grounds. Its leafy lanes and sweeping pastureland draw Lexingtonians year-round, and, as a bonus, they get to drive past famed Calumet Farm, Keeneland's next-door neighbor, on the way there.
Flights to Lexington's Blue Grass Airport land directly across U.S. Route 60 (Versailles Road) from Keeneland's two entrances, and parking for private jets is available there through TAC Air.
If you're coming from downtown, Keeneland has joined with Lexington's LexTran trolley-bus service from the downtown Transit Center to the racetrack. Tickets cost $1, but be aware that this is available only on weekends.
Once you're on the grounds, parking is relatively straightforward. Members of the Keeneland Club and their guests receive valet parking outside the clubhouse for $10. There are paved parking areas close to the grandstand that cost $5 a spot (accessible through Gate 1, the main gate), but the vast majority of Keeneland's parking is free and spread throughout the gently rolling grounds approaching the racetrack (accessible through Gate 2). That usually means parking on grass or gravel and making a long trek in, but those in less comfy shoes can take heart: Keeneland also operates four complimentary shuttles that loop through the parking area all day, stopping at each covered and numbered stop every 10 or 15 minutes. There is handicapped-accessible parking, too.
There is one other free parking area on the grounds. Known as "The Hill," it is prime tailgating territory, and you can find it adjacent to the Keene Barn and Entertainment Center after you enter through Gate 1.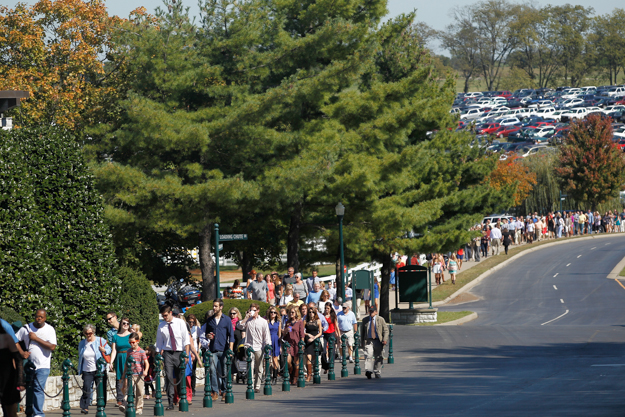 *Keeneland announced on April 2, 2014 that the Polytrack racing surface would be replaced with dirt in time for the 2014 fall meet.
--
Tomorrow: At the mutuel windows
Read the first installment on the history of Keeneland.
For statistical information on Keeneland including all-time leaders, race types, starters per race, and more, visit our Keeneland Stats page.