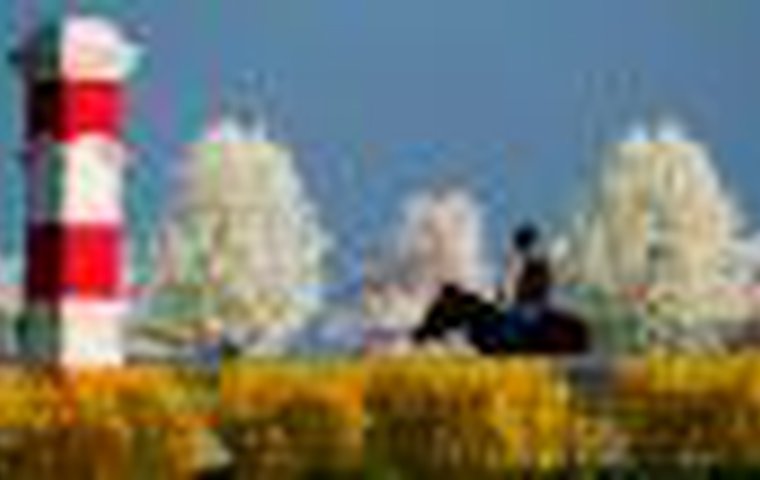 For lovers of racing, little compares to an afternoon (or evening) at the track. The sport is best experienced in the flesh, and the world's race courses offer diverse ways to enjoy this pursuit. While we can't literally transport you to the races, we'll do our best to bring these tracks to you in a monthly series of profiles. Today, the final installment in a delightful and expansive report on Keeneland Race Course by Glenye Cain Oakford.

Read the first installment on the history of Keeneland.
Read the second installment on Keeneland's facilities.
Read the third installment on Keeneland mutuels.
For statistical information on Keeneland including all-time leaders, race types, starters per race, and more, visit our Keeneland Stats page.
----------
KEENELAND MUST-SEE
Track Kitchen. When a race meet opens, locals and out-of-towners alike take advantage of Keeneland's unique open backstretch, which lets racegoers and horse fans rub elbows with Thoroughbred folk to a degree unheard of at other tracks, where visitors must have passes. At Keeneland, tourists can walk the horse paths between the barns, watch morning gallops alongside trainers in front of the racing office, and order breakfast at the track kitchen, possibly the only racetrack kitchen in America that's received restaurant reviews – and favorable ones, to boot. Some healthy fare is available, but it would be a shame to miss the scrambled eggs and biscuits and gravy while you talk horses with the jockeys and exercise riders at the next table. And this isn't a tourist trap: everyone who's anyone, from Keeneland icon Ted Bassett to the people who walk the hots, really does eat there.
The track also opens a front-side "Breakfast with the Works" program in training hours during race meets, and there are children's activities and handicapping seminars frontside in the mornings, too.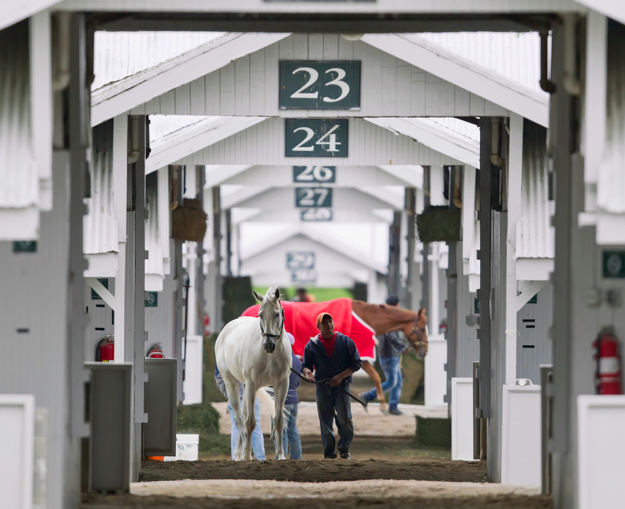 Keeneland Sales Pavilion. Only one of Keeneland's four annual auctions takes place during a race meet. That's the April Two-Year-Olds in Training Sale, which generally takes place on a Tuesday in the first two weeks of the month. Like the barn area, the sales pavilion – located adjacent to the Grandstand East entrance—is open to the public during auctions and is well worth a visit then. If you're visiting in the non-racing season, you'll find major auctions underway in January (mixed bloodstock), September (the world's largest yearling sale), and November (breeding and racing-age stock, often including horses retiring after the Breeders' Cup). If you're planning to bid, you'll need to establish credit in advance.

Keeneland Library. The library building houses books, sporting journals, the complete Daily Racing Form archive, and photographic collections. It also holdsa collection of art, gorgeous historic trophies, and some interesting racing-related artifacts. One of the world's largest public research libraries devoted to the Thoroughbred sport, the Keeneland Library is open to the public all year, even when there is no racing. The books cannot leave the library, but researchers and browsers are welcome. The library is open 8:30 a.m. to 4:30 p.m. Monday through Friday, excluding federal holidays. During the race meets, it also opens its doors on Saturdays from 9 a.m. to 12:30 p.m.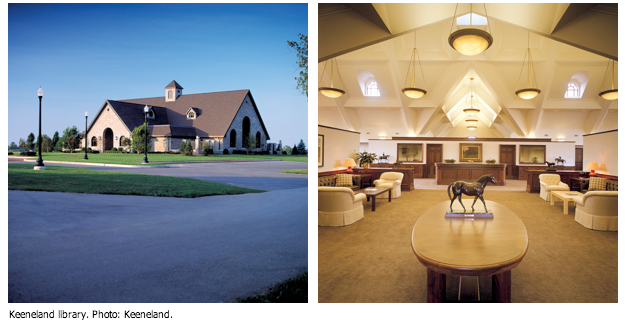 Keeneland Gift Shop. The recently expanded gift shop, which is open all year from 9 a.m. to 5 p.m. but closed on Sundays, ranges from track logowear and key chains to pricier fashions from the likes of Barbour and Vineyard Vines. If you're looking for a Kentucky Derby or Royal Ascot hat, they offer millinery by Christine A. Moore for prices ranging from about $300-950. While the shop is a worthy competitor to nearly any boutique clothing store, it also has a good supply of racing- and Keeneland-related books, an entire wall devoted to baseball caps, and stocks of horsey jewelry, tchotchkes, and children's gifts. The Keeneland Gift Shop is on the ground floor near the South Grandstand entrance. It has an off-site location, as well, at The Lexus Store of Lexington on East New Circle Road.
STATE OF THE PLATE
Despite its relatively small size, Keeneland has a range of food options. During live meets, the two major clubhouse dining rooms offer the most formal dining, with full-table service and generous portions of everything, from appetizer to dessert. There are two rooms reserved for owners and trainers with horses in that day's entries: The casual Blue Grass Room on the third floor is for connections of non-stakes runners and has a buffet lunch, while stakes horses' owners and trainers can get into the fourth-floor Lafayette Room, which also has a buffet lunch. Lafayette attire is coat and tie, and, as Keeneland notes sternly, denim is not permitted at all.
Denim is also banned in the grandstand Phoenix Room, where it's coat-and-tie and buffet fare for $40 on weekdays and $45 on the weekends (that does include the meal and a program but not any drinks). There's also a public à la carte dining room, the ground floor Equestrian Room, that seats about 400. Dining room menus feature items from about $6-19, but patrons seeking something less spendy and less formal than a sit-down meal can find a variety of concession stands on all floors, with prices usually ranging from $4-7. There are more than 20 such stands, most of which also sell beer (there also are concession bars on all floors, and if margaritas or craft beers are your thing, you can find those too). Various concession stands have a smorgasbord of options, from burgers to bratwurst to burgoo (Kentucky's signature stew), and you can also get sliced-to-order corned beef and roast beef sandwiches on the first floor. This year, the new Dogs Up stand will have gourmet hot dogs, according to Turf Catering's Ed Boutilier, and the Blue Moon BBQ stand will be on the first floor this season with barbecue brisket, pulled pork, and barbecue nacho platters.
If you're in a snacking mood, all floors have popcorn and soft-serve ice cream vendors. Or if you'd rather go lighter, second-floor concessions have soup, wraps, and chicken and tuna salad--although they also proffer a more fattening dish, the track's famously tempting bread pudding. The bread pudding, incidentally, is worth the extra calories.
*Keeneland announced on April 2, 2014 that the Polytrack racing surface would be replaced with dirt in time for the 2014 fall meet.
--
Read the first installment on the history of Keeneland.
Read the second installment on Keeneland's facilities.
Read the third installment on Keeneland mutuels.
For statistical information on Keeneland including all-time leaders, race types, starters per race, and more, visit our Keeneland Stats page.