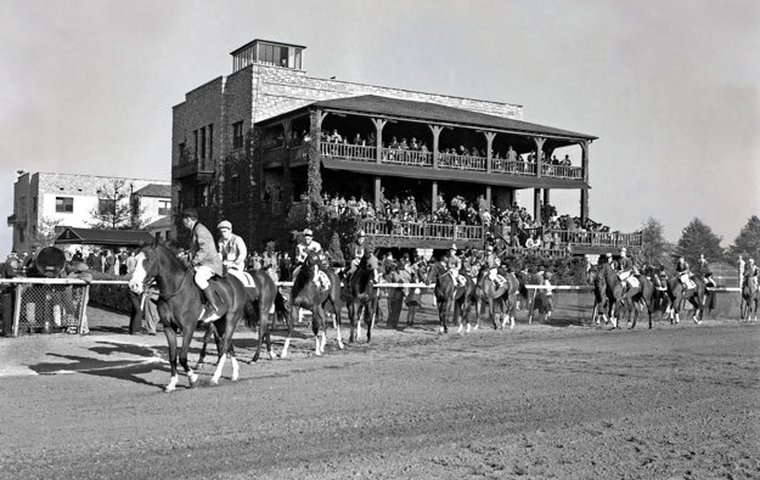 On Oct. 15, 1936, a few minutes before two o'clock in the afternoon, a silence of anticipation descended upon an 8,000-strong crowd. A spotted pony stepped onto a freshly ploughed dirt track, in whose wake followed eight impatient Thoroughbreds. The crowd erupted as racing returned to the town of Lexington with the first ever meeting at Keeneland Race Course.

Keeneland's story had begun two decades earlier, with the Lexington-born horseman, John Oliver "Jack" Keene. By turns a Thoroughbred breeder, trainer, and track manager, Keene had a passion for the turf and in 1916, he began the long and laborious process of creating a private training and racing club for himself and his friends.
Keene's racecourse was part training centre, part country estate. He began by building a distinguished entrance. Possibly no other decision had such a bearing upon the architectural character that Keeneland was to assume. He engaged local stonemasons to build a low limestone wall. It was this wall, legend has it, that sparked the biggest project of Keene's racecourse – the "barn."
When it came to his building projects, Keene was exacting. His masons were forced to blast huge piles of limestone in search for a pair of large slabs to cap the posts of his new entrance before they found anything that satisfied their employer. Unsurprisingly an enormous stockpile of rejected rock was left over. This pile, however, prompted a new idea; it was to be put to use building a vast structure alongside the track.
The structure was called a barn, but its scope far exceeded this epithet. It epitomised what Keene envisioned his facility to be. Housing living quarters, dining room, ballroom as well as stalls, it was built not merely to stable horses but as a place for Keene and his friends to eat, dance, sleep, and watch their horses race around the track in the morning with the sun warming their backs. (This intention explains why Keeneland has the only west-facing clubhouse standing at the head of the stretch in the United States.)
Constructed from hand-chiselled limestone personally superintended by Keene, the barn was a fortress-like landmark, comprising a two-story central section linked by stone arcades to flanking three-story wings. To the rear was another limestone structure, almost as eccentric as the barn. This was an enclosed training track, 40 metres (one quarter of a mile) in circumference.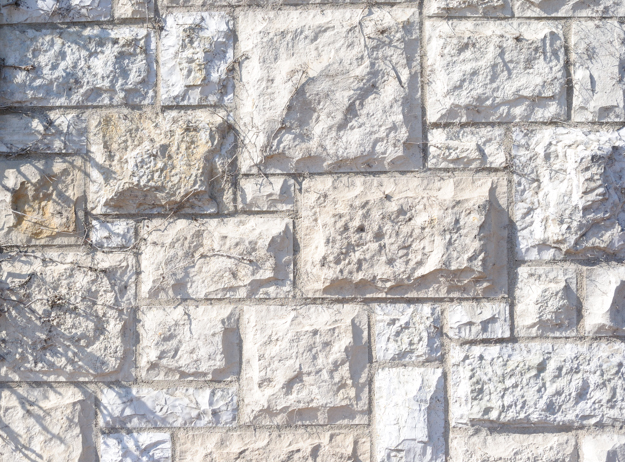 The track was a labour of love for Keene that he wrestled with for nearly 20 years. He was never a tremendously rich man, though, and the Great Depression spelt downfall for his dream. After investing $400,000, his vision was not even halfway to completion and he had no funds left to complete it.
Meanwhile, Lexington's old Kentucky Association track was also in crisis. It had closed its doors in 1933 and a committee-led search began to find a new home for racing in the town. Keene's half-finished facility was soon selected.
For a price of $130,000 in 1935, the foundling Keeneland Association secured 60 hectares (148 acres) of land, a weed-ridden racing circuit, a stone building measuring 80 by 18 metres (258 by 58 feet), an incomplete indoor training track and "an irreplaceable accumulation of planting and shrubbery."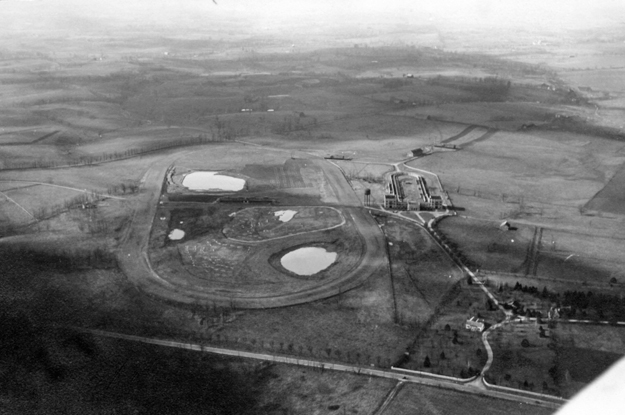 Much still remained to be done before the facility was ready for public use. At a time when the nation was plunged in financial depression, this was a daunting task. Keene's stone barn was to be remodelled as a clubhouse; a grandstand was planned between the main track and enclosed training track; new roads and parking space were necessary; and, much to Keene's distress – he openly wept as he watched it happening – the stone walls of the enclosed training circuit were to be knocked down to chest height to create a picturesque outdoor paddock. To achieve all this, the nascent Keeneland Association quickly launched a design competition.
On Oct. 1, 1935, Lexington architect Robert McMeekin was announced as the winner. He had never before designed a racecourse nor any other sporting venue, but in his short career designing houses and barns in the Bluegrass Country he had evidenced a commitment to local materials and traditional techniques, the bedrock of which was a life-long love of Kentucky limestone. It was this empathy, no doubt, which distinguished him amidst the other entrants of Keeneland's architectural competition and which continues to characterise the facility's buildings in the 21st century.
McMeekin took Keene's rough diamond and polished it into a genteel setting. The stone barn was given new life as a clubhouse. Its central great hall, complete with a fireplace big enough for logs nearly 2 metres (6 feet) long, became the club's main entry; its eastern wing became staff offices; and from its western wing, large wooden porches were built overlooking the track, one from each level. The building's austere exterior was softened with cottage-like, low-sweeping slate eaves, burly chimney stack, and wooden portico. All was unified by textured limestone walls. It was unlike any other racecourse clubhouse probably before or since.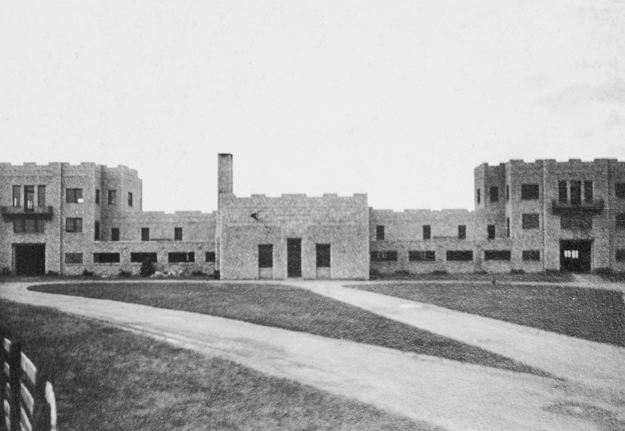 Several hundred yards to the north, a grandstand was erected. A simple design, it possessed a single storey of tiered seating upon a stone base and accommodated 2,500. Although a wide-open space separated it from the clubhouse, with its timber posts, slate roofs, and limestone base punctuated by stout round arches, the grandstand made a harmonious pairing with Keene's remodelled fortress.
By opening day in October 1936, McMeekin had equipped the Keeneland Association with a highly singular complex. "Both the grandstand and the clubhouse faced the wrong way," the architect recalled years later. "But we had that situation. The track was there and the clubhouse was at the head of the stretch and there was nothing to do but elaborate on it."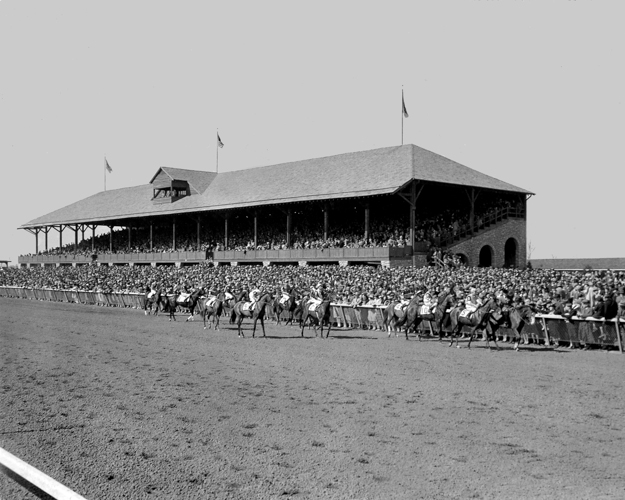 A major component of Keeneland's surroundings has, from its earliest days, been its commitment to landscaping. Beginning in the 1940s with the appointment of New York landscape architects, Innocenti and Webel, the racecourse's acreage of parkland has been a mainstay of its reputation, characterised by rolling pastures, soaring trees, hedges, and rock fences.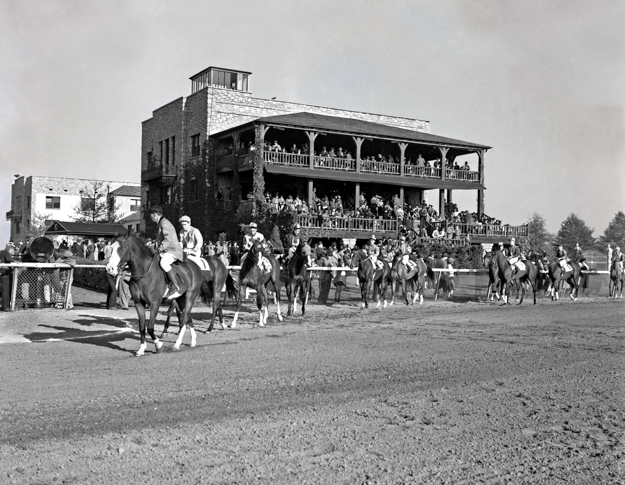 Amongst their most important legacies was the tradition of planting to coincide with the spring and autumn meetings. The flowering dogwoods and redbuds in spring or the colourful oak and maple in autumn added festal colour for which the seasonal meetings soon became renowned. Trees rank amongst the most memorable features of the Keeneland experience. The row after row of vertiginous pin oaks and long grassy strips planted by Innocenti and Webel created what must be America's must beautiful parking lot. Within the shell of Keene's old training track, a tree-shaded paddock grew up around a majestic sycamore, one of the few trees that predated the Keeneland Association. Today, bordered by a low hedge, limestone wall, and, at its northern end, a curving row of limestone saddling stalls, the paddock is probably the most distinctive and certainly the most intimate spot of the entire racecourse.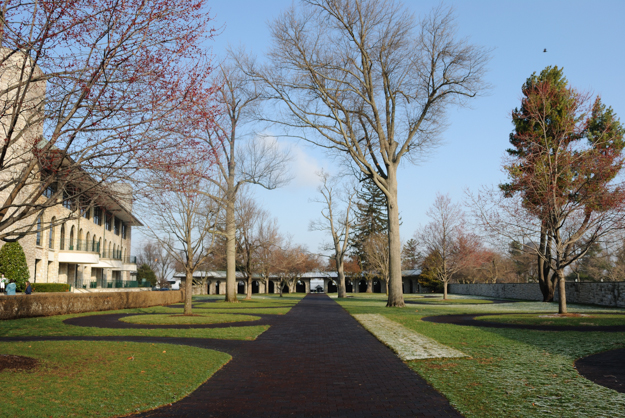 The facility has seen several phases of expansion since its 1936 opening, but, with each drawing heavily on Keene and McMeekin's repertoire of limestone, stout round arches and meticulous attention to detail, the physical growth has largely remained seamless. Beginning in 1953 with an extension by McMeekin, the grandstand slowly edged toward the clubhouse and 10 years later, the gap was closed. By 1976, the original timber grandstand was succeeded by a concrete and steel replacement designed by the leading racecourse architects of the day, Arthur Froehlich and Associates. In 1984, another addition to the rear of this stand was built, featuring balconies giving elevated views across the paddock. The exterior of the extension was clad in limestone, with round arches on its ground floor in homage to Keeneland's architectural heritage. The result is a racecourse with an almost unparalleled degree of visual integrity.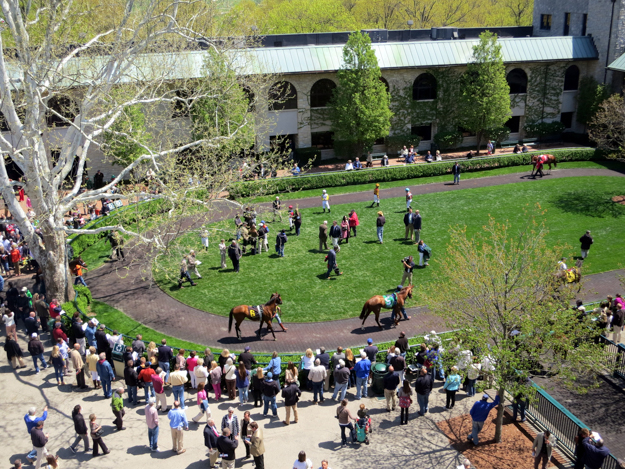 Keeneland's relationship with limestone has framed the racegoer's experience since the days of Jack Keene. Its physical setting is intimately entwined with the heritage of the Bluegrass – with its landscape, its limestone bedrock, and its horse-raising traditions. Keeneland is a product of this heritage, and of the visionary ambitions of its founders.