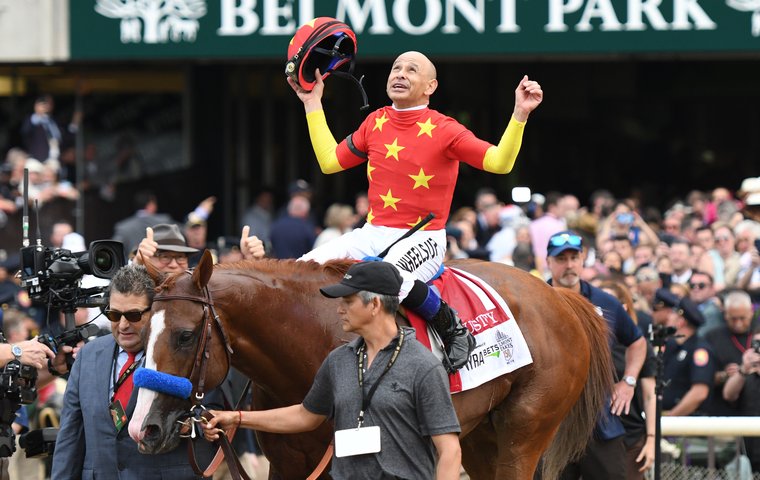 As anyone would expect from someone who is enshrined in the Hall of Fame, trainer Bob Baffert has been around more than his fair share of great horses.

He trained the first Triple Crown winner in 37 years. He missed a Triple Crown by a nose. He lost in the Kentucky Derby with a horse that won the Preakness and Belmont Stakes so easily that 17 years later Baffert still wonders how that runner lost the Derby. He won the Travers, Breeders' Cup Classic, Pegasus World Cup and Dubai World Cup in succession with a horse that missed the Triple Crown.
No trainer in the long and storied history of the sport has won as many Triple Crown races as Baffert, and yesterday he matched the feat of Sunny Jim Fitzsimmons in 1930 and 1935 and became the second trainer with two Triple Crown winners to his credit.
Yet for all of that success with horses such as American Pharoah, Real Quiet, Point Given, Arrogate and so many other great champions, Baffert ventured into new territory on Saturday when Justify re-affirmed that 3-year-olds of this era can win the Triple Crown (see video below).
Winning a Triple Crown was surely not new to Baffert. Just three years earlier, he registered the hat trick of the Derby, Preakness and Belmont with American Pharoah, largely explaining why Justify's victory broke a tie with D. Wayne Lukas at 14 wins and left Baffert as the lone trainer with 15 Triple Crown triumphs.
This time, though, it was a perfect game and perhaps the most improbable saga of a Triple Crown champion.
That Justify became the second undefeated Triple Crown winner stands on one plateau. Above that, what rates as amazing in this era – or any other – was that prior to the second race at Santa Anita on Feb. 18, Justify was an unraced maiden. Then, in the course of less than four months, not only did he play catch-up, but he rocketed past every horse of his generation, won the 150th Belmont Stakes and became the sport's 13th Triple Crown winner.
It was a feat unmatched by anyone Baffert has ever trained or by any horse who has ever competed in a Triple Crown race.
"He is just one of the all-time great horses, and I'm just glad we could pull it off," Baffert said.
Not surprisingly, after winning the Triple Crown at the salty age of 52, jockey Mike Smith raised that bar a notch.
"I think he's the greatest of all-time," the Hall of Fame rider said. "I just won the Triple Crown, man. He's my champion."
Indeed he is.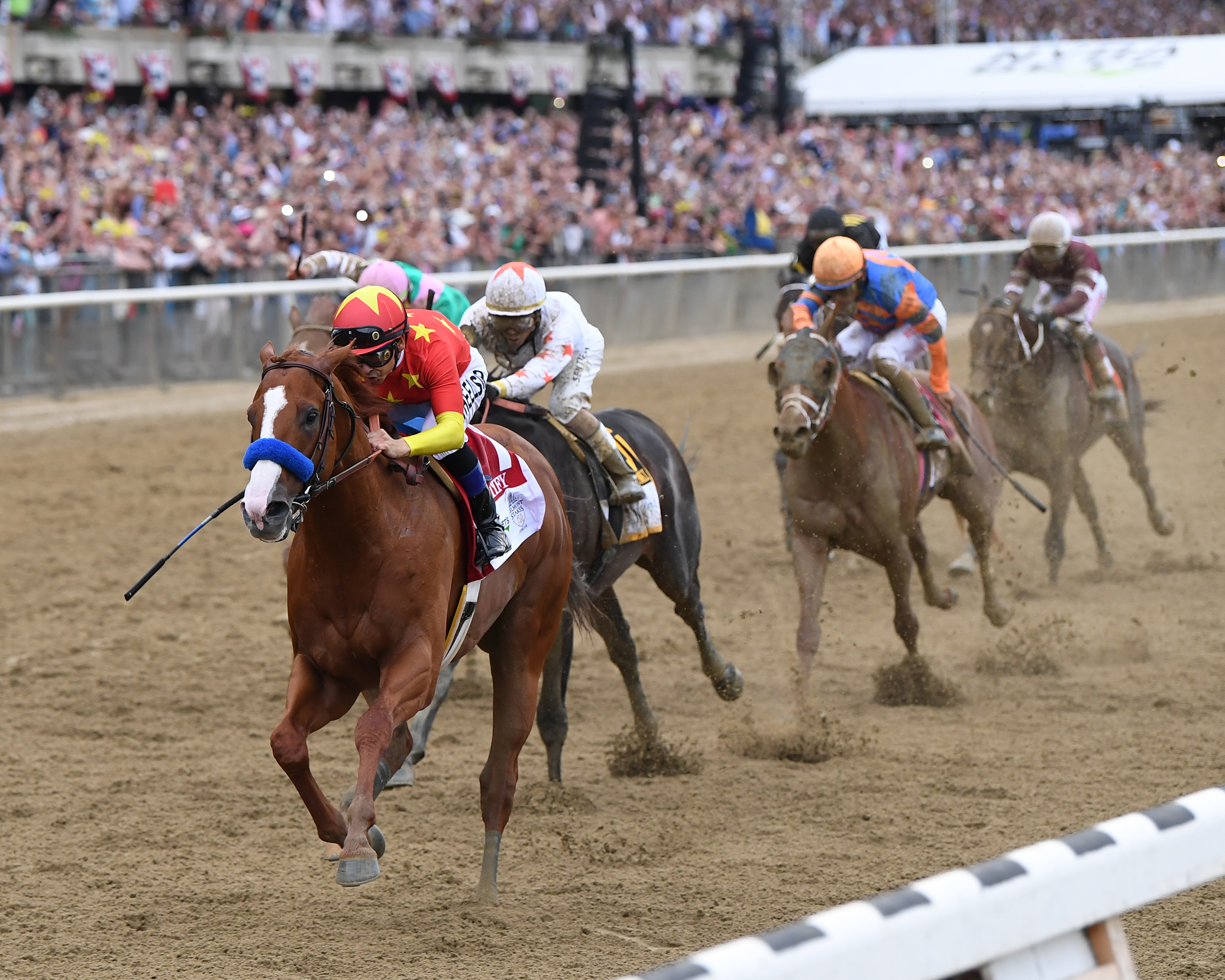 Owned by a partnership of WinStar Farm, China Horse Club, Starlight Racing and Head of Plains Partners, Justify recorded a 1¾-length victory over 24-1 longshot Gronkowski for his sixth career victory in as many starts, putting him alongside Seattle Slew, who completed his sweep with an undefeated record in 1977.
Yet, while both horses were perfect, not even Seattle Slew crammed as much quality racing into as short a timeframe as Justify. Let's not forget that, in the Derby, Justify became the first horse in 136 years to win the Kentucky Derby without the benefit of a race at two. Now, after putting an end to 'The Curse of Apollo', Justify has done a waltz on 'The Curse' by not only winning the Derby, but adding victories in the Preakness and Belmont Stakes to boot.
"He broke every curse there was," Baffert said.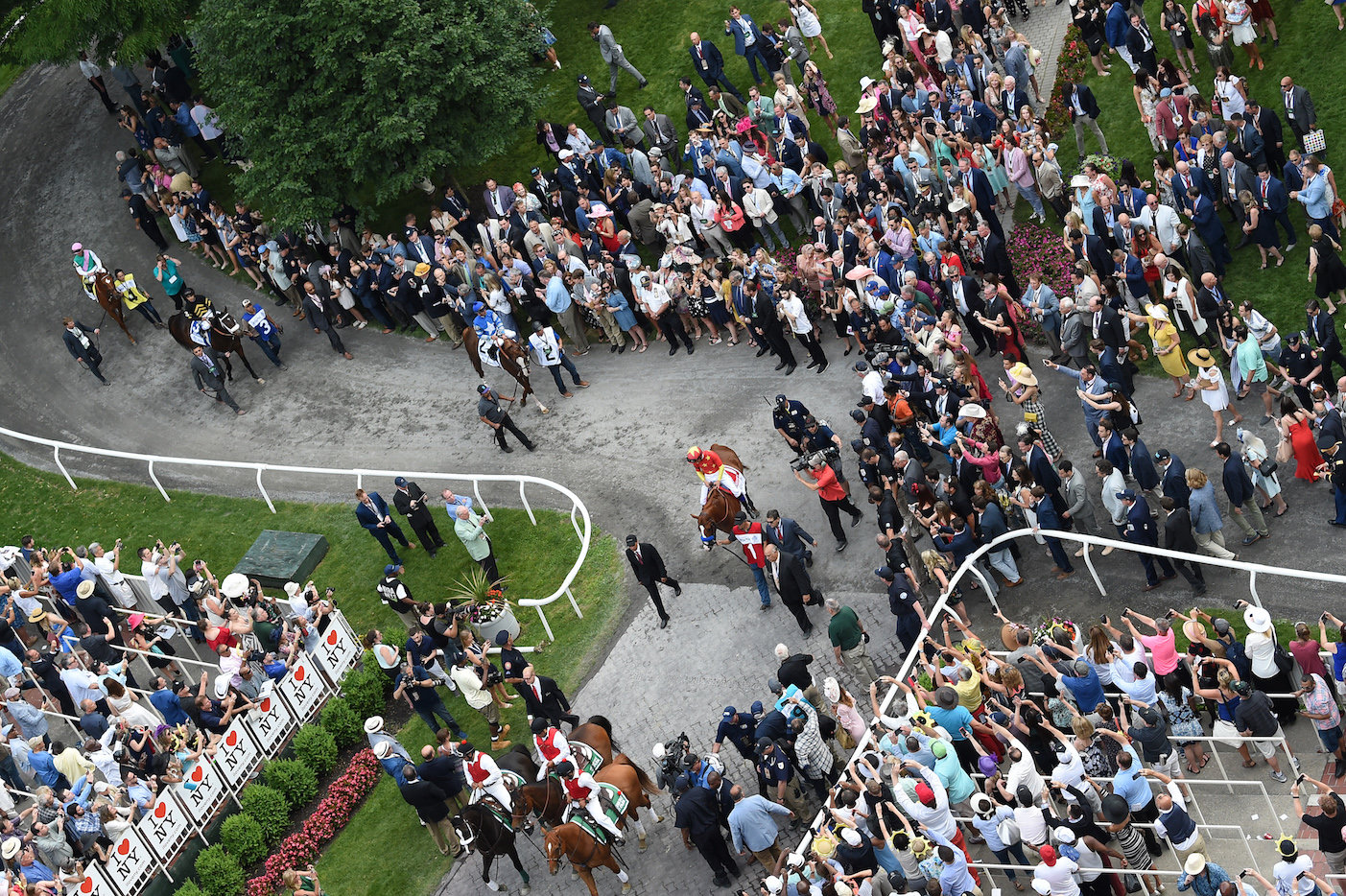 Maybe in another three years someone else will follow in the path of American Pharoah and Justify and win the Triple Crown, but, for someone to do it after starting their career on Feb. 18 and then reeling off six straight victories, that might up the ante and require more than just a brilliant racehorse.
"To win six races in such a short amount of time is just an unbelievable feat on his part," Smith said.
Quite unbelievable.
"Horses like him and American Pharoah are cut from a different cloth," said Baffert, who added that asking him to compare his two Triple Crown winners was like asking parents to compare their children. "American Pharoah should have been undefeated, too.
"I've had some really great horses. Not only are they brilliant, they are fast and durable."
All that speed and durability came to the fore on Saturday, when Justify became etched in stone as the 13th Triple Crown champion.
Following the same script as each Triple Crown winner since Citation in 1948, Justify broke quickly, grabbed the early lead and led at every call of the mile-and-half Test of the Champion. As Noble Indy, who was supposed to tangle with Justify in the early stages, tracked in fourth and Preakness runner-up Bravazo was bottled up on the inside behind the freewheeling leader, Justify carved out moderate fractions of 48.11 seconds and 1:13.21 while cruising along with a lead of about two lengths.
"He didn't break great," trainer Todd Pletcher said about Noble Indy, who finished last in the field of ten. "He broke out a little bit, and basically [jockey Javier Castellano] decided he was going to do something different than we set out to do and the horse didn't respond well."
Approaching the quarter pole, Wood Memorial winner Vino Rosso took a run at Justify, but, with little urging from Smith, Justify fended him off.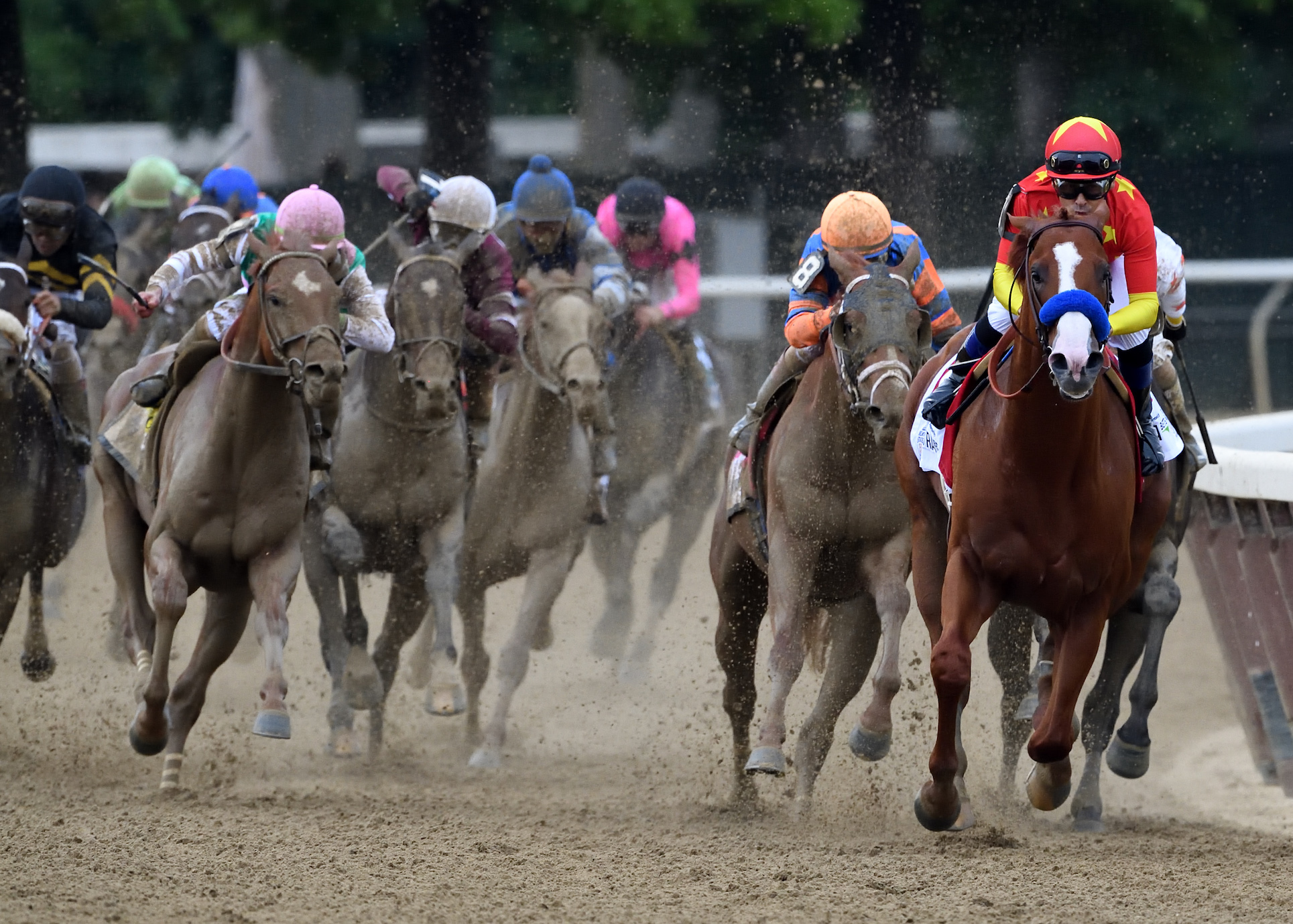 "He gets into that rhythm, then he takes a breather, then he goes again," Smith said. "He just kept going. Every time I would squeeze on him a little, he just kept going."
Once Justify pulled away from Vino Rosso and Hofburg's wide rally flattened out, it was left to the European invader Gronkowski to stop Justify before he reached the end zone. In his first start in the United States, the horse with the same name as the New England Patriots' All-Pro tight end was tenth after the opening half-mile, more than 14 lengths behind Justify.
Gaining momentum on the final turn, Gronkowski and jockey Jose Ortiz moved into second leaving the quarter pole and took aim at Justify. But once Smith shook up Justify, the race turned into a football game, with Gronkowski the burly tight end, unable to match strides with Justify, the fastest running back the Triple Crown has seen since, yes, American Pharoah.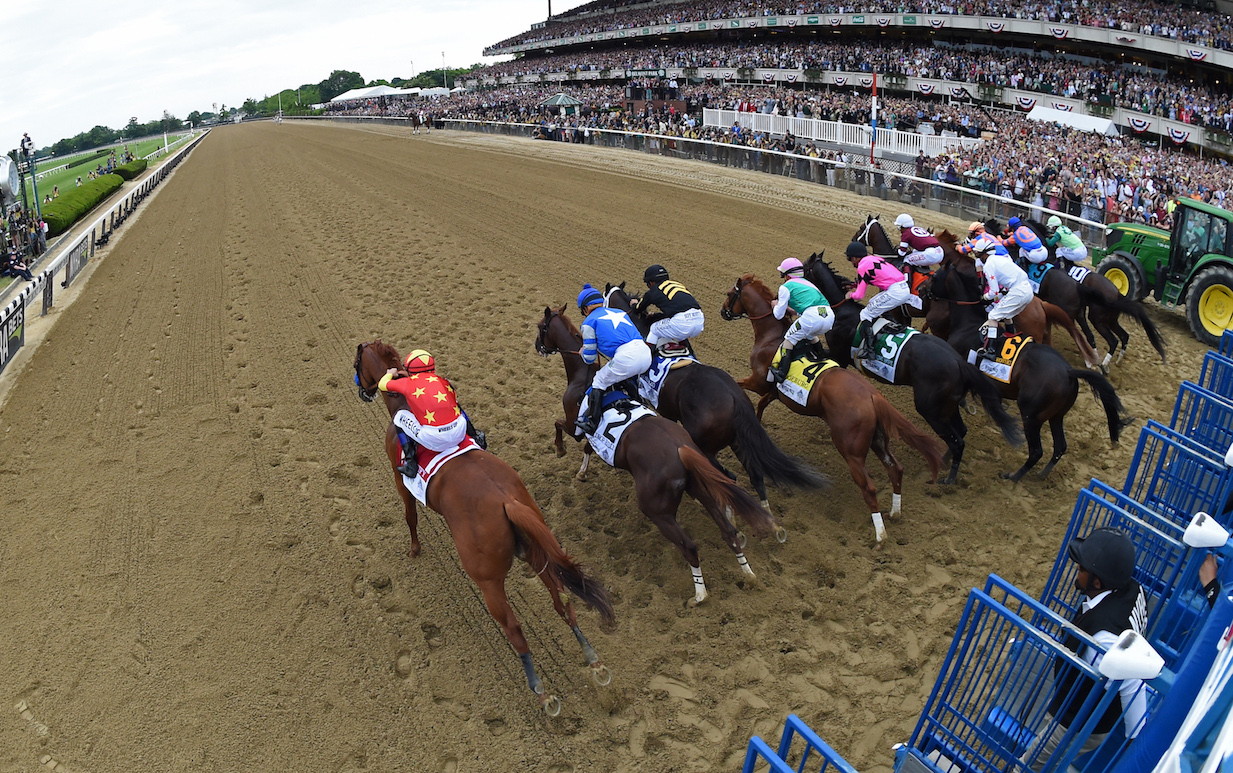 Ahead by two lengths at the eighth pole, the 4/5 favorite ($3.60) coasted home in 2:28.18 for the mile-and-a-half, 1.53 seconds slower than American Pharoah but faster than Seattle Slew's 2:29 3/5.
Gronkowski finished 1¾ lengths in front of Hofburg, who edged Vino Rosso for third by a neck.
Smith said, "When he made that move in the far turn, I was like, 'oh, Mike; oh, Mike. Don't empty that tank, Mike.' But, turning for home, this horse, he just finds [like] the great ones another gear. I really didn't get excited probably until the last 100 yards, 16th mile, where I knew he was home free and started to really enjoy it."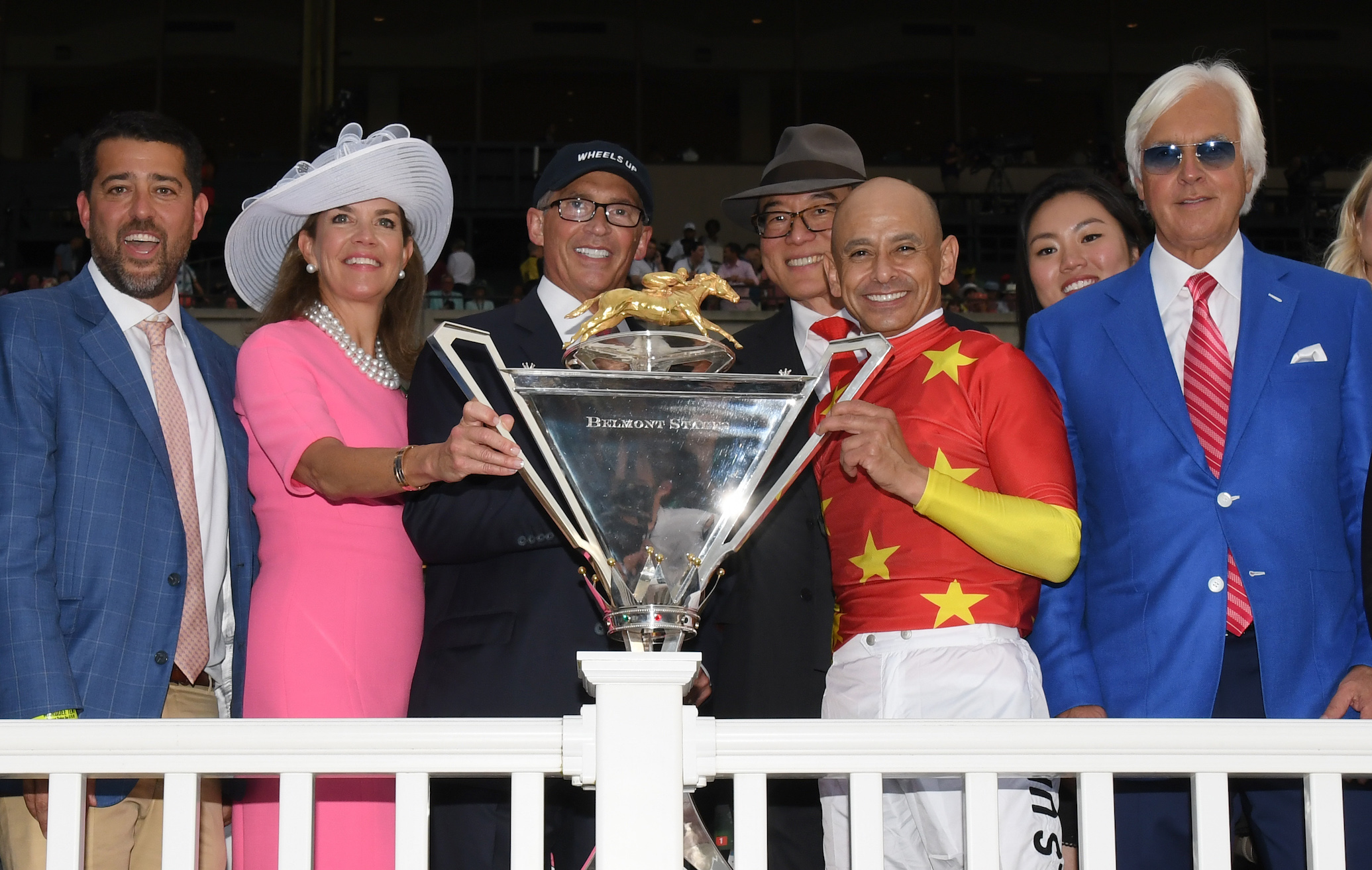 How much longer everyone gets to enjoy Justify is uncertain. Elliott Walden, the President and CEO of WinStar, mentioned a summer campaign, but did not list any specific races. Time and his recovery from the Triple Crown grind versus his value at stud will determine how long he'll continue to race.
Yet, for now, what we have is a memory of about 111 days in the spring when a horse named Justify grew miraculously from an unraced maiden into a Triple Crown champion.
Great horses have achieved marvelous things in the past, but years from now, when people reflect on the spring of 2018, they will see something rare: a horse gifted enough to craft the perfect ending to a Triple Crown chase in an amazingly short period of time.