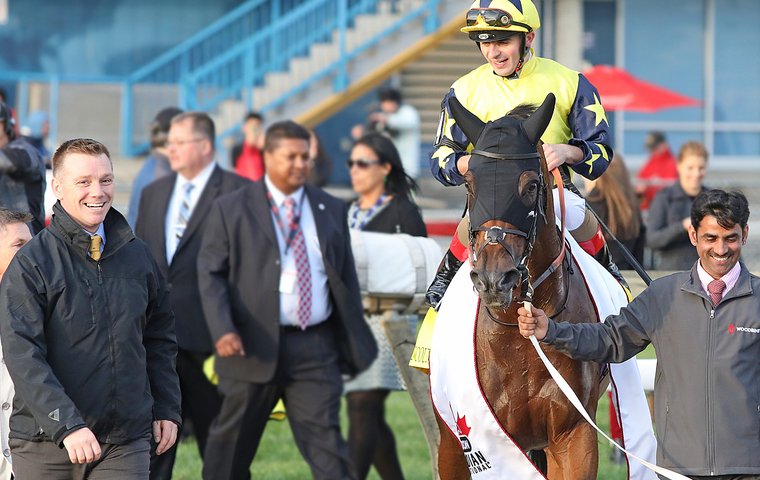 When the first credit card declined, Ian Russell was a little annoyed. When the second and third cards failed, he started to panic.

He was standing in a clothing store at the mall across from Santa Anita Park before the 2014 Breeders' Cup with $350 worth of new clothes waiting by the register. Just yards away, his charge, Caspar Netscher, was resting, gearing up for a run at the Breeders' Cup Turf Sprint.
Getting him there had proven difficult, as travel issues forced him to fly from Toronto, where he prepped for the race by winning the G2 Nearctic Stakes at Woodbine, back to Amsterdam, and then all the way to Los Angeles.
And now Russell's cards were declining.
"When I phoned the bank, they asked if I was aware my card had been tried in three countries over three days," Russell said. His response included a few choice words.
At the time Russell was awash with embarrassment, but now it is just an amusing story, one of many that David Simcock's traveling head lad has compiled. He spends most of his time on the road – or in the air – with world-class horses, competing in Dubai, Hong Kong, the United Kingdom and the United States. The man who can pack a bag and be out the door in 20 minutes doesn't let the minor snafus of travel rattle him.
Before jetting around the planet with the likes of Simcock trainees Trade Storm, Sheikhzayedroad and I'm A Dreamer, Russell grew up in an equestrian family and competed in eventing, twice representing Great Britain. He had done some traveling with a different stable before being offered the position with Simcock. For some, the prospect of traveling around the world at a moment's notice would seem a nightmare, but for Russell it was a dream. "I jumped at the chance and grabbed it with both hands."
The first notable charge he had was I'm A Dreamer, who missed by a head in the 2011 G1 EP Taylor at Woodbine. "She was the first real proper international horse I traveled with," Russell said. "She had a strong temperament and wasn't the easiest to deal with, but I will always hold her closely to my heart because she took me to Canada and my first Breeders' Cup, to Dubai and Belmont. She was very special; a tough bitch but a talented one at that."
Other top runners came soon after. Trade Storm won the G1 Woodbine Mile, ran third in the Breeders' Cup Mile at Santa Anita, and was a group horse at Meydan, Ascot, and Goodwood. "He was a yard favourite," Russell said. "He took me to Hong Kong for the first time and was a loveable horse that tried his hardest. He had his problems along the way but was a true professional and a giver without a doubt."
Amazing, unique attitude
The immensely popular Sheikhzayedroad, who won 11 of 49 starts and just under $2 million, was a personal favorite. "He was quite naughty as a 2-year-old when he was a colt. When he traveled internationally he developed this need for attention. He had an amazing, unique attitude, and a very long face with which he would look down on you. He was so cool."
Desert Encounter took Russell back to Woodbine the last two years, winning the G1 Pattison Canadian International each time. He is a possible for the Dubai Carnival in the New Year.
Russell noted that getting a full week of notice before hitting the road would be, "an awful lot of notice", because plans are constantly changing due to weather and each horse's condition. "Generally, it is discussed with David. He gives a couple of weeks' heads up in advance that it could happen, but it can be as short as a day or two."
Russell is a pro at the job. "I can get stuff ready immediately. I always have a bag half-packed. And I do have an obscure amount of suits and shirts and a range of shoes, and toiletries that consist of half-full bottles of shampoo."
Turning to you for reassurance
Born in North East England, Russell now calls Newmarket home, but he hardly spends time there during the racing season. He laughed at the notion of worrying about air travel. "God no, I'm not afraid of flying," Russell said. "I quite enjoy rolling down the runway in a crate in a plane, watching a horse who has no idea what happens next. It's amazing how the horse turns to you for reassurance. It's quite the experience as the plane takes off, and the horse is looking at you because you're the only familiar thing it has. You and the horse bond very quickly because of the circumstances."
But even the happiest travelers can experience some aggravating setbacks. "Going from Canada to home this time took 30 hours," Russell said. "There was a problem in customs so we were held for six hours doing nothing.
"Days like that I just want to get in bed and pull the duvet over my head. But with my job I have to be aware that horses and travel do not always work well together. You're dealing with airlines and horse boxes and sometimes you're in the hands of the gods."
And weather plays a large part in the experience. At Churchill Downs last fall, Russell was taking video of his charge, Lightning Spear, on the track. A man ran out to collect another horse off the track, and the horse skimmed across the mud, throwing it up and all over Russell. "I was covered head to foot in sloppy, wet dirt," he said. "I looked like I had fallen over and been dragged."
Russell was at Belmont Park in September for the G1 Jockey Club Derby Invitational Stakes with Spanish Mission. The son of Noble Mission went favored and won by a desperate nose in a thrilling photo. Russell was overwhelmed with emotion and not quite sure his horse had actually held on to win.
"I had to ask a random person that I'd never met before, 'Could you please tell me who won the race?' They told me the number and I said, 'Could you tell me his name though?' He said, 'Didn't you saddle the horse?' I was just completely overwhelmed with how close it was."
Another time his enthusiasm bubbled over with Simcock present. "We won the [G1] Beverly D at Arlington with I'm A Dreamer," Russell recalled. "David put his hand out to shake mine when she crossed the line, but I grabbed him and gave him a bear hug. I was jumping around. I'd say he felt uncomfortable."
As the year winds down, Russell can look forward to an off-season vacation. "I want to think about beaches and holidays and completely getting away."
Burn out after a long season is unavoidable. "I do get tired," he said. "I was in Hong Kong last year and got homesick. I think it's the same for everybody who travels, at some point you miss your mom, dad, boyfriend, wife … but FaceTime is an amazing thing and modern media is fantastic. I have a great friend-base who all do the same types of jobs, and those friends almost become your family for a little bit."
Russell has won G1 races in France and has been to Milan but has yet to visit Japan or Australia. But would he, given the chance?
"I'll go anywhere," he said.