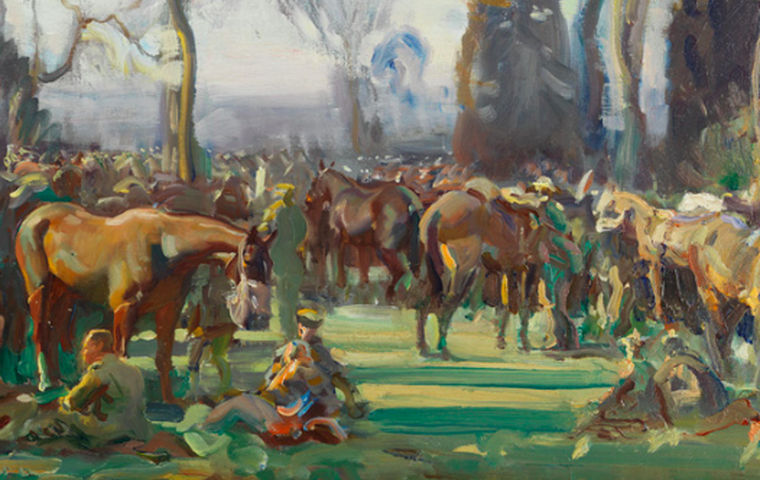 From 30 November 2018 to 3 March 2019, the National Army Museum will exhibit the work of Sir Alfred Munnings (1878-1959) in Alfred Munnings: War Artist, 1918.

The exhibition, developed by the Canadian War Museum (Ottawa, Canada) in partnership with The Munnings Art Museum (Dedham, UK) and generously sponsored by The Beaverbrook Canadian Foundation, will display over 40 paintings created during the final year of the First World War, shown together in England for the first time since 1919.
Covering a number of themes the exhibition shows Munnings' emerging mastery of equine subjects, portraiture and pastoral landscapes. Munnings' wartime artwork displays the skill that led to him securing admittance to the Royal Academy of Arts in 1919 and contributed to his role as one of England's most celebrated equine artists. The exhibition is locally supported by Juddmonte and supplemented with works from the National Army Museum's own collection relating to General Jack Seely, who commanded the Canadian Cavalry Brigade throughout much of the war.
Munnings was commissioned by the Canadian War Memorials Fund as an official war artist, to capture the fighting front and the crucial logistical work behind the lines. In early 1918, he was embedded with the Canadian Expeditionary Force, an army comprised largely of citizen soldiers fighting on the Western Front. The Canadian War Memorials Fund was created by Lord Beaverbrook to document and memorialise the Canadian war effort at home and overseas through paintings and sculpture.
Douglas Erskine Crum, CEO Juddmonte Group who are local sponsors of the exhibition, said: "Juddmonte is delighted to support this unique showcase of works by one of our country's finest equine artists. Munnings is well known for his paintings of racehorses, but this new exhibition provides members of the British public a first chance to enjoy his wonderful studies of the First World War."
"It is a pleasure to share works by Alfred Munnings with an international audience," said Mark O'Neill, President and CEO of the Canadian War Museum and Canadian Museum of History. "His paintings of First World War scenes — from the men and horses who served in wartime, to forests and battlefields — are an evocative reflection not only of Canada's military history, but the development of one of England's best-known artists."
"The Beaverbrook Canadian Foundation is delighted to bring this important collection of Munnings' art to the UK for the first time. My great grandfather commissioned many artists to capture the emotion of the First World War. One of the most important among these was Alfred Munnings, who produced evocative images of the Canadian Cavalry Brigade and the Canadian Forestry Corps, which can be seen in this exhibition. We are pleased that this extraordinary collection will be able to be seen by a new audience at the National Army Museum." said Max Aitken, President of The Beaverbrook Canadian Foundation.