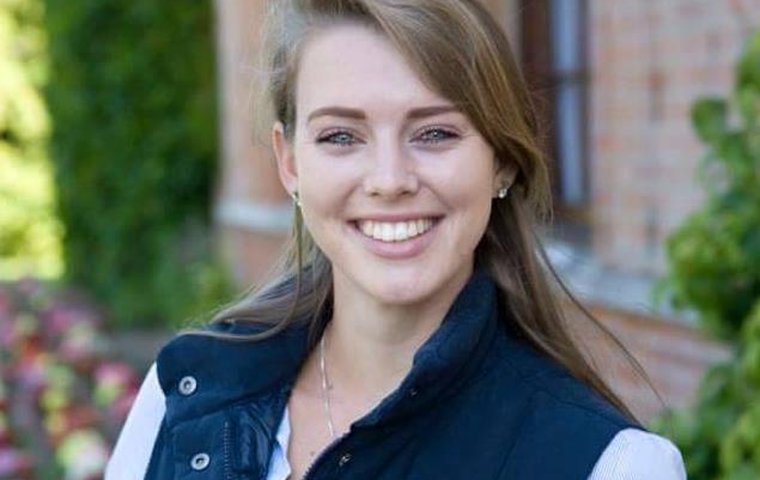 Meet Mary Ellet; pony rider by early morning, copy writer by day, the girl whose love for racing means she'll never be far away from the track.

Follow Ellet on any of her many Social Media platforms and it's easy to be swept away by her enthusiasm. She has plenty in real life, too. While most on the backside of America's tracks offset their hard work in the morning with some downtime in the day; not her.
A graduate of the prestigious Godolphin Flying Start programme, Ellet returned to her native California after the two-year course was over, but not for long. Opportunity beckoned in Kentucky. Which meant a move for her beloved horse, too.
"When I got the job in Kentucky, I told my mom that I was taking my horse Cinch with me. She said, 'one less horse for me to pay for, go on with it!'"
Until recently, she went to the track every morning, usually getting to the barn around 6 am, doing stable chores first, and then ponying a few horses for trainer Kellyn Gorder. Ellet isn't working at the track currently, but plans to be back there for the Keeneland Fall Meet in October.
But that's not all. After a full day in the office for PM Advertising, who specialize in equine clients, she will be back at the track. "I go back to Keeneland to clean my horse's box, feed him, check his waters, and then I go home. Riding is an intrinsic part of my life. It's the only exercise I do and helps to keep me sane. So, even though it makes my days longer, it's so worth it."
It's a passion that has been with Ellet her whole life; or even before it, perhaps.
"My parents met at the racetrack [the now-closed Fairplex in Pomona, California]," she says. "My mom is an outrider and ponies the races and my dad used to be an outrider. I got my track license at 16 and then just fell in love with it."
The ensuing decade has brought Ellet, 26, into contact with some pretty special horses, including when part of the pony team for the 2017 Breeders' Cup.
"The first horse I ever ponied regularly was Blind Luck. She won six Grade 1s, including the Kentucky Oaks, earned $3.2 million, and is a two-time finalist for the Hall of Fame. She was an incredible athlete with an attitude to match. She's really the reason I fell in love with the sport. I also worked for Bob Baffert for two years and got to pony a lot of good horses who have gone on to be stallions, and now I get to work on some of their stallion advertisements."
Treasured memory
Ellet's knowledge of the sport is far from confined to America; she rarely misses watching a big overseas meeting on television. As such, ponying the Breeders' Cup is a treasured memory.
"That's the highlight of recent times," she says. "I completed a work placement with [British trainer] Roger Varian while on Flying Start and my favourite horse there was Nezwaah; so I loved that I got to pony her at Del Mar later that year.
"I was able to pony Ryan Moore three times on Breeders' Cup Saturday in 2017 and I'm not ashamed to admit that I 'fan-girled' when I ponied Highland Reel and Churchill. I had seen both horses race in Europe so to be right next to them was so cool."
Ellet was also involved with last year's Triple Crown through its sole international contender, the Japanese-trained Master Fencer, who finished sixth in the Kentucky Derby.
Rescued from a kill pen
"I ponied him while he was at Keeneland before and after the Derby," she explains. "It was great to learn about the Japanese training style from his main rider, Yosuke Kono. My former pony, Fox, and Master Fencer became friends and I think Fox actually looked forward to going to their barn, almost definitely because of the amount of peppermints that they fed him."
While working in two quite different sides of the industry, Ellet is keen to give back to the horses who form her livelihood. As well as her now 18-year-old Cinch, she had a younger model in Fox, a Quarter Horse, who was rescued from a kill pen.
"Thoroughbreds have a lot better chance of getting out of these places because of the rescue operations that keep an eye on the sales," she says. "Quarter Horses fare a lot worse.
"When I bought Fox, he was a 4-year-old registered American Quarter Horse. He actually has some pretty decent 'cow horse' bloodlines. I was able to get in contact with the owner listed on the papers, who owned Fox for two years. He said that he had him in training for barrel racing but had to sell him for financial issues. He sold him in July 2018 to someone in southern Illinois and, in September, he was somehow in New Jersey at a kill pen."
Retraining ex-racehorses, barrel-racers included, even those like Fox who never actually make it to the track, is something of a challenge. "It's not been an easy journey, that's for sure," Ellet says. "He bucked me off the first week I had him, but I got right back on him and he was fine after that. He was maybe 50-100lbs underweight and lacking in muscle, plus he had trauma on a few ribs, which the chiropractor said was from getting kicked or slammed into very hard during his time in the kill pen."
From rebuilding his health, it was then a matter of building the horse's confidence for a hectic morning on a busy racetrack.
"There are horses flying past you, people making all sorts of noise … it takes a horse with a solid mind to get used to that. At the beginning, he didn't want horses near him, which is pretty much the entire job! It took him a while to accept that. He's funny though because he knows all of my trainer's horses and accepts them, but, if a horse he doesn't know comes next to him, he's like 'excuse me, who are you?' and he wants to greet them first. He didn't like Kellyn Gorder's big filly Red Ruby for the first few days because she's so much taller than him, but now they're best friends."
Ellet says she can't imagine life away from racing, but she believes that the sport in the U.S. is badly in need of a universal governing body: "The same rules, to make it a level playing field."
Even with that unlikely to happen, she's not going anywhere. "I love the racetrack; it's very much a place of comfort for me, even though it's manic sometimes. I get paid to ride my horse and hang out with some pretty cool racehorses. What's not to love?
"I'll continue to pony in the mornings as long as I can. I will always be an advocate for racing and work on educating people about the industry. That's something I'm passionate about, and there's always room for improvement."
Racing is lucky to have her.