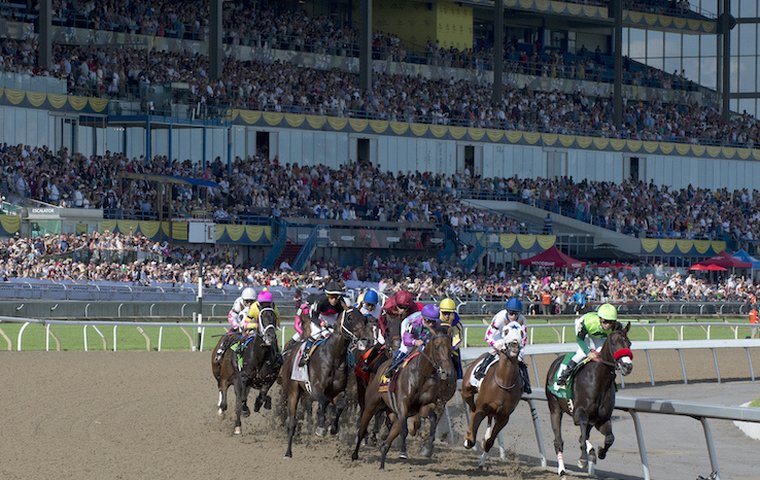 John Siscos (pictured below) is the Director of Marketing, Communications and Stakeholder Relations for Ontario Racing after serving as the Director of Communications at Woodbine Racetrack. He has been in the racing industry for three decades.

Who do you think is the most important figure in world racing history?
As a Canadian and a nearly lifelong lover of horse racing, for me, it's E.P. Taylor. The foundation of the Ontario Jockey Club/Woodbine Entertainment was laid by him decades ago, and the spirit in which it was built was embodied by the people who succeeded him as the chief executive around here.
From Jack Kenney to David Willmot to Nick Eaves to Jim Lawson, all of them understood and understand the importance of horse racing in a society's sporting, business and cultural landscape, and that's powerful for me. From the Woodbine community to Toronto's to Ontario's to Canada's to North America's and beyond, horse racing's relevance and importance professionally is second to none, again, to me. E.P. Taylor built that for all of us in Canadian horse racing.
Which is your favourite venue and race?
There is nothing like the big race, so any nation's signature race is my favourite. I love the Kentucky Derby and the Arc de Triomphe for its cultural importance. The Melbourne Cup in Australia is the same. And I love the Breeders' Cup, as it is, in my view, the single best day(s) to play horses in the history of our sport.
But the Queen's Plate is so ingrained in my life, personally and professionally, that I can't not name it my favourite. The dominant performances like Izvestia, the goosebump ones like Wando, the controversial ones like Wild Desert, the crying ones after friends won or lost the race, the personal ones like The Queen's visits to Woodbine in 1997 and 2010, and my daughter's appearance at one presenting flowers in 2015. No other horse race is as dominant in my life as that one. And frankly, more broadly, it's the one Canadian horse race that a Canadian citizen may have heard of. To me that's impactful, as a Canadian.
What is your fondest memory in racing?
On track, there are a few to say the least. As a Canadian, Sunny's Halo winning the Kentucky Derby is high, but as a teenager at the time not fully understanding what it truly meant, it didn't have the same impact that Dance Smartly had on me when she won the Breeders' Cup Distaff or being there in person when Awesome Again, who was bred in Ontario, won the Breeders' Cup Classic. That was Canadian horse racing history.
Wando winning the Breeders' Stakes to complete the Triple Crown in 2003 is second biggest. It touched my life personally and professionally and I felt it had broad impact on many Canadians beyond the horse racing community. Standing trackside that day, I had never heard racing fans louder, bet or no bet, than when he was coming down the stretch en route to history.
My fondest memory though, again both personally and professionally, is the 1996 Breeders' Cup at Woodbine experience (see video above). It still gives me goosebumps. We worked so hard to make it right and for it to come off as such a great day in front of a worldwide audience. It's a tremendous legacy.
What do you see as the biggest challenge racing faces today?
I think it's the idea that various stakeholders still can't fully collaborate for the betterment of the industry. Business can still be conducted behind closed doors and many can win or lose within the boardroom, but the public face of the sport still has to show unity. Maybe that's blue-sky thinking but worrying about trying to cut up the pie between various factions doesn't allow us to be creative in trying to bake a bigger pie for all of us.
If you could change one thing in racing, what would it be?
Akin to the previous answer (again, my personal view) is that the industry needs one voice. If we have to discuss what horse racing is to the public (wagering event, horse-focused etc) or the correct course of horse racing commerce in the future behind closed doors before we acknowledge it publicly, then fine, let's take our time and do that. Rogue voices with self-serving agendas have killed many industries and, if the industry thinks it's still 1975 and that we can deliver multi-messages with each resonating to the broader public, that's a mistake.