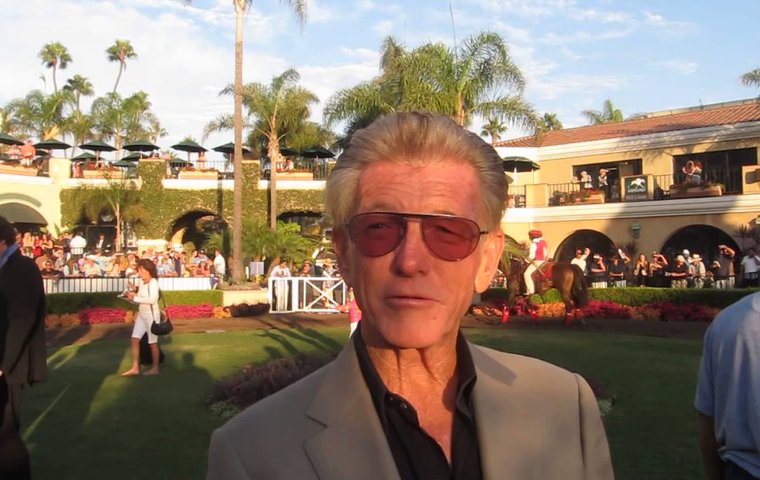 The baton of Del Mar Thoroughbred Club president may have passed from Joe Harper to Josh Rubenstein last year, but that doesn't mean the facility's long-time leader relinquished with it all involvement.

Indeed, Harper held onto his CEO title, and remains a fitting and visible presence at a track he has helped steer over many decades, on hand through a number of its seminal moments, like the staging of its first million-dollar race, the Pacific Classic, the 2019 running of which takes place on Saturday. Two years ago, Del Mar hosted the Breeders' Cup for the first time, with the anticipated round two scheduled for 2021.

Nevertheless, right now Harper and his colleagues continue to square up to one of the track's greatest challenges: the animal welfare crisis, which has engulfed the sport in California.

Who do you believe is the most important figure in the history of racing around the world?
My world is very small here, but I think the man who had the biggest impact on California racing was [Frank E.] Jimmy Kilroe [who oversaw racing at Santa Anita, Del Mar and Hollywood Park]. He came from the East, and he brought the good horses with him. He was responsible for upgrading the quality of California racing.
Before that, it was just California – out there somewhere in La La Land. But Jimmy brought credibility with him. People knew him, they trusted him. He was a good friend and a good mentor to me, lots of good advice. When Jimmy spoke, everybody shut up and listened. He was an interesting and amazing man. I miss him.
Kilroe died in 1996 aged 84.
Which is your favourite venue and race (anywhere in the world – and not Del Mar)?
I haven't been many places, but I tell you I love Keeneland. I love the management there. The facility is great. They've plopped it right in the middle of the Bluegrass, and what better place for a racetrack. I think it says everything about racing, not just inside but outside.
We've very different looks, but when they re-did their track a number of years ago, they used the same architect, a guy called Morio Kow, who designed this whole track for us, built in 1991. You don't see too many two-sided grandstands, and I kept saying to Morio, 'I want to see the horses – the public should be interacting with the horses. I want them to see the paddock, when the horses come through the crowd.'
Morio said, 'well, we can make this thing two-sided. There aren't any of those, but why not.' Morio was innovative and Keeneland is beautiful. It's got the class.
What is your fondest memory in racing?
Two stand out. For years, John Mabee, who probably at one time had more horses than anyone in training in the country, was the track president - a wonderful man and a great mentor to me. John always pushed us to have a million-dollar race. I said, 'John, we're not quite there handle wise.' But we were growing, and finally, we got to where we could afford a million-dollar race. And, of course, he won it – he won it with Best Pal. We'd made the race weight-for-age, and Best Pal was a 3-year-old, so he got the break and he won the race.
It was interesting – everyone liked John. Up in the Turf Club, everyone knew who he was, and they gave him a standing ovation when he and his wife walked down to the winner's circle.
And I think watching Zenyatta run. Zenyatta was an amazing horse – you'll never find a jockey who could have ridden her like Mike Smith did. When she was here, and kept winning the same races every year, I remember in the mornings, I'd go over to the stand along the backside, get a pretty good view. Zenyatta would come out onto the track by the stand, and her exercise rider would just let her stand there, look around. When she was ready, she'd take off.
Now, one morning she's standing there, looking around, and I asked [trainer] John [Shirreffs], 'how's Zenyatta this morning?' 'Ahh, she's just herself,' he said. I looked around, and she took a U-turn right off the track. It was so funny. He said, 'If she doesn't want to go, she doesn't go.'
Zenyatta winning Del Mar's Clement L Hirsch in 2008
What do you see as the biggest challenge racing faces today?
Well I think right now, it's very clear - it's animal rights, after Santa Anita's debacle. It's even more clear when you have a U.S. senator say you should close. You've got the governor of California saying the same thing. It takes it to a whole different level.
Three years ago, we had a bad meet down here – we had 14 horses break down. The [media], they write about us. It's a great market here – the town's small enough to notice us, but big enough to support us. But when there were one too many breakdowns, they started to write about it, put it on television. That was the story.
So, after that summer, we got [veteran track superintendent] Dennis Moore down here, and [racetrack surface expert, Mick Peterson] from back East to do some testing. We banked the turns - kind of like picking up a rug, fluffing it and laying it back down again to take the inconsistencies out. And then we did the unthinkable profit wise, we got rid of some of our days at the beginning of the meet to have more time to acclimate to the track. We did a few other things, fewer horses and all that, and I think that helps. And so, the last two years, we've been one of the safest, if not the safest, track in North America, according to the Jockey Club.
Two to three weeks before we opened, all I did was go around to TV crews and say, 'we're not Santa Anita, we're safe. We've got a good record. We've done these things – we're going to do more things.' I knew the pre-opening story in the newspapers and on the television wasn't going to be about pretty hats and parties and concerts, it would be about whether the deaths continue. We weren't asking them to change their mind on that – we were asking them to look at what we've done. And they did.
If you could change one thing in racing, what would it be?
A reporter asked me the other day, 'out of all the things we've done, what's the most important thing on the list?' And I said, 'the most important thing isn't on the list, the most important thing is to change the culture of the backside.'
It can't be business as usual. You can't go entering horses that you think are okay – you have to know they're okay.
So, we've got the vets looking at them of a morning, and writing names down, and calling trainers and saying, 'this guy's looking a little tight, short.' Or, 'this one's got a little back problem.' And right now, we're getting good responses [from the trainers]. 'Yeah, you're right – I noticed that the other day. I'll get my vet to look at it.' I think they're getting it – I think they realize it. They see the demonstrators. They read the newspapers.