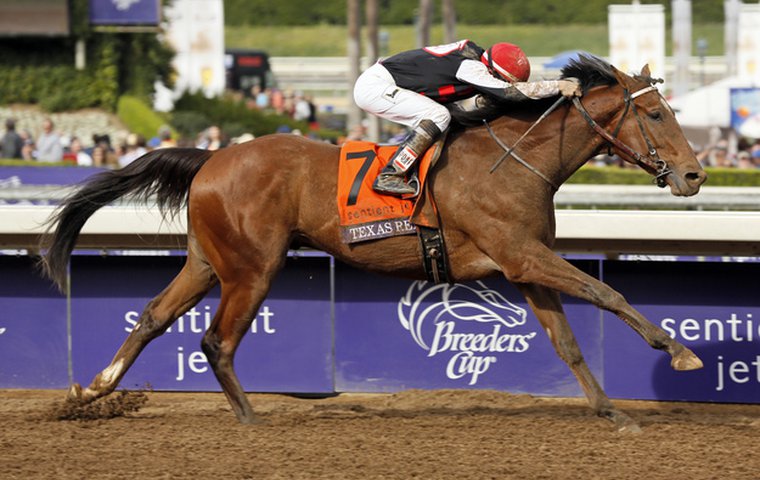 On a recent morning at Saratoga Race Course, trainer Keith Desormeaux's gaze was fixed on his stable star, Texas Red, who was being hand-walked in the shed row. The 3-year-old colt, who had just completed his last work for his assignment in Saturday's Jim Dandy, stopped and took dainty sips from the water bucket.

After Texas Red passed out of his sight, Desormeaux was ready to recall the first time the son of Afleet Alex captured his attention, two years ago at Keeneland's September yearling sale.
"It was everything about the horse," Desormeaux said. "First of all, we look for balance and athleticism. And he had that right off. Along with that, you look for the right conformation, and he had that. You look for things you can't really measure physically . . . something intangible . . . that eagle-eyed thing, that air they might put out as a confident winner. He had that."
Desormeaux advised one of his owners, Erich Brehm, to buy the colt, who was bred in Kentucky by Stonestreet Thoroughbred Holdings LLC. The $17,000 purchase price proved to be worth every penny, and then some, after Texas Red went on to win the $2 million Breeders' Cup Juvenile last November.
As one of the favorites in the G2 Jim Dandy, Texas Red enters the prep for the Aug. 29 Travers with earnings of $1.3 million. Texas Red is the first Breeders' Cup Juvenile winner to compete in the Jim Dandy since Street Sense in 2007. Street Sense won both the Jim Dandy and Travers.
With regard to Texas Red's modest price tag, Desormeaux noted that Afleet Alex was in the midst of a "cold spell" as a sire, and the dam, Ramatuelle, had thrown "decent runners" but nothing "serious."
The trainer was so enamored with the bay colt, whose face marking resembles that of a golf tee, cradling a ball, he joined Brehm as a partner on the horse. The other partners on Texas Red are Brehm's friends, Wayne Detmar, Lee Michaels, and Dr. Gene Voss.
The 62-year-old Brehm, a Texas-based sales manager for a company that manufactures a medical device used in heart repair surgery, became a fan of racing and betting while attending college in Illinois. In the early 1990s, Brehm took his interest in the sport to another level, and became a horse owner.
In 2010, when Brehm was looking to bring a horse to Louisiana, it was suggested to him to reach out to Desormeaux.
"I called Keith, and right away I liked him," Brehm said. "I know this doesn't mean a lot to everybody, but he had a college degree, and I knew he probably would have a good business sense. We started going to the sales with him, and it's been growing ever since."
Texas Red provided both owner and trainer with their first G1 career victory in the Breeders' Cup Juvenile. The colt, who possesses a monstrous turn of foot, made quick work of 10 rivals, en route to a 6 1/2-length score at odds of 13-1. It was Texas Red's first stakes win.
After placing second in February's San Vicente Stakes in his 3-year-old debut, Texas Red was sidelined with a hoof abscess that resulted in his absence in the Triple Crown races. He returned to action in Belmont Park's Dwyer on July 4, and finished a fast-closing second.
The 48-year-old Desormeaux, whose younger sibling is Hall of Fame rider Kent Desormeaux, who is Texas Red's jockey, began training in 1991.
Desormeaux grew-up in the heart of Cajun country, in the rural village of Maurice, Louisiana, about three hours from New Orleans. Keith and Kent received their introduction to horses at local bush tracks, and spread their wings from there. After attending college at Louisiana Tech University, and obtaining an animal science degree, Keith Desormeaux hit the road and followed his brother to Maryland, where he was riding at the time. Keith began working for trainer Charlie Hadry, an "old-school" and revered horseman on the Mid-Atlantic circuit.
"There was no fluff with Charlie," Desormeaux commented. "It was about doing it right every day. Don't short-cut anything. Get quality horses, treat your [staff] right. Treat the horses the best you can, keep them happy and nourished, and that's all it takes. Do right by the horses, and the rest will take care of itself."
After two years with Hadry, Desormeaux struck out on his own, first in Southern California, later in Texas and Louisiana. His stable has steadily grown in quantity and quality in recent years. Owing in part to Texas Red's win in last year's Breeders' Cup Juvenile, Desormeaux enjoyed his finest season with his runners earning $2.5 million.
He currently has 34 horses in his care, most of which are at Del Mar. In addition to Texas Red, his four-horse string at Saratoga — his first-ever there — is comprised of Decked Out, who finished third in the opening day's Schuylerville Stakes, Danette, who was fourth in Sunday's Coaching Club American Oaks, and maiden Dalmore.
Desormeaux speaks with enthusiasm about Texas Red's runner-up finish in the Dwyer, and has no qualms about looking into the future. He said he relishes a possible meeting in the Travers with Triple Crown hero American Pharoah, who races in Sunday's William Hill Haskell Invitational at Monmouth Park.
"The Dwyer was just part of the process to reach the ultimate goal, which is the Travers," Desormeaux said. "The Dwyer was fitness and confidence building. It was perfect.
"If American Pharoah was running in the Jim Dandy, I don't think we could beat him second time off the layoff," he continued. "But the Travers will be very interesting because it's a mile and a quarter. That's right up Texas Red's alley."