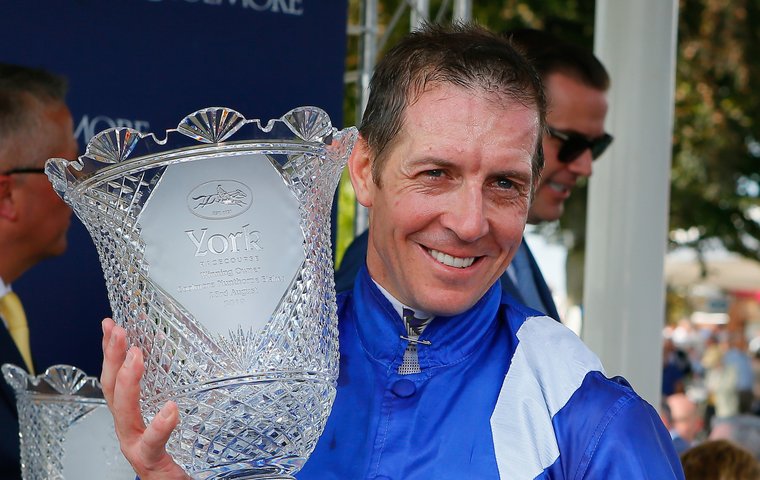 Former jump jockey Jim Crowley graduated to the flat-racing elite when he won the British championship in 2016 and was soon after appointed number one rider for world #3 owner Sheikh Hamdan Al Maktoum. At #33 in the TRC jockeys' standings, Crowley, 41, is currently the third-highest-ranked British-born rider in the world (behind only Ryan Moore and James Doyle).

Who do you think is the most important figure in the history of racing around the world?
I won't say just one person but rather an entire family. The Maktoum family have contributed so much to the industry worldwide over many years now and they have taken both racing and breeding forward to a whole new level. You can't really imagine the racing industry without them now. It is a better place thanks to their support and involvement.
What is your favourite racing venue and race?
I would have to say Royal Ascot. I'm a local boy too as I was born in the hospital right across from the racecourse! I grew up going to the races there and watching it on television as a kid, and then, when I was a jump jockey, I used to think it would be nice to ride there someday … It has been a childhood dream come true to have top-level success at my local track. It is everything that racing should be.
What is your fondest memory in racing?
It is quite a recent one actually; it would have to be Battaash winning at York [2019 Nunthorpe Stakes]. That day was very special. It was an amazing achievement to beat Dayjur's record and it will be a moment I will always remember fondly. It was particularly special because a lot of people had doubted him. I had doubted him myself sometimes, to be honest. Then he went and produced that performance that just silenced everybody. It was incredible (see video below).
What is the biggest challenge that racing faces today?
I think it has to be getting young people interested in the sport and following racing in general. That is a major issue that needs to be addressed for our sport to continue thriving and growing in the future. The whip issue is a difficult one. It is important that young people are educated correctly about the welfare of the horses. It is important that we present the right image of racing to the public. More and more people live in cities and towns these days and they are further removed from the reality of racing and agriculture than previous generations. From the outside looking in, young people think the whip is there to hurt the horses, which really isn't the case these days. It is an important issue facing our sport and we need to unite to explain it better to newcomers.
If you could change one thing in racing, what would it be?
That's a good question! I think in England there is far too much racing and it dilutes the whole programme. I'm not a big fan of summer jumping and I'm not that keen on all-weather racing during the winter, so maybe they could compromise and tighten up those programmes a bit more. It would also mean that there would be a bit more prize money to go around. It is very difficult to convince owners to spend money on a horse if it will only earn around £3,000 if it wins a race. That is a difficult question to answer and definitely not an easy solution to find.