There's hot. Then there's Bob Baffert hot. To say the Hall of Fame trainer has been on a pretty good roll the last few years, would be like saying the New England Patriots have won a few big games since Tom Brady came to town.

Baffert has been on an utterly phenomenal roll.
To train a spectacular Triple Crown winner in American Pharoah in 2015, then in the following year to unveil another horse for the ages in Arrogate simply stretches the laws of probability to a ridiculous length.
Arrogate is scheduled to return to the races tomorrow in the San Diego Handicap at Del Mar, making his first start since March, when he registered a smashing victory in the $10 million Dubai World Cup, and it would be a mind-boggling upset if anyone beats him.
Why? Because it's good to be Bob Baffert these days.
Special team
Aside from Arrogate's win in Dubai and the 4-year-old's victory in the $12 million Pegasus World Cup in January, which are no small matters, Baffert has also won Graded stakes with 13 other horses this year, which is why he's second in the world trainers' rankings right now.
Though he didn't start a horse in a Triple Crown race, in June he shipped four horses to New York to compete in four Graded stakes on the Belmont Stakes undercard and made four trips to the winner's circle, two coming after Grade 1 stakes.
Overall in 2017, he's won 22 Graded stakes in the United States through July 18, and with 2017 earnings of $19,291,913, he has already eclipsed his career-best total of $16.2 million in 2015.
Correction. It's phenomenally good to be Bob Baffert.
"I've been lucky and fortunate," Baffert said.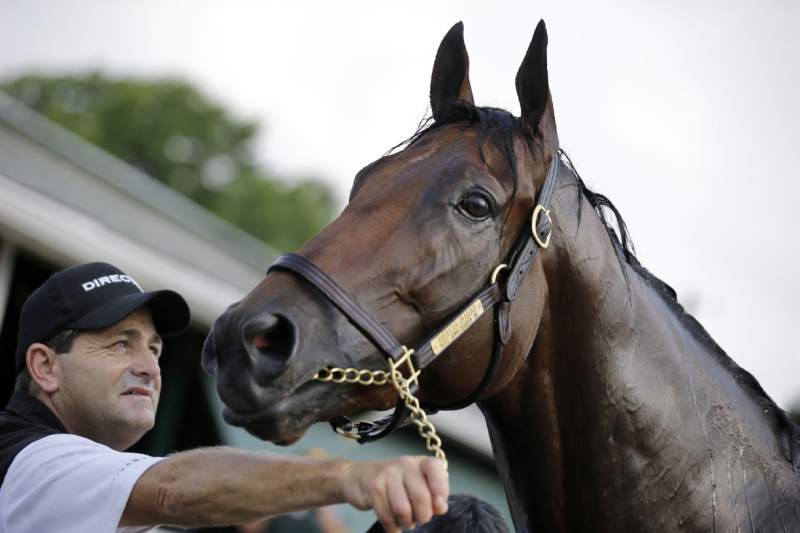 He's also been blessed to have a special team of people working for him. In Equibase statistics, it lists only Baffert as the trainer of record and the architect of $259 million in career earnings, ten Triple Crown wins and 14 Breeders' Cup Classic victories. Yet the white-haired trainer is quick to point out the invaluable role his team of assistants, stablehands and exercise riders has played in an amazing run of success.
"We have a lot of people who do a great job and that lessens the pressure on everyone in the barn. It makes everything easier, especially on me," Baffert said.
Invaluable assets
The 64-year-old trainer has several workers who have enjoyed a long and tremendously success tenure with him. Among them are people like Mike Marlow, who handles Baffert's Los Alamitos division, and Pascual Rivera, the foreman who watches over his main string in California.
"I can always count on Mike and Pascual," Baffert said. "They both love the horses they're around and that's where success in this business starts."
At the top of the list, success has also followed the most valuable mainstays in Baffert's world-class operation, Jim Barnes and his wife, Dana.
Jim and Dana have been with Baffert for a combined total of more than 35 years and have been invaluable assets in his ascent to the top of his profession.
"Jim and Dana are a lethal combination for Bob," said Ahmed Zayat, owner of American Pharoah, who posted the first Triple Crown sweep in 37 years. "They are his secret weapon."
Right-hand man
The married couple fill different roles in the stable. Dana has been an exercise rider for Baffert since 1997, handling virtually all his top horses during those years. Jim has worked as an assistant trainer for Baffert since 1999, and now serves as his top aide, overseeing all the activities at the trainer's first-string barn.
"I'm fortunate we've all been together for a very long time," Baffert said. "If I didn't have them, it would be really hard on me and I wouldn't have as many horses as I do."
Jim has been with Baffert for so long and they have been so successful together that in some ways they are joined at the hip in the eyes of people who look beyond the names listed in a program.
"Jim is Bob's right-hand man. It's the Bob and Jim Show," said jockey Mike Smith, Arrogate's regular rider. "They work very well together. Bob trusts him and gives him a lot of work and responsibilities and it works out well."
That trust underscores how Baffert and Barnes have worked together for so long and been such a successful team that there's no need for lengthy meetings or debates. There's a smooth work flow, and Baffert does not have to waste time and energy fretting that his instructions will be misinterpreted.
Good cop, bad cop
"There's such a great level of mutual respect between Bob and Jim," Dana Barnes said. "Bob knows Jim will be there at the barn all day, every day. Jim puts his heart and soul into the racetrack and that barn. Bob knows that and appreciates that, which is why they work together so well."
They also complement each other, playing good cop, bad cop when needed and knowing how to defuse those moments when emotions can rise to a fever pitch.
"Jim knows how to handle Bob. They are all competitive and Bob can be tough to be around when things are not going well, but Jim knows how to handle him. He knows when to tune Bob out and Bob is very appreciative that Jim is like that," Zayat said. "It's easy when everything goes well, but you see the strengths of the team when they have setbacks and see special dynamics that reflect well on all of them."
The typical workload is that Baffert handles the owners, the acquisition of new horses, the planning of workouts and races, and excels at all of them.
"What has made Bob so successful in this game is his unique ability to buy or find great horses. He doesn't just show up at a sale and bid on the top horses. He finds good ones. We call it stocking the pond and he can do it like no other," Jim Barnes said. "He also has his full training routine down. It's unique and amazingly good."
Barnes puts in long hours, keeping a close eye on each horse, making sure there are no snags in Baffert's game plans.
"After so long, I know what Bob expects of me and I try to perform at that level and he knows what to expect from me. We get along very well, like a family. Bob's like a brother to me. He's easy to get along with," said Barnes, who worked for David Hoffmans before being hired by Baffert.
Living with American Pharoah
"We've worked together for so long now, I know how he thinks. I'm his eyes and ears and I have to tell him everything from the smallest detail, even if you don't think it's important. Then he evaluates it and we discuss which plan of action to take. He obviously can't see everything I see. He can't be here on a daily basis like I am. But he definitely gives me my credit. He knows I work hard. He knows I lived my life with American Pharoah. I was with that horse practically every minute of every day."
Barnes may technically be an assistant, but he handles duties that fall upon most trainers.
"I've had some great assistant trainers and Jimmy is one of them," Baffert said. "The thing is, while I'm finding these horses and planning out the races, Jimmy gets them ready. He sets up the flights, he sets up the barns where they are going, the help we need there. It takes a lot of the added pressure off me so that I can concentrate on what's going on. I don't have to worry about the little things. He has the contacts at different tracks. It makes it easier for me."
Barnes' value to Baffert and his owners was best illustrated during the fall of American Pharoah's 3-year-old campaign. When Zayat decided to keep American Pharoah in training after a stunning loss in the Travers, he was asked if the Triple Crown champion would train for the Breeders' Cup Classic in Kentucky, where the race would be contested, or at Baffert's barn at Santa Anita. Zayat did not have an immediate answer, but he was certain of one thing. Wherever Baffert sent American Pharoah, Zayat wanted Barnes with the horse on a 24/7 basis.
Happy in the background
"Jim plays an absolutely pivotal role for Bob," Zayat said. "He's is an incredible team player. He's a super trainer. He knows Bob inside out. Bob trusts his team and he lets Jim run the barn. Jim knows what Bob likes and doesn't like, what the clients like and don't like. He is always in tune with the horses. He's a trainer. Forget the title assistant. Jim trains the horses. He knows the horses. He knew American Pharoah better than anyone."
While the credit for each of the stable's victories rightfully goes to Baffert, Barnes is more than happy to play a supporting role while deriving as much joy from a major victory as the trainer, jockey or owner. Television cameras will not focus on Barnes, but he's fine with that. He's perfectly content with being in the background, knowing the role he played, and relishing those moments when he can lead American Pharoah or Arrogate into the winner's circle after a classic victory.
"It was over the top winning the Triple Crown. It hadn't been done in so long, people started to think it can't be done. But in the back of my mind I thought if anyone was going to do it, we were the barn to do it. I knew we could do it. We came close too many times for it not to be us who pulled it off," Barnes said. "They won't see my name on American Pharoah's Hall of Fame plaque but enough people know I was right there with him the whole way. And I understand that. I was just glad to be a part of it."
Like Baffert, Barnes admits it's incredulous that one stable can have horses as brilliant as American Pharoah and Juddmonte Farm's Arrogate in consecutive seasons. He says he's savoring every minute of Arrogate's campaign and is especially excited to see the country's No. 1 horse return to action in the San Diego.
Once-in-a-lifetime horses
"I sit back sometimes and think about the roll we're on and I get chills. I just think we're blessed to be in this position. Those two horses that are once-in-a-lifetime horses," Barnes said about American Pharoah and Arrogate. "You don't see that happen in back-to-back years, but in our barn it can happen.
"Arrogate, what a horse. He is just amazing. He has great lungs and can run forever. He never gets tired. He shows up for every race. What an athlete. Both he and American Pharoah have mechanics like no other."
It's horses like Arrogate and American Pharoah as well Abel Tasman, who won the G1 Kentucky Oaks in May, and Mor Spirit, who romped to a decisive victory in the G1 Metropolitan Handicap on the Belmont undercard, that make it easy for Barnes to stay with Baffert and dismiss thoughts of going out on his own. At the age of 57, he has grown accustomed to being around a string of champions and has little interest in performing the management tasks that Baffert handles so well.
Outstanding animals
"If the right opportunity came along, I'd listen, but it would have to be the perfect job for me to go out on my own. Right now I'm very comfortable where I'm at," Barnes said.
"I trained on my own when I first started in racing, before I became an assistant, when I was 18 years-old. It's tough. I had five horses back then. I like the position I'm in now much more. That's why I've been here so long. The caliber of horses we deal with are like no other and that's what keeps me going and gets me up in the morning. Each year we have outstanding 2-year-olds to work with. If I have to be an assistant to be around horses like this, that's where I want to be."
Dana met Jim in 1984 when they were both working on the Northern California circuit. They married in 1985 and have raised two daughters, Jenee (29) and Jordan (24). Through the years, Dana has come to know her husband better than anyone else and she understands how difficult a change in lifestyle would be for him.
"Dealing with owners and go to sales, Jim has no interest in that," she said. "He just wants to train the horses. He's perfectly content to be behind the scenes and doing his own thing. It would have to be an extraordinary offer to leave the situation he's in now. I don't think Jim could ever work with anything but the horses he has at this level. He's the most competitive of all of us. He wants to win so much."
'Arrogate loves her'
Dana's role with the team plays out in the morning when she handles the stable's horses during gallops and workouts, giving Baffert and her husband valuable information on a horse's progress so that the right decision can be made on future races or if any changes are necessary.
"Dana has been around so many good horses and she lets me know how a horse is doing," Baffert said. "That's the input I need."
Baffert credited Dana with playing a key role in Arrogate's development, praising her work with a horse that can be hard to handle.
"She spent a lot of time with Arrogate," Baffert said. "And he loves her. He'd act up with other riders, but he's fine with her. She has a way with animals and they can sense that."
With Barnes' help in the mornings, Arrogate has matured into a horse who has taken the sport by storm. After an initial loss he has won seven straight starts and has notched unprecedented wins in the Travers, Breeders' Cup Classic, Pegasus World Cup and Dubai World Cup to amass world-leading career earnings of $17,084,600.
"Horses like Arrogate have an unbelievable way of moving and you know they are special from the first day," she said.
On Saturday, that special horse will get another chance to shine in a race where he'll be an overwhelming favorite to notch another victory.
If he does, the credit will once again go primarily to Baffert, Smith and Juddmonte Farms. But there's more. There's a team that supports them beyond the spotlight. People like Jim and Dana Barnes, whose role in an epic success story deserves as big a bow as anyone.