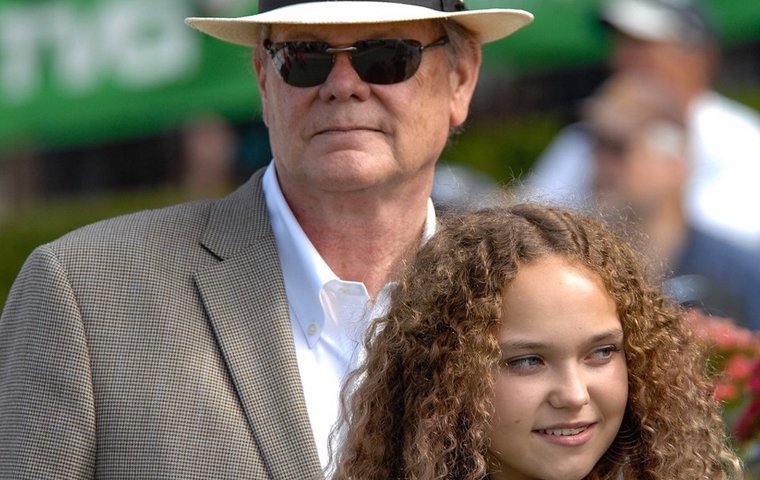 From the biggest races at the greatest racing theaters to the quietest actions at the hands of racing's least visible, Jay Hovdey has over more than four decades woven book and article into an invaluable written tapestry of the sport that captures hero and unheralded alike.

For his efforts, Hovdey — married since 2001 to Hall of Fame jockey Julie Krone — has bagged no less than five separate Eclipse media awards, the National Turf Writers and Broadcasters Walter Haight Award, and is an inductee into the Joe Hirsch Media Honor Roll at the National Museum of Racing and Hall of Fame, among other accolades.

A 20-year executive columnist at the Daily Racing Form, Hovdey was recently let go from that position, but he has just assumed the role of featured columnist at The Blood-Horse. He also writes a monthly column on this site.

Who do you believe is the most important figure in the history of racing around the world?
As far as I'm concerned, John Nerud was the ultimate renaissance man in Thoroughbred racing. He did so many things so very well, and the things he did made a big difference in the way the sport was appreciated, run, funded, promoted, and played.
Here's a man who came from nothing — poor farm boy from Nebraska — and went on to prove himself a capable handler of horses on the East Coast until he connected with some very influential owners. He didn't just train for a breeder, he established a leading farm program for William McKnight, of the 3M company. There was Nerud in that, from the layout of the farm, to buying the mares, to figuring out what racehorses to buy, to what would eventually become their great stallions. And then he trained the produce of that creation, the most significant of course was Dr Fager.
If that wasn't enough, Nerud was an advocate of backstretch welfare for the stable hands, long before it began to be fashionable. He and [trainer] Hirsh Jacobs helped form a welfare structure in New York for backstretch workers that has lasted to this day, and he was there at ground zero for the Breeders' Cup, which has gone on to be the most famous international event hosted in North America. He lived to be 100 years old and could tell us all about it until the end. Nobody did so many things so well and so effectively in American racing.
Which is your favourite venue and race (anywhere in the world)?
Del Mar is my home. Santa Anita is my home away from home. Belmont Park is a kind of spiritual home – I love the grounds, love meandering around the big cavernous thing and the backstretch, just wonderful. But just in the four experiences we've [his family] had there, I just love Doncaster. I love Yorkshire.
I walked the entire course – I wanted to know what the St Leger horses would be running on, and I mean, that was an afternoon's work, up and down and the plateaus. I'm thinking, 'this is just not on the same planet as our one-mile American ovals.' It was so exotic.
As far as a horse race is concerned, without question, the Breeders' Cup Classic.
It could be the most mundane Breeders' Cup going into the Classic, but then, when you get down to that mile and a quarter, the best younger and older horses that have raced in this country, with a sprinkling of the European contingent, the end of the whole pageant, pent-up excitement, and then, if you've a show-down pending — an Arrogate-California Chrome, or a Zenyatta-against the world — the natural drama on top of the traditional drama, there's no better race. That's two minutes you really want to see all year.
What is your fondest memory in racing?
Emotionally, it was to see my wife win the Juvenile Fillies Breeders' Cup on Halfbridled at Santa Anita in 2003 (see video below). I removed myself on purpose from the crowd and went up the quarter-mile chute to see them as they turned into the stretch for two reasons - (a) if what was going to happen was going to happen, I'd be a blubbering mess; and (b) I knew that's where she would say go if she had it, and that's exactly what happened. She cut away from Victory U.S.A., Ashado was trying to track with her, and I could just see them disappear off into the distance.
I've only cried twice at the races. That one, out of joy, and when Cigar beat Soul Of The Matter in Dubai, the first World Cup, it was overwhelming.
That was the first big hurdle of his last year. My book [Cigar: America's Horse] was out. I had a lot invested in him. But he was everybody's big brother. He was for the people who knew what it took to be a horse like that – he was the last horse to carry any kind of weight. The last horse that ran in every handicap.
The old Nad Al Sheba was a pretty little bandbox. The stand itself was nothing. When the horses came out from the saddling area to the mounting ring, it just happened to be right at the call for prayer. All the crowd, Pakistani workers, the working-class group, the guinea-stand group, they went into their prayers as Cigar went by, and I couldn't help thinking, 'that's about right. I don't know who you're praying to — I did of course — but if you're praying to Cigar a little bit on the side, you've got it right.'
In that particular race (see video below), Soul Of The Matter ran the race of his life, had him, lost him, had him again, and neither horse was at their physical best. It was a searching, trying track after half-way around the world for both American horses. It was like that feeling of, 'I can't believe I'm here to see this, and I can't believe the way it happened the way it did.'
If you've any heart at all, that's gonna make you cry a little bit.
What do you see as the biggest challenge racing faces today?
The welfare of the animal is and always has been a concern, but it has been heightened, of course, with what happened at Santa Anita Park, and the publicity there from. That being said, I guess we have to get past the hypocrisy of the American public, who basically don't know which end eats when it comes to horses. But they like the idea of horses.
Somewhere in their head, they have this idea of horses as this mythic creature, gorgeous, fast, powerful beyond words, but also nuzzling little girls, carrots, sugar cubes. The horse represents so many positive things of the animal kingdom that racing needs to be hyper-aware of that. The horse is the greatest selling point of horse racing. Not gambling. Not the trainers. Unfortunately, not the jockeys. It's the horse.
My concern is that the horse not be abstract, and I think that's what the animal welfare issue does in a lot of ways. There are people who are deeply concerned about cats and dogs who have never owned a cat and dog. And that's fine – you need all the people you can get for good causes. But they are sometimes sunshine soldiers. They get distracted easily and move onto the next thing before they haven't fixed the last thing because they didn't have a vested interest in it.
I just think back on all the intimate things I've seen between horse handlers and horses through the years. There are so many ways to appreciate the animal. They're a remarkable beast, and the more that racing can prevent them from being just functions of the gambling aspect, which is important, yes, the better.
If you could change one thing in racing, what would it be?
If I could change one thing in racing, I would do two things very quickly.
I'd make sure all of racing got together to eliminate the commerce of horse slaughter. It's got to be done, and it's got to be done before anything else. You can leverage that in so many different ways, especially in terms of public relations, other than it just being the right thing to do for goodness sakes. It's not our culture. We just don't do that. Period.
You don't monetize the last part of this animal's life that you've used for other purposes. The bargain was not that he be transported, slaughtered and eaten at the end – that's not the bargain we made with this animal when we brought Thoroughbreds into this world.
Do that and abandon the whip.
You could answer two questions that the public might have about this sport immediately. Are you killing your horses on purpose, and then letting them be eaten? Are you hurting your horses while they compete? Get rid of those two things. Let's just see what happens if we do that. I guarantee it'll be a fundamental change in the public's attitude.