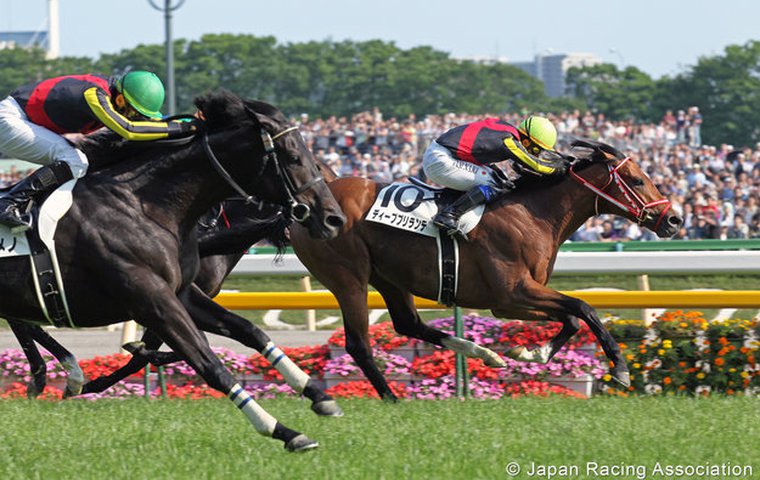 On the eve of the Japan Derby, Takahiro Ito meets a pioneering Irish veterinarian who has not only made a place for himself in one of the world's most insular societies, but built a successful racing operation that has already produced a winner of the coveted race.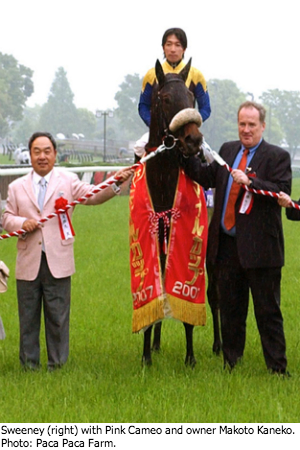 An American breeder visiting Japan once described Dr. Harry Sweeney as the Jackie Robinson of Japanese racing and breeding. Sweeney admits that he was embarrassed at the time not knowing who Jackie Robinson was.
"There isn't any baseball in Co. Louth," he quipped, a reference to his birthplace in rural Ireland.
Nevertheless, the comparison seems apt. Robinson was the first African-American to play Major League Baseball, an achievement that subsequently allowed many other sportsmen to successfully cross the colour line. And Sweeney was the first westerner to establish himself in Japan's highly lucrative racing and breeding industry, a sport and business that previously was the sole preserve of Japanese nationals.
While Robinson is best known for home runs and stolen bases, Derby winners and the sale of million-dollar horses is Sweeney's stock in trade. Though still somewhat protected, Sweeney's pioneering achievements have led to a trickle of international horsemen establishing racing stables in the Land of the Rising Sun.
When asked why a non-Japanese would want to race horses in Japan, Sweeney answers with the zeal of a proselytising missionary.
"The average race in the JRA (Japan Racing Association) has prize money in excess of $300,000," the 53-year-old said enthusiastically. "Prize money is paid right back to 10th - and every time you race in the JRA, you get appearance money of $4,000 irrespective of where you finish. It's a racing Utopia. The real question is not why an owner would want to race in Japan, but why any of the major global players would chose not to.
"The fundamentals of racing in Japan are very strong indeed," he continued. "Last year, more than $36 billion was wagered on Japanese racing, the highest in the world and more than three times greater than the corresponding statistic in the U.S."
The Irishman addressed a question on the standard of Japanese racing with typical gusto.
"In the last 15 years, 27 G1 races in such varied locations as France, U.K., U.S., Hong Kong, Australia, and Singapore have been won by Japanese-trained horses, and Japan has repeatedly shown that it can compete with the very best," he said. "The current top ranked horse in the world, Just A Way, is Japanese-born and trained, and furthermore Gentildonna's win in Dubai this year, and Lord Kanaloa's back-to-back win in the Hong Kong Sprint further emphasise that.
"Japan's racing and breeding industries have come of age. Even the winner of this year's French 2,000 Guineas, Karakonite, though trained in France, carries the 'Jpn' suffix," he added while worrying aloud that he didn't want to sound hubristic.
Sweeney has permanent Japanese residency and is entitled to Japanese citizenship, an option he's declined as it would require him to renounce his Irish passport. Even so, the pride he has in his adopted home is abundantly clear, and he's a passionate and articulate advocate of Japanese breeding and racing. Indeed, on occasions when Japanese organisations are required to speak about Japan's horse industry at conferences outside the country, they often defer to their adopted son knowing that his enthusiasm for Japan and fluency in English will convey the message clearly.
Nevertheless, it is his fluency in Japanese that has been a major part of his success in Asia.
"When I arrived in Japan almost 25 years ago, I did not speak a word of Japanese. But it was immediately clear to me that success would be dependent on acquiring Japanese language proficiency. The most efficient way to learn Japanese is to fall in love with a beautiful Japanese girl, an option unfortunately not available to me," Sweeney explained while exchanging a cheeky smile with Anne, his wife of more than a quarter of a century.
Sweeney first came to Japan in 1990 to take up a post as farm manager and veterinarian for Taiki Farm, a new Japanese-owned start-up operation based in Tokachi in Hokkaido, the most northern of Japan's four main islands.
"It was extremely remote and, in fact, the nearest English-speaker to us was more than an hour's drive away," he explained. "My wife Anne was an enormous support to me especially during these early years. Being isolated from the main body of Japanese breeding was in some ways a very good place to cut my Japanese teeth and to learn about the vagaries of Japan."
The Taiki operation was very successful though and soon produced Hall of Fame inductee Taiki Shuttle in addition to other G1 winners such as Taiki Sherlock, Taiki Fortune, and Taiki Blizzard.
Sweeney however, now fully familiar with the scale of Japanese racing and its potential rewards, was anxious to move on.
"After five years, I spoke reasonable Japanese and I wanted to be located more in the centre of the Japanese horse industry in order to have the opportunity to meet more people," he said explaining his move to become General Manager to Machikane Farm, a large racing stable.
After enjoying further classic success, he was ready for his third and final incarnation in Japan, that as owner and president of his own farm, which he named Paca Paca Farm. (The name translates as Clip Clop Farm). However, it was not straightforward as agricultural land in Japan had never previously been owned by a foreigner and government permission was required. Obtaining it necessitated wading through reams of paperwork as well as countless visits to City Hall.
"There was an incredible amount of red tape and I needed the patience of 100 saints," Sweeney noted.
Owning a farm in itself however would not be enough as Sweeney was adamant to have a successful breeding operation, he would also need to have the opportunity to race in the lucrative JRA circuit. So, an owner's license would be required. But the JRA was notoriously fastidious about issuing such licenses. There was the added complication that no westerner had ever previously been awarded one.
However, Sweeney's perseverance was eventually rewarded and he was well on his way to his goal.
The most troublesome hurdle was becoming a member of the Hokkaido Breeders Association (HBA), a prerequisite to being allowed access to Japan Bloodhorse Breeders' Association stallions such as Empire Maker.
"The guys heading the HBA were well known to me and while they made it very clear that they had no problem with me personally, they explained that they were anxious about opening their membership to foreigners," Sweeney said. "It was almost a 'Japanese Only' rule, but a friend on the inside tipped me off about a back door route that would guarantee me access - and this finally happened more than 18 months after my initial application."
Though foal numbers were initially small, success came quickly for the Irish-owned operation. In 2007, having produced only 36 foals of racing age, Pink Cameo won the G1 NHK Mile and put Paca Paca Farm firmly on the map. Shortly afterward, Ampere, another Paca Paca-bred, was champion 2-year-old in the JRA.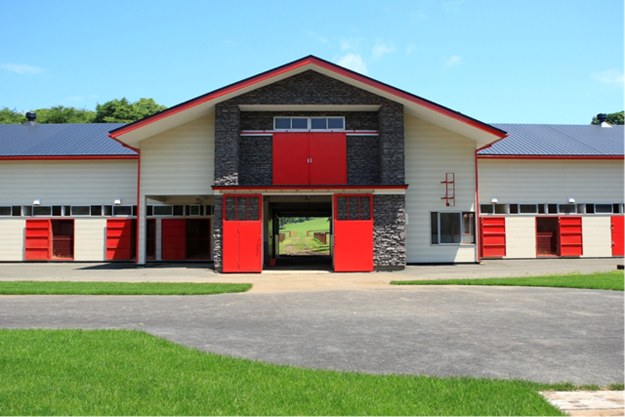 There are 3,454 races every year but the one race that every Japanese owner, trainer, and breeder wishes to win is the Tokyo Yushun, the Japan Derby. And in 2012, having at that time only produced 75 colts of racing age, Paca Paca Farm secured the Holy Grail when Deep Brillante won in Tokyo in front of 140,000 fans in what was the third fastest Derby winning time in the race's 80-year history.
As good luck would have it, Paca Paca Farm had a full sibling to the Derby winner entered in the Japan Racing Horse Association Select Sale. Just six weeks after the Japan Derby, Deep Brillante's full sister, not even 100 days old then and still nursed by her dam, sold to Waratah Thoroughbreds for $1.79 million. Sweeney, in just a short few years had not alone succeeded in establishing a breeding farm, he had also reached the twin pinnacles of breeding a Derby winner and selling a million-dollar horse.
However, Paca Paca Farm has not rested on its laurels. The farm, from its initial inception of 100 acres, has grown in size to more than 550 acres of rolling pastureland overlooking the Pacific Ocean in what is a sensationally picturesque setting. In many ways, he feels, it looks like Irish parkland, and the farm's eclectic staff creates an air of a truly international operation.
An American racing fan, walking through the spacious barns and reading the stall cards would also feel quite at home. In one stall is Payton d'Oro, winner of the 2009 G2 Black-Eyed Susan Stakes. Across the passageway is Rhythm of Light, winner of the G2 Goldikova Stakes at Santa Anita. Further down the barn is Self Preservation, second in the G1 Del Mar Debutante. In another barn is Nan, second in the G1 Del Mar Oaks. Also in this barn are Deep Brillante's dam, granddam, and half-sister.
Keen-eyed visitors will also notice that a number of mares at Paca Paca are owned by well-known individuals in international breeding and racing circles.
"Japan has a fine roster of world class stallions such as Deep Impact, Stay Gold, and Empire Maker," Sweeney said. "Some major breeders in the U.S. and Europe are now sending mares to Japan to avail themselves of this gene pool."
Almost all aspects of Japanese racing and breeding are dominated by the Shadai Group, which is owned by the three Yoshida brothers. Collectively, they own more than 1,500 mares. So, for Sweeney and Paca Paca Farm, it will always be a David vs. Goliath battle. However, Sweeney remains bullish and explains that Paca Paca Farm still only produces about 25 foals a year, albeit with a strong emphasis on quality.
"Our goal is to be the best little farm in Japan," he explained in with a twinkle in his eye. "We felled Goliath once before and we can do it again. For us, a home run every few years will be perfectly adequate."