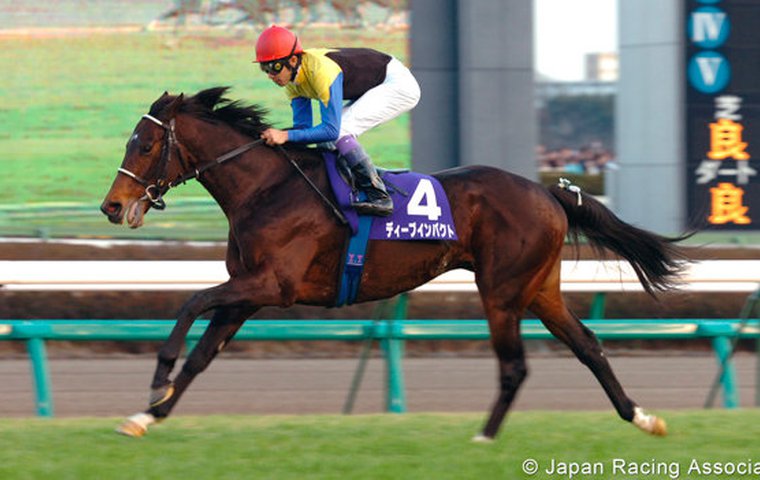 Horse racing in Japan has maintained a high level of public interest in spite of national economic stagnation, natural disaster, and challenges from other sports, notably the recently legalised betting on J-League soccer. There was encouraging evidence in the second half of 2013 that the racing economy, like the national economy, was beginning to strengthen. In part 2 of his analysis of the health of Japanese racing, Naohiro Goda looks at the future, and the part that great horses, when they emerge, can and will play in it.


-----------
Racing and Japan Racing Association (JRA) marketing efforts have also been helped by the emergence of some outstanding and charismatic horses, notably Deep Impact and Orfevre, Triple Crown winners in 2005 and 2011 respectively, and both horses of extraordinary character who won fans by the millions.
A typical closer, Deep Impact was always to be found at the rear of the field until his regular rider Yutaka Take pressed the button. The son of Sunday Silence would then start to eat up ground in the most spectacular fashion. It was said, "While opponents are running, Deep Impact is flying." The horse's remarkable running style, abandoned for some reason when he made his unfortunate Prix de l'Arc de Triomphe bid in 2006, just fascinated the crowds.
Deep Impact's extraordinary popularity is illustrated by the fact that 8,000 Japanese fans made the trip to Paris at their own expense just to see him run, and live television coverage of the race reached 28.5 percent of the population even though post time at Longchamp was after midnight in Japan. Many of the 8,000 came down from the stands in tears, after the great horse, who was certainly below par that day, finished third. Deep Impact succeeded his father as Japan's leading sire, and many fans still make long journeys to where he stands at Shadai Stallion Station on Hokkaido Island, simply for the chance to admire him in the flesh.
"Strange" rather than "unique" is perhaps the proper adjective to apply to Orfevre. Twice in his career he's stopped suddenly after passing the finishing line and lost his rider as a result. When running in the Hanshin Grand Prix in March 2012, Orfevre decided to keep straight on at the far turn and so found himself more than 20 lengths behind the others at the top of the straight. He then resumed racing and somehow still finished second. Then famously in the 2012 Prix de l'Arc de Triomphe, after hitting the front easily at the furlong pole, Orfevre began to lose interest, drifted right, bumped the rail, and in the end managed to get narrowly beaten by Solemia. Japanese fans loved him in spite of – or perhaps because of – his quirks.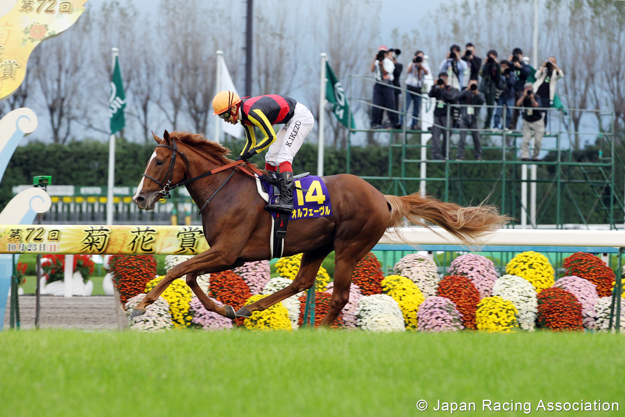 There is no doubt that these two champions have helped sustain interest in Japanese racing in recent years, though annual wagering still experienced declines in every single year between 1998 and 2011. However, betting numbers in 2012 jumped for the first time in 14 years, with annual turnover up 4.4 percent on the 2011 figure. On the face of it, this looks a very favourable reversal of the trend, but once again there are caveats.
On March 11, 2011, northern Japan was hit by a devastating earthquake and tsunami. Fukushima Racecourse collapsed, many race meetings were lost, and the Japanese economy as a whole was very seriously damaged. It does not make sense therefore to compare the figures in 2012 with those of 2011 as though both were normal years. A comparison between 2012 and 2010 is much more relevant, and in 2012 wagering was 1.4 percent lower than in 2010 and on-course attendance down 8.15 percent.
In his annual statement in January 2013, JRA chairman Tsuchikawa declared that this year had to be a turning point, and in the first half of 2013 the total handle of ¥1.2 trillion ($10 billion) was indeed 0.5 percent higher than in the first half of 2012, with total attendance at 3.3 million, 1.5 percent higher than the previous year. Encouragingly, the final figures for the whole of 2013 were up, if only marginally, on those of 2012, and it does seem likely now that 2012 was the year when wagering and attendance hit the bottom.
Annual JRA wagering in 2013 was slightly more than ¥2.4 trillion, an increase of 0.4 percent on 2012. While still short of 1997's record turnover of more than ¥4 trillion, this increase is highly encouraging in its context. From the 1997 peak, decline persisted steadily until 2012, the year after the devastating earthquake produced a distorted impression of recovery. After the 2011 catastrophe many off-course betting shops closed down, and the general economy of Japan declined on 2010 figures by 5.5 percent, so some improvement in the following year was inevitable. The 2013 figure represents growth for the first time that a meaningful year-on-year comparison could be made since 1997.
Some major races saw considerable turnover increases in 2013. These included the Japan Derby (up 4.5 percent) and the Arima Kinen (a 5.4 percent increase on 2012), which helped push up the annual total. Although overall attendance fell by 1.6 percent, attendance at both these races was also well up: the Derby from 115,407 to 139,806; the Arima Kinen from 101,237 to 124,782. In his New Year statement for 2014, chairman Tsuchikawa expressed delight at these increases, suggesting that interest in racing at the highest level is regaining strength.
This year is the 60th anniversary of the JRA's foundation and it plans celebratory events that should further stimulate interest, including special inductions to Japanese racing's Hall of Fame to be announced in spring. As usual, the JRA will hold 288 live race meetings at ten racecourses in 2014: exactly the same number as in 2013, and with the same level of prize money.

As it's obvious that the general economy of Japan is now bouncing back, there is good reason to hope and believe that 2013 will turn out to have been the year in which the upward curve of wagering and attendance resumed.
---
In tomorrow's final installment, Naohiro Goda explores the future of racing and breeding in Japan.