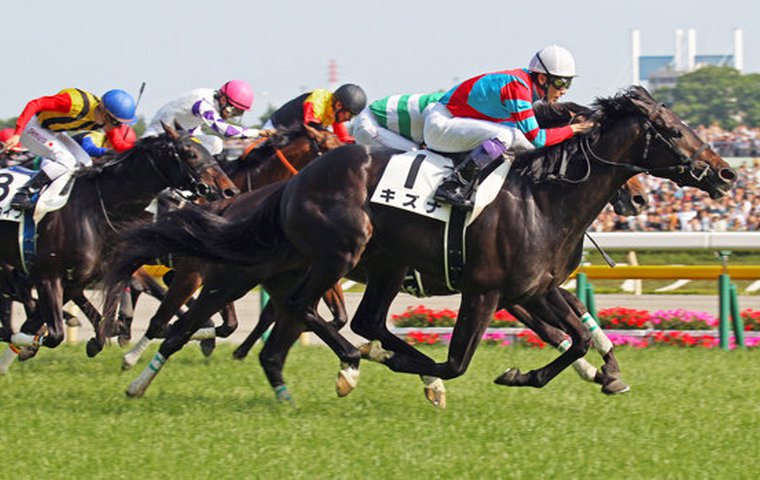 Japanese Racing : An Inspiration And A Warning (Pt. 1)
Marked by high-volume wagering and widespread popularity, horse racing in Japan is rightly held up as one of the sport's worldwide success stories. Japanese racing's healthy reputation is both well-established and well-deserved, even as the industry is increasingly subject to many of the same economic pressures faced by other racing jurisdictions around the world. Respected Japanese racing journalist and TV presenter, and expert on his country's breeding industry, Naohiro Goda, reports on the overall state of racing in "The Land of the Rising Sun."

-----------
First organized in 1861 by British residents at Yokohama, the Pacific Ocean port city adjoining Tokyo, modern-style racing in Japan boasts a long and intriguing history. In 2012, more than a century and a half after it was introduced to the country, Japanese racing handled more than ¥2.3 trillion ($24 billion) on 288 race meetings (days) organised by the Japan Racing Association (JRA). To put this figure in context, the pari-mutuel handle for the United States in the same year was $10.8 billion.
A division of government, the JRA supervises what might be termed "major league" horse racing in Japan. A second division of racing in Japan, the National Association of Racing (NAR), is run by local governments, but the JRA is the true governing body of racing for international purposes.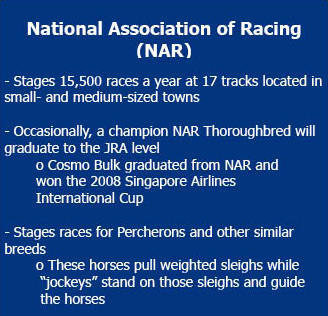 JRA Race meetings in 2012 attracted 6,190,296 total attendees. The average daily on-course attendance of 21,494 wagered a daily average  ¥8.3 billion ($83 million). These figures show very clearly the popularity of racing in Japan. However, horse racing in Japan is not quite as popular as it used to be.

The peak year as far as wagering is concerned was 1997, when the annual turnover through    288 JRA racing days totaled more than  ¥4 trillion ($40 billion), and average wagering per day was  ¥13.8 billion ($139 million). This means that between 1997 and 2012, turnover on Japanese racing has seen a 40 percent decline. The best year for on-course attendance was 1975, when the total was 14,898,794: More than double the figure for 2012. 
On-course attendance for major race days peaked in 1990, when Tokyo Racecourse attracted 196,517 for the Tokyo Yushun (Japan Derby), and Nakayama Racecourse was packed by 177,779 fans on the day of the G1 Arima Kinen, Japan's year-end championship. In 2012, attendance at Tokyo on Derby Day was 115,407, and at Nakayama on the day of the Arima Kinen 101,237. Once again, these figures prove that horse racing in Japan is still hugely popular, but also warn that this popularity may be retreating. Several factors help to explain the declines in wagering and on course attendance. 
First, Japan's economic growth in the last 20 years has been slow almost to the point of stasis, and consumption levels in the economy as a whole have been correspondingly low. Understandably, there has been a tendency over the last two decades for Japanese citizens to hesitate before putting their spare cash into gambling of any sort. 
Second, it was a severe blow to horse racing when the Japanese government legalised betting on the J-League, Japan's professional soccer (football) league, in 2001. Football is extremely popular among Japanese in their 20s and 30s, and large numbers of young people switched their betting from horse racing to football.
Before the legalisation of wagering on football, betting in Japan had been permitted on only three sports apart from horse racing. These were, perhaps surprisingly to non-Japanese, motorboat racing, bicycle racing, and motorcycle racing. For these sports, the arrival of football as a rival had even more serious consequences than it has had for horse racing. 
All three of these sports enjoyed their biggest betting turnover in 1991; two decades later their margins had declined considerably.  In 2012, annual wagering on motorboat racing had fallen 60 percent to ¥916.7 billion ($8.9 billion). Turnover on bicycle racing fell to ¥614.7 billion ($6 billion), less than 33 percent of its peak year. Hardest hit of all was motorcycle racing, whose ¥72.4 billion ($700 million) turnover in 2012 was only 20 percent of the 1991 figure.

From this point of view, horse racing has clearly done a better job of retaining support than the other three sports on which Japanese were permitted to bet. Efforts by the JRA have been the driving force in helping racing maintain its position in Japanese society.
For example, in the last 13 years, the JRA has worked hard to increase and diversify available bet types. Until 1999, only three types of bet (Win, Place, and Quinella) were offered at JRA tracks. The JRA introduced Quinella Place in 1999, followed by Exacta and Trio betting in 2002, Trifecta betting in 2004, and Pick Five in 2011. Of these, the Trifecta has proved by far the most popular, accounting for more than 35 percent  of total wagering in 2012 and 2013.

But, in spite of these efforts, the decline in betting and attendance, influenced by and to some extent mirroring the condition of the Japanese economy, has been seemingly inexorable since the high point of 1997. In his New Year statement last January, JRA chairman Kenji Tsuchikawa announced that 2013 must be a turning point and the year in which the downward trend must be reversed.
---
Tomorrow in Part 2 of his study of the health of Japanese racing, Naohiro Goda details the extent to which the JRA's optimism about 2013 has been justified.