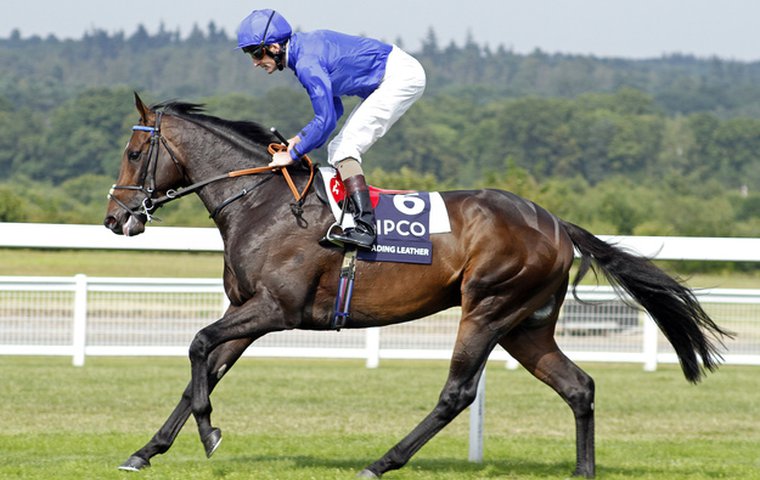 Trading Leather has already given leading Irish trainer Jim Bolger his proudest moment on a racecourse, and on Sunday, the Godolphin-owned colt is bidding to rival that when he takes on the Japanese superstars Harp Star, Gentildonna, and Just A Way in the $5.5 million Japan Cup. Donn McClean explains why the 4-year-old holds a special place in Bolger's affections.

Jim Bolger sat easily in his chair in the afterglow of the 2013 Dubai Duty Free Irish Derby, his wife Jackie beside him, a swarm of expectant journalists in front of him.
"This is probably the best yet," said the trainer. "It doesn't get any better than this."
Trading Leather was Bolger's second Irish Derby winner, his first since St Jovite's 12-length triumph 21 years previously. St Jovite was great, but he was not Trading Leather. Trading Leather was special. He was all Bolger.
Jim Bolger bred Trading Leather from his mare Night Visit. Not only that, but (cue short breeding history) Trading Leather is by Teofilo, who was also bred by Bolger out of his mare Speirbhean, who was bred and trained by the Wexford man to win the Listed 1,000 Guineas Trial at Leopardstown. Actually, it all started with Speirbhean's dam, Saviour, who was trained by Bolger to win three times, once as a juvenile and twice as a 3-year-old.
Remember Teofilo on the racetrack? He was a top-class juvenile. Jim Bolger had proven all along that he could train fillies (e.g. Give Thanks, Flame Of Tara, Condessa, Jet Ski Lady, Alexander Goldrun, Finsceal Beo, etc.), but Teofilo was really the first top-class colt he had trained since St Jovite.
Bolger trained Teofilo to win five times as a juvenile. The Galileo colt went 5-and-0 through his juvenile season. He won his maiden, a Listed race, and a G2, then he won the G1 Irish National Stakes, and he rounded off the season by winning the Dewhurst Stakes at Newmarket, probably the most prestigious juvenile colts' race in Europe.
Of course, we didn't know it at the time, but Teofilo was the first of five Dewhurst winners that Jim Bolger would train in the seven renewals that ran from 2006 to 2012.
Neither did we know at the time that we would not see Teofilo race again, which was a real shame. Teofilo was 6-to-4 favourite in the ante-post lists for the 2,000 Guineas of 2007, but injury meant he missed the race. Indeed, it meant he missed the rest of the season, and that he went off to his second career as a stallion thereafter, a career at which he is doing very nicely now, thank you very much.
So back to Trading Leather. Not only could you trace his lineage back through several generations of Jim Bolger horses, but he also raced on Irish Derby day in Jackie Bolger's colours (the trainer says that he is fairly dependent on his principal owner), white with a purple panel, and he was ridden by the couple's son-in-law, Kevin Manning. It was a family affair, equine and human. This was a home-grown victory.
"Who wouldn't want to win their own home Derby?"
And, if the ball had hopped a little differently, he could have won the Epsom Derby in 2013 as well. Trading Leather's stable companion Dawn Approach won the 2,000 Guineas at Newmarket that year, just two weeks before Trading Leather was a staying-on second in the Dante at York. The natural next step from the 2,000 Guineas is the Irish 2000 Guineas, the natural next step from the Dante is the Epsom Derby. These are the tried and tested conformist's stepping stones through the European Pattern.
Forgive the triple-negative, but Jim Bolger is nothing if he is not a non-conformist. Also, Dawn Approach was by then racing in Godolphin blue, and the Epsom Derby is a perennial on Godolphin supremo Sheikh Mohammed's wish list. Perhaps that is why Dawn Approach ran in the Epsom Derby instead of in the Irish 2,000 Guineas.
Whatever the reason, Dawn Approach ran at Epsom, ergo Trading Leather ran at the Curragh. Dawn Approach raced too freely over a trip that was beyond him in the Derby, while Trading Leather just kept on to finish third behind Magician in the Irish 2,000 Guineas over a trip that was too sharp.
Order was restored to the world when Dawn Approach won the St James's Palace Stakes over a mile at Royal Ascot 10 days later, and when Trading Leather won the Irish Derby over a mile and a half, but we will never know how each colt would have fared had they traded places earlier. What we do know is that, in winning the Irish Derby, Trading Leather left the Epsom Derby first, second, and third in his wake.
"I could have blown two classics right there," their trainer would later say.
Trading Leather now also races in Godolphin blue, and it is a measure of the regard in which Sheikh Mohammed holds Jim Bolger that he left the horse in his Coolcullen stables instead of boxing him up and taking him back to Newmarket.
Remarkably, the Teofilo colt has not won again since he won that Irish Derby. He has only once finished out of the first three since, and he has fought all the big fights, sometimes on unsuitably easy ground, but he hasn't won. Second in the King George, second in the Juddmonte International, second in the Eclipse, third in the Irish Champion Stakes twice.
Sunday's Japan Cup in Tokyo has been on his radar for a while, however, and it is a race that could suit him well. Trading Leather is at his best on rattling fast ground, ground on which he has not raced very often since the Irish Derby. There is some rain forecast for Tokyo on Saturday, but the ground should still be fast by Irish standards, and that will be a significant positive. Also, they invariably go fast in the Japan Cup, which will suit, as will the galloping track at Tokyo. The horse stays a mile and a half well.
Kevin Manning reports himself very happy with Trading Leather, Pat O'Donovan, representing Bolger in Japan, reports that the horse has settled in well, that he is in fine form in his new environment. Just about 100 percent, he said. It's all positive.
Singspiel won the Japan Cup in 1996, racing in Sheikh Mohammed's maroon and white silks, while Admire Moon won it for Darley Japan Farm in 2007, but Godolphin have not won it yet. Nor has Jim Bolger, although the trainer is used to success far away from his remote corner of south-east Ireland.
They raised the Irish flag in Hong Kong when Alexander Goldrun won the Cathay Pacific Hong Kong Cup in 2004, and they may well raise it again in Tokyo on Sunday morning, before they say first mass in Coolcullen.