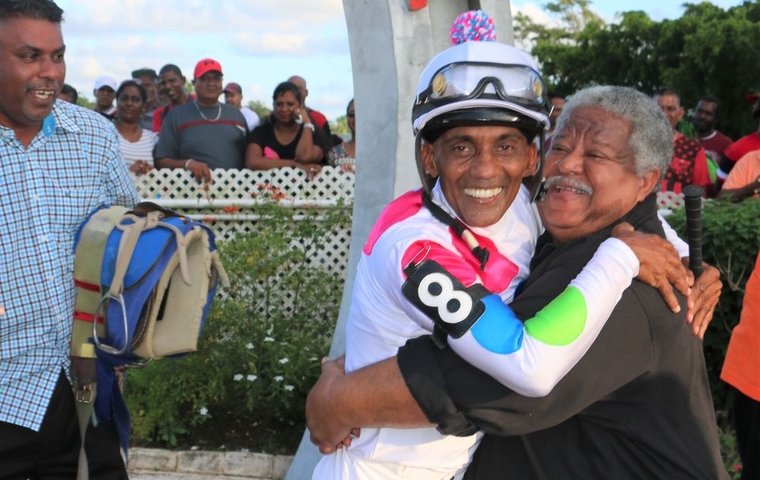 For an island nation that many call the 'Heart of the Caribbean', Jamaica has in recent years been largely invisible in the eyes of the racing world, an annual no-show in the Clasico Internacional del Caribe. No longer.

Two Jamaican-bred colts are expected to take part in Sunday's Clasico at Gulfstream Park in Florida, ending a long absence from one of the most important events on the region's racing calendar.
The pair of 3-year-olds - Supreme Soul and Juice Man - are set to take on rivals from Panama, Venezuela, Mexico, Puerto Rico and the Dominican Republic in the $300,000 Clasico del Caribe, one of five races with purses totaling nearly $700,000 for the top Thoroughbreds from Latin America and the Caribbean.
At stake: regional bragging rights.
"If we were to win here, that would be huge," said Anthony Nunes, trainer of Supreme Soul, who this year became the 13th horse to sweep Jamaica's Triple Crown. "We're hoping we'll just run well and represent our country well, and everything is a bonus after that."
Glenn Mendez, trainer of Trinidad Derby winner Juice Man, added that a victory by either of the Jamaican-bred horses "would be a major, major boost" to a sport that has suffered through some tough times. "It's big," he said.
Jamaica was once a regular participant in the event. But Nunes said Jamaican horses stopped showing up during a period when the sport was operated by the government. "We haven't been here for ten or 15 years," Nunes said. "We were owned by the government and they didn't want to spend the money."
Private interests took over a couple of years ago, though, Nunes said, and "they've taken it to another level".
And a win by either Juice Man or Supreme Soul in the nine-furlong stakes would put Jamaica back on the map internationally. Rooting interest in the two colts is expected to be strong.
"It's huge there," Nunes said of racing in Jamaica while watching his colt school in the Gulfstream paddock. "It's a culture. [The track] is packed to capacity, twice a week, all year long. And a lot of Jamaicans live in Florida, so I'm sure there will be a lot of people here."
Nunes, who was born into a racing background, attended high school in Canada and earned a degree in management and marketing from the University of South Florida in Tampa. But, after college, he returned to Jamaica, where he now operates a stable of 70 horses. Though he has never won Jamaica's training title (which is based on stakes earnings), Nunes has been the runner-up 11 times.
"Like the Buffalo Bills, right?" Nunes said with a laugh. "Went to the Super Bowl four times and kept losing it. Don't worry. I've thought about it."
Supreme Soul could end all concerns for Nunes. "I always wanted to be on the national stage and this is somewhat national," he said of the Caribbean Classic.
Mendez would be equally joyed if Juice Man comes through with a win. The colt began his racing career in Jamaica for Nunes before being turned over to Mendez in Trinidad in April. "In Jamaica and Trinidad, we have gone through trying times with racing," Mendez said. "Racing is back on its feet in Jamaica. In Trinidad, we're still struggling."
A win by Juice Man could do more than lift spirits in Trinidad, Mendez said. "It would probably re-energize investing in horses and help build back up the [horse population]. It would be huge."
Mendez said there should be no shortage of supporters in either horse. "I would expect Jamaica would want any one of their Jamaican horses to win," Mendez said. "It is big and we have a lot of support."