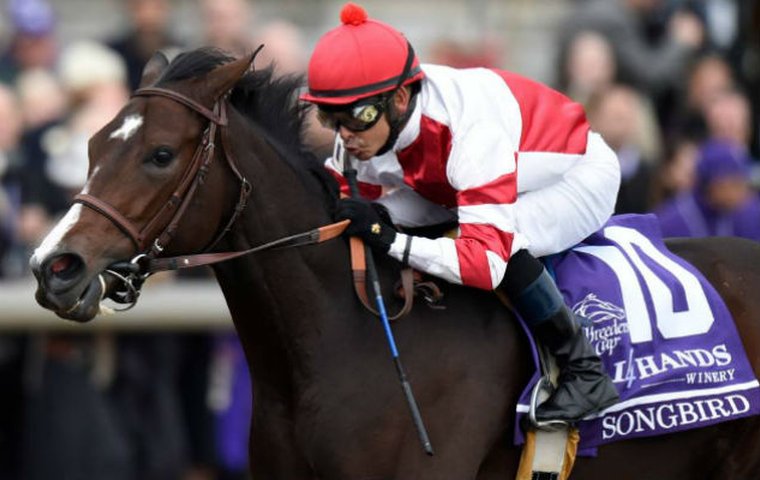 In what looks increasingly like an outstanding season for fillies and mares around the world, Nick Luck, six-times British racing broadcaster of the year, Channel 4 Racing anchor, and regular on NBC's coverage of the Breeders' Cup, examines the often-stated perception that it takes a special kind of trainer to excel with fillies. Is there some truth to it, or is it a myth?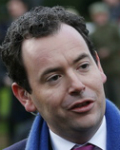 The Female of the Species is more deadly than the male. Or so it seems in 2016, anyway. Across the globe, fillies seek to dominate. Aidan O'Brien's British 1000 Guineas winner Minding draws the sort of superlatives from Ryan Moore that come around as often as Haley's Comet. For all the putative Derby bid seems highly unlikely, the very fact she is as short as 5-2 with a run for the Epsom showpiece tells us something of her dominance thus far.
Photo: Steve Davies/Racingfotos.com
From the same stable, last year's Breeders' Cup Turf heroine Found looked entirely assured when dispatching high-quality colts at The Curragh a fortnight ago. This weekend, she steps back into top company in the Tattersalls Gold Cup. It is no real leap of the imagination to see her ending up the year as one of the really special middle-distance distaffers.
And, if O'Brien is housing a deeper collection of talented females right now than has been the case through his entire 250-G1-winning career, then they are as nothing compared with two freaks a continent away.
The blow of Songbird's defection from the early U.S. classics was only softened by the prospect that she could delight us again with her almost lugubrious stride and power as soon as mid-June at Santa Anita. That anticipation is exceeded perhaps only by the imminent arrival in Britain of Royal Ascot-bound Tepin, the Breeders' Cup Mile winner, who has carried the swashbuckling confidence of her connections with such effortless élan.
Colts vs fillies more common in Europe
Meanwhile, in an another hemisphere, Winx occupies her own stratosphere, seemingly impervious to circumstance as she exhibits deeply impressive athleticism time and again.
The reaction that accompanies the success of racing's most accomplished females often exceeds that afforded the males. There is a perception, particularly in North America, where horses are more generally kept to their own sex, that it is intrinsically biologically harder for a filly to succeed in the very best races: to "beat the boys" has become a narrative motif beloved of all media outlets.
Interestingly, this was picked up by owner Michael Tabor after the victory of Rags to Riches in the 2007 edition of the Belmont Stakes, saying that "Americans make too much fuss over the difference between colts and fillies", going on to point out that competition between the sexes was much more commonplace in Europe.
Nonetheless, Tabor had also recognised the contextual prestige in her achievement (she was the first filly to win the race in 102 years) and the racing world praised Todd Pletcher's boldness and conditioning in equal measure.
Athleticism and mental focus
Either way, the training of a filly to excel is invariably seized upon as a distinctive feather in the cap, rather than simply the happenstance of a very talented animal and decent husbandry. The late Sir Henry Cecil, for example, was regularly feted for being "brilliant with fillies" with correspondents drawing comparisons with his horticultural acumen to portray a patient, nurturing instinct that allowed the animals (or plants) to develop without too much forcing.
A trainer with a perceived sure touch for training fillies is also a trainer perceived as thoughtful, considerate, holistic in approach. But is this wisdom borne of fact, or - like much in racing - of the more homespun variety, drawing on some slightly dubious and anthropomorphic gender stereotypes?
Is it true, for example, that fillies need to be trained more circumspectly than colts? Does the old adage that "you tell a colt, you ask a filly" hold fast? Are fillies really more capricious and strong willed, or are their characteristics of the mind simply more readily analysed?
In Marten Julian's engaging recent work Strictly Classified, he quotes British champion trainer John Gosden thus: "Funnily enough, the mental strength of most fillies, productive and positive as well as negative and destructive, is stronger than in a lot of males. This is why … a great race filly can have that ability to be better than the colts. So it is not about brute strength. It is about athleticism and mental focus. We spend a lot of time training the bodies, but it's the mind which is the ultimate fascination."
Adapting a regime to each individual
Certainly, Gosden goes some way here to supporting the theory that there is a fundamental difference in methodology required when dealing with colts and fillies. In addition, however, he appears to suggest that, if a filly is of sound mind, she might well be a whole load easier and more willing than the high-class colt.
It may, in fact, be that understanding the difference in the physical needs between the sexes is most crucial, particularly if Mens Sana in Corpore Sano (a healthy mind in a healthy body) applies across the animal kingdom (and why shouldn't it?)
Classic-winner trainer Hugo Palmer recounts that, when working for Gai Waterhouse in Australia, he once suggested to his ex-boss that a certain trainer in Britain was a particular dab-hand with the fillies.
"I remember she told me I was being ridiculous," says Palmer, "and said it was far harder to train a good colt to excel at the top level, that fillies come to hand much more quickly, want to please you more."
For his own part, Palmer is - as you would expect - a bit more measured. "The basic principle of training horses is to adapt your regime to each individual. If you do that, you'll begin to develop a natural understanding of what a colt or filly requires: you react to the horse in your care."
Self-fulfilling prophecy
"Typically," he continues, "a filly will take less work. I always feel the priority must be for a horse to eat as much as he or she can, and fillies are generally quicker to back off food, a bit less greedy and gutsy."
So how does the trainer vary the work/food balance accordingly? "To give you an example, when we're doing the heavy-duty fitness work at the start of the season, (Guineas winner) Galileo Gold would do two strong pieces of work to every one done by (Irish Oaks winner) Covert Love. The colt actually builds bulk through his work because of his high natural testosterone levels, a bit like a gym session. He needs the fuel for that." Here, Palmer tacitly echoes Gosden's suggestion that you are trying to facilitate the biomechanics of a filly not simply by prioritising the building of muscle mass.
Palmer's view is that a trainer's skill is marked out not simply by an ability to do well with fillies. Rather, it is their ability to adapt and adjust according to a horse's requirements. "I admire the trainer that can prepare a Gold Cup colt as readily as a Queen Mary filly."
It is clear enough that trainers cannot expect widespread success by applying identikit principles to colts and fillies. That said, training a filly to win a big race cannot be seen to be a more meritorious achievement in itself, even if it is an historically or contextually important result. You can see why it annoys some trainers to be labelled as "particularly good with fillies" - the likelihood is that it becomes a self-fulfilling prophecy and they will end up with an imbalanced stable.
The truth is that those trainers are probably just good, with an ability to appreciate the difference. A difference that - all things being equal - will continue to manifest itself pretty spectacularly through 2016.