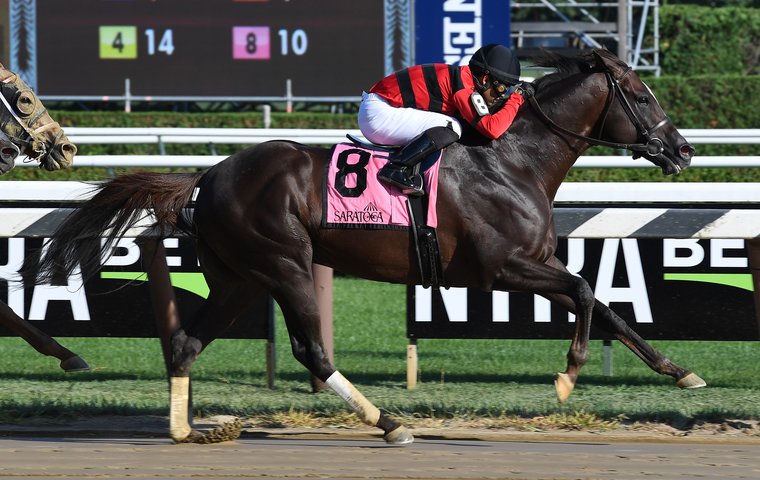 His career ended where it started, at Saratoga Race Course. In between that first start and his last one, Weekend Hideaway ran at seven racetracks. He raced 49 times; he won 13 times, finishing second seven times and third ten times. That's a 60 percent in-the-money record, in case you're keeping track.

He won nine stakes races and placed in the G1 Vosburgh and the G2 Futurity. He won $1.14 million.
Yet, despite all those impressive figures, what 9-year-old Weekend Hideaway means to the people who saw him through seven years of racing can hardly be quantified by figures.
He was bred in New York in 2009 by Carl Lizza's Flying Zee Stables. Two years later Lizza died, and within months, his stock was dispersed at a Fasig-Tipton sale, and on the advice of long-time Lizza trainer Phil Serpe, another of Serpe's steady clients, Mike Hoffman, purchased four yearlings. One of them was Weekend Hideaway, who quickly endeared himself to the whole Hoffman family, the Serpe barn, and New York racing fans.
"As much as you love your horses, you know it's a business, and you have to keep a little distance," said Lisa Bartkowski, Serpe's assistant trainer until recently. "But Weekend Hideaway was the exception. He was a fixture in the barn, and with his personality, he would have been even if he hadn't been a good horse, as much heart as he had. It was incredible having him around, and the barn felt empty when he walked out the door."
Fortunately, the chestnut son of Speightstown isn't going far. He'll begin a stud career in 2019 at Irish Hill and Dutchess Views Stallions in Stillwater, seven miles from Saratoga Race Course.
"We love the New York breeding program," said Hoffman, "and this is a once-in-a-lifetime opportunity."
Hoffman's mare Ladywell Court, the dam of stakes winners Lady Joan and Goodbye Brockley, is at the farm, and the owner put together a syndicate that includes partners from the ownership group that owned Ladywell Court, Hilly Fields Stable. The Weekend Hideaway Syndicate comprises Kathleen Ventrella, Tom Carroll, Anthony Smith, Kathleen and Brian Sullivan, Alan Hamilton, Bartowski, Serpe, and Hoffman.
Hoffman acknowledges the challenges of standing a stallion in New York, but he hopes that Weekend Hideaway's pedigree and race record, along with some breeding incentives, will make the recent retiree an attractive breeding prospect.
"We wanted to make the investment," he said. "He's got Secretariat blood."
Click here for full details of the New York owner and breeder awards
"Look at his numbers," said Rick Burke, owner of Irish Hill Century Farm. "They're so much like his father, and he had the soundness to race at nine years of age. His father ran until he was six. Weekend Hideaway can run between five furlongs and eight furlongs; he's got the durability and the speed to do it, and he's priced to make people breed to him."
True, Weekend Hideaway earned nearly as much as his father did, but Speightstown did it in 33 fewer races, and he won the Breeders' Cup Sprint. As competitive as Weekend Hideaway was, he was never quite able to get that Graded stakes win. Speightstown stands in Kentucky for $80,000; Weekend Hideaway will begin at $2,500 and is the stallion's tenth highest earner on the racetrack.
Serpe and Bartkowski, who so ably managed the horse's time on the track, will play equally important roles in his stallion career, with Bartkowski working to build Weekend Hideaway's book and Serpe serving as consultant. Speaking from Florida, Bartkowski was enthusiastic about some of the incentive programs they'll offer, borrowing Spendthrift's Share The Upside idea.
"If you breed to a stallion, pay the stallion fees, and get a live foal two years in a row, you'll get a lifetime breeding right," explained Bartkowski. "It's amazing how stallions' books drop off in the third year. The first year, their names are still well-known from their racing career. In the second year, people can look at the number of mares the stallion got in the first year as a barometer. By the third year, you've got new stallions coming out, and because none of the offspring have run yet, it's really hard to get mares."
For select mares, the syndicate would consider paying shipping and board. In other cases, the syndicate might defer a stud fee and name itself as co-breeder, given the financial incentives for breeders in New York.
"As soon as Weekend Hideaway's retirement was announced, people called wanting to see him," said Burke. "People know his career, they know the horses he beat, he won nine stakes races, and a lot of people follow him. They want to breed to him because he ran so long and held up so well."
Among the horses he beat? The multiple G1 winner and fellow New York-bred Diversify, second by a nose in the 2017 Commentator Stakes.
"I really think we're going to have a good stallion," said Bartkowski. "A lot of times those mid-size stallions do really great at stud, and he has almost perfect conformation."
Certainly, the decision to stand a stallion is a financial one; equally certainly, Weekend Hideaway is a part of the Hoffman family, and it's hard to imagine that there wasn't some emotional pull to keep the horse instead of selling him.

Back in 2016, Hoffman's daughters, Siobhan and Shannon, led him into the winner's circle when he got the first of his two wins in the Commentator. This year, it was her brother's turn. "We weren't going to go up to Saratoga for the John Morrissey Stakes this summer," said Hoffman. "My son said, 'Dad, we have to go. It might be the last time that Weekend Hideaway runs in Saratoga.'
"It was tough for us to get there, but we did, and it's the greatest memory that my son and I have."
A longshot at 11/1, Weekend Hideaway got the benefit of a muddy track — he's always loved an off track — and hit the wire a length and a quarter in front of runner-up Eye Love Lulu. The trainer of third-place finisher Celtic Chaos claimed foul, but after an inquiry, the result stood. Turned out that that wasn't Weekend Hideaway's last start at Saratoga — he was third in an allowance a month later — but it was his last win, and Hoffman has one more reminder of it coming up for his son, a surprise that will be unveiled later this month.
"It's just amazing," said Hoffman, "to see your horse in the Saratoga winner's circle when you've been betting horses since you were 17 years old and claimed your first horse 22 years ago."