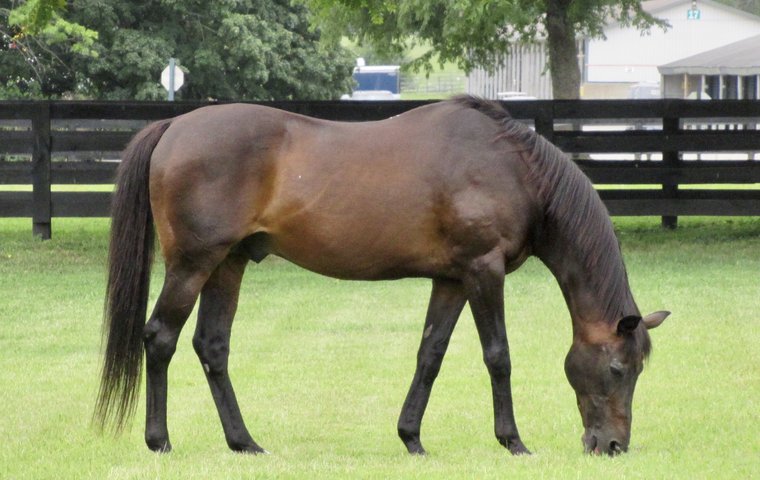 The words 'the world's oldest living …' carry with them certain connotations, but happily for Go For Gin, he has not gotten the memo. At 29, Go For Gin is the oldest living Kentucky Derby winner, and in fact is the oldest living winner of any Triple Crown race, but it would be hard to tell just by looking at him.

With his sleek bay coat, bright eyes, and congenial nature, Go For Gin has worked his way into the hearts of the staff of the Hall of Champions at the Kentucky Horse Park, as well as those who visit him there.
"Go For Gin loves people, and he loves his job," said Rob Willis, the manager of the Hall of Champions. "When you walk up to him, he is as pretty as any Thoroughbred you will ever look at. People give us a lot of credit, but his genetics are also really coming into play. It's all Gin. His teeth are about the only thing that ages about him. He gets basic, normal care, and we run a curry comb over him for ten minutes every day of the year, and that's about all we have to do. He's so naturally photogenic."
Following his racing career, Go For Gin originally stood at Claiborne Farm before moving to Bonita Farm in Maryland. His most successful progeny was Albert The Great, a Grade 1 winner of more than $3 million. In 2011, the stallion was pensioned and arrived at the Kentucky Horse Park near Lexington for his retirement.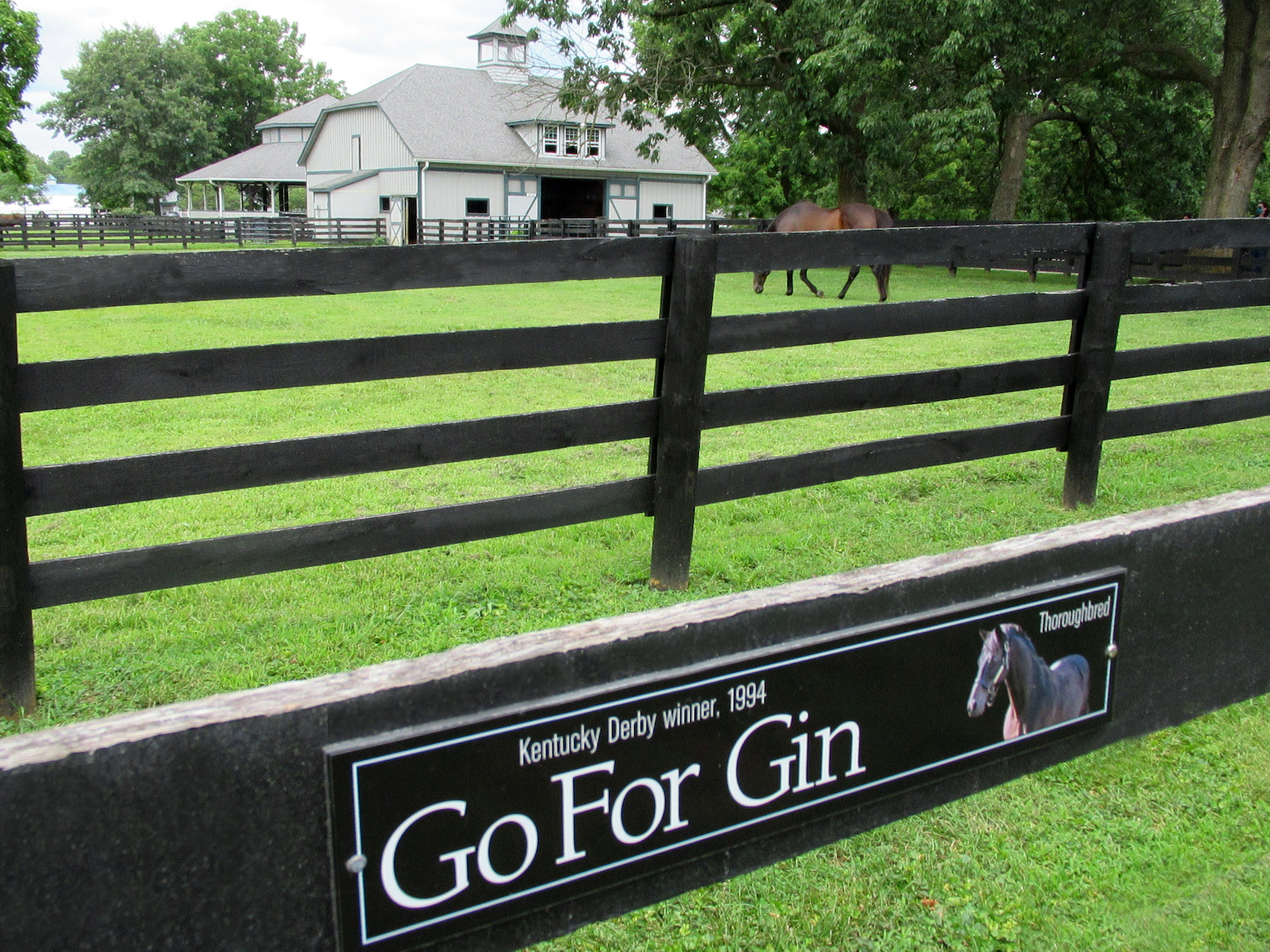 Although he had a reputation for being a bit tough, Go For Gin has mellowed with time and is one of the most dependable and friendliest horses to call the Hall of Champions home.
"When you are here for a few years, you see some of the boys getting older and changing a bit, but he's still the same old Gin," said Paul Caywood, who works in the Hall of Champions. "He still likes to play and still can be a handful when he wants to be, but he knows when to be calm and demure. He's such a good boy, and he has such character.
"People really love seeing Gin stand and pose and preen. His personality is very playful, and he loves having his gums rubbed. There are a number of people who come out here, and this is the very first Kentucky Derby winner they have ever interacted with, so it's a very good thing."
On the payroll
Go for Gin is so reliable, in fact, several changes have occurred at the Hall of Champions just because of him. He is keen to welcome visitors to the barn and is most often seen hanging his head out of the window as he watches them approach. He also still routinely kicks up his heels when it's time to be turned out, leading 'Kentucky Derby Winner Turn-Out' to be listed on the official schedule of events for park visitors at 3 pm, in addition to the normal Hall of Champion shows.
"I joke he's on the payroll," said Willis. "He greets everybody through his window, and the less you know about horses, the easier he is on you. We even took out the mulch and put pavers in because so many people were going up to pet him through his window and take a picture because he is so easy and gentle.
"He's the one who started the Derby winner nightcap, too. He usually fires out of his backdoor into his paddock and checks everything out. In the summertime, they don't like the heat, so he doesn't always do it if it's hot, but he is pretty reliable. Typically, when we turn him out, he runs across the paddock, nickers at everybody, and checks everybody out. He puts on his own production."
The paddock across from Gin's belongs to another Kentucky Derby winner in Funny Cide. The other Thoroughbreds in the Hall of Champions are 2001 Horse of the Year Point Given, who won the Preakness and the Belmont, and two-time Breeders' Cup Mile winner Da Hoss. Although he is nine years younger than Go For Gin, Funny Cide is far more interested in eating grass than entertaining any visitors.
"Funny Cide is more calculating than the others," said Willis. "He's taken full advantage of Covid-19 shutting down the park. He didn't have to work. During a normal season, Gin typically shows every day just because he likes it. Every once in a while, he wants a day off, but he is almost always ready to go. Funny Cide is different, so we usually save him for Saturday and Sunday morning shows. Once he lays down, he doesn't want to be groomed again. Limiting how often we show him keeps him fresh."
Open to visitors
The Kentucky Horse Park has reopened to visitors, but it isn't a regular season. Visitors must wear masks indoors and, when social distancing isn't possible outdoors, the schedule of events is smaller, and access to various areas has been restricted due to the pandemic.
For example, instead of welcoming people several times a day to walk through the Hall of Champions to a pavilion for a full show complete with a video on each resident, guests currently stay in front of the barn and a few of the horses are brought out once each morning.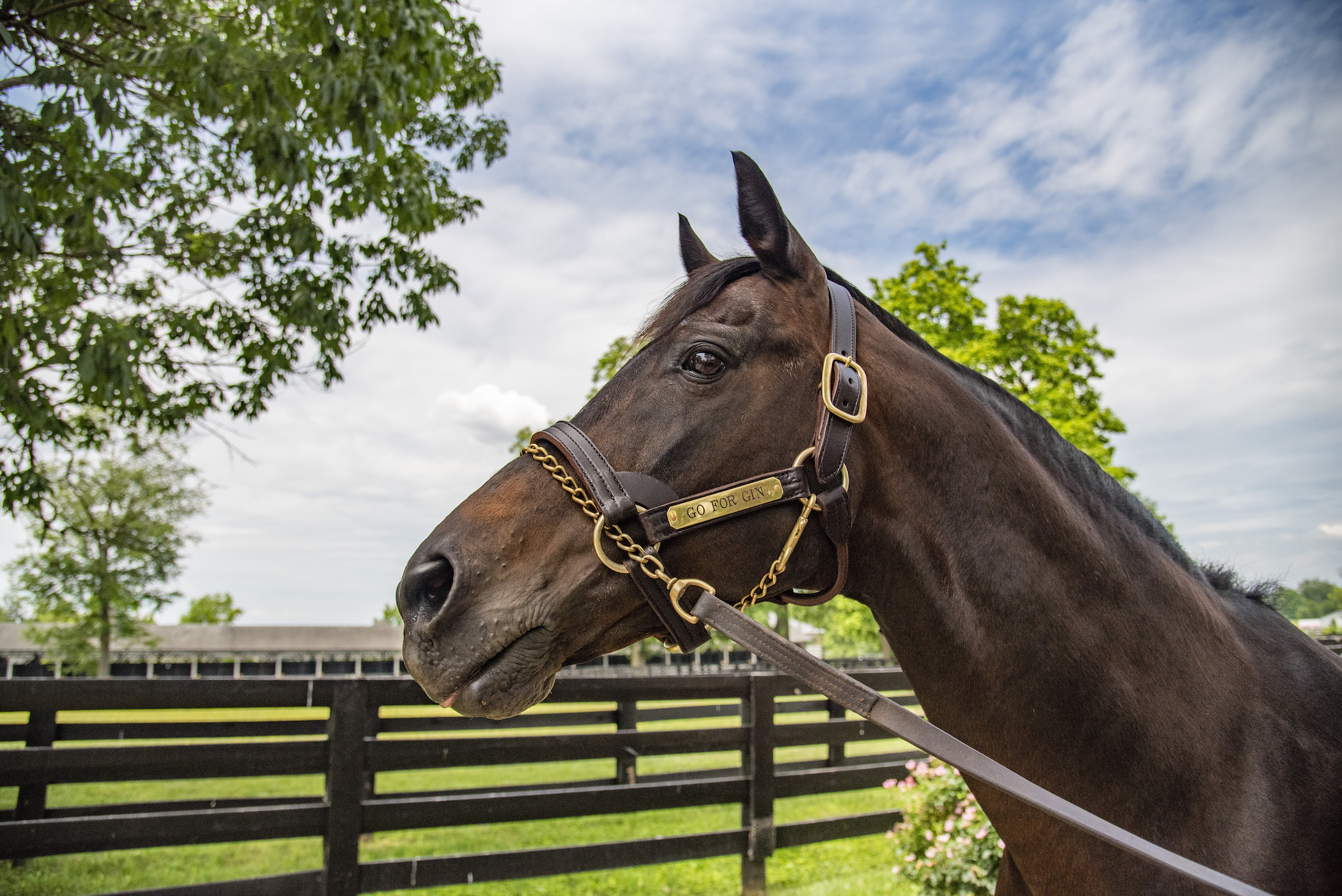 Changes due to the pandemic have not ended the Kentucky Derby Winner Turn-Out, though, as Go For Gin and Funny Cide have the two paddocks in front of the barn. Someone from the Hall of Champions comes out and chats with guests about the two Derby winners and how different they are as the horses are turned out for the evening. Go For Gin almost always comes to the fence to pose for his fans, while Funny Cide tends to ignore the hubbub.
"Gin is really active, but he also loves listening to me talk," said Willis. "He will stand here and listen to me talk all day. He's very cool, and he's charismatic. He also loves to be in his paddock and loves to get really dirty. Funny Cide mostly likes to be left alone."
Back in the news
In addition to their retirement home, the two Derby winners also have another connection — Tiz The Law, the favorite for this year's Kentucky Derby on Saturday. Tiz The Law is owned and trained by the same connections as Funny Cide, while his dam, Tizfiz, is a granddaughter of Go For Gin.
"That connection is pretty cool," said Willis. "Funny Cide is going to get mentioned in all the stories about Tiz The Law, and even though Go For Gin wasn't a really commercially successful stallion, he was a good racehorse sire and a good broodmare sire. Thanks to horses like Tiz Fhe Law, Gin's legacy will live on a little bit longer."
Ironically, even though he is a Kentucky Derby winner (see video below), Go For Gin is technically the least accomplished Thoroughbred in the Hall of Champions barn, as it was his only Grade 1 victory. However, his attitude has made him a barn and fan favorite, and Willis is quick to point out how well he did in the other Triple Crown races, both of which he finished second in behind Tabasco Cat.
"I was a huge Gin fan," he said. "He lost the Preakness by less than a length, and he went on to the Belmont and lost by two lengths. So, really, he lost the entire Triple Crown by less than three lengths, which is actually better than Funny Cide or Point Given, who both won two legs of it."
Due to Covid-19, plans to celebrate Go For Gin and Funny Cide on Derby Day have had to be altered, much like Derby Day itself. However, the Kentucky Horse Park is planning several halter giveaways surrounding its Kentucky Derby winners, including one via its Facebook page. That contest started August 24 and runs through September 6.
Additional giveaways planned for guests visiting the park during Derby week include the chance to win a Go For Gin or Funny Cide gift package that includes a worn halter, halter tags, and a T-shirt.
"We try to really highlight Go For Gin as being the oldest living Kentucky Derby winner," said Willis. "I've tried to make him the focus of the park, but obviously this year got all messed up. We can't let people in the barn right now, but I still encourage visitors to take a good look at Gin when we turn him out.
"I would bet my paycheck that you could go around your whole life looking for a 29-year-old stallion who looked like Gin, and it would be hard to do. We have the oldest living Kentucky Derby winner in the world — nobody else has that. And he loves visitors. Everyone should come see him."