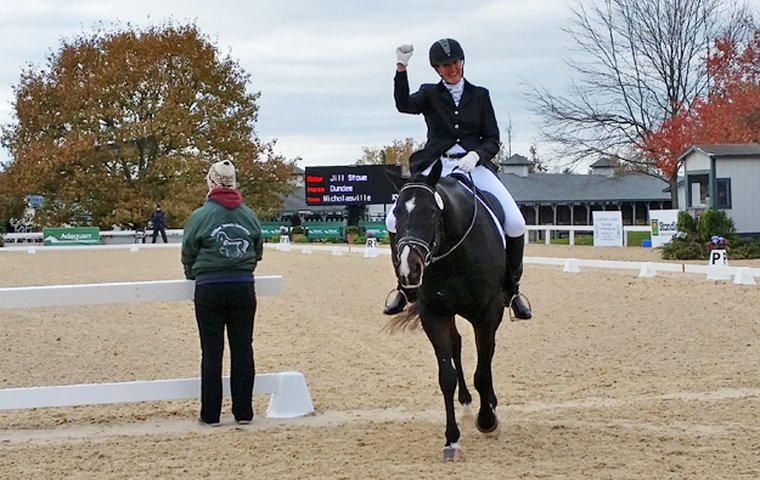 By now, many people with a penchant for off-track Thoroughbreds (OTTBs) have heard the story of the big, black gelding named Dundee who made waves as one of only two Thoroughbreds that competed at the 2014 U.S. Dressage Finals, hosted at the Kentucky Horse Park in November. What some don't know, however, is that his owner, Dr. Jill Stowe of Nicholasville, Kentucky., has a unique background and appreciation of not only Thoroughbreds, but of the breed's impact on Kentucky.

The Equine Economist
Stowe has always been a horse lover. Growing up in New Mexico, she rode Quarter Horses and showed on the local circuit before moving into the hunter/jumper world, and then into the sport of eventing. But, after earning a United States Dressage Federation bronze medal at age 15, Stowe's riding tapered drastically as she became involved in high school and later collegiate athletics. Before acquiring Dundee, her U.S. Dressage Finals partner, she had been horseless since leaving for college in 1992, except for a brief stint with a homebred Appendix (Quarter Horse-Thoroughbred cross) living in her North Carolina backyard.
From 2002 to 2008, Stowe worked at Duke University's Fuqua School of Business as an assistant professor specializing in decision sciences. At Duke, she taught probability and statistics to MBA students, and did research in axiomatic decision theory, social preferences, and neuroeconomics. In search of a different work-family balance, Stowe and her husband Keith decided to relocate in 2008 so Stowe could take a position at the University of Kentucky (UK) as an assistant professor of agricultural economics. Since coming on board with at the College of Agriculture, Stowe has been promoted to associate professor, was named the Dickson Professor of Equine Science and Management, and has become the Director of the school's Agricultural Equine Programs.
"Most of my research has focused on price analysis in the Thoroughbred industry, but I have a number of other interests, including finding market solutions to the oversupply of wild horses on [Bureau of Land Management] BLM-managed rangelands, examining decision-making on the part of horse owners as it pertains to horse health, and, of course, capturing the economic importance of the equine industry in Kentucky," she said.
The Absence of Information
As an equine economist, Stowe's job involves studying equine markets, and, given her love of horses, she was especially excited about learning more about the equine industry in the Bluegrass state. However, as she began looking for information to support her research, she realized that very little documented data on the equine industry and its impact existed. Though a number of Stowe's colleagues at UK had been trying to undertake an equine survey for years, the last thorough equine inventory in Kentucky had been completed in 1977 -- when Seattle Slew won the Triple Crown and Jimmy Carter was president. Kentucky's equine industry had gone through many changes since then, but there was no way to track the growth and contraction during those years.
To gain a more current picture, in 2011 the University of Kentucky and the Kentucky Horse Council, with the support of many industry organizations, laid the plans for a large-scale, comprehensive equine survey. This study had two main objectives, Stowe said. "One was to estimate the number and use of all breeds of horses, ponies, mules, and donkeys across the state. [The second was] to estimate the economic impact of the industry on the state."
"It's so important to have good data for decision making," Stowe stressed, "whether it's at the state level, the community level, or the individual level--especially in this state, where horses are the state's signature industry."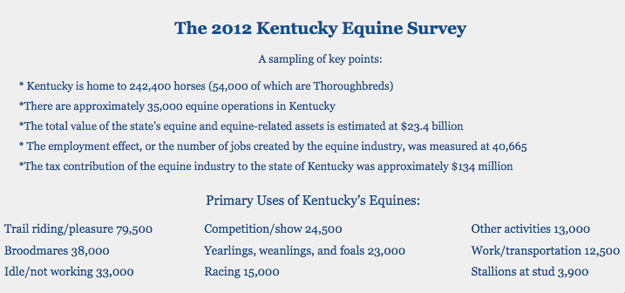 The Financial Impact Beyond the Track
The updated numbers from the study prove just how big the equine business is in the Bluegrass state. With more Thoroughbreds in the state than any other breed (the next most populous breed was Quarter Horses with 42,000), it's easy to surmise that the Thoroughbred breeding and racing industry is the cornerstone of the "Horse Capital of the World."
With a tax contribution of approximately $134 million to Kentucky, the equine industry has impacts well beyond its obvious scope. Stowe notes that it's important to keep in mind that while recreation and competition equine owners may have a small number of horses individually, cumulatively they are very important to the industry—as are the large-scale Thoroughbred operations.
"Think about the feed, tack, supplies, fencing, vet services, farrier services, and more that they need," Stowe said. "[There is] a world-class infrastructure available here in Kentucky. Whether one is a backyard horse owner or involved in Thoroughbred racing, we have access to world-class services and education—which benefits everyone in the industry."
While Stowe is not a racehorse owner, she notes that the monetary impact of the Thoroughbred industry extends to those who are somewhat removed from the track via the money that is funneled into the state through racing and peripheral activities. Substantial tourism is generated from all the equine events in the area, including racing at Keeneland, horse shows at the Kentucky Horse Park, and tours of the large Thoroughbred farms. While these visitors are in town, they stay in hotels, eat in restaurants, and shop—all creating more business for Kentucky.
Coming Full Circle
Because of the prevalence of Thoroughbreds in the Kentucky area, and Stowe's commitment to adopting a horse from an equine adoption agency, it's not surprising that she ended up owning an ex-racehorse. Stowe began her horse search in 2010, and, after looking for six months, adopted Dundee, a 2007 son of Medaglia d'Oro, from New Vocations Racehorse Adoption Program.
Stowe wasn't looking for a horse she could take up the dressage ranks -- she was simply seeking a horse on which she could have fun and be safe. With this attitude of owning an ex-racehorse for pure enjoyment, it came as a wonderful surprise that Dundee (nicknamed "Big D") excelled at everything Stowe has asked him to do.
While Dundee may have failed on the track (he earned only $875 in four starts), he shines in the show ring. Central Kentucky is home to a concentration of well-bred Thoroughbreds, who for one reason or another are not going to be successful on the track or in the breeding shed. "Thoroughbreds are so athletic and versatile, those of us who 'play' in the industry benefit from having access to those types of horses," Stowe said.
Although Stowe did not own Dundee when he competed on the track, she does feel a connection between the breeding, showing, and racing sectors.
"Dundee's sire stands here in Central Kentucky, and I enjoy following him and his progeny," Stowe said. "Now that I am started to get involved in the show scene again, I am always thrilled to see second-career Thoroughbreds finding another avenue in which to excel. I'm grateful to be a small part of it all!"