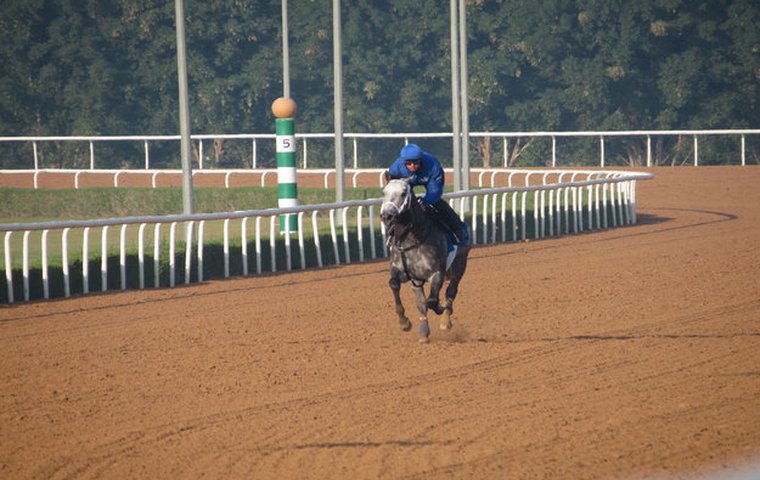 Those who are old enough may have been fans of The A-Team, an all-action TV adventure series about a team of four fictional ex-U.S. Army Special Forces, basically on the run and working as soldiers of fortune.

At the end of each episode (successful mission), their leader, John 'Hannibal' Smith, portrayed by George Peppard, would puff on a cigar and utter the infamous line: "I love it when a plan comes together."
Who knows, trainer Kiaran McLaughlin and his team could be using that same phrase if Godolphin's Frosted wins the world's richest horse race, the $10 million Dubai World Cup at Meydan, on the last Saturday night of March.
McLaughlin targeted Dubai, and the race he won in 2007 with Invasor, after last year's Breeders' Cup, when his striking grey beat just one of his seven rivals in the Breeders' Cup Classic. Not an obvious performance in most eyes to indicate a specific target five months ahead on a different continent, but this was more than just nominating a target - it was plotting the route towards it.
In 2007, Invasor arrived in Dubai 12 days before his moment of glory under the Nad Al Sheba floodlights. Many would assume similar tactics would be employed with Frosted. But no, a different approach was strategised. At the end of the day, this is a different horse and a new set of circumstances.
Different challenge from the one Invasor faced
Invasor had won his Breeders' Cup Classic and was given a traditional Dubai World Cup prep, winning the Donn Handicap on his only start between the Breeders' Cup and the World Cup.
Perhaps just as importantly, McLaughlin is a former U.A.E. champion trainer and knew Nad Al Sheba like the back of his hand. The layout, the facilities, the surface and the tactics best suited to it, were all second nature to him.
But this time the race is at Meydan, on a relatively new dirt surface, and constitutes a totally different challenge. So Team Godolphin put their collective heads together and formed a plan.
McLaughlin explained: "After the Breeders' Cup, Dubai became very much the plan, and I was very keen to talk to the people with knowledge and experience of Meydan. I knew their input, thoughts and advice would be invaluable so I chatted with the likes of John Ferguson to decide the best way to go about his preparation.
"It appeared horses who had already had a look at the track, especially those who had run on it, seemed to adapt to it and the whole experience. So we decided to get him fit at home, fly to Dubai, run in the second round of the Al Maktoum Challenge and take it from there."
And we all know what happened. Frosted and new partner William Buick broke the 1,900-metre track record in style in the Group 2, seemingly convincing connections to go straight to the World Cup.
Lasix and other questions answered positively
Before that win, it had been considered more than likely he would run in the G1 third round of the Al Maktoum Challenge on Super Saturday on March 5.
McLaughlin said: "It was wow! We could not have been happier and everything just went great. A new jockey, slightly different stalls, no Lasix, a different surface – many question marks but all answered positively.
"I lived in Dubai for a long time so it was great to have a big race winner, for the ruling family, at the breathtaking Meydan."
Interestingly, Frosted is based 'in the desert', at Charlie Appleby's Al Marmoom Stables, renowned for its tranquility and great facilities.
Invasor was based at Nad Al Sheba during his (much shorter) stay.
"We expected Frosted to run well as he was a happy horse," said McLaughlin. "He flew in the week before that race, settled in straightaway and thrived.
"The weather has been great, which he has enjoyed and it is a beautiful location so we jumped at the chance to come here when offered. It really suits us as we like to train right-handed, which we can here, and the whole place is just so peaceful and relaxing. It is perfect to be away from the hustle and bustle and we have been really well looked after."
The benefit of a run on the Meydan dirt
Certainly many horses seem to benefit for at least one run on the new Meydan dirt surface.
African Story, winner of the 2014 Dubai World Cup on Tapeta, hardly lifted a hoof when seventh (Maktoum Challenge R2) on his dirt debut last year. Yet next time, he won the G1 Maktoum Challenge R3 on Super Saturday, beating Prince Bishop.
The latter, who was having his second dirt start then, went on to win the World Cup last year having also been second in the G2 Maktoum Challenge R2 on his first look at the new surface.
Neither appeared dirt naturals (African Story was sixth behind Prince Bishop in the World Cup) - but both appeared to learn to adapt to the surface.
So, in his quest for World Cup glory, Frosted appears to tick a lot of the right boxes.
He has won on the track so clearly acts on it.
The race he won at Meydan, the Al Maktoum Challenge R2, was won in 2003 by Moon Ballad before he won the World Cup.

Last year, Prince Bishop, in 2014 African Story, were both second in the same race before winning World Cup.

Godolphin have owned a record six World Cup winners.

Kiaran McLaughlin has won the race.

U.S.-trained horses have won the race nine times.

William Buick has won the race (last year on Prince Bishop).

Frosted's World Cup bid is not an afterthought but part of an established masterplan.

He will miss the World Cup week media circus at Meydan as he is based offsite.

He will be properly acclimatised.

His U.S. form is strong. Indeed, in many years, he would may have won at least one leg of the American Triple Crown. Sadly for him and connections, a certain American Pharoah scuppered. Frosted was still fourth in the Kentucky Derby and second in the Belmont.
His third start last year was a victory in the G1 Wood Memorial and he also landed the G2 Pennsylvania Derby in September.
McLaughlin added: "I have had some good horses over the years and he is certainly right up there. I thought he was unlucky in the Kentucky Derby, when he ended up too far back or would have been a lot closer.
"American Pharoah was special, but we ran well against him twice and, even in the Breeders' Cup Classic, we ran better than seventh suggests. We were only two noses behind the fourth.
"He had been kept busy and, having aimed him at Dubai from that point, we were able to give him a nice break with a specific target to aim at. So far all has gone perfectly. He loves racing and his work in the morning, so he is a joy to train. It is an exciting time."
Come Saturday March 26, at about 9.05pm U.A.E. time, do not be surprised to see McLaughlin turn to Sheikh Mohammed and say: "I love it when a plan comes together."