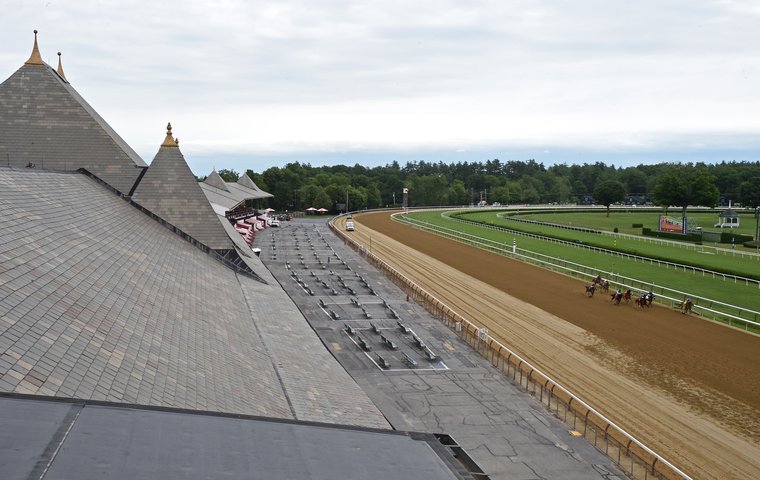 For years, when I would come to Saratoga Springs, New York, a week or two before the summer meeting began, I would wander around the racecourse, marveling at its beauty, soaking in its silence. Saratoga is my hometown, and, for those few days, I felt like the track was all mine. Selfishly, I wondered what it would be like to have it all to myself.

Be careful what you wish for.
Like so many racecourses around the world, Saratoga is running its meeting this summer without spectators. Though New York State, the early center of Covid-19 devastation, has seen its infection rates drop after months of restricted activity, large gatherings of people, indoor or out, are still a no-go, considered one of the primary vectors of infection spread.
Last Thursday (July 16), opening day, only stable staff, employees of the New York Racing Association (NYRA), and a handful of media welcomed the 151st summer meeting in this small city, located midway between Manhattan and Montréal. The stillness I once coveted felt unnerving; it reminded me of the early days of the pandemic in New York City, where I live for most of the year, when the streets were apocalyptically empty.
And then, both suddenly and predictably, at 17 minutes to post, the sound of the bell echoed, without amplification, throughout the grounds. Ordinarily a sound of celebration, it had become instead a tone of mourning.
Lonely walk
No one knows for sure how the tradition of the bell began, but anyone who has been to Saratoga knows its sound. The bell resides in the winner's circle and is rung without exception at 17 minutes to post before every race, signaling to the jockeys that it's time to leave their quarters and make their way towards their mounts.
Ordinarily, that walk is a slow one, along a path lined on both sides by fans seeking autographs, fans who are more often than not obliged by the riders, both Hall of Famers and apprentices, seen in Saratoga as celebrities. This summer, that walk is a lonely one.
In a 2013 documentary* exploring the history of Saratoga Race Course, Paul Roberts* observed that what makes Saratoga so special is that, "the track is the town, and the town is the track." People can walk from their homes or nearby restaurants; they can walk from the track to the shops and restaurants on Broadway. And, while Saratoga attracts thousands of visitors for reasons other than Thoroughbred racing, it is inevitable that the rest of the city will feel the consequences of this most unusual of summers.
Lori Leman, the owner of Saratoga Realty Associates, ordinarily does brisk business in the summer rental market, working with local homeowners to let their property for the entire 40-day race meeting, for the two weeks of the Fasig-Tipton yearling sales (moved this year to Lexington), or for a week at a time.
"Rentals are down, no question," she said recently. "Homeowners didn't want other people in their houses. Some decided that they'd take the summer off from renting their home and enjoy it themselves this summer. Some horse owners I work with every summer just aren't coming this year, or they're coming for a short stay and not the whole summer."
On the other hand, she pointed out, she's seen an increase in year-round rentals, as homeowners seek the security of a weekly rent check for their investment properties and as people from the New York City metropolitan area fled the pandemic. And, she said, some of those people aren't going back.
"The sales market is on fire," she said. "If you have a listing for a house or apartment that's in downtown Saratoga and it stays on the market for more than a couple of days, something is wrong."
In scenarios not unlike other real estate booms, homeowners are getting multiple offers on their property, often well above asking price.
"Mortgage rates are historically low, and people still want to be in Saratoga," she said. "Unfortunately, this is similar to what happened after September 11, when people didn't want to be in the city anymore."
'Living to fight another day'
Second-generation Saratoga restaurateur Bob Lee owns The Wishing Well, located a few miles outside town and a favorite of the racing crowd for decades, and The Brook Tavern, right across the street from the racecourse, and he has accepted that this summer will not bring its usual boon to local businesses.
"We are fortunate in Saratoga to have world-class racing every year," he said, "and this is our gap year."
Thoroughbred racing figures prominently in The Wishing Well's décor, with decades of winner's circle photos lining the walls, along with other equine art. Established in 1936 and owned by the Lee family since 1968, the restaurant is destination dining for the racing crowd, its name a virtual byword for the summer racing meet.
Lee has set up outdoor dining at both locations and, under current reopening guidelines, he is able to offer indoor seating as well, though his dining rooms are limited to 50 percent capacity and tables must be six feet apart. Throughout the pandemic, the restaurants offered take-out service, previously not a significant part of their business plan, but as Lee noted, regarding any possible promotions to attract more business, "There's no revenue to drive, no volume to try to increase. We're controlling expenses and living to fight another day, and that's how most of the restaurant people I've talked to feel."
'Racing watch parties'
He continued, "Going out to eat is supposed to be fun. It's supposed to be relaxing, and we're doing everything we can to make it safe. My family has spent a lifetime in the restaurant saying 'yes' to people so that they have a good experience, and now we're having to say 'no'."
'No' to increased seating, 'no' to a seat at the bar, 'no' to walking around without a mask, 'no'" we don't have a table available. It's frustrating, but as Lee recognizes, it's also necessary.
"You can't," he quipped grimly, "put the 'hospital' in 'hospitality'."
The Adelphi Hotel, in the heart of downtown, is the last of the grand hotels that lined Broadway in the 19th and early 20th centuries. After a recent multi-million-dollar total renovation, its business came to a halt in the spring, and it's now one of several in Saratoga that has set up 'racing watch parties'.
Under a festive white tent behind the hotel, guests sip sparkling wine and indulge in lobster rolls at socially-distant tables, all with a clear view of the various screens set up to show live racing from the course, a mere mile away.
"We had this tent set up for all the weddings we were scheduled to have here," said Adelphi restaurant manager Kate Veitch. "Then all the weddings got pushed to next year, and we thought, 'Well, we have this space and this beautiful tent — let's make it work."
The site can accommodate 92 people and sold out for the first Saturday of the meet, customers comprising both hotel guests and locals.
Nina Rizzuti has lived in Saratoga for five years, and when her mother, Lisa Leone, came in from Utica, New York, about 90 miles away, they booked a table for a party of six.
"We wanted the track experience," said Leone. "We miss going to the track, and ordinarily we'd have been there today."
"We'll definitely come back," said Rizzutti.
Leone took advantage of a promotion offered by NYRA Bets, and she was not alone in placing bets on her phone. As horses raced for the wire in the fourth race, diners rooted, arms upraised, as vigorously as if they were at the track.
Though owners are now permitted to attend the races when they have a horse running, Veitch said that several trainers have already booked tables at the Adelphi for owners planning to be in town.
"No man is an island,/ Entire of itself./ Each is … a part of the main," wrote the English poet and cleric John Donne in 1624 as bubonic plague ravaged London. The incessant ringing of church bells signified the deaths of Londoners, leading Donne to reflect, "Therefore, send not to know/ For whom the bell tolls …"
Saratoga does not need a bell, prized as it is, to be reminded of what New York has suffered this year. And, with all due respect to Donne, may Saratoga's bell be rung not in mourning for what we've lost, but with gratitude for what we have.

*Disclosures: Paul Roberts is among the owners of Thoroughbred Racing Commentary, and this author also appeared in this documentary.