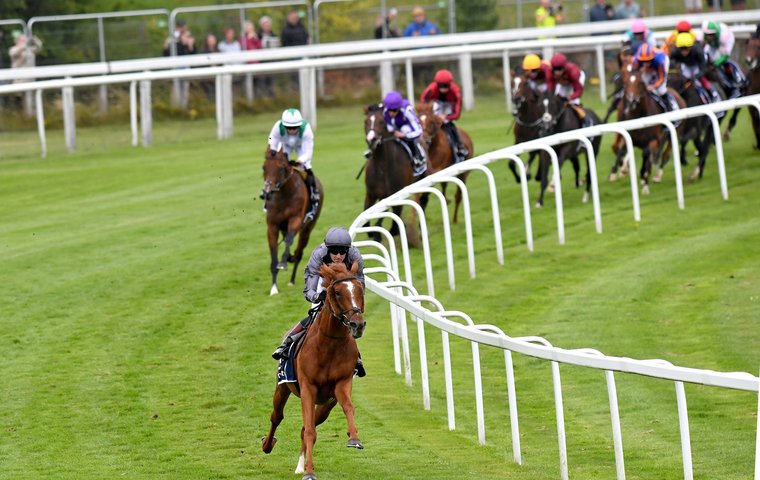 There's no race like the Epsom Derby. Nothing gets close. Nothing as momentous, nothing as tense, nothing with so many implications dependent on two and a half minutes of heart-in-mouth action.

Not for me there isn't anyway. I was brought up on it, weaned on it even, if the first few months of a ten-year-old's greedy learning about what was to become the framework for a way of life can be classed in such a way.
The Derby is your first Reference Point (winner, 1987, trained by Henry Cecil, ridden by Steve Cauthen) when you're trying to remember what happened when. It defines a year, measures the quality of the horses around at the time. It's the race everyone wants to win - above everything else. It puts the sport into perspective. And that's quite apart from the question of breeding from a Derby winner. You know, that Tesio stuff - "The Thoroughbred exists because its selection depended not on experts, technicians, or zoologists, but on a piece of wood: the winning post of the Epsom Derby."
Except that none of that is true. Not anymore it isn't.
There was some degree of consternation among racing aficionados last week after the esteemed Irish trainer Ger Lyons, who sent out Siskin to win the Irish 2000 Guineas just a few weeks earlier, spoke about the Derby on the excellent new Nick Luck Daily podcast.
Luck was seeking Lyons's view on the 2020 running of the Epsom Classic a few days hence. "You know something, the Derby doesn't float my boat," Lyons told him. "Whether it be the Epsom Derby or the Irish Derby, it's not on my bucket list. I like the idea of the Guineas. I like the idea of the mile, mile-and-a-quarter races. If I find myself with a Derby horse, we'll enjoy it when it happens.
"I'll get shot for this, but the Derby for me has lost its mystique in recent years … Okay, you all prattle on about Epsom and 'they run around Tattenham Corner', and the history of the race and all this. It doesn't do it for me, and it hasn't since maybe Sea The Stars. Horses like that, you know.
Thrilling, shocking renewal
"Even the guys say when you win a Derby, you have to bring them back and win over ten furlongs to prove them valuable at stud. When I was growing up, you'd win a Derby and you went for the Triple Crown. You didn't devalue a horse by winning the Derby, you became the champion horse. Nowadays ... you win a Derby and you seem to devalue a horse."
Many dismissed what Lyons was saying as nonsense. But it wasn't. It pains me to say it, but he was absolutely right.
And this is not to take anything away from the thrilling, shocking renewal that unfolded on Saturday, when the frontrunning Ballydoyle outsider Serpentine, who nobody had heard of until they saw his name among the runners and then frantically checked the form to see who he was, slipped the field and came home 5½ lengths clear of two even more outside outsiders (see video below).
A lot of presumed experts are dismissing Serpentine's victory as a fluke, and it may have been. But it may not have been. Hopefully the remainder of this strange season will let us in on that particular secret.
Whether he'll ever be able to compete with his stablemate Love, the filly who gave a passable impersonation of Shergar when she strolled home alone, nine lengths clear the Oaks field, just over an hour earlier, is another matter.
But the thing about Serpentine is that, however good or otherwise he turns out to be, he's going to be a jumps stallion, isn't he? Like most of the recent winners of the race who haven't gone on to success over shorter trips subsequently. You all know it already. Here's a son of Galileo out of a mare who came second in an Oaks. Two influences for stamina there then. And nobody wants stamina anymore, not even Coolmore themselves really, if truth be told, and they are practically the only outfit out there who - probably for sentimental reasons - actually try to breed Derby winners these days (which is why they have to run so many in the race each year - what else do they do with them?).
Winning the Derby doesn't devalue Serpentine at all, of course. Because he didn't have any serious value before last Saturday anyway. At least it guarantees he'll keep his reproduction equipment, which may not have been the case if he'd trailed in among the also-rans and ended up being sold as a potential hurdler. But it brands him as a stayer, and he's not going to drop back in trip and win a Group 1 over a mile and a quarter, or be aimed at the Breeders' Cup Classic, is he?
Racing is contracting, isn't it, when it comes to the distance races are run over? There was a time when horses raced over four miles. In the last century, the best ones used to contest championship events over two and a half (wouldn't it be great if that was still the case - imagine how absorbing the races would be, the jockeyship, the tactics?). Now they have to live down a victory over as short a trip as a mile and a half if their progeny are going to make decent money at the sales. Maybe in a few years even a mile and a quarter will be seen predominantly as a test of stamina. It's already going that way in the U.S.
It's an inevitable consequence of the modern commercial reality for breeders everywhere, of course, and it's unavoidable if racing is going to survive without that vast tranche of mega-rich, patient owner-breeders it once had, but it makes the sport poorer, and, long-term, the Thoroughbred a weaker breed. And the Epsom Derby increasingly less relevant.
But come next June, or July, or whenever they decide to run the 2021 version, it will still be the defining moment of the year as far as I'm concerned.