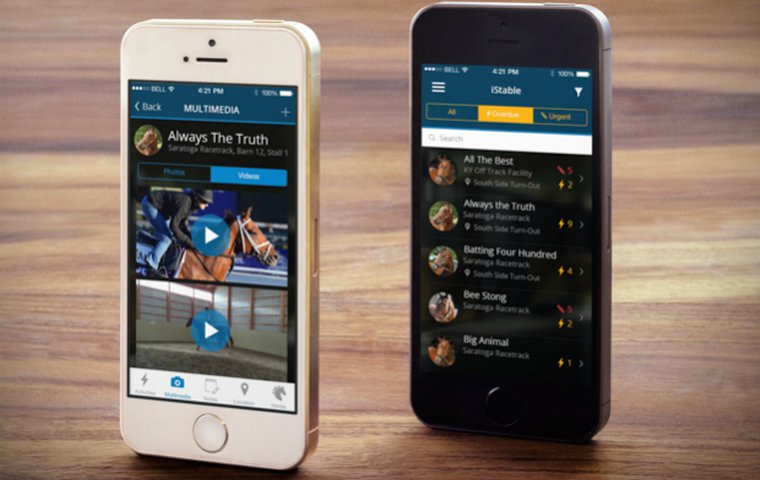 In a game of word association, "innovative technology" is unlikely to be paired with "horse racing." For better or worse, racing in the United States is still an industry dominated by tradition and paper records - where even the biggest stables keep set lists and training logs in longhand.

iStable could change all that.
Founded by Lee Midkiff in 2012, iStable is a management tool for a modern equine operation of any size. The application allows creation of a "virtual" stable - populated with the real horses in one's care - and supports centralized administration of everything ranging from movements to medical treatments, billing to stakes nominations. iStable is not limited to racing businesses, but it was Midkiff's experience as an owner and co-founder of Eclipse Thoroughbred Partners that inspired a union between an information technology background and a deepening involvement in Thoroughbred racing.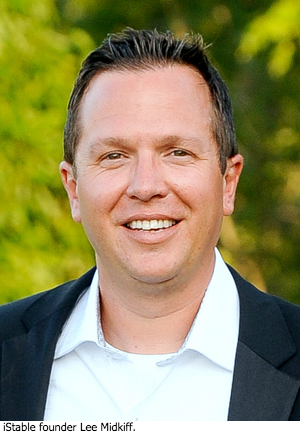 "I've had a handful of businesses that I've started, and they've all been centered around data collection [and] using data to drive process efficiencies," Midkiff said. "As I became more educated in the day-to-day [aspects of racing] and spent more time at the farm or out at the track in the back-end management of horses, a lot of what I'd seen in other industries - where technology had been harnessed to pull information together, streamline communication, and also make data available to other people in the transaction - was missing."
It sparked an idea.
"The catalyst for this was me as an owner thinking back to my business background that says: "I'm the end consumer. What do I see here that could better my experience?" Midkiff said. "At the same time, just by nature, I try to pay a lot of attention to what goes on, I'm kind of that operational guy…what's broken, what could be fixed, what could be streamlined and, at the end of the day, how can we make it better for the people actually providing the care out there?"
iStable is an app with wide-ranging relevance for trainers, veterinary professionals, farriers, and farm managers. Any individual that might touch a horse's care could find a use for it. In the case of a racing stable or farm, there is a centralized view for an organization's office operations, and a scaled-back mobile view for workers in the field who can use it to track and complete tasks.
It allows for upload of photos and video footage, along with documents such as foal papers and coggins certificates. If their trainer or farm manager uses iStable, owners can log in through a web portal and see information on their horses. At its heart, it is a communication tool, allowing all the people connected to a horse to share information in one place.
Trainer David Cannizzo, 32, who opened a public stable in New York in late 2012, is an early iStable adopter. Now in his second full year of operations, he and his wife Carolyn use the software to manage their growing business, which has racetrack operations in New York and Florida during the winter months, as well as young horses on farms.
"It's been very useful to us just organizing, billing, keeping track of daily routines, especially when you're in two different locations," Cannizzo said. "When we first started with it we had horses at Aqueduct and Belmont, babies on farms, and we've incorporated all of our horses into it. When I had eight horses, 10 horses, I didn't need it. But with two locations and 45 horses? It's a really good system. It's high-tech, but it's simple to use."
Easy and user-friendly were the watchwords as the Cannizzos talked about iStable. They are slowly expanding its use into their operation, but are clearly excited by both current functionalities and possibilities. They anticipate that it will ease their management burden with New York staff while in Florida - letting them set up task lists that will then appear automatically via the app on certain employees' smartphones and tablets - and rave about the billing interface, which integrates with QuickBooks.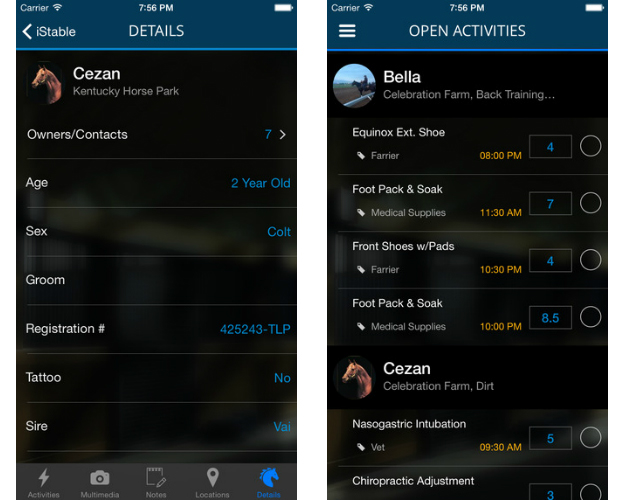 "In the past, at the end of the month we'd sit down to do billing and we'd be like 'OK, this horse ran on this day, this horse had its feet done…' it took us forever," Carolyn said. "And now, every day it takes two minutes to go on the computer: 'These four got their feet done, this one ran.' And it's all in there, so that at the end of the month the bills are just done."
In developing iStable, Midkiff's challenge was to create a product robust enough that it could appeal to all of the different stakeholders involved in equine care. Through the development process - which has been deliberate - Midkiff and his team have been able to draw upon a wide network of racing, breeding, and sales connections to ensure that iStable would meet needs and expectations. His technical team had no previous racing or equine experience, which Midkiff has come to view as an advantage.
"Coupling people who deal in the horse business with a technical development team that we needed to educate from the ground up, took a lot of time - months and months and months and months - [but] it actually allowed us, I think at times, to build a new box rather than be confined to the box," Midkiff said.
"It has been one of those things where people get it," Midkiff continued. "I couldn't be more pleased with the reception that we've gotten, and then the feedback. People know they want something, I don't know whether they could fully articulate it. After going through our system it's interesting to see not only the lightbulb go off, but then also the set of requests come in – 'Well, what if you did this, what if you did that?' which is what we want. We want to continue to drive the conversation."
For his part, Cannizzo sees the possibility, especially for the computer-savvy generation of younger trainers. He said he regularly provides feedback to the iStable team on ways to improve the interface, and praised their receptiveness.
"The options are limitless and it just keeps getting better," he said. "It keeps track of everything as a day goes on, everything on them that you need to know, and every activity. It's awesome. I understand it [could be] hard for some of the older guys, but for the modern day trainer/farm manager/proper business…you've got to have it."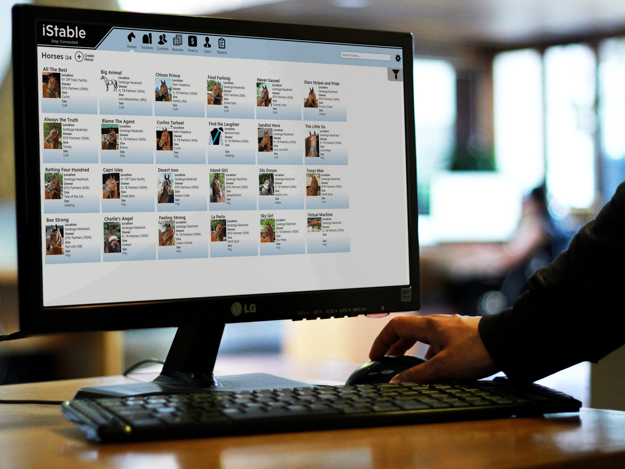 The service operates via a flat, monthly fee along with a nominal monthly charge for every active horse in one's stable. Starting in January, integration with data from The Jockey Club will allow for automatic updates on all domestic race entries, results, workouts, and pedigrees. As iStable grows within racing, the more it has the potential to connect users and broaden its reach. Farms have been the core install base thus far, but iStable is beginning to bring on more trainers, and Midkiff is keenly aware of every link in the chain.
"There's a buy-in component, whether that's the head of the farm or the trainer, but then the real deep buy in is also the boots on the ground and the people who are doing this day-to-day. How can we bring the efficiencies to them and make everybody's life easier? Of course, the top of the food chain, they're going to embrace that, but then there is an element of 'It's only as good as everybody who's connected' so you've got to get buy-in for that. And again, the value proposition for streamlining workflow, bringing data together, we have not run into anybody who does not get that and embrace that."
Part of that buy-in involves making iStable accessible on different platforms. Developed first within the Windows environment, the iStable team has committed to an "any platform, any device" approach. Mobile versions of the app are already available to download for iOS and Android, and a browser-based version of the administrative platform is set to debut in March.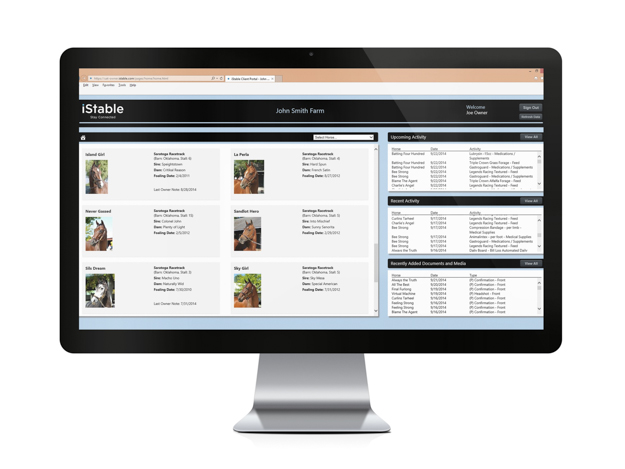 At the top of the food chain, Midkiff knows that owners are a key part of the process.
"They own these assets, they're employing people to handle these assets, they have to be a part of this dialogue," Midkiff said. "They're the ones that are driving a lot of policy in some areas of this business, taking the lead here and there, and we want to make them aware of what we're doing...and how we're trying to impact their stable and the visibility of their horses. Truth be told, I think it's something that in the long run not only betters the organizations that are using the system, but I also think it betters that ownership experience, which ultimately helps drive the sport and puts us in the right direction in the years ahead."
iStable is a new business, and its long-term implications for the Thoroughbred industry remain to be seen. To this point, Midkiff has focused on building a solid product that can help racing embrace the day-to-day use of data. Like any good businessman though, he's working with an eye toward the future.
"As this gets out there, we want to be receptive to the industry," Midkiff said. "We view ourselves as a roll-up-our-sleeves organization, and when the industry says we want something or we need something, or there's a challenge and there's a place for technology in that, we want to get back to work."